Dutch oven roast chicken makes for tender meat and vegetables and divine aromas in the kitchen. This simple and easy recipe has a lemon-mustard glaze and fresh herbs - and is keto, paleo and gluten-free.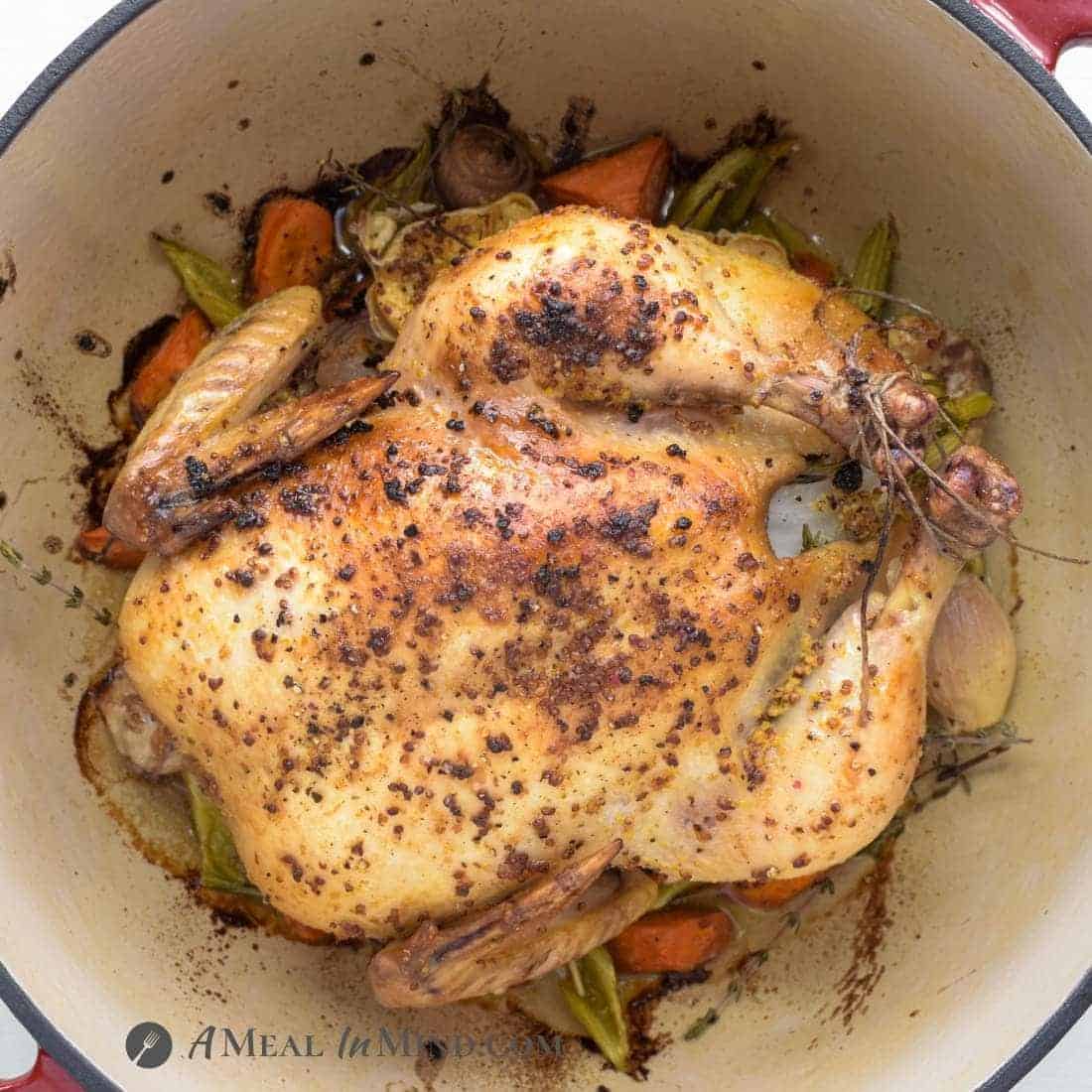 I'm so thrilled with my dutch oven and how easy it is to roast a chicken in it. It's certainly my now go-to method for holiday cooking - if the meat fits inside!
We actually prefer the flavor of chicken to turkey anyway (shocking, I know) and the amount of meat suits our small family gatherings right now in the time of social distancing.
If I am cooking a chicken to create leftovers for a variety of meals, I typically do so in the crock pot. Slow-cooking gives me a bird that is easy to de-bone, and I'm already partly on my way to bone broth.
But for a quicker method that gives tender, but not mushy vegetables, though, and incredible caramelized flavor, the Dutch oven can't be beat. A 3½ pound chicken takes just 105 minutes to roast at high altitude - check sooner if you are at sea level in case it's already done at 90 minutes. That leaves the top nicely golden and the vegetables cooked through.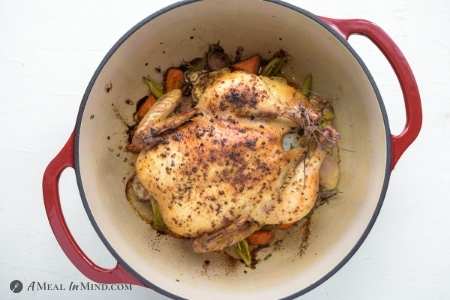 Why roast this lemon-mustard roast chicken in the dutch oven?
I have already shared quite a few of my Dutch oven recipes, including Dutch Oven Carne Asada; Paleo and Old Fashioned Slow-Baked Beef Stew; Gluten-free. I think the Dutch oven is just the cat's pajamas for red meats like beef and lamb, especially grass-fed, which tends to be leaner than corn-fed and benefit from low, slow cooking. Lately we've found ourselves impressed with it for a whole chicken too.
If you don't have a Dutch oven, a roasting pan or casserole dish will do. But since I like to cover my chicken for the last 15 minutes or so in case the top is getting too brown, the Dutch oven gives me the most freedom to do that without using aluminum foil.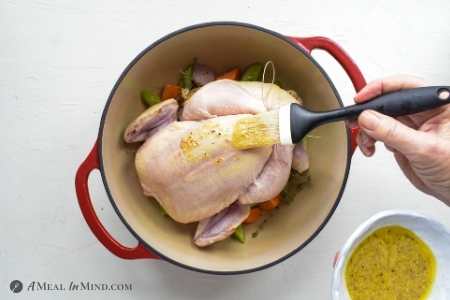 You can vary the flavor of the chicken so easily by changing the glaze or marinade you use. I prefer a savory marinade to a sweet one, hence the choice of this lemon-mustard mixture.
Links to products for purchase are affiliate links. If you click on a link and make a purchase, as an Amazon affiliate I may earn a small commission on the sale at no additional cost to you. This helps me with the costs of blogging, and I thank you! You can find my 'shop' page here.
What vegetables can I add to this lemon-mustard roast chicken?
There are several roles for vegetables in this Dutch oven roast chicken. One is so that they can caramelize during roasting, when they'll get and give flavor during the process. Another is that they prop up the chicken so that it doesn't stew in its own juices.
If you didn't use vegetables, you would need some other way to keep the chicken off the bottom of the pan, such as a rack or balls of foil. I hate using balls of foil because I don't like to cook with aluminum touching my food if I can avoid it, plus all kinds of tasty bits of food would get hidden in there.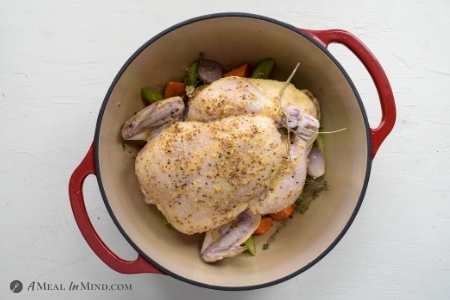 The vegetables here are carrots, celery, shallots and garlic, all of which are appropriate for gluten-free, paleo or keto eating.
If you want to include potatoes, coat them in olive oil and roast them uncovered in a separate pan and only for the last 45 minutes or so of baking, depending on the size of the potatoes. With potatoes, of course, the meal is no longer keto.
The roast would also be delicious with other root vegetables like turnips or rutabagas.
About the Mustard-Lemon Glaze
Dijon mustard is a tasty and versatile ingredient for chicken and fish glazes and salad dressings - that is to say, it's not just for burgers and dogs. If you use an unsweetened mustard (not honey dijon) this glaze is Keto as well as paleo.
For a smooth glaze, use a smooth mustard. Or if the stone-ground style is what you have, as here, just keep an eye on it to be sure the little grains don't burn.
There is not so much mustard that the chicken has a strong flavor. It's simply moist and flavorful, and the glaze brings out the flavors of the vegetables, too, without overpowering them.
Please pin for later!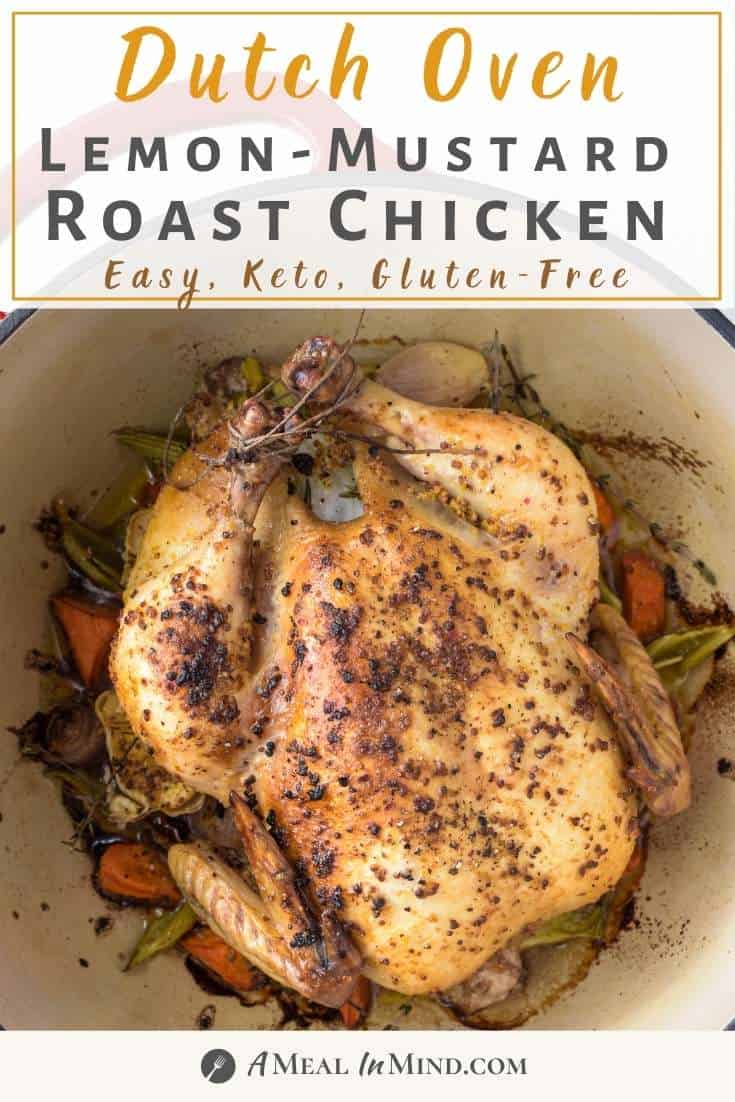 If you make this recipe, please let me know! Leave a comment, rate it, and don't forget to tag a photo #amealinmind on Instagram. I'd love to see what you come up with. Thank you so much!!
What recipes go with dutch oven lemon-mustard roast chicken?
Instant Pot Garlic Mashed Potatoes; Gluten-Free
Easy Caramelized Brussels Sprouts
Gingered Cranberry-Plum Sauce; 5 Ingredient, Paleo
Cranberry Pumpkin Bread; Gluten-Free Libby's Copycat
Beth
Dutch Oven Lemon-Mustard Roast Chicken
A Dutch oven roast chicken gives tender meat and vegetables and divine aromas in the kitchen. This simple and easy recipe has a lemon-mustard glaze and fresh herbs - and is keto, paleo and gluten-free friendly.
Equipment
Dutch oven

Good knives

Kitchen twine

Kitchen scale
Ingredients
For the Lemon-Mustard Glaze:
2

tablespoons

olive oil

3

tablespoons

dijon mustard

Juice from ½ a lemon

about 2 tablespoons

½

teaspoon

salt and ¼ teaspoon pepper

or to taste
For the roast:
1

chicken

organic (Mary's), 3½ pounds (3¼ pounds without the giblets)

4

large carrots

peeled and sliced on the diagonal

3

stalks of celery

sliced on the diagonal

4

shallots

peeled and halved

2

heads of garlic

cut in half crosswise

2

tablespoons

olive oil

Sprigs of rosemary and thyme

Slices

of lemon and sweet onion to stuff the cavity

Salt and pepper
Instructions
Preheat the oven to 425 °F.

Layer the vegetables In the Dutch oven, add the veggies - carrots, celery, shallots, and garlic halves.

Drizzle the oil over them. Then, season with salt and pepper.

Add the sprigs of rosemary and thyme.

Brush the surfaces of the vegetables with the lemon-mustard glaze, especially the garlic halves and the outer edges of the vegetables.

Season the chicken generously with salt and pepper - outside as well as inside the cavity

Fill the cavity with slices of onions, garlic, and lemon.

Truss the chicken by tying the legs together.

Place the chicken on the vegetable bed breast-side up. Brush the chicken with the remaining glaze.

Double-check the roasting time, which is by weight. You will roast for 15 minutes at 425 ° F. Then, reduce the oven temperature to 360 ° F - don't open the oven. Roast for an additional 20 minutes per pound depending on the weight of the chicken. For a 3 ½  pound chicken (assume the giblets weigh ¼ pound and subtract that) that is an additional 3.25 x 20 = 65 more minutes for a total of 80 minutes of roasting. When roasting is complete, the juices should run clear when you pull on the leg of the chicken. The safest strategy is to invest in an oven thermometer and roast until the internal temperature of the chicken is 165 ° F.

Remove the chicken from the oven and cover it with the lid of the Dutch oven or tent it with a foil – let cool for at least 15 to 20 minutes before you carve to keep the juices from flowing away from the meat. Serve with the veggies and use any pan dripping to make gravy.

To keep the chicken warm in case it's ready before guests are, place the cover on the Dutch oven and set the temperature of the oven at 250 F. A little more pan juices will accumulate in the bottom of the pan if you do this, but the chicken will stay warm without drying out - you can keep it warm like this for up to 1 hour.

Carve and serve the meats your family prefers. Mine always likes the white meat for the first meal. Then I debone the carcass and refrigerate the meat while I simmer the bones for bone broth.
Notes
Recipe for this delicious glaze has been modified slightly from this one. And thank you so much to Veena Azmanov for the method for roasting a chicken in a Dutch oven, which I've changed slightly to suit our tastes. 
If roasted carrots contain too much carbohydrate for your keto eating plan, omit them or serve them raw on the side.