This flavor-packed herbed gluten-free stuffing is full of holiday herbs like sage and rosemary, plus tender onions and celery. Simple enough to stop buying pre-packaged gluten-free stuffing mixes and have fun with homemade!
I don't know about you, but I've always thought the stuffing was the best part about Thanksgiving and other holiday meals. It's an excuse to ladle on really good gravy! And it's so good with the classic herbs you'd use for your turkey anyway: sage, rosemary and thyme.
I have never been a fan of adding meat or a lot of other vegetables to stuffing - just keepin' it simple. So for me the turkey has been mostly a way to get great gravy!!
But I have included some suggestions below for you to explore other flavor combos using this basic recipe.
Please pin for later!
I grew up with Pepperidge farm packaged stuffing, both regular and corn bread, and moved on to Stovetop in later years. I think this recipe rivals either of those - it's really all about the bread.
Many gluten-free stuffing recipes I looked at online called for eggs, to give a pudding-like consistency. I've never added eggs to my stuffing, and couldn't see any reason to start now. Instead, this recipe relies on steaming the stuffing to keep it from being dry. Finish it off by baking it uncovered to crisp the top slightly. Delicious!
If you do have any concerns about eggs, though, you will need to find a different bread, as Canyon Bakehouse contains eggs. Katz and BFree make eggless gluten-free breads.
Shop herbed gluten-free stuffing
Links to products for purchase are affiliate links. If you click on a link and make a purchase, as an Amazon affiliate I may earn a small commission on the sale at no additional cost to you. This helps me with the costs of blogging, and I thank you! You can find my 'shop' page here.
Simple steps to make homemade stuffing
Step 1
Making herbed stuffing for your holiday table is simple, whether you make it gluten-free or glutenous. You need bread cubes, which you leave out to dry or bake at low heat. Prepare the cubes well in advance. Gluten-free bread is naturally drier than breads containing gluten, so it doesn't take long to crisp.
Even in my very dry Denver kitchen, baking the bread cubes for 20 minutes at 200 degrees F was needed to remove the moisture and keep the stuffing from getting soggy. The bread won't stick to the pan, so I just spread the cubes out on my stainless steel baking sheet - no oil or parchment needed.
Canyon Bakehouse whole-grain style gluten-free bread works great in this recipe, and we prefer it to the white bread style. We can even buy the Canyon brand at our local Costco! If you don't like the whole millet seeds in that bread, the white-bread style is also excellent.
Step 2. Saute the vegetables.
Onion, garlic and celery are the perfect balance to the herbs and bread in the stuffing. I finely chop and then saute the vegetables in butter. For a vegan version, I'd use olive oil.
The onions and celery should be nearly translucent before you stir in the rest of the butter, because they won't cook much more during the baking process.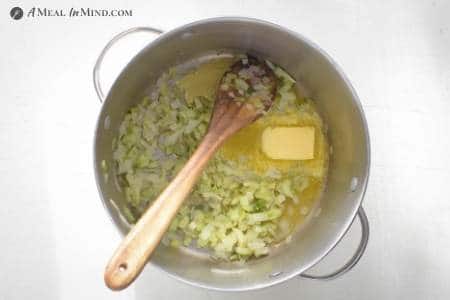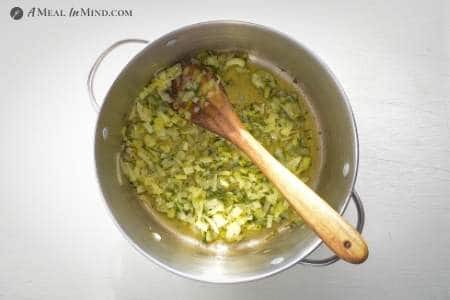 Step 3: Toss the bread cubes in the butter mixture.
By the way, I usually start preheating the oven around now.
You don't need so much butter that the bread cubes get really oily. The butter will pick up the flavors from the vegetables and herbs, flavor the bread and help a crust to form.
Making sure the butter is all melted and mixed in, stir the bread cubes into the mixture and stir to coat, at least a minutes.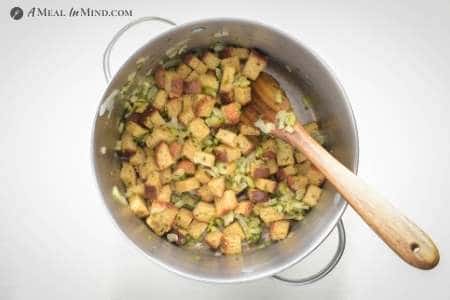 Step 4: Baking
Pour the bread-cube and butter mixture into an 8 x 11 inch baking pan. Cover with foil and bake at 350 degrees F for 45 minutes.
Remove the foil and bake for another 15 minutes, during which time the stuffing will form a crust on top and brown a bit on the edges.
Garnish with fresh parsley and thyme, and serve!
What can I serve this stuffing with?
This stuffing is:
The classic side dish to accompany a Thanksgiving turkey and other side dishes
Terrific with a ham
Flavorful enough to go with a vegan nut loaf
Can I use this stuffing inside a turkey?
You could if you love it that way, but I no longer use any bread stuffing inside the bird. Reasons for leaving stuffing outside the turkey include:
The risk of contamination of the stuffing from any Salmonella that may lurk in the bird
Vegans can't eat stuffing that has been inside a turkey, if you were to make a vegan version of this
Gluten-free eaters can't risk eating meat from turkey that's been stuffed with any wheat product.
Can I double this recipe?
To double this recipe, double all the ingredients and use a 9 x 13 inch baking pan.
Can I vary this recipe?
This recipe is so basic, it's easy to vary it.
If anyone doesn't like to see vegetables in their stuffing, mince the onions and celery really fine, reduce the amount by half, or leave them out. Or use chopped fruit instead - see the next notes.
For those who like chopped fruit in stuffing, add chopped apples right after you melt the second part of the butter. You could add a handful of cranberries, too. Stir the fruit into the butter mixture, then add the bread cubes and toss.
Chop some nuts, like hazelnuts or pecans, and add them to the butter before adding the bread.
Slice in some Paleo chicken sausage into the butter mixture, then stir in the bread.
Your imagination and family preferences will make this great!
Other dishes to enjoy
Millet-Currant Biscuits, GF and Vegan
Southwestern Roasted Sweet Potatoes - Paleo
Instant Pot Seasoned Salt Potatoes
Easy Caramelized Brussels Sprouts
Bacon-wrapped garlic-herb pork tenderloin
If you make this recipe, please let me know! Leave a comment, rate it, and don't forget to tag a photo #amealinmind on Instagram. I'd love to see what you come up with. Thank you so much!!
Herbed Gluten-Free Stuffing
This flavor-packed gluten-free stuffing is packed with holiday herbs like sage and rosemary, plus tender onions and celery. Simple enough to stop buying pre-packaged stuffing mixes and have fun with homemade!
Ingredients
¾

of a loaf of gluten-free bread

about 12 oz or about 5-6 cups of cubes (I used Canyon Bakehouse whole-grain style)

6

tablespoons

butter

divided, plus more for buttering baking dish

1

large or 2 medium onions

peeled and finely chopped

4

stalks celery

finely chopped

2

cloves

garlic

minced

½

tablespoon

chopped fresh sage

½

tablespoon

chopped thyme

plus a few sprigs for garnish

½

tablespoon

chopped fresh rosemary

¼

teaspoon

pink sea salt or to taste

¼

teaspoon

freshly ground black pepper

¼

cup

chopped fresh parsley

plus more for garnish

2

cups

gluten-free chicken or vegetable broth
Instructions
Tear or cut bread into cubes and leave out overnight to dry. (Alternately, place bread in a single layer on baking sheets and bake at 200º for 20 minutes.)

Preheat oven to 350º F and butter a 8" x 11" baking dish.

In a large pot over medium heat, melt 3 tablespoons butter. Add onion and celery and cook until soft and translucent, 8-10 minutes. Stir in garlic, sage, thyme, and rosemary and cook until fragrant, 1 minute more. Season with salt and pepper. 

Stir in remaining 5 tablespoons butter and parsley. Once the butter has melted, turn off the heat.

Pour bread cubes into the pot and stir to coat with the butter-vegetable mixture. Stir in the chicken broth and toss well to distribute evenly.

Transfer mixture to prepared baking dish and cover with foil. Bake until cooked through, 45 minutes, then remove foil and cook until bread is golden, 15 minutes more. 

Garnish with parsley and serve.
Please pin for later!