Missing bread? Like cheese? If yes to both, tune in here for how to make Brazilian Cheese Bread. These delicious little breads are a one-bowl recipe, quick to mix up and bake. They are naturally gluten-free with a blend of tapioca and cassava flour.
I have adapted this recipe slightly from my blogger friend Sonila's Gluten Free Cheese Breads recipe at Mediterranean Latin Love Affair. I love how straightforward Sonila's recipes always are. This one is no exception! I have changed the types of cheese and the proportions of the flours to our taste.
I have tried out other recipes for Brazilian Cheese Rolls, including one from a well-known manufacturer of cassava flour. But they came out rather dry. Dryness is a common problem with gluten-free flours and it can take fiddling to get them to hydrate.
These Brazilian cheese breads were perfect. In fact, my daughter-in-law has pronounced this recipe "restaurant quality" which made me so happy!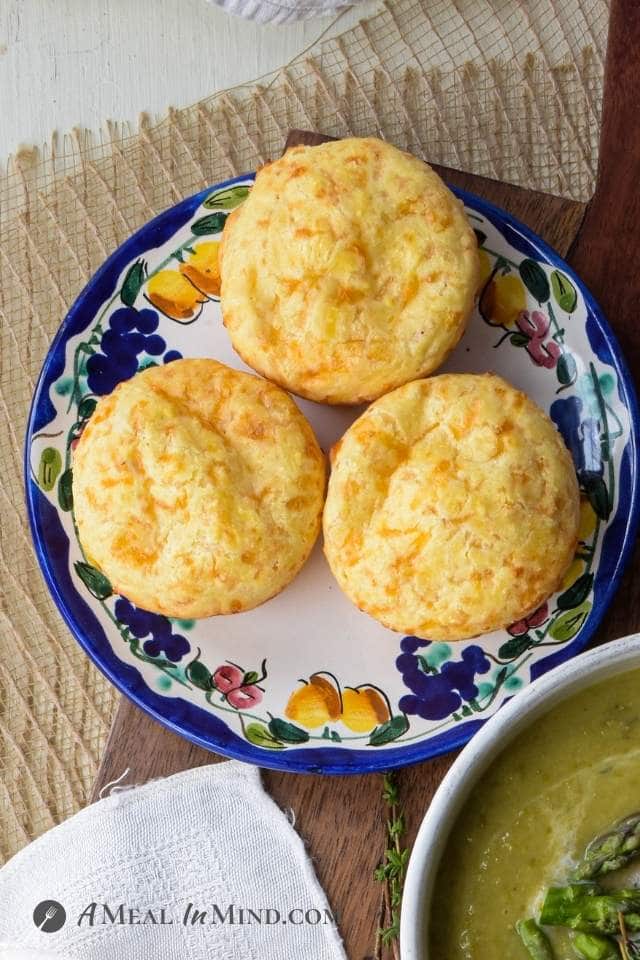 What do you serve Brazilian Cheese breads with?
These cheese breads are great all by themselves as a snack. You'd think they already have enough butter in them, but no - I can always slather on a a bit more.
We also enjoy them with soups like Creamy Asparagus Soup (see above for a teaser - recipe soon!) and Green Chile Enchilada soup. They are good with this Hatch Green Chile Quinoa Skillet, too.
What makes these breads elastic and chewy?
The tapioca and cassava flours give the rolls a natural elasticity and hydrate well. We like the mixture of cassava and tapioca flours because the cassava has a bit more fiber, but you could use all tapioca.
The cheese contributes elastic qualities as well as moisture.
Can I reheat these cheese rolls?
These rolls reheat in 20-30 seconds in the microwave. I haven't tried reheating them in a toaster oven, but that should work well too. They will feel quite solid when cold, but quite hot to the touch when microwaved, so handle them carefully.
Can I use other cheeses in these Brazilian cheese rolls?
Yes, as long as you consider that the sharper the cheese, the more flavor your rolls will have. For my main cheesy component, I used Costco's Mexican cheese blend. It is relatively inexpensive and I have it in my refrigerator for other uses. But I include about one-third Parmigiano for its sharper flavor too, or the rolls would be pretty bland.
I tried two Brazilian cheese breads that called for only mozzarella, and found those to have very little flavor considering the expense of the mozzarella which I only otherwise use in pizza. Hmm ... maybe I need to make more pizza?
If you use a saltier cheese such as feta, be sure to reduce the amount of salt accordingly.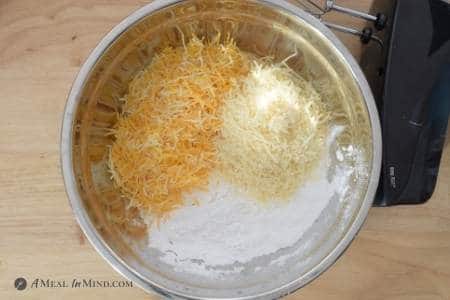 Does the brand of tapioca or cassava flour matter?
According to Lisa of Downshiftology, the brand of cassava matters a lot. It's worth buying Otto's cassava, which is of higher quality. Brands that cost less may do so because the roots are larger when harvested and therefore starchier.
No matter the source, though, cassava is very high in carbohydrate. This is important if, like me, you are paying attention to the glycemic index of your foods. I enjoy these rolls but don't eat them every day.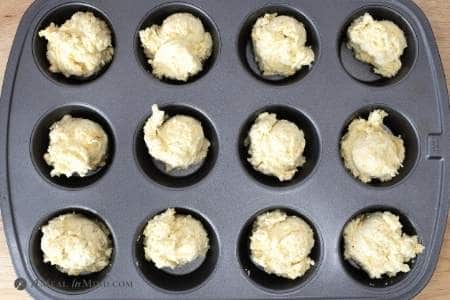 Links to products for purchase are affiliate links. If you click on a link and make a purchase, as an Amazon affiliate I may earn a small commission on the sale at no additional cost to you. This helps me with the costs of blogging, and I thank you! You can find my 'shop' page here.
What is the difference between cassava and tapioca starch or flour?
Both are from the same plant, manihoc. Cassava is the whole ground root, which is why it's higher in fiber than tapioca. Tapioca is the starch without the fiber, and thus is more refined.
Do I need to refrigerate the Brazilian cheese bread dough?
I tried one recipe that recommended refrigerating the dough, but found no need to when scooping the dough with the cookie scoop. If you plan to roll the dough by hand, you may wish to wrap the dough in plastic wrap and refrigerate it for 30 minutes to make it less sticky during rolling.
Other recipes you may enjoy
Low-Carb Nut and Seed Bread; Paleo and Gluten-Free
Almond-Flour Biscuits; 5-Ingredient
Millet-Currant Biscuits, GF and Vegan
Roasted Butternut Squash and Heirloom Tomato Soup
Roasted Summer Vegetable Soup; Gluten-Free
If you make this recipe, please let me know! Leave a comment, rate it, and don't forget to tag a photo #amealinmind on Instagram. I'd love to see what you come up with. Thank you so much!!
Beth
How to Make Brazilian Cheese Bread
Missing bread? Like cheese? Here's a treat for you: How to Make Brazilian Cheese Bread. These delicious little breads are a one-bowl recipe, quick to mix up and bake. They are naturally gluten-free with a blend of tapioca and cassava flour. 
Equipment
Muffin tins

Mixer

Mixing bowls

Cookie scoop, 2 tablespoon size
Ingredients
1

stick (4 ounces) butter

unsalted (or if using salted butter, reduce the salt to ¼ teaspoon)

¾

cup

cassava flour

see note

2 ¼

cups

tapioca)

1

teaspoon

baking powder

½

teaspoon

salt

2

cups

shredded mixed Mexican cheeses

or mozzarella

1

cup

parmesan cheese

shredded

2

eggs

1 ⅓

c

milk

or more to make a workable batter
Instructions
Melt butter in microwave and put it aside.

Mix flours and cheeses in a deep bowl.

I use a wooden spoon or a hand mixer, but you can do this in a food processor if you prefer, see note.

Add eggs, salt, baking powder and continue mixing.

Mix in the milk; the dough will be very thick.

Add butter and mix until you have a sticky dough.

I use a 2-tablespoon scoop for my breads and a muffin tin for baking, so it's ok for the dough to be sticky. (see note for hand rolling the breads). If you use a non-stick muffin tin you don't need to oil the pan, but I some times do just to be safe. Coconut or MCT oil is best.

I usually start preheating the oven now, which will give the rolls a little extra time to hydrate. Preheat to 400 Degrees F.

Add a little milk if needed for a scoopable batter. Place one scoop into each well, and you should get about 18 rolls.

If rolling the dough into balls, dust your hands with flour to reduce sticking. place them on a parchment-lined baking sheet about 1 inch apart from each other.

Once oven is hot, bake for about 15 minutes in the bottom rack or until the bread looks golden-brown. (It takes about 17 minutes in high-altitude Denver)

Let them cool for 10 minutes.

Brazilian cheese breads should be refrigerated if not consumed within two hours; any that are not eaten within three days can be frozen for up to 3 months.
Notes
Or use 3 cups tapioca flour
I use the hand mixer for this rather than my food processor, much as I love it for other recipes. The food processor will chop up the cheese more than a hand mixer or a spoon and I like the visible bits of cheese. Also, the food processor needs more clean-up than a mixer and bowl.
If you want to roll yours by hand and it is too sticky to roll into balls, dust your hands with flour before separating the dough into small pieces.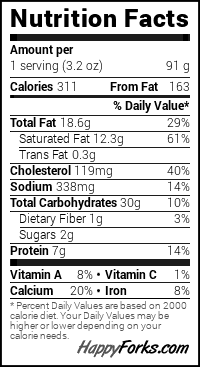 Please pin for later!
.