For a healthy-ish green St. Paddy's Day treat, try these dark chocolate-dipped Paleo matcha shortbread cookies. With only six ingredients in the basic cookie, these are easy to mix up and fun to embellish with the dark chocolate dip and plant-dyed sprinkles.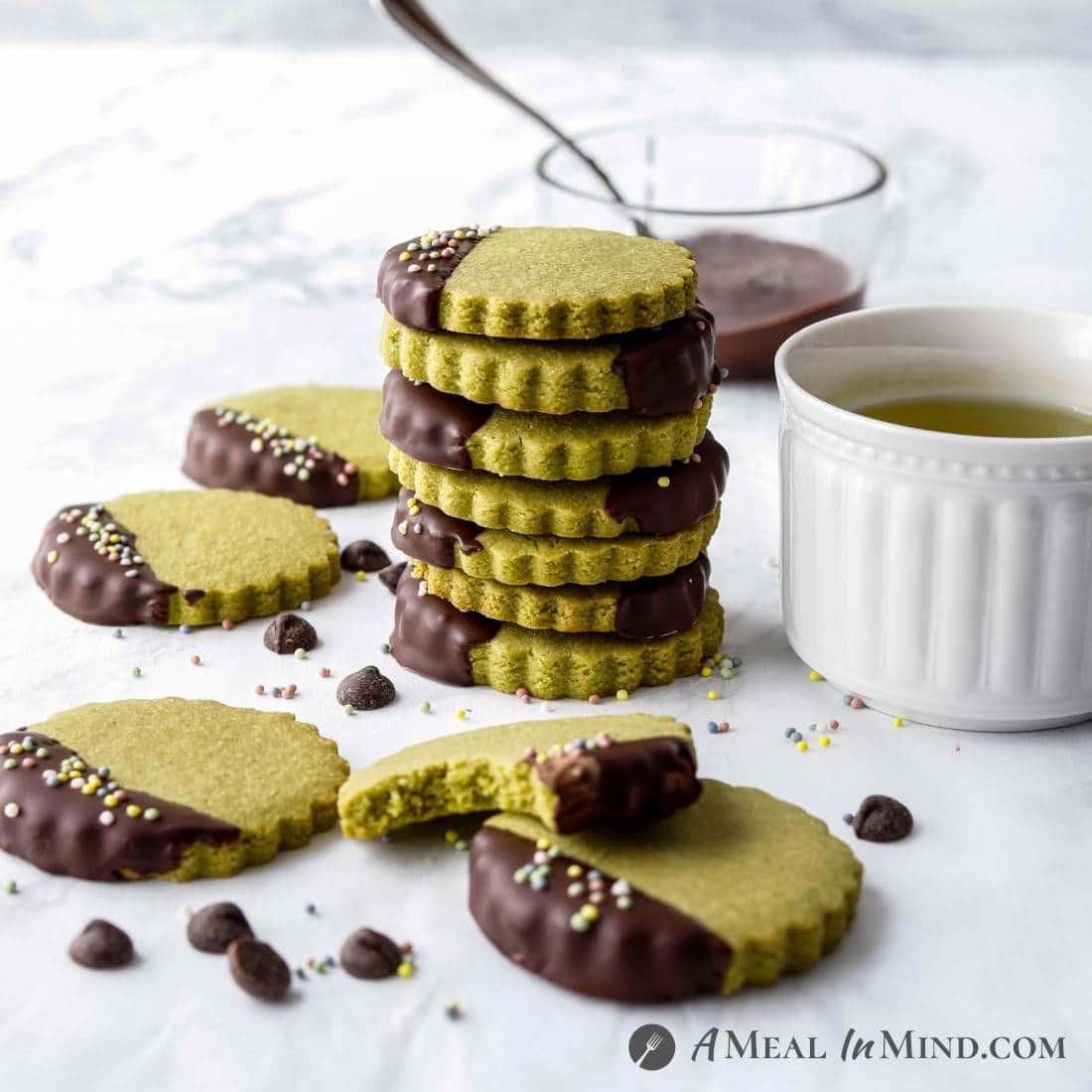 Ingredient tips for dark chocolate-dipped matcha cookies
These are a light and family-friendly recipe. The batter is easy to mix with a spoon provided that you soften your shortening. I have used butter, since we enjoy the flavor, but with vegan butter or coconut oil, these cookies are easily made vegan.
Be aware, though, that both the matcha and the chocolate contain caffeine, so they might not be suitable for young children or anyone else who is sensitive to caffeine. (Matcha, often called a superfood, contains more caffeine than green tea and less than black tea).
The basic cookie is sweetened with maple syrup (or honey) and neither the cookies nor the sprinkles contain no any food dyes.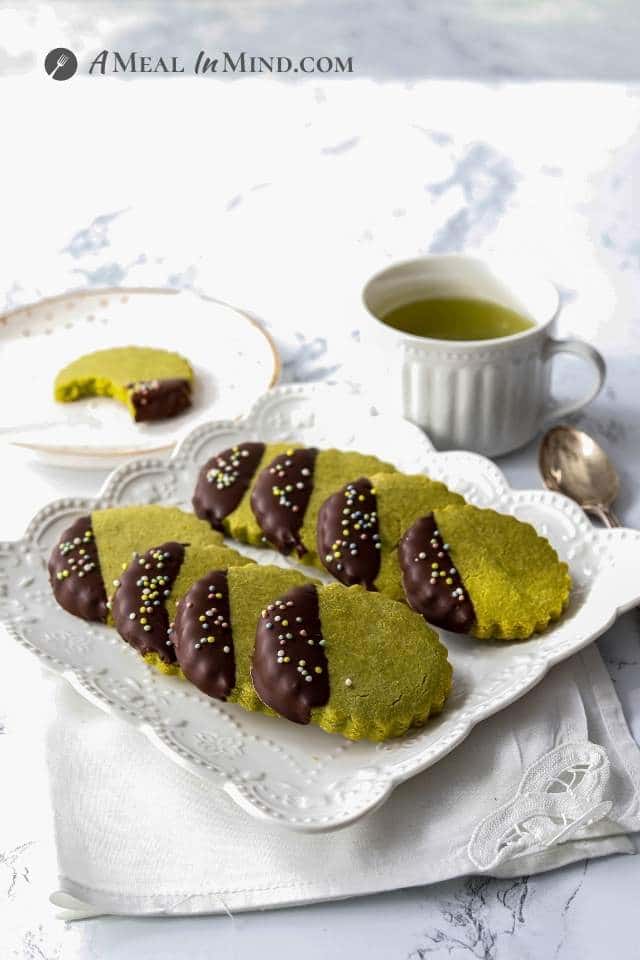 If you didn't want to use matcha because of the caffeine content, you could get a similar green color using Watkins food colors, which get their green color from spirulina. Neither of these plant-based dyes will give the bright Kelly green of synthetic dyes, of course.
Also, the sprinkles are not Paleo because they contain cane sugar.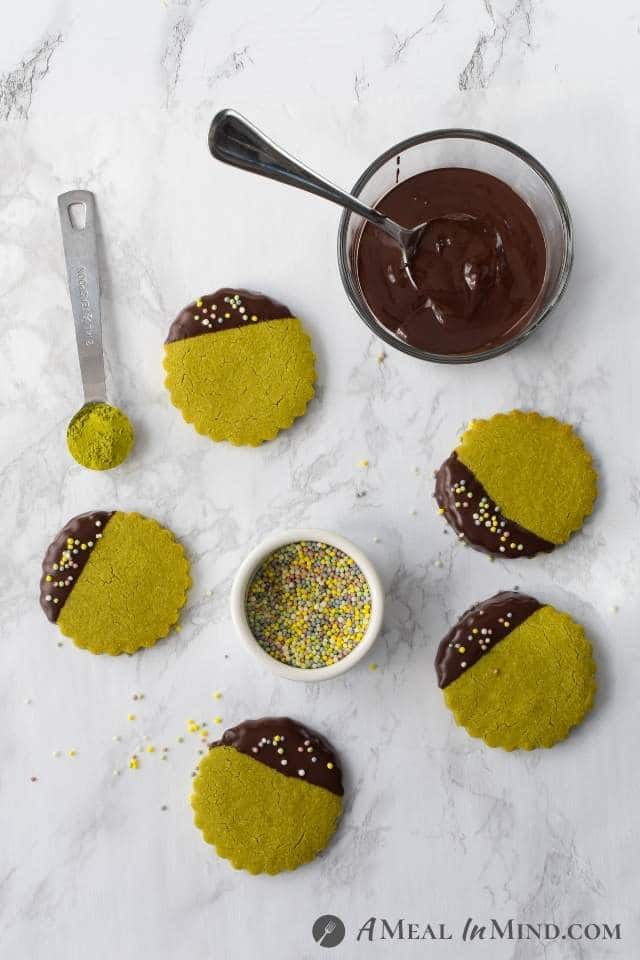 Why This Paleo Matcha Cookie Recipe Works
This is an easy, quick, healthy recipe to make. From start to finish, it takes less than 30 minutes of active time - note that you DO need to refrigerate this dough before rolling it out, though.
If the dough doesn't chill long enough, it will stick to the cookie cutters and not hold together well when being transferred to the baking sheet.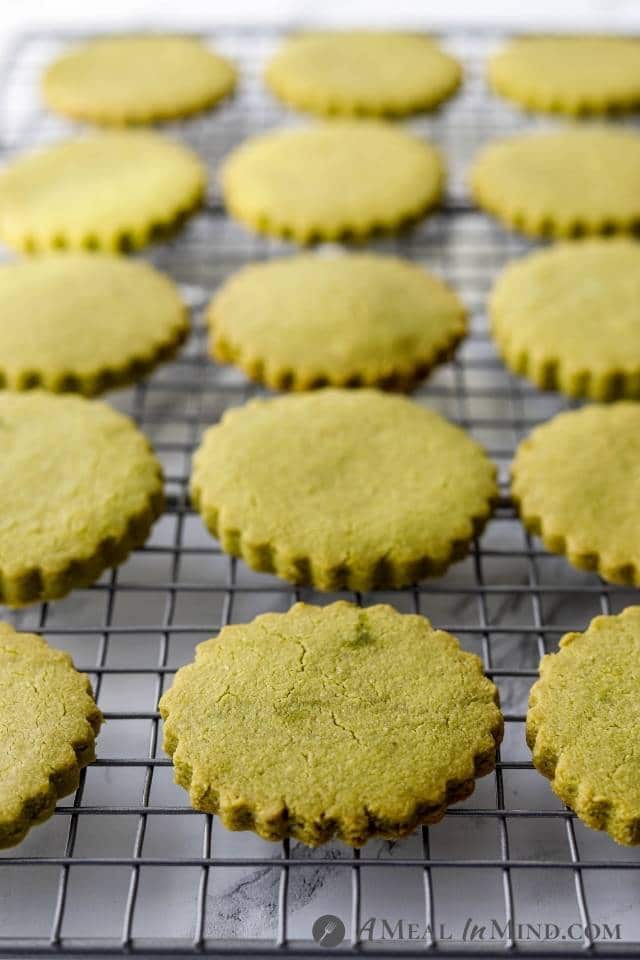 The basic cookie is simply almond and arrowroot flours, butter, salt, vanilla and maple syrup. For these cookies I also incorporated matcha powder, dipped the cookies in melted dark chocolate and added sprinkles.
These cookies work for anyone following gluten-free eating; without the sprinkles, they are Paleo.
Steps in making chocolate-dipped Matcha cookies
Assemble ingredients: almond flour, arrowroot starch, butter, maple syrup, vanilla, matcha
Whisk dry ingredients together
Soften butter if needed, then stir in wet ingredients
Wrap and refrigerate the dough for at least 1 hour
Roll out the dough about ¼ inch thick
Cut out cookies and transfer them to parchment-lined cookie sheet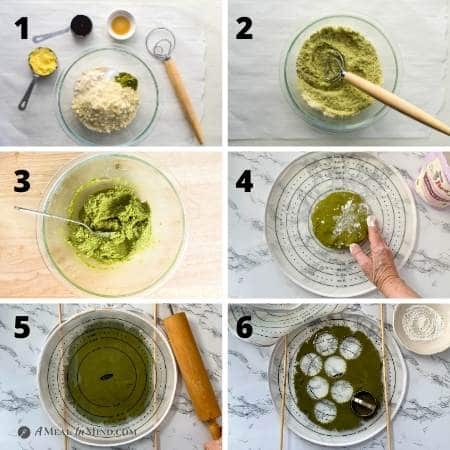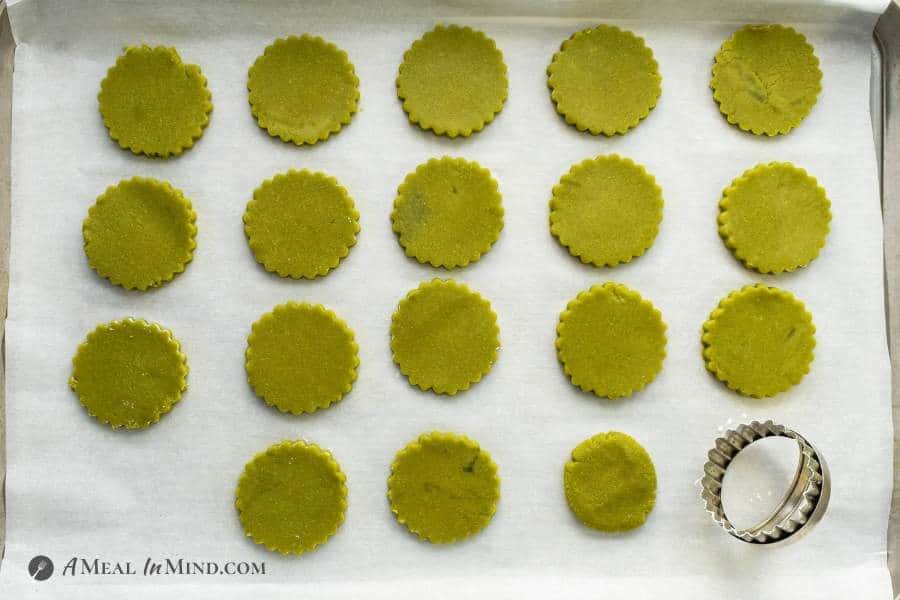 Once the cookies are cut out, bake them until they are just turning brown on the edges. Let cool. Then you can dip in chocolate or eat them plain!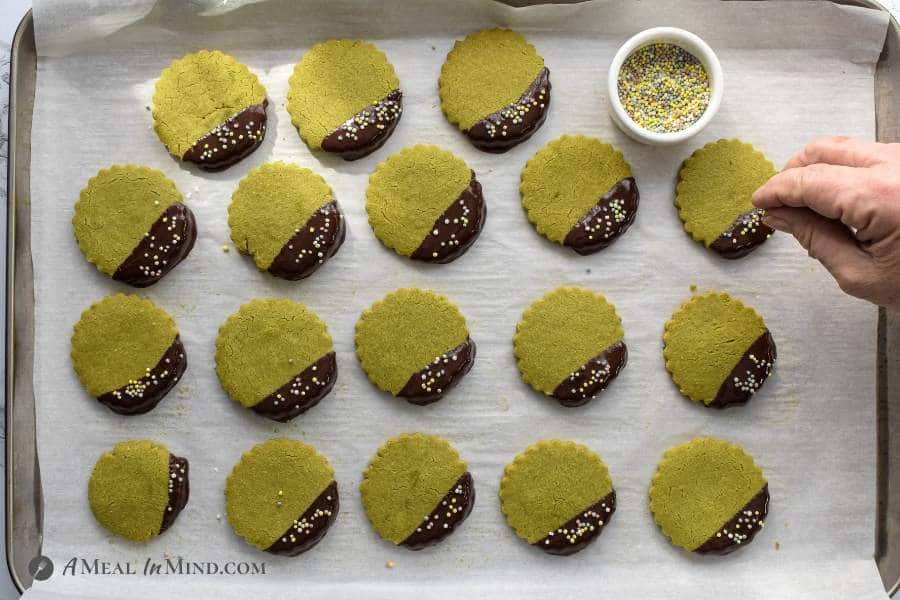 If you make this recipe, please let me know! Leave a comment, rate it, and don't forget to tag a photo #amealinmind on Instagram. I'd love to see what you come up with. Thank you so much!!
Beth
Other cookies on A Meal In Mind
Ruby Cacao Chip Valentine Cookies; Gluten-Free
Raisin-Sweetened Oatmeal Cookies; Gluten-Free
Pecan Almond Flour Red White and Blue Cookies
Cranberry Almond-Flour Pinwheel Cookies
Almond Flour-Carob Pinwheel Cookies
Pumpkin Cookies with Apple Butter Thumbprint
Easter Egg Cookies - Paleo with Lemon Curd
Dark Chocolate-Dipped Paleo Matcha Shortbread Cookies
For a healthy-ish green St. Paddy's Day treat, try these dark chocolate-dipped Paleo matcha shortbread cookies. With only five ingredients in the basic cookie, these are easy to mix up and fun to embellish with the dark chocolate dip and plant-dyed sprinkles.
Equipment
Oxo silicone rolling bag

Rolling Pin

Baking sheet

Spatula

Mixing Bowl
Ingredients
For the cookies
2

cups

blanched almond flour

5

tablespoons

arrowroot starch

plus more for rolling out

¼

teaspoon

pink sea salt

2

teaspoons

fine matcha powder

I use Republic of Tea

½

cup

unsalted grass fed butter

softened (or ghee, coconut oil or palm shortening) see note for vegan option

3

tablespoons

raw honey or maple syrup

or ¼ cup if not dipping in chocolate

1

teaspoon

vanilla
For the dipping chocolate
4-5

ounces

dark chocolate

I use Enjoy dark morsels

½

teaspoon

coconut oil

2

tablespoons

sprinkles

Edward & Sons organic Sprinkels
Instructions
Whisk together the dry ingredients in a bowl.

In a separate small bowl, combine butter and honey until creamed together. Then gently mix into the dry ingredients until a crumbly, soft dough forms.

Using your hands, knead the dough to form a ball, then flatten into a disc and place between two sheets of parchment paper or in plastic wrap and place into the fridge. Chill until the dough is firm, at least 1 hour, up to 2 days.

Preheat the oven to 325ºF and line a baking sheet with parchment paper. Place the disc of dough in a silicone rolling bag or between two sheets of parchment paper lightly sprinkled with arrowroot starch. Using a rolling pin, roll the dough out to around ¼-inch thick, see note. Lightly dust the cookie cutter you plan to use (I used a 2-inch fluted circle) with a little arrowroot starch as well. Remove the top parchment paper and cut out the cookies.

Carefully transfer the cookies to the parchment-lined baking sheet, about 1 inch apart - they spread out very little. A metal spatula dusted with a little arrowroot works well to transfer the cookies. Reroll dough scraps to ¼-inch thickness and cut out additional cookies.

Bake for 12-15 minutes (check at 12; these took 14 minutes in high-altitude Denver) until ever so slightly golden brown on the edges. Watch them carefully so they don't brown too much. They will puff up just a little in the middle.

Allow the cookies to cool for a few minutes on the pan before transferring to a cooling rack to cool completely. If dipping in chocolate, don't discard the parchment paper yet.

Melt your chocolate and coconut oil using the double boiler method (a bowl over a pan with simmering water) or in small (10-second) bursts in the microwave, see note. Stir vigorously until the chocolate is smooth and slightly cooled; stirring makes it glossier.

Dip each cookie into the melted chocolate and transfer to parchment to cool. Drop the sprinkles over each cookie right after you dip it. Let the chocolate cool completely - this will keep it from sticking to the parchment. Once cooled, store in an air-tight container in the fridge.
Notes
If your kitchen is cold and the butter is not soft at room temperature, place it in the microwave for no more than 30 seconds - stop before it all melts, or the dough will be harder to work. 
For a vegan substitute for the butter, use ¾ coconut oil and ¼ olive oil. In this recipe that's 6 tablespoons cocnut oil and 2 tablespoons olive oil. Or use vegan baking sticks like Earth Balance. 
I place two ¼-inch dowels alongside my dough to keep the rolling pin from flattening the dough too much. 
For dipping in chocolate, use a bowl that is a bit wider than the cookie and deep enough to dip to at least ½ inch; the one that works best for me tapers toward the bottom. 
Adapted from this recipe by Beth of Tasty Yummy
Makes:
 approx.  18-20 cookies when rolled just over ¼ inch thick
Please pin for later!