These almond flour-carob cookies are smooth and buttery, with just a hint of sweetness from honey or maple syrup. The pinwheels are easier to make than you might think, especially if you use your food processor to mix up the two doughs. Make some for your next gathering!
I make the basic batch of almond-flour dough first. Then I remove half from the food processor and add the carob to what's left. Process until the color shows it's blended in. Then chill the two batches. For the chilling step, I put each ball of dough into a 2-cup plastic ziplok container rather than plastic wrap - just my preference not to throw that bit of plastic away.
Once they're chilled, I roll each dough between layers of parchment paper. Once they're both about the same thickness, I carefully plop one layer over the other. Then I gently form the roll and freeze that before slicing it into the pretty pinwheels you see here.
Gluten-free, of course, with dairy-free and egg-free options - as well as grain-free and chocolate-free!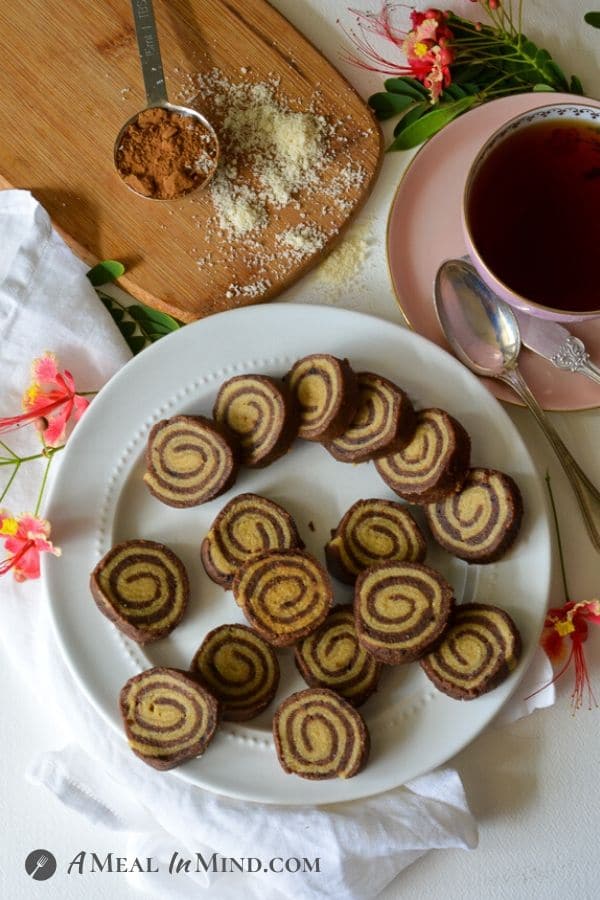 Why use a food processor to make an almond-flour dough
I often modify recipes to prep an almond-flour dough with my food processor. Almond flour is pretty easy to work with, but my stirring arm isn't getting any younger! I've found the food processor is worth the cleanup.
Examples are my coconut oil pie crust, almond flour biscuits and almond flour chocolate chip cookies. With an almond flour dough, you don't need to worry about the processor blades working up the gluten as you would a wheat flour cookie. In fact, the short time the dough is in the food processor seems to make the flour even finer and the cookie, crust or biscuit smoother.
I even make more than one layer of a dessert or meal without cleaning the food processor between layers. After all, it's all going onto the same fork eventually, right? A great example is my Apple Marzipan Tart.
What are the ingredient subs to make this recipe vegan?
I started with a recipe with butter, eggs and honey so that I could compare the textures before and after. You can sub for just one or two of the ingredients, depending on your dietary preferences, or all three to make it vegan:
Coconut oil for butter
Flax eggs for regular eggs
Maple syrup for honey
The coconut oil and flax mixture will make a slightly denser cookie than butter and eggs, but the difference is very slight. In fact you'd probably only notice the difference if you have the two batches side by side.
These were so much fun that I'm working on a recipe using a different flavoring (and color) than the carob - say tuned!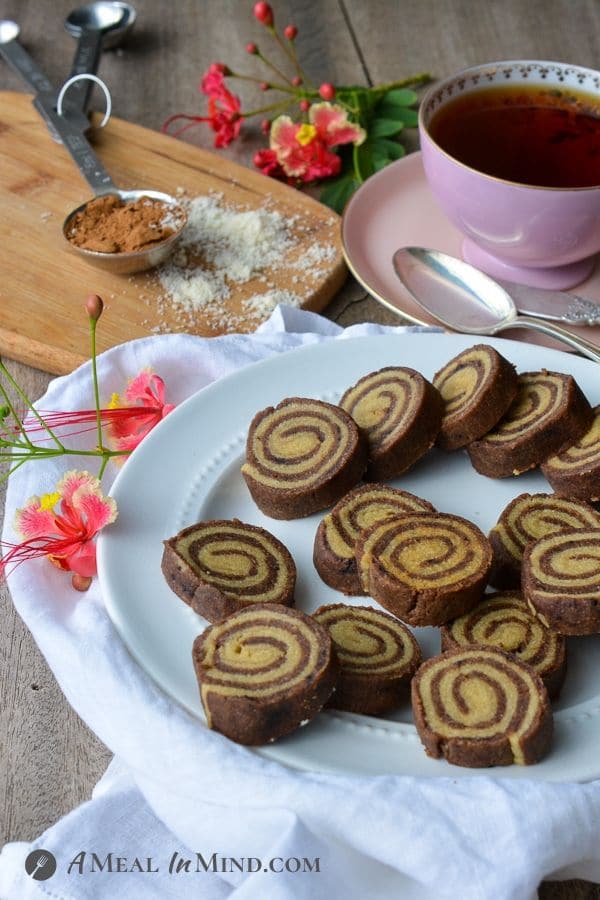 Is this recipe grain- as well as gluten-free?
The cookies are gluten-free because they contain almond flour rather than wheat. If you want them to be grain-free, use arrowroot flour rather than cornstarch.
And as a last note on all my subs, I chose carob rather than cacao powder because I was making the cookies for someone who avoids the caffeine that cacao contains.
Please, if you enjoyed this recipe or want to give it a try, pin it!
Beth
You may also enjoy these recipes
Almond Flour Dark Chocolate Chip Cookies GF
Apple Marzipan Tart with Almond Crust
Shop Almond-Flour Carob Pinwheel Cookies
Links to products for purchase are affiliate links. If you click on a link and make a purchase, I may earn a small commission on the sale at no additional cost to you. This helps me with the costs of blogging, and I thank you! You can find my 'shop' page here.
Almond Flour-Carob Pinwheel Cookies
These almond flour-carob cookies are smooth and buttery, with just a hint of sweetness from honey or maple syrup. The pinwheels are easier to make than you might think, especially if you use your food processor to mix up the doughs.
Ingredients
2

cups

almond flour

2

tablespoons

arrowroot powder or cornstarch

½

teaspoon

salt

5

tablespoons

coconut oil

or butter softened

1

flax egg = 1 tablespoon flax seed + 2 tablespoons water

or 1 egg at room temperature

3

tablespoons

raw honey

or maple syrup

2

teaspoons

vanilla extract

2

tablespoons

carob powder

or cacao
Instructions
In your food processor, combine the almond flour, arrowroot powder (or cornstarch) and salt and pulse until just blended. 

Drop in the coconut oil (or butter) and pulse until the fat is cut into the dry ingredients. 

Add the flax egg (or egg) and pulse - the dough will begin to gather into a ball. Pour in the maple syrup (or honey) and vanilla, and process until all is mixed together. Don't over-process. 

Remove half the batter and place in a covered container. 

Add the carob or cacao powder to the remaining dough in the food processor and pulse until well mixed in. Remove from the food processor bowl and knead the dough a bit if needed to incorporate any carob powder that hasn't gotten mixed in. Place the carob dough into a container. 

Refrigerate the two balls of dough for 1 hour. Alternatively, you can freeze the doughs for 30 minutes.

Roll the vanilla dough into a 10-inch square between 2 pieces of parchment paper, then remove the top sheet.

Repeat the process with the carob dough, then flip the carob dough on top of the vanilla dough. 

Trim the edge of the dough sandwich closest to you if it's really ragged. Carefully roll the dough into a tight log. It can help start the rolling if you lift up the parchment paper and use it to curve the edge over, then keep nudging the roll to keep it from cracking. 

Wrap the rolled dough in the parchment paper, then freeze it for 30 minutes.

Using a knife, cut the chilled dough into ¼-inch thick cookies and transfer each piece to a cookie sheet lined with parchment paper. The ends won't make pretty pinwheels but they'll still bake up plenty tasty! 

Bake at 325°F for about 12-15 minutes or until the top and edges start to turn brown.

Allow cookies to cool on the baking sheet for 5 minutes, then transfer to a wire rack
Notes
Modified from this recipe for chocolate pinwheel butter cookies
Prep time doesn't include time for chilling.
I made my flax egg with about a tablespoon less water than usual to keep my dough from being too moist, as otherwise you might want to bake the cookies an extra minute.
Pin for later!
Link Parties!
I shared this recipe on the link party called The Pin Junkie! Check it out here.