Try this simple yet delicious and hearty chicken apple-brie sandwich with slices of roast chicken, apple and brie on my Paleo nut and seed bread, moistened with cranberries and lettuce. This sandwich skips the mayonnaise. Instead, spread the bread with a light honey-mustard sauce.
There's something about winter that makes this sandwich sound so good - maybe it's the fresh apples and the sliced cranberries. Of course, a lot has to do with the bread.
Before my gluten-free days, I used to enjoy Etai's VC Big Apple Sandwich from Natural Grocers. The Big Apple sandwich is hearty and moist, with the fillings layered on bakery-made walnut-cranberry bread - very filling and with such a refreshing and tasty array of flavors.
Etai's is a bakery and cafe with several locations in Denver, as well as stocking items at Natural Grocers. They offer lots of gluten-free options as well as their traditional sandwiches. I encourage you to stop by if you have a chance - not sponsored, just putting in a plug for a local business.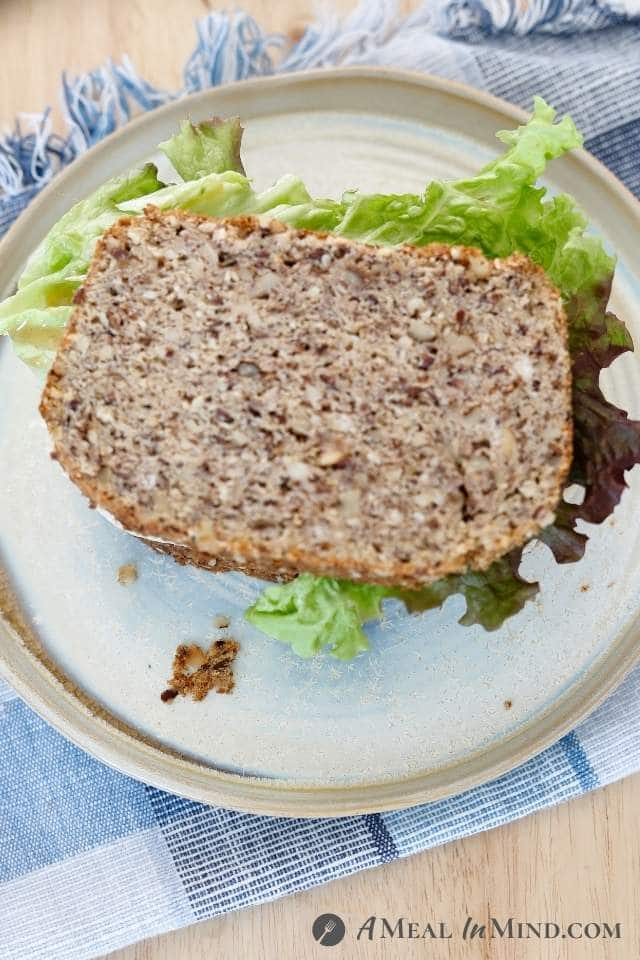 Paleo bread vs Gluten-free?
Whenever I can, I bake and enjoy my Paleo bread for toast, spreads or sandwiches. It is filling and full of fiber! Gluten-free breads are often low in fiber and I have to eat them sparingly (see this article about the high glycemic index of gluten-free processed foods).
Of course if you are looking for something more like a white bread but gluten-free, this one isn't. I'm still working on additional bread recipes, of course, and will post when I have something I really like.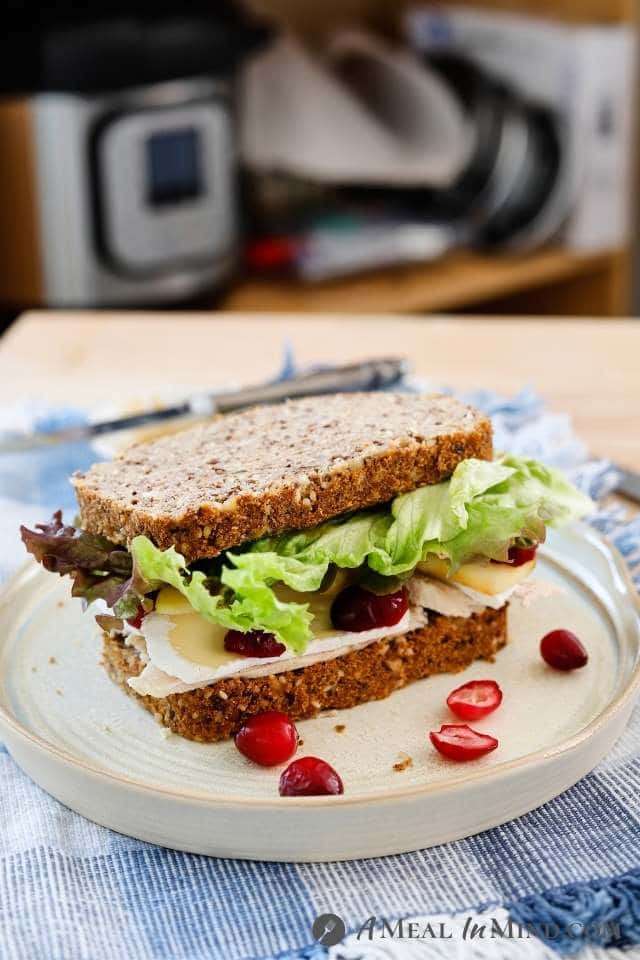 How to make this apple-brie chicken sandwich
My Paleo low-carb seed and nut bread was a logical choice for this recipe since it contains walnuts. With that as a base, I layered on some slow-cooked chicken breast, sliced thin, and tart-sweet apples, brie and cranberries from my frozen stash.
I moisten the sandwich with a simple honey-mustard spread since the Etai's sandwich doesn't have mayo. Then I add leaf lettuce.
Steps in making the chicken apple-brie sandwich
Slice the bread
Spread with honey-mustard sauce
Layer on the chicken slices
Layer on the brie
Add the halved cranberries
Add lettuce and spread with more sauce
So easy and so delicious!
I sometimes put more spread between the chicken and Brie layers, especially if the slices of bread are thick.
Also, this is quite a dense sandwich, and often it takes me two sittings to finish it all.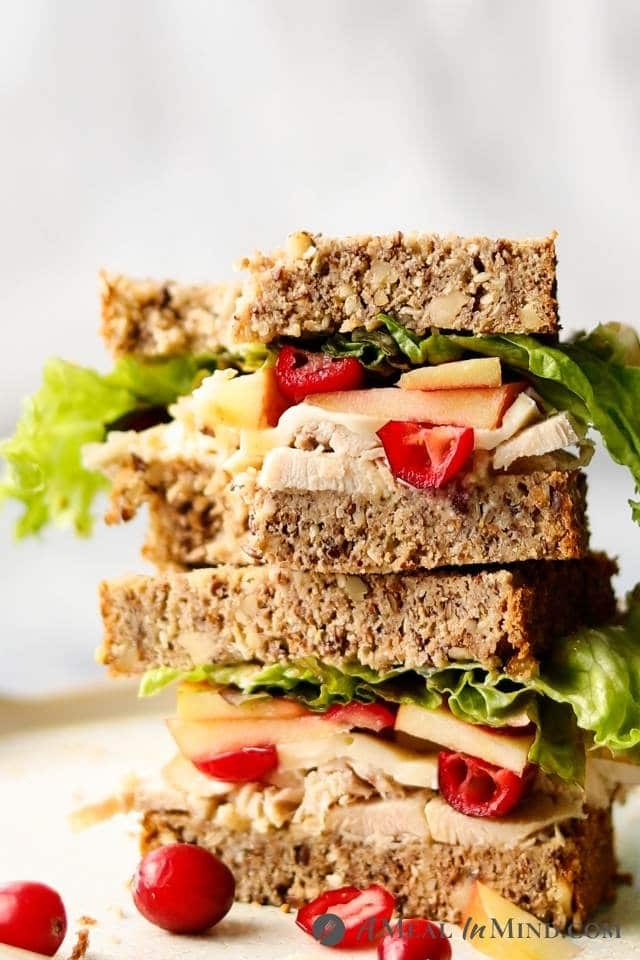 Customizing your apple-brie chicken sandwich
Sandwiches are a most-missed item when you first go gluten-free, especially if you are looking for a low-carb or high-fiber option. Most commercial gluten-free breads are based on high-carbohydrate flours AND the slices are so little!
However, there are many ways to customize this sandwich no matter what bread or fillings you have.
If you don't have walnut bread, sprinkle chopped walnuts onto the honey-mustard sauce
Substitute cranberry sauce for the sliced cranberries
Omit the brie and pile on more chicken for a dairy-free sandwich
Go with sliced deli chicken if you don't have time to roast some
Substitute mayo for the honey-mustard sauce
For a post-Thanksgiving leftovers meal, used sliced turkey instead of chicken
I hope you will give this sandwich a try!
Other recipes you may enjoy
Roasted Heirloom Tomato Tart with Chickpea-Walnut Filling
Chicken Pasta with Dairy-Free Macadamia Pesto
Creamy Mac and Cheese Chicken Soup; Gluten-Free
Green Chile-Rice Chicken Casserole
If you make this recipe, please let me know! Leave a comment, rate it, and don't forget to tag a photo #amealinmind on Instagram. I'd love to see what you come up with. Thank you so much!!
Beth
Chicken Apple-Brie Sandwich - Paleo
This easy and tasty chicken sandwich is a Paleo version of one of my deli favorites. It's an Etai's VC Big Apple Sandwich copycat. Made with a Paleo nut and seed bread, roast chicken, Brie and cranberries, it's a great winter sandwich. 
Ingredients
⅓ to ½

apple

sliced, I like Kanzi or Pink Lady

4

ounces

chicken breast from roasted chicken or rotisserie

sliced

2-3

slices

of brie cheese or to preference

2-3

Lettuce leaves

2

tablespoon

Honey-mustard sauce

1 tablespoon of dijon mustard to 1 tablespoon honey

10

Cranberries

fresh or frozen, cut in half

2

slices

Paleo nut and seed bread
Instructions
Slice the bread according to your preference.

Spread both slices of bread with a layer of honey-mustard sauce.

Add the chicken slices - one or two layers as you like. For an extra-moist sandwich, add more sauce here.

Layer on the brie, or use more chicken if you want this sandwich dairy-free.

Add the halved cranberries - as many will stay in the sandwich.

Add lettuce and a bit more sauce. Serve on its own or with vegetable sticks.
Notes
For a gluten-free option, use any gluten-free bread for this sandwich. If your bread doesn't contain walnuts, sprinkling chopped walnuts into the sandwich with the cranberries will give a delightful crunch. 
Nutrition facts are only an estimate, based on entering ingredients into the analyzer at Happy Forks. In particular, there is no Paleo bread option available, so the carbohydrate content given here is higher than actual.

Please pin for later!