This roasted heirloom tomato tart with chickpea-walnut filling is a hearty and savory light main dish or side -- or even breakfast. It shows off the beautiful colors and shapes of heirloom tomatoes on a tangy filling and buttery crust.
You've seen those heirloom tomatoes, and maybe even wondered if they were edible! Well, they are well into delicious. Gorgeous colors: reds, golds, purples, greens and stripes. Sometimes with lumpy contours or bigger than your hand, they are a celebration of tomato-ness.
This heirloom tomato tart is a combination of several recipes and suggestions. I hope you won't be put off by the long-ish list of ingredients - each one is worth it!
Three components of the Heirloom Tomato Tart
A
buttery crust,
but no butter.
Enter seeds like sunflower, combined with oats to keep the crust from being too solid. A little coconut oil, a little garlic and salt - mmm.
This layer, like the filling, is made in the food processor. You can use oat flour if you have it, but I like the slight coarseness of the oat flour I make myself. Then you add the sunflower seeds and process until they are the texture you like.
There is just enough oil to keep the crust together while you press it into your pan.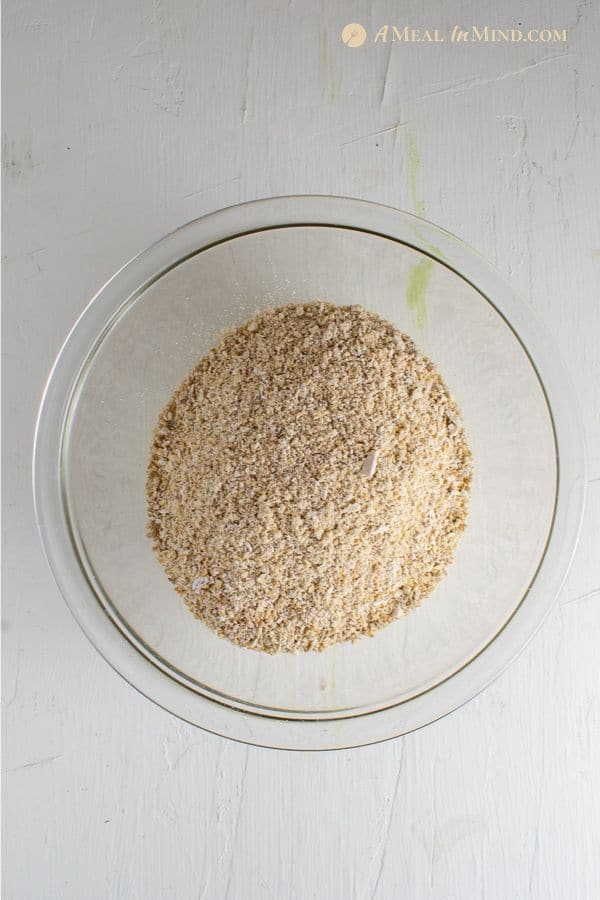 A filling without eggs or cheese
Most tart recipes call for the tomatoes to sit on a bed of cheese, often blended with eggs to form a custard. Though cheese has lots of great umami flavors to balance those in the tomatoes, we eat little cheese because one of us has lactose intolerance.
Not only that, if my grandson is to enjoy the tart, nix the eggs because of his allergy.
So voila -- this savory garbanzo-walnut filling. Nutritional yeast and Dijon mustard give cheesy flavor and tang and the walnuts and garbanzos make for a creamy texture. If you think walnuts may give a bitter taste you could try it with pecans!
See note below about cashews, too.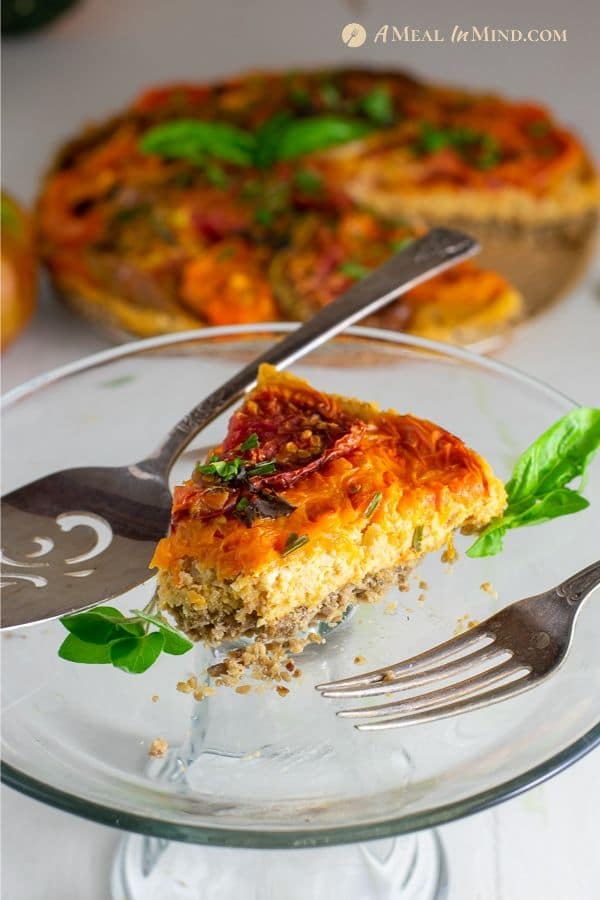 Roasting to bring out tomato-umami
Last, the tomatoes can't be too watery. Heirloom tomatoes are BIG and hold lots of moisture.
For this recipe, you'll roast them to caramelize the sugars and reduce the water, so that they don't make the filling and crust soggy. Roasting brings out the tart-sweet-umami like you wouldn't believe.
Assembling the three layers takes time, but not as much as you'd think. And the ingredients list looks long, but everything goes together pretty quickly.
Roast the tomatoes while you are preparing and baking the crust, then preparing the filling. I love that both crust and filling can be whizzed up in the food processor. And true confession: I don't wash the food processor bowl in between the layers - no need.
The tart is a perfect light company supper or party dish. Or breakfast!
I want to acknowledge Ela Family Farms' wonderful produce - I bought these tomatoes from them at the South Pearl Farmers' Market. If you are in Colorado and you have a chance to try their organically grown produce, I couldn't recommend it more highly - and this is not an ad!
As always, if you make this recipe, please leave me a comment so that I know how it went, or to ask questions!
Beth
Pin for later!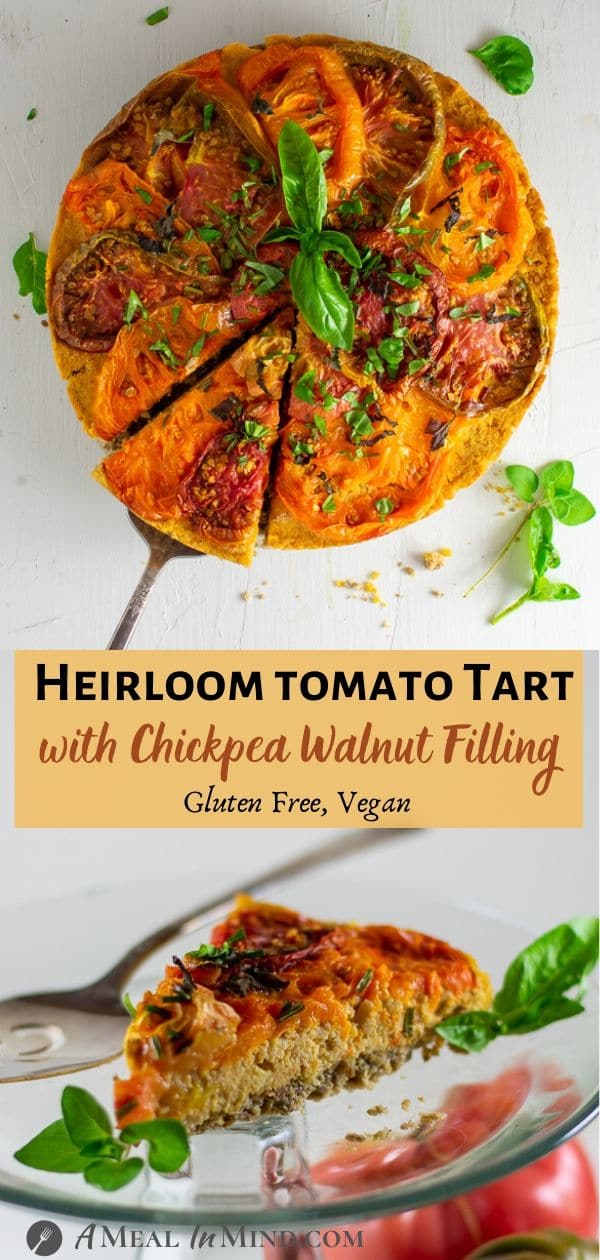 You may also like
Tuscan chicken with spinach, tomatoes and artichokes
Roasted Shrimp with Broccoli and Cherry Tomatoes One Pan
Mediterranean Quinoa Vegetable Salad
Japanese Chicken Curry from Scratch
Shop Heirloom Tomato Tart with Chickpea-Walnut Filling
Links to products for purchase are affiliate links. If you click on a link and make a purchase, I may earn a small commission on the sale at no additional cost to you. This helps me with the costs of blogging, and I thank you! You can find my 'shop' page here.
Roasted Heirloom Tomato Tart with Chickpea-Walnut Filling - GF and vegan
This heirloom tomato tart with chickpea-walnut filling is a hearty and savory treat for a light side dish or breakfast leftovers. It shows off the beautiful colors and textures of heirloom tomatoes with a buttery crust and tangy filling. 
Ingredients
For the sunflower seed-oat crust

1 ¼

cups

oats

¾

cup

sunflower seeds

½

teaspoon

garlic powder

½

teaspoon

sea salt

3

tablespoons

coconut oil at cool room temperature

~3 tablespoons ice cold water
For the filling:
1

cup

soaked walnuts

well drained (soak for at least an hour to soften)

3

tablespoons

water or liquid drained from the chickpeas

¼

cup

nutritional yeast

2

tablespoons

lemon juice

1

teaspoon

garlic powder

1

tablespoon

dijon mustard

1

large slice of very ripe tomato

¾

can organic chickpeas

drained (about 1 cup)

½ to 1

teaspoon

sea salt

we use the lower salt level

The tomato layer

4 to 6

multi-colored heirloom tomatoes – slice about ⅜ inch thick

Olive oil

for brushing on the tops of the tomatoes

Chives

Basil & Oregano or herbs of choice to sprinkle on
Instructions
Preheat oven to 350°F and lightly grease a 9" tart-pan with a removable bottom. I use a springform pan, and also cut a circle from brown parchment paper to place on the bottom of the pan so that the slices are easy to remove.

Place sliced tomatoes on a cutting board or plates lined with paper towels.
Make the crust. 
In a food processor, blend oats until the texture of coarse sand. Add sunflower seeds, garlic powder and salt and blend until the seeds are also a crumb-like texture. Add the coconut oil and pulse until well incorporated. 

Add water, 1 tablespoon at a time, pulsing until the mixture comes together in a ball. It should take about 3 tablespoons until this happens. 

Pour the dough out into the tart pan and use your fingers to press in the crust firmly. Use a fork to prick the crust 15 times to allow steam to escape when baking.

The tomatoes

Meanwhile, use clean paper towels to dab away moisture from the tops of the tomatoes. Transfer tomato slices onto two baking sheets lined with parchment paper. Brush tops with 1 tablespoon of olive oil.

Place the tomatoes in the oven, and bake for 45 minutes until they begin to dry and wrinkle. Once the tomatoes go into the oven, add in the tart crust to bake at the same time. Bake the tart crust for 30 minutes, then remove and allow it to cool while the tomatoes finish roasting.

The filling

Add all the filling ingredients to your food processor then blitz until smooth and creamy. The consistency will be about like thick hummus. 

The tart

Once the tart crust has cooled for the 15 minutes or so that the tomatoes have continued roasting, transfer the filling into the tart shell. 

Carefully spread the filling mixture across the bottom of the tart as it will lift the crust if you spread too much sideways.

Arrange the roasted tomato slices on top. Press in a little.

Brush with olive oil and dust with a sprinkle of sea salt and herbs.

Return to the oven and bake for 30 minutes (until the crust is a little dry-looking at the edges, the filling has pulled away from the edges of the pan and the tomatoes are cooked and settled into a layer). Remove from the oven and allow to cool. Run a knife around the edge to separate the filling from the sides of the pan, if needed, before lifting the springform insert from the pan.

Sprinkle on fresh chives, basil & oregano, or other herbs you have. Serve with a big salad or dips and fresh vegetables. 

This tart is best fresh, but can be warmed up in the microwave the next day. After that, the topping gets soggy from the moisture of the tomatoes, though no flavor is lost. 
Notes
If you can tolerate cashews, you can try them in the filling, as the cashews will blend up more smoothly than other nuts and give a creamy texture. That's not an option for us, so I haven't tried it, but that was the nut used in the recipe I modified this one from. But the walnuts work better than macadamias, which don't change much during soaking, and take much more processing to become fine enough. 
Try to select similarly sized tomatoes as they'll roast at the same rate.
Thanks for inspiration for the filling from this recipe. 
And for the crust from this recipe. 
Pin for later!