These are the things I love about a Japanese homemade curry: A rich, dark, mysterious sauce that coats the rice perfectly. Tender onions, carrots, potatoes, and peas. Flavorful bits of meat that melt in the mouth. Fabulous on rice but equally good on its own, and dairy- and gluten-free. That's what you will experience in this Japanese chicken curry from scratch.
This recipe has all the goodies while you avoid the curry "bricks" with their MSG, dairy, gluten and soy. Its distinctive flavor is from a Japanese curry powder (S&B) as well as other ingredients not typically used in other types of curries.
Ingredient magic
Although the ingredients may seem a long list, it's worth every one. Most, including the curry powder, are the tastebud-boosters that make the flavors so complex. Worcestershire sauce. Hint of ketchup for the tomato umami. Garlic, ginger, bay. Cocoa (or carob) powder. Home-made broth if you have it, purchased if you don't.
This rich curry was inspired by the many wonderful Japanese curry restaurants we've visited in Honolulu over the years. One notable, if short-lived, curry house was Kalei-Tei on Kapahulu Avenue. Any old-timers remember them? But I can buy all these ingredients in Denver too, only needing to visit a specialty market for the curry powder.
Cooking tips
There are a few important tips for this recipe to have the ultimate in taste. First, caramelizing the onions takes a little longer but adds a huge amount of flavor. It also helps to thicken the sauce, which is why you want to REALLY use two large onions! And I don't even caramelize them until completely brown (you are welcome to!)
We like lots of garlic and ginger here too – the flavors blend quite well since you add them just before the onions.
Japanese curries are on the sweet side, often accomplished by adding grated apple. We didn't like the sweetness of the apple or find the result tasted like what we had had in Japan or Japanese restaurants in Hawaii. The addition of ketchup rather than tomato paste accomplished this (and avoided having leftover tomato paste).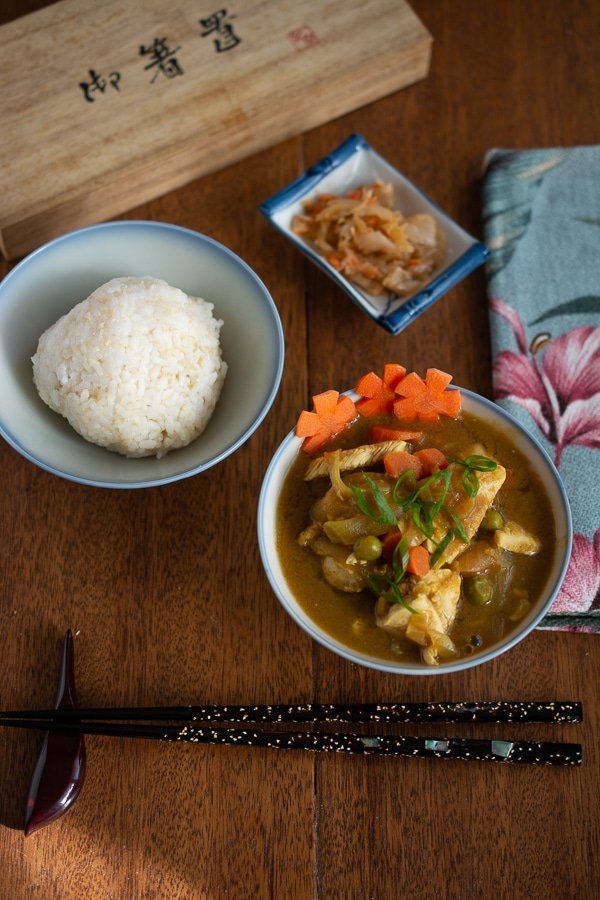 I hope you will enjoy this recipe and leave me a comment!
Beth
Curry recipes from other ethnic cuisines
Thai Green Coconut Milk Mahi-Mahi Curry
Instant Pot Beef Coconut Milk Curry
Kitchen items used in Japanese chicken curry from scratch
Some links in this post are affiliate links. If you click on the link and make a purchase, I may earn a small commission from the sale at no additional cost to you. This helps me support my blogging work, and I thank you!
Japanese Chicken Curry from Scratch
This recipe has everything I love about a Japanese homemade curry: A rich, dark, mysterious sauce that coats the rice perfectly. Tender onions, carrots, potatoes, and peas. Flavorful bits of meat that melt in the mouth. It's fabulous on rice but equally good on its own, and dairy- and gluten-free.
Ingredients
1

pound

boneless skinless chicken thighs or breasts

cut into 1-inch pieces

1

teaspoon

salt

2

tablespoons

coconut or olive oil

4

large cloves garlic

minced

1-

inch

piece ginger

minced

2

large sweet or yellow onions

thinly sliced

3

tablespoons

S&B Japanese curry powder

3

cups

chicken stock

2-3

carrots

cut on the diagonal into ½-inch chunks

2

tablespoons

Worcestershire sauce

1

tablespoon

tomato ketchup

1

teaspoon

unsweetened carob

or cocoa powder

1

teaspoon

salt

1-2

bay leaves

10

baby Yukon gold potatoes

diced

½

cup

frozen green peas

2

tablespoons

gluten-free flour such as arrowroot
Instructions
Sprinkle the cut chicken with 1 teaspoon of salt and mix evenly.

Heat the coconut or olive oil in a heavy-bottomed pot over medium-high heat. Brown the chicken for 3-4 minutes. Turn the chicken and let it brown on the other side. (If using chicken breast meat, brown for a shorter time.)

Turn down the heat to medium-low. Transfer the chicken to a bowl, leaving any remaining oil in the pan.

Add the minced garlic and ginger and fry until golden, 1-2 minutes.

Add the onions and stir. Cover with a lid and let the onions steam until softened, about 10-15 minutes.

Remove the lid and cook the onions while stirring constantly until they begin to caramelize (see photo). If the onions stick to the bottom of the pan, add a small amount of water to the browned areas which will loosen them.

Add the curry powder and stir until fragrant, 1-2 minutes.

Pour in the stock and add the carrots, tomato ketchup, Worcestershire sauce, cocoa powder, remaining salt, and the bay leaf. Bring to a boil and then reduce the heat. Cover and simmer for 15 minutes.

Add the potatoes and the cooked chicken. Cover and simmer until the carrots and potatoes are very tender, another 15-20 minutes.

In the last few minutes of cooking time, spoon your gluten-free flour into a heatproof glass bowl. Dip spoonfuls of the hot broth from the soup pot onto the flour and stir the flour-broth mixture with each addition. Once you have added enough broth that the mixture is completely stirred with no lumps and is easy to pour, return it to the large pot.

Stir the broth/flour mixture into the simmering curry and stir while heating until the sauce thickens, 3 minutes.

Taste and adjust salt.

Serve with hot rice and Japanese condiments like tsukemono (pickled cabbage).
Notes
This recipe reheats beautifully and is even better as leftovers the next day. It keeps well frozen for up to a month.