Making a Basic Thai Curry
This rich, simple yet flavorful Thai Green Coconut Milk Mahi Mahi Curry has been a favorite in my family for years. Mahi Mahi has a tender texture, easy to slice into cubes for cooking, and stays tender with gentle simmering. It soaks up the complex flavors of the onions, bell peppers, spices, and coconut milk.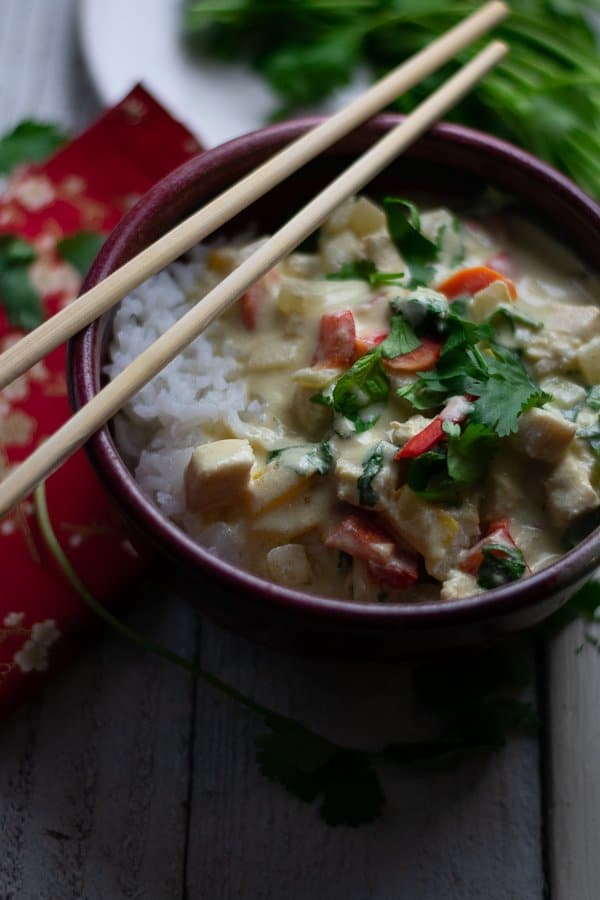 Over ten years ago I took a Thai cooking class at Kaimuki High School in Honolulu. It was taught by a French-trained chef who had taken the class over from a Thai chef who taught it before him. In the class, there was a large group of us to chop and peel the ingredients. We made everything from scratch. It was so much fun to be chopping with a large group of cooks! This version relies on purchased Green Chili paste for its flavor. I have tried two brands: Thai Kitchen and Mae Ploy, both very good.
Prepping Ingredients
Our chef taught us to work through mise en place, which (as most of you culinary artistes already know, I'm sure) means to place all the ingredients in little bowls, ready at hand for cooking. I confess I don't always do this, finding myself chopping the next ingredient while the one before that is cooking - don't tell!
Specific Ingredients
I am careful to start the carrots first -- and also to cut them differently than I learned growing up. It always bothered me that when I'd cut the carrots cross-wise in disks, they'd roll off the cutting board. I love this method: cutting them at angles as you rotate the carrot on the cutting board. It's easier to cut the pieces in uniform sizes, too, instead of having fatter pieces from the bottom of the carrot.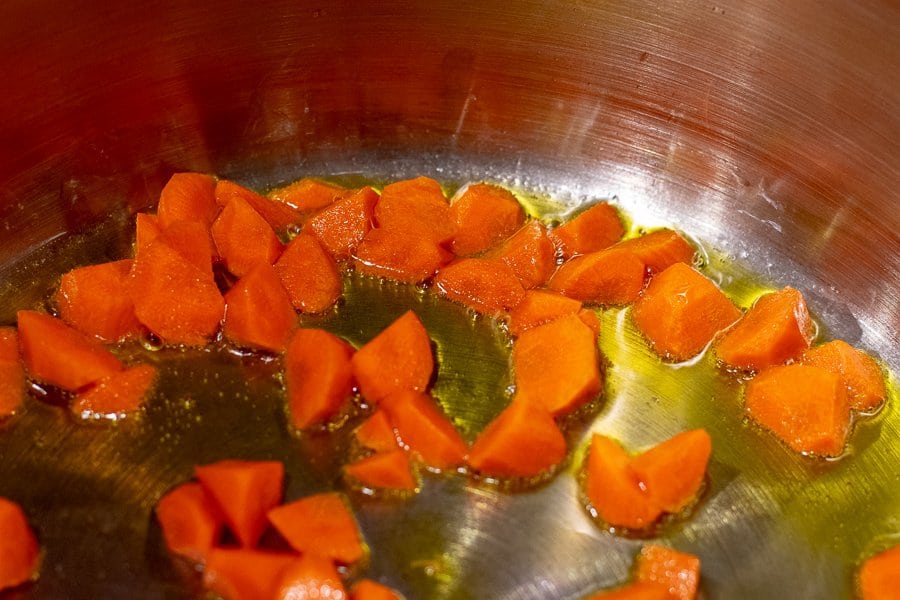 In her book Nourishing Traditions, author Sally Fallon suggests that the carrots be cooked before the other vegetables. This allows the beta-carotenes to dissolve in the cooking oil, making the nutrients more available than they in raw carrots. The coconut oil takes on a slight golden tint as they saute. This is why you'll always see carrots listed before the onions in dishes that have both.
Choosing a Protein
We used chicken for this dish during the cooking class, but I like fish so much as the protein that I've featured it here. In Hawaii, I like to use Opah, or Wahoo, when I can get it. Here in Denver, Mahi Mahi is more often available and affordable.
In any case, I add the meat or fish right at the end so that it cooks from the heat of the stew. This keeps it from getting tough. You can simmer the stew more according to your preference, of course.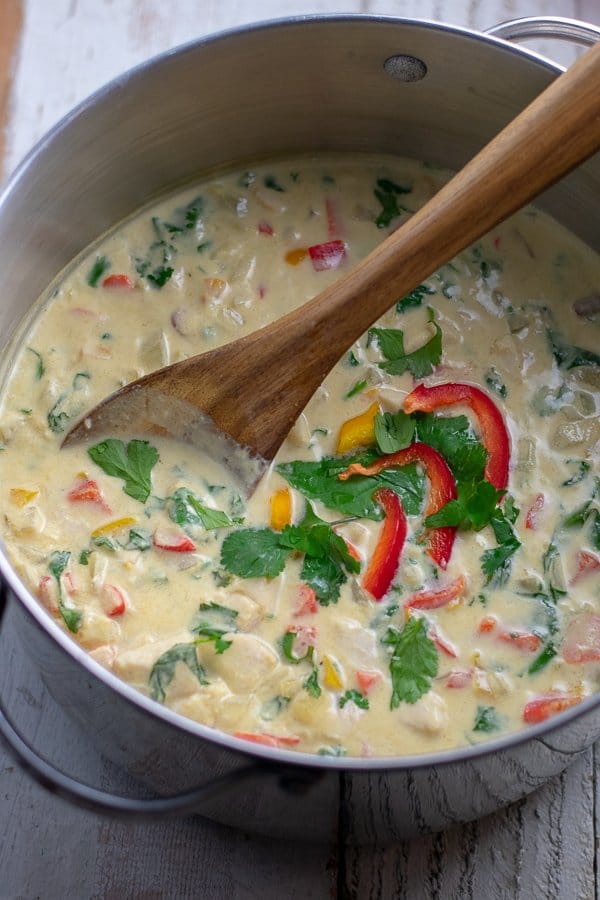 Thai dishes are naturally gluten-free, which is great for Paleo eater. They are not grain-free, though, if you serve it over rice as is traditional. My older son prefers brown Basmati rice with this curry, while my younger son likes white Jasmine. I have tried it with quinoa, but the flavor of quinoa is a bit strong for this curry, I think. I have also eaten this Thai Green Coconut Milk Mahi Mahi Curry all by itself, often for breakfast. Try it and let me know what you think - please!
XOXO
Beth
Some parts of this post may contain affiliate links. If you click on a link and make a purchase, I may earn a small commission on the sale at no extra cost to you. This helps me support my blogging efforts, and I thank you!
Thai Green Coconut Milk Mahi Mahi Curry
This is a rich, simple yet flavorful Thai curry. The Mahi Mahi cooks quickly to give a tender texture and to soak up the complex flavors of the bell peppers, spices, and coconut milk. The curry can be made as spicy as you like depending on how much curry paste you use.
Ingredients
2

tablespoons

coconut oil

2

carrots

sliced at angles

1

yellow onion

diced small (¼" to ½")

1

yellow bell pepper

deseeded and diced

1

red bell pepper

deseeded and diced

3

cloves

garlic

peeled and minced

3

tablespoons

Thai Green Curry Paste

2

tablespoons

+ 1 teaspoon Thai fish sauce

2

teaspoons

Chicken broth concentrate

1

teaspoon

coconut sugar

1

teaspoon

pink sea salt

2 13.5-

ounce

cans coconut milk

see note

3

mahi mahi fillets

4 oz each, cut into ½ " chunks

2-3

ounces

basil leaves

coarsely chopped (a large handful)

generous handful cilantro

stems removed
Instructions
Heat the coconut oil on medium-low and add the chopped carrots.

 Saute gently until the oil turns golden and the carrots are slightly tender, about 5 minutes.

 Add the onions and sauté until slightly softened, about 5 minutes more.

 Add the bell peppers and continue to cook, about 5 more minutes.

 Spoon in the curry paste and stir to coat all the vegetables.

 Pour in the coconut milk, fish sauce, chicken broth concentrate, salt and coconut sugar, and stir to mix well.

 Bring to a gentle boil for 10 minutes.

 Reduce heat to low, then add the mahi mahi chunks and stir until they are just cooked, about 3-5 minutes.

 Add the basil and cilantro and stir to combine.

 Serve over hot rice.
Notes
The thickness of your curry will depend on your coconut milk. Chaokoh brand will give quite a thick curry, because of the added sodium metabisulfite. Trader Joe's coconut milk will give more of a soup-like texture. Thai Kitchen brand is in-between. All have delicious flavor!