I love curries! Thai, Indian, Himalayan -- I enjoy so much about them. The complexity of the flavors -- just the right amount of spicy heat -- the mellowing of everything in the coconut milk. Yum!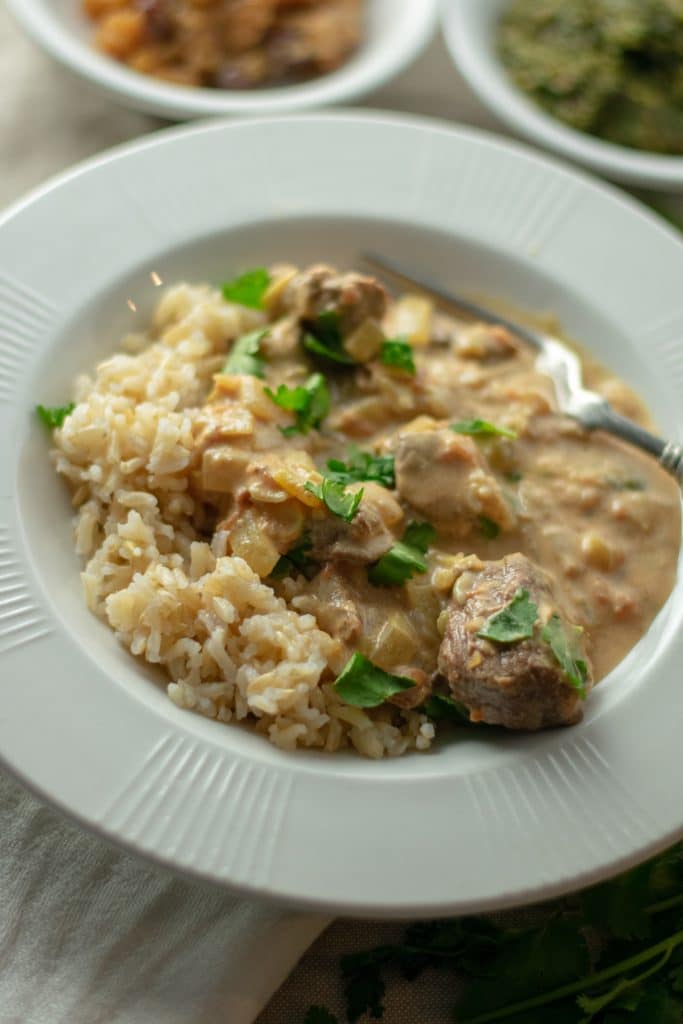 This Instant Pot Beef Coconut Milk Curry is delicious and simple to put together. It's a meld of tikka masala and korma style curries. It can be made with lamb as well.
Although at first I thought it might have too much garlic and ginger, these give the recipe tremendous flavor. The spices are available in most markets so you can make this curry from scratch and adjust the seasonings to your taste. I've discovered that I love coriander!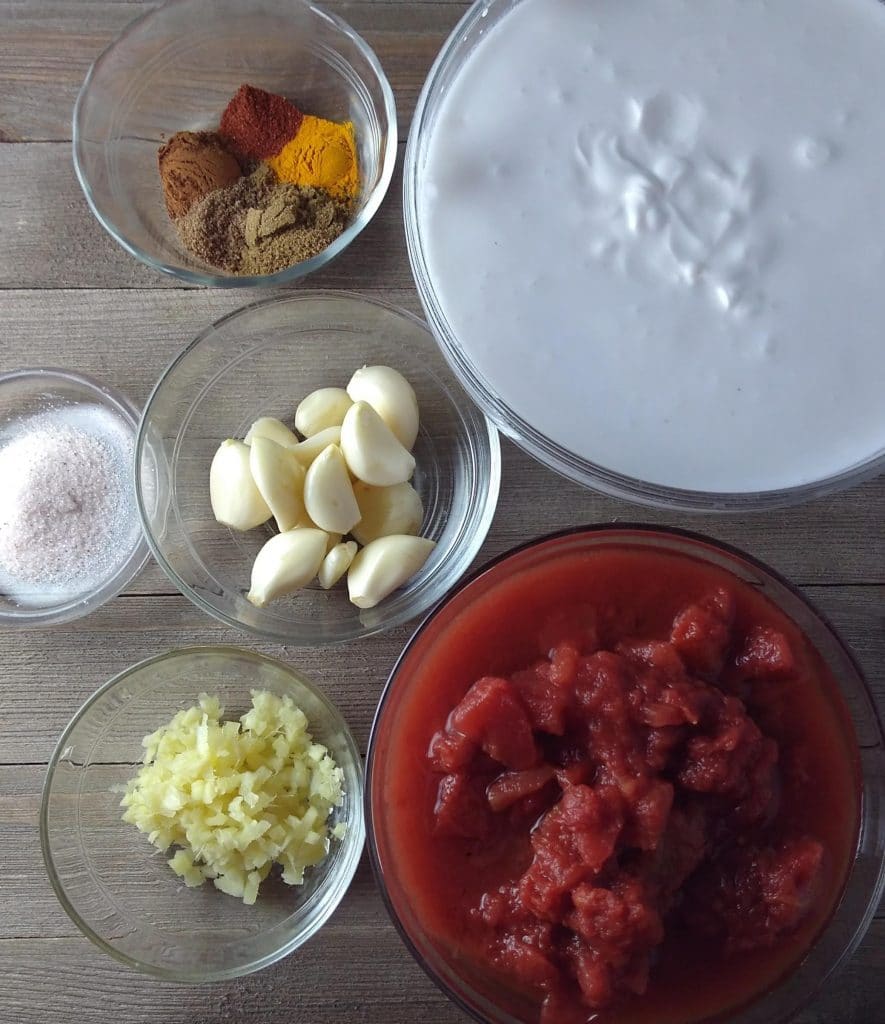 You can sear the meat pieces in a separate skillet or in the Instant Pot, though if you use lamb chops, as we do when we can get them, you will need to remove one set of pieces before searing the second set. You can use the pressure-cook function of the Instant Pot if time is of the essence, but slow-cooking makes this extra savory.
This beef coconut milk curry is fabulous with saag (recipe soon!) and chutney of any kind. Also, adjust the amount of cayenne pepper according to your preferred heat level. As written here, it is designed to be fairly mild.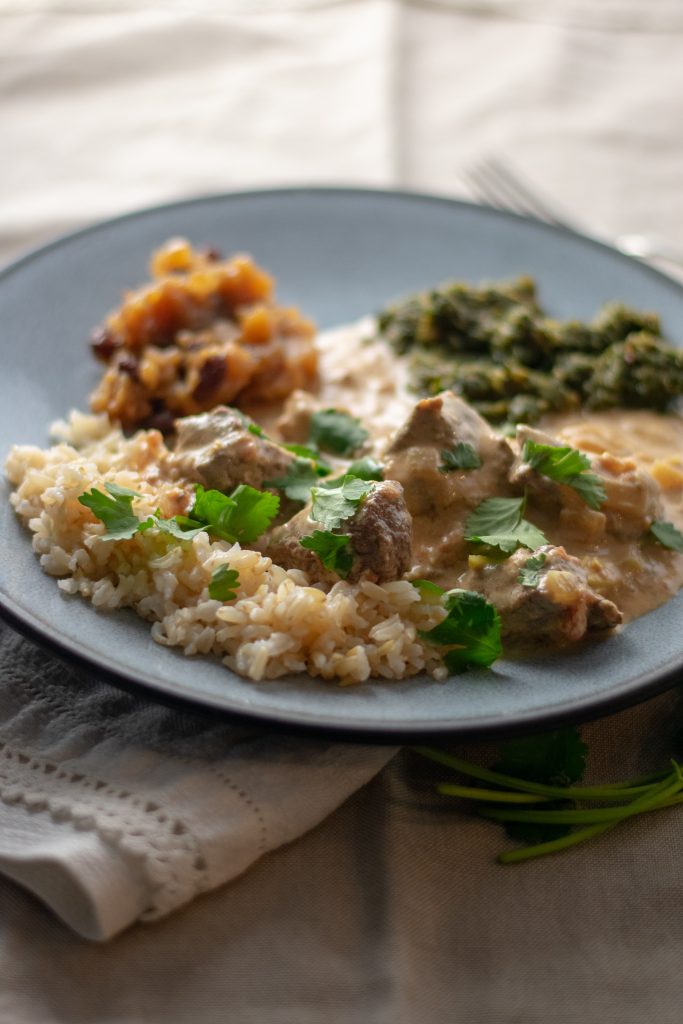 Can be served immediately (if you can't stand to wait), but it's even more flavorful if you can refrigerate the curry for 1 or 2 days before serving. We like to serve it over rice or roasted Yukon Gold potatoes.
Instant Pot Beef Coconut Milk Curry
I love curries! The complexity of the flavors, just the right amount of spicy heat and the mellowness that long simmering in coconut milk brings.
Ingredients
2

tablespoons

coconut oil

divided

2

pounds

beef stew meat or boneless lamb leg

trimmed of fat and cut into 1-inch cubes

2

yellow onions

diced

10-15

cloves

garlic

peeled and finely chopped

1 to 2-

inch

piece ginger

peeled and finely chopped (Rob likes double that amount)

2

teaspoons

ground cumin

1 ½

teaspoon

ground coriander

1

teaspoon

turmeric

1

teaspoon

garam masala

¼

teaspoon

cayenne pepper

or more to taste

5

teaspoons

pink sea salt

2 14-

ounce

cans of diced tomatoes

pureed slightly with a hand blender to break up chunks

2 13.5-

ounce

cans of coconut milk
Instructions
Heat 1 tablespoon of the oil in a large non-stick skillet over medium-high heat.

Sear half the beef chunks at a time, browning all sides, and place them in the Instant Pot.

Still using medium-high heat, add the remaining tablespoon of oil and the onions to the non-stick skillet and cook until onions are soft and translucent.

Add the spices and salt and continue to cook for about 1 minute, stirring frequently.

Add the chopped garlic and ginger and cook for 1 to 2 minutes, stirring frequently, until fragrant.

Turn off the heat. Add the canned tomatoes and the coconut milk, and stir until all ingredients are well mixed.

Pour the onion-tomato-spice mixture over the meat in the Instant Pot.

Cover and slow-cook on normal setting for 8 hours; or pressure cook on the High Pressure setting for 20 minutes, then allow pressure to release naturally for 10 minutes.