Here is a tasty, savory and quick comfort-food recipe that's a slight variation on tamale pie. Don't have corn meal but have some cooked rice? Got cooked or rotisserie chicken? This mix-and-bake recipe is for you.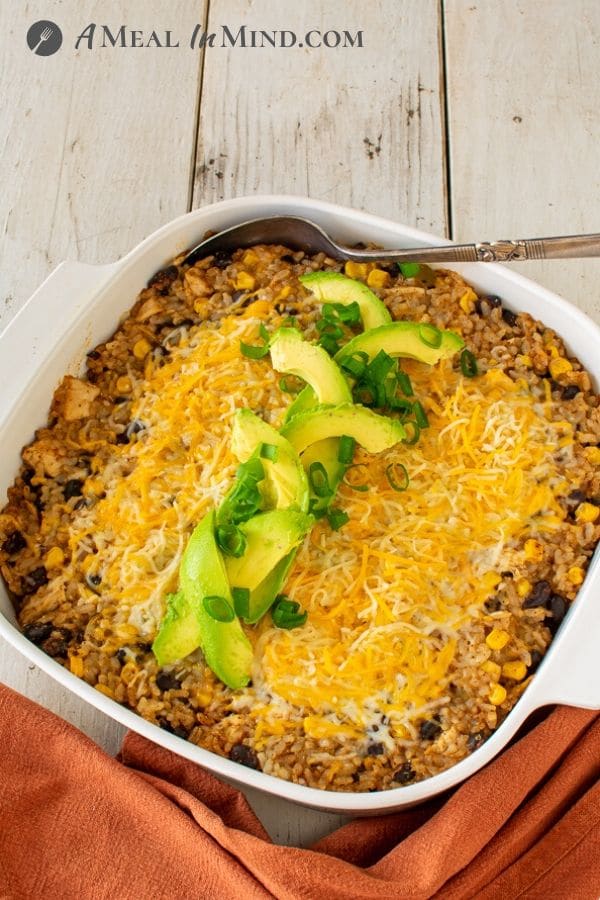 Burrito bowl as casserole
This recipe is really a burrito bowl, stirred and baked: cooked rice, salsa, beans, corn and chicken. Add some seasonings and cheese and it's a perfect blend of Mexican flavors with very little prep. Simply combine the ingredients, pour into an oiled casserole dish, sprinkle on a little more cheese, and bake.
We had extra avocados so I garnished the casserole with avocado slices but also served guacamole and red salsa on the side for anyone who wanted more (which was everybody).
Ingredients for this dish:
leftover chicken breast, cut into cubes

1 can of black beans (because we have 8 cans in our pantry right now and who knows when else I'll use them??

canned corn, same reason

medium green chile salsa (Safeway)

short grain brown rice, soaked and cooked

spices: cumin, coriander, chili powder, salt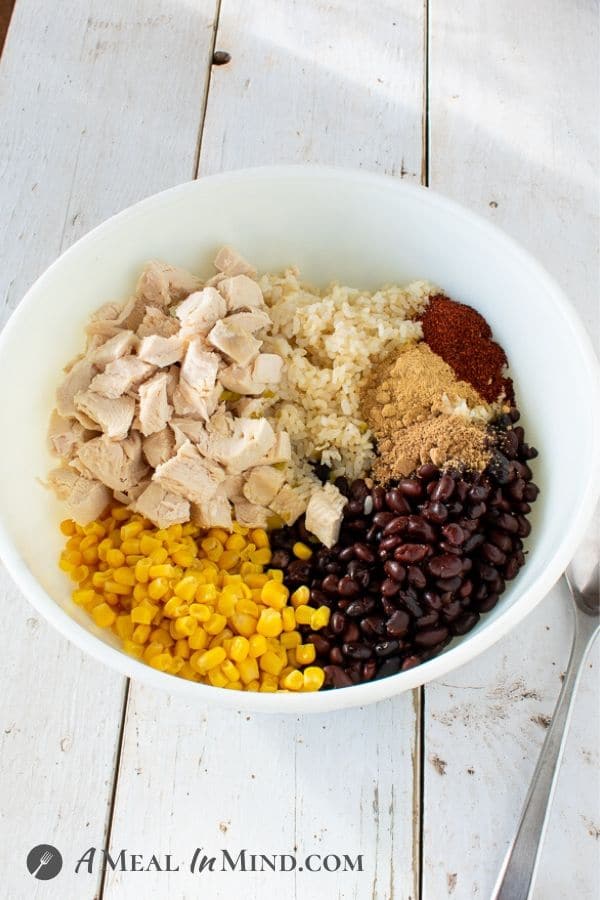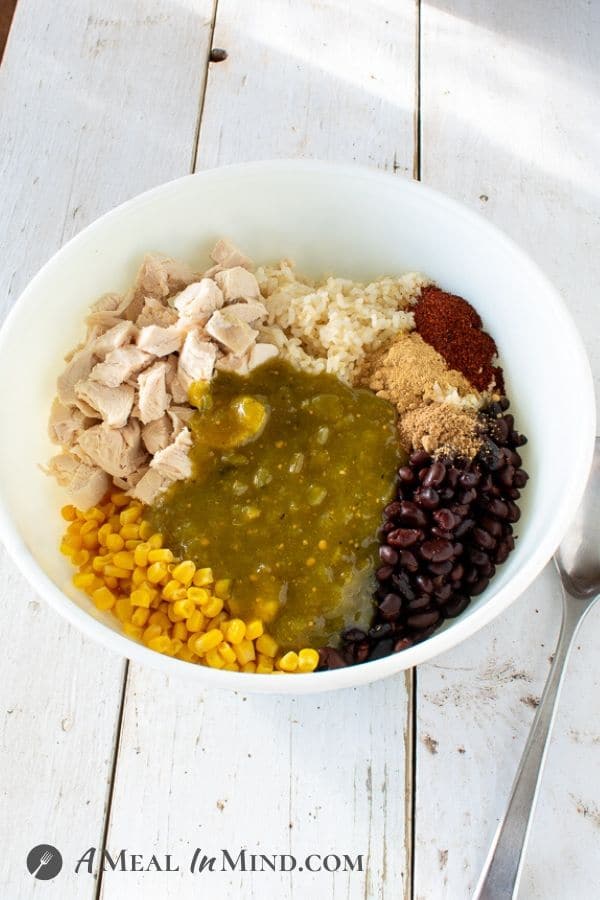 Here are the ingredients and the seasonings in a big mixing bowl, then mixed up. You can add more chili powder if your salsa is mild or if you want to up the heat. Consider cayenne if you are feeling daring.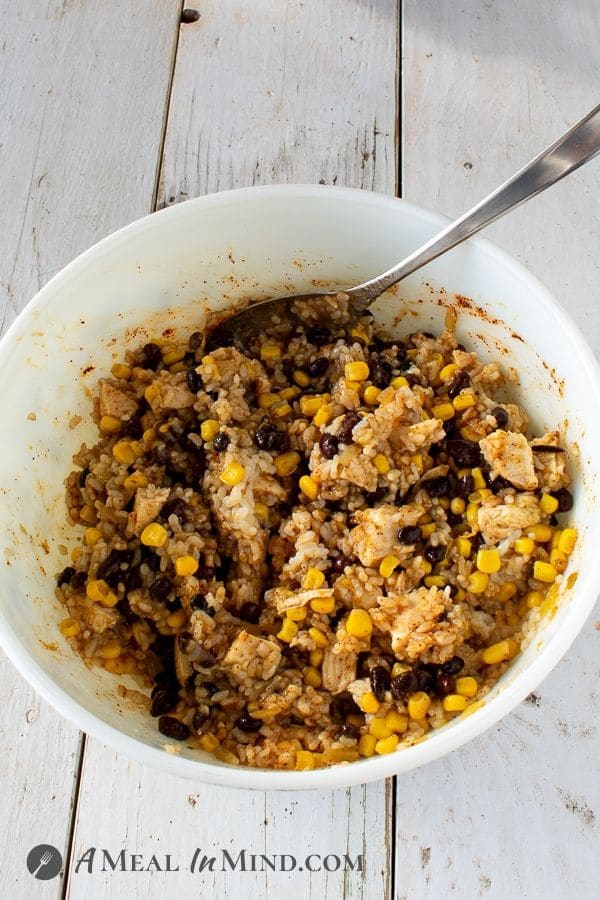 Then it all goes into a casserole (this is one of my old Corning Ware bakers) and gets more cheese sprinkled on top. If I were in Denver (I'm in Honolulu) I'd use my trusty Dutch oven.
For a dairy-free version, I suggest Violife feta, which we prefer to Daiya shreds these days.
After that, the casserole just needs to be heated until the cheese melts. Yum, yum.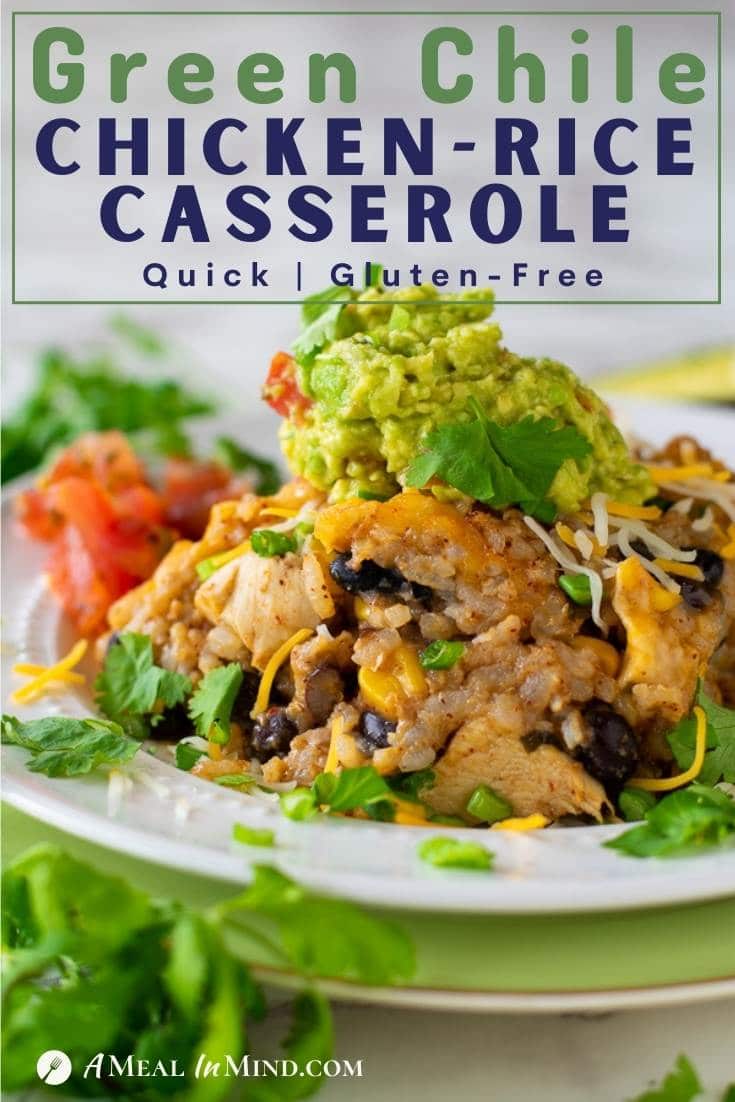 Yes, it's as easy as that! It makes a great potluck dish (for the future, of course, once we are past the coronavirus and can have potlucks again!) But this recipe made enough for two meals each for three people, and it was wonderful.
Besides, it was a great way to use a bunch of avocados (I overbought). Here's a surprise tip: I actually had started soaking this short-grain brown rice for another recipe, then forgot it in the fridge for two days. It turned out perfectly!
I suggest that the rice be completely cooked for this dish, as the time in the oven for the casserole is really just enough to warm everything through.
If you have a chance to make this recipe, please leave me a comment to let me know how it went, and tag me on Instagram so I can see!
Enjoy!!
Beth
Comfort food dishes on A Meal In Mind
"Dirty" Rice Sausage Bake with Vegetables
Butternut Squash Chicken Rice Bake
Spaghetti Squash Greek Pastitsio Gluten and Dairy Free
Slow Cooker Green Chile Chicken Enchilada Soup – Gluten Free
Shop green chile-rice chicken casserole
Links to products for purchase are affiliate links. If you click on a link and make a purchase, I may earn a small commission on the sale at no additional cost to you. This helps me with the costs of blogging, and I thank you! You can find my 'shop' page here.
Green Chile-Rice Chicken Casserole
Here is a tasty, savory and quick comfort-food recipe that's a slight variation on tamale pie. Don't have corn meal but have some cooked rice? Got cooked or rotisserie chicken? This mix-and-bake recipe is for you. 
Ingredients
1

cups

raw brown rice

short or long grain, cooked (to about 3 cups)

1-2

cups

shredded Colby cheese or an equal blend of cheddar and Monterey Jack

1-2

large cooked chicken breasts

cubed or shredded (or a similar amount removed from a rotisserie chicken)

1

cup

medium green chile salsa

1

16 oz can black beans, rinsed and well drained or about 1 ½ cups cooked black beans

1 ¼

cups

canned or frozen corn kernels

thawed (if frozen) and drained

2

teaspoons

fine sea salt

1

tablespoon

cumin powder

1

teaspoon

coriander powder

2

teaspoons

chili powder

Avocado slices

for garnish (optional)

Chopped fresh green onions

cilantro, or parsley for garnish
Instructions
Cook the rice if you haven't already, and let cool slightly. If using leftover rice, allow it to come to room temperature for 20 minutes. 

Preheat the oven to 350°F degrees. Lightly oil a 10x10 or 9x13-inch casserole dish.

In a large bowl, mix the cooked chicken with the green chile salsa, the cooked rice, beans and corn. Add the salt and other seasonings and stir in along with half of the cheese.

Pour the rice mixture into the oiled pan. Sprinkle the rest of the cheese over the top.

Bake, covered, for about 20 to 30 minutes or until the cheese melts and is bubbly.

Garnish with chopped green onions and/or cilantro and avocado slices or guacamole. 

Serve warm.
Please pin for later!