"Dirty" rice sausage bake is an easy comfort meal for these cooler days or any time! It's a savory variation on red beans and rice. Make it vegan with a vegan sausage, or meaty with your favorite chicken, pork or beef sausage.
I like my "dirty" rice with lots of bell peppers and onions, more than I saw when browsing similar recipes online. I hope that shows in the pictures!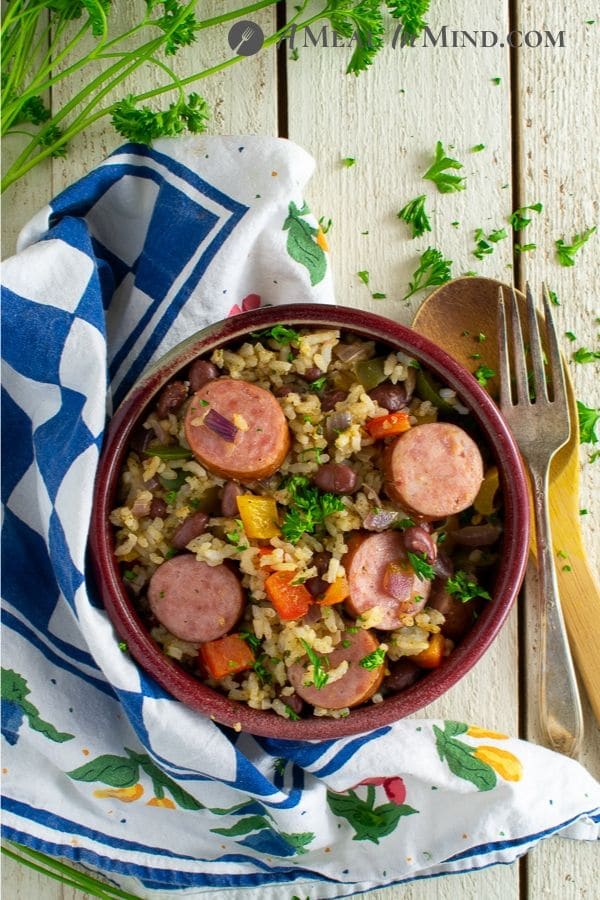 What is "dirty" rice?
The term "dirty" is because the seasonings look like dirt sprinkled onto the white rice. For my "dirt" I've used cumin, coriander and oregano powder, just to keep it simple. But you could make it spicy with cajun seasoning, which would give a little more red color from the paprika and chile powder.
If I have leftover rice and/or beans, this is a great way to dress them up for a new meal. Rice isn't ever quite as fluffy reheated as when freshly cooked, right? But you won't notice in this meal, because it plumps up again when it's mixed with beans and sautéed vegetables and gently warmed in the oven.
Of course, you can also just cook up some the beans and rice specifically for the dish, without waiting for leftovers.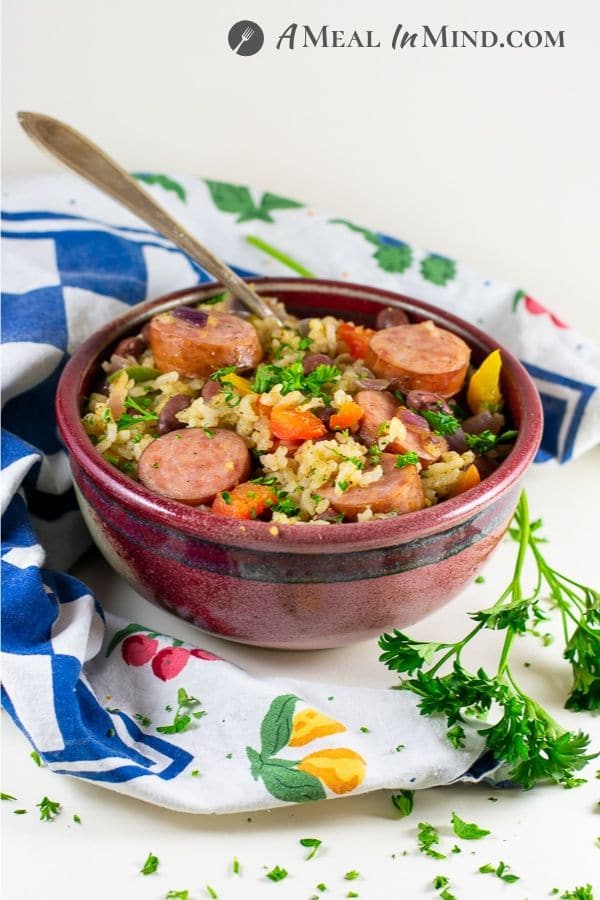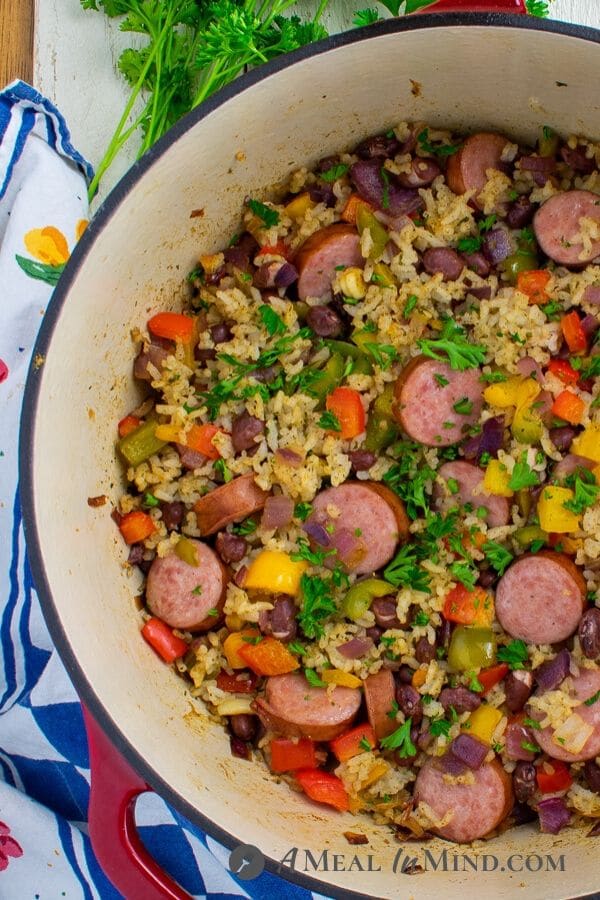 What are the main Ingredients for dirty rice?
The basics are the rice, beans and seasonings. Then you choose your vegetables and optional sausage.
I used an uncured pork kielbasa because my family likes pork occasionally. And it has so much flavor. The saltiness and umami complement the mild rice, beans and bell peppers. The kielbasa is already cooked, so I heat it gently in the pan to render some of the fat, which will then flavor the sautéed vegetables, and thus the whole bake.
White jasmine rice works well in this dish because the colors of the beans and vegetables show up so well against it. Brown rice would be delicious too, just less showy.
Here I prefer red beans over black or white, though the flavor would be good with any of them. Red beans give color to the bake without staining the rice purple, which black beans tend to do. White beans would disappear completely into the dish.
Why use a Dutch oven for dirty rice?
If you want this to be a one-pot meal, the cast iron Dutch oven is your friend. Except for preparing the rice and the beans, which I make in separate pans, I do all the other steps in the Dutch oven. That means cooking the sausage, then sautéing the vegetables and baking the final mixture.
The Dutch oven heats so evenly, both on the stovetop and in the oven. It's truly a major workhorse in my kitchen!
Pin for later!
I love to hear your comments or suggestions if you have a chance! And if you liked the recipe, please pin or share!
Enjoy,
Beth
Other one-pot recipes you may enjoy
Butternut Squash Chicken Rice Bake
Slow Cooker Chicken Curry with Sweet Potatoes
Shop "Dirty" rice sausage bake with vegetables
Links to products for purchase are affiliate links. If you click on a link and make a purchase, I may earn a small commission on the sale at no additional cost to you. This helps me with the costs of blogging, and I thank you! You can find my 'shop' page here.
"Dirty" Rice Sausage Bake with Vegetables
This "dirty" rice sausage bake is easy comfort food and a great one-pot meal. It's a savory and easy variation on red beans and rice that can be vegan if you use a vegan sausage. 
Ingredients
3

tablespoons

olive oil

1

pound

pork kielbasa

or other sausage of choice

2

cups

red onion

peeled and diced small (about 1 large onion)

⅔

cup

red bell pepper

seeded and diced small

⅔

cup

yellow bell pepper

seeded and diced small

⅓

cup

green bell pepper

seeded and diced small

3 to 4

garlic cloves

peeled and finely minced

2

teaspoons

cumin

½

teaspoon

coriander

½

teaspoon

dried oregano

½

teaspoon

salt *

or to taste

½

teaspoon

pepper

or to taste

2

cups

cooked rice

1

cup

cooked red beans

⅓ cup dry, or more to taste

⅓ to ½

cup

fresh parsley leaves

finely minced (stems discarded) or dried parsley
Instructions
Preheat oven to 350 degrees F. 

To a large ovenproof skillet or Dutch oven, add the olive oil and the sausage, and stir until some of the fat is rendered, about 3 minutes. Remove sausage to a bowl, leaving as much oil as possible in the pan. 

Add the onion to the skillet, and sauté for about 5 minutes over medium-high heat until onions are lightly softened. 

Add the peppers and sauté for 1 to 2 minutes. Stir in the garlic, and sauté until fragrant, about 1 more minute. 

Stir in the seasonings until well mixed. 

Stir in the cooked sausage, rice and beans. 

Add about half the parsley, and stir to combine.

Place in the oven for 20-25 minutes until all ingredients have warmed through. 

Season with salt and pepper, to taste*. Serve immediately. If you like, sprinkle on dairy or non-dairy cheese or other favorite toppings. 

Dish will keep airtight in the fridge for 5 days. Reheat gently as necessary.
Notes
One of us is eating low-salt right now, and ½ teaspoon is the amount I add to the dish that's right for her. Also this sausage is quite salty, so keep that in mind when seasoning. 1 teaspoon of sea salt would be a more typical amount for the bake.
Sharing is caring - Pin for later!