Red beans and rice 2 ways, slow-cooked in a dutch oven is a spicy, flavorful, classic Cajun dish with tender beans and a rich vegetable base. Make it 2 ways by adding a favorite meat protein toward the end! It'll take you right to Louisiana.
Beans are one of my favorite starting points for a meal, and they are never better than with savory herbs and spices. You wouldn't be here if you didn't think so too!
What is a 2-ways meal?
My 2-ways recipes are designed to solve the dilemma of how to feed both vegans and carnivores at the same table, while not sacrificing any flavor or making for a lot of extra dishes! And of course all recipes on this blog (except for one*) are gluten-and-dairy-free as well.
Bean soups and stews, as well as curries, lend themselves beautifully to 2-ways meals. In each case the basic dish is a vegan meal in its own right and then a meat of choice is added.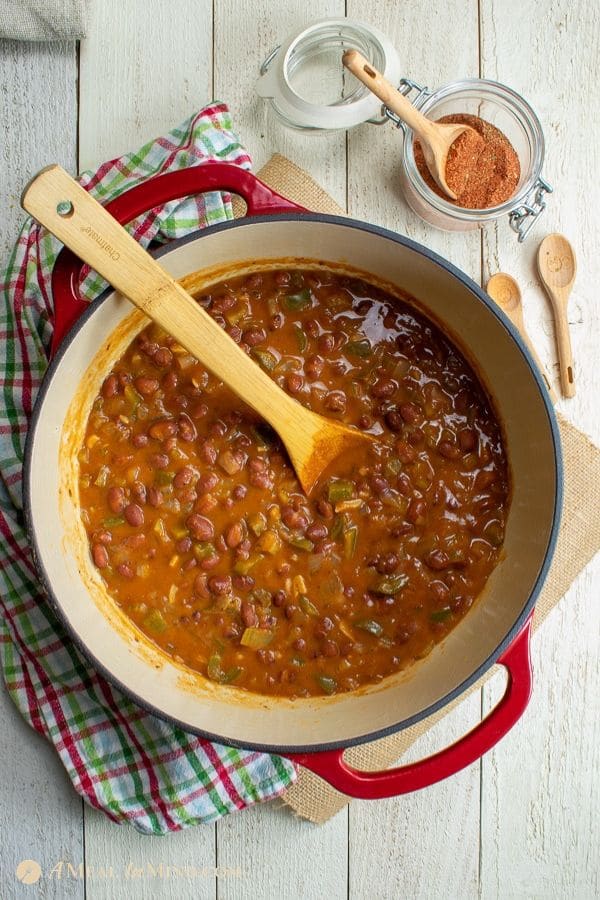 Why small red beans?
I started making red beans and rice with small red beans when I was in grad school and had hardly any money. I had a friend from Baton Rouge and that's what she used. Her recipe was spicy -- oh man, how it would make your eyes water! But we'd just drink lots of water and eat more rice. I know that she sometimes used red kidney beans, though she thought the smaller red beans took up the flavor better.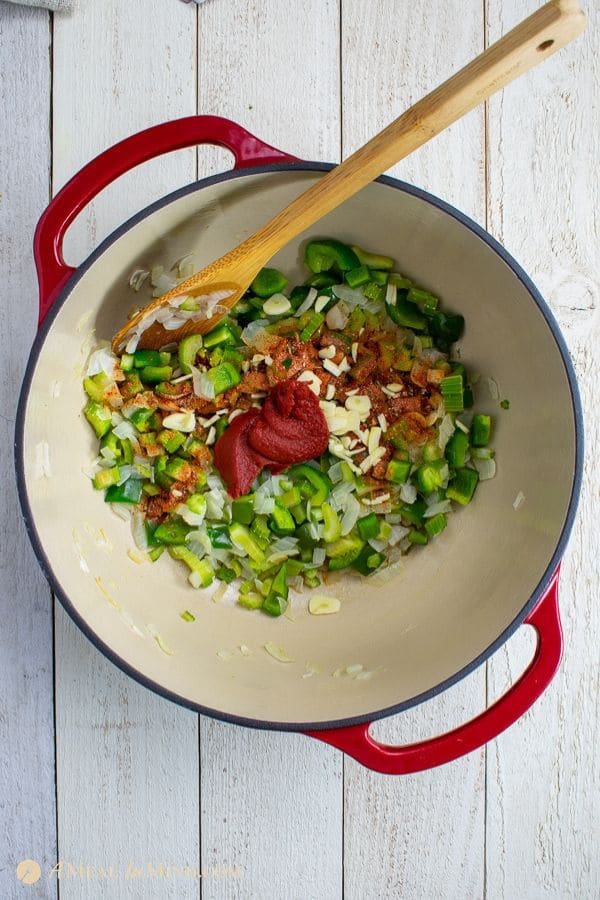 Any other tips for cooking beans?
When cooking a dish with beans, it's always best to leave the salt out until the end. Salt can thicken the skins of the beans. That's why I like making my own Cajun seasoning, which I can then make either low- or no-salt.
I soak my beans! I just like them better when I do, even though I've gotten away once or twice with a very short soak since having an Instant Pot for cooking them. If you can soak them overnight before cooking them, you'll find they take up the flavors better once they are in your soup or stew.
What are the options for the added meat?
Andouille sausage adds a lot of flavor to the dish and I've seen it mentioned in lots of recipes. Andouille can be made with either chicken or pork, in case you have non-eaters of pork.
Tip: Don't add sausage to a recipe until the end, even if it isn't a 2 ways recipe, though, because sausage can get tough over long simmering.
A ham hock would add great flavor too, and you'd add that when you add your broth. The advantage of using a ham hock is that you'd be making bone broth while you were simmering for flavor.
This 2-ways recipe contains ground beef because I happened to have some left from meal prepping. And it's a very simple and inexpensive option, even if you use grass-fed ground beef, which we always do. Just know that it has little flavor of its own, and note that I seasoned it accordingly.
As always, if you make this recipe, please leave a comment so that I know how it went!
Beth
Other spicy and 2 ways dishes on A Meal In Mind
Shop Red Beans and Rice 2 ways
You can find these and other helpful products on my 'shop' page here.
Links to products for purchase are affiliate links. If you click on a link and make a purchase, I may earn a small commission on the sale at no additional cost to you. This helps me with the costs of blogging, and I thank you! You can find my 'shop' page here.
Red Beans and Rice 2 ways - Gluten and dairy free
Red beans and rice is a spicy, flavorful, classic Cajun dish with tender beans and a rich vegetable base. Make it 2 ways by adding a favorite meat protein toward the end!
Ingredients
1

cup

red beans

soaked and cooked in Instant Pot to make 3 cups cooked, see note; or use 2 13.5-ounce cans of red beans, drained

½

pound

grass-fed ground beef

broken up and cooked with ½ teaspoon Cajun Seasoning and ¼ teaspoon sea salt

1

tablespoon

extra virgin olive oil

1

medium sweet onion

diced

1

green bell pepper

diced

2

celery ribs

diced

5

cloves

garlic

minced

4

tablespoons

tomato paste

1 ½

teaspoons

homemade Cajun seasoning

low or no salt

2-3

cups

vegetable

for 2-ways or chicken stock, see note

1

teaspoon

hot sauce of choice

1

bay leaf

Kosher salt and freshly ground black pepper

to taste

Cooked rice

2

tablespoons

chopped fresh parsley leaves

for garnish
Instructions
Cook red beans in Instant Pot, check the tenderness and reserve. They will cook very little more during simmering, so it's best if they are done to your taste in this step. 

Heat olive oil in heavy pot or Dutch oven. 

Add onion, bell pepper and celery. Cook, stirring occasionally, until onions are tender and bell peppers are becoming less green, about 5-6 minutes. 

Stir in garlic and cook for about 1 minute. 

Stir in Cajun seasoning until fragrant and the vegetables are coated, about 1 minute.

Mix in the tomato paste until it coats the vegetables. 

Stir in stock, red beans, hot sauce, and bay leaf; Bring to a boil. 

Tip: Usually I start cooking my rice at about this point.

Turn the heat to a simmer, cover the Dutch oven and simmer for 15 minutes. Uncover; continue to simmer until reduced, an additional 15 minutes. If the slow-cook setting seems not to be reducing the liquid enough, use the saute setting instead. When it's on saute, be sure to stir every 15 minutes or so to prevent sticking.

Using a wooden spoon, mash beans until slightly thickened, if desired; season with salt, pepper and more hot sauce, to taste. Or if you have low-salt eaters as I do, place those items on the table. 

Stir your cooked beef into one section of the bean mixture. I actually divide the half pound into two bowls and spoon the red beans on top, then stir.

Serve immediately over rice and garnished with parsley.
Notes
Prep and cook times do not include cooking the beans or beef in advance.
To cook dry red beans in the Instant Pot: soak beans for at least two hours, best overnight. Rinse well and add enough water to cover. Pressure-cook (I use the bean/chili setting on my IP) for 30-33 minutes depending on your preference for doneness. Allow pressure to release naturally for 10 minutes, then slowly nudge the pressure release until the button drops. 
Inspired by this great recipe on Damn Delicious