This Dutch oven beef barley pumpkin stew is full of tender beef, warming barley and perfectly-cooked vegetables, ready to spoon into bowls and devour. It's my perfect kind of meal: mix all the ingredients together, cover, and forget in the oven for 7 hours.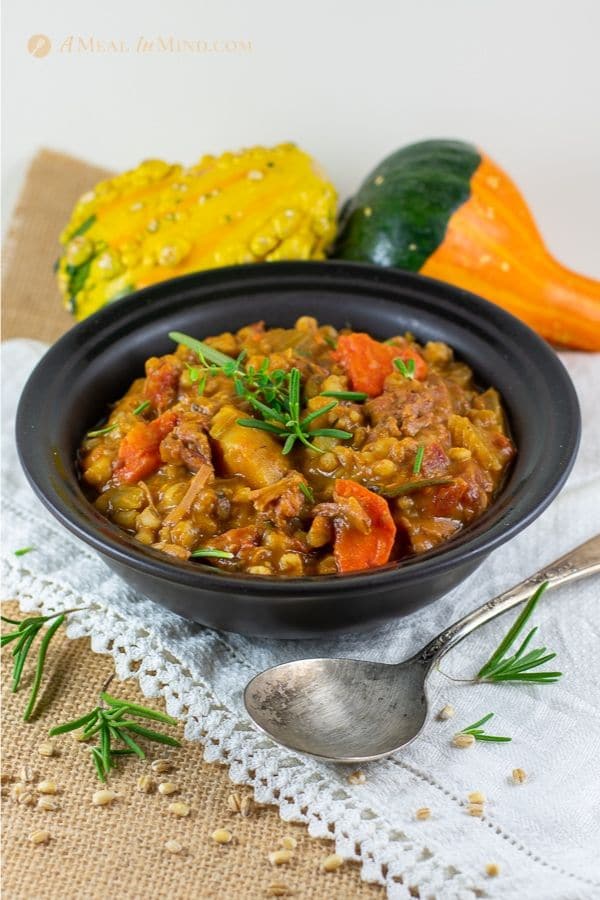 We love the subtle addition of pumpkin to the stew, which gives a surprising mellowness without contributing an obvious flavor of its own.
This recipe is based on my Old-Fashioned Beef Stew -- check it out too! That stew is thickened with tapioca, which gives a satiny gravy to the dish. Barley will give you an equal amount of thickening with a unique chewy texture of that grain, and slow-cooking makes all that flavor soak right into the little barley grains.
In my opinion, the carrots are always my test of a stew - are they tender but not mushy? Have they become even more flavorful from the broth and herbs? Rest assured, they come out just the way I like.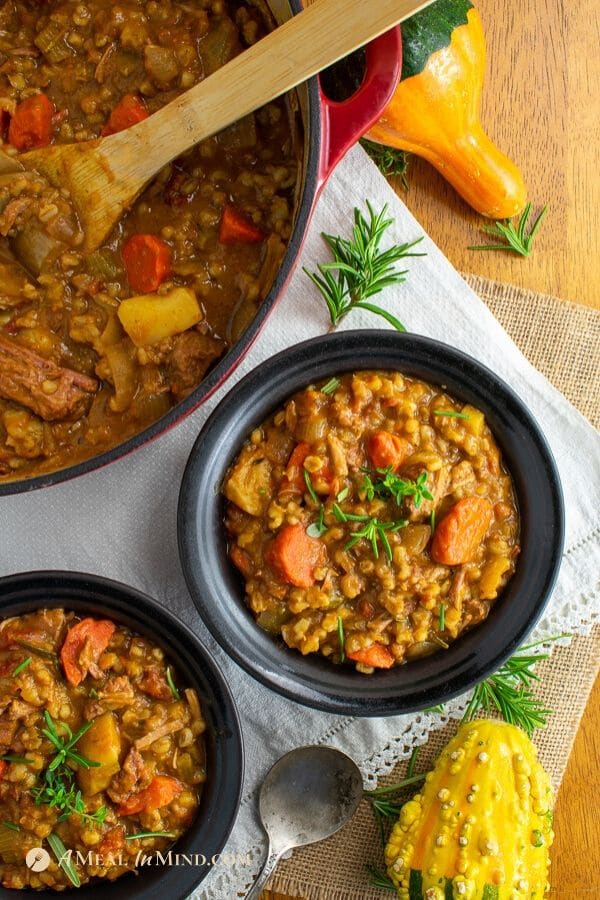 Is barley gluten-free?
Barley is not a gluten-free grain. It, along with rye and wheat, contain gluten and should be avoided by anyone with celiac disease or severe gluten intolerance. In our family, it happens that we can all eat a certain amount of barley and I enjoy it on rare occasions.
How can this recipe be made gluten-free?
This is the second recipe in my collection that is not gluten-free as written. You can easily make the stew gluten-free by changing the grain you use.
If I were making this completely gluten-free, I'd choose whole oats. Oats have a texture that is most similar to that of barley. Sorghum or quinoa will thicken in a similar way to barley and are also gluten-free.
What does pumpkin add to the dish?
And since we have so much pumpkin around during the fall, I think you'll really enjoy adding some puree to your broth.
Confession: maybe you are like me and opened a big can of pumpkin puree and then needed another recipe to use it up? This is a great one!
The pumpkin puree makes for an extra-savory golden sauce. I actually prefer it to adding a second can of tomatoes. And the fresh herbs like rosemary and thyme are so perfect with the pumpkin flavor! The herbs were a little hard to find fresh in October, but are often available now in November for other fall meals.
No need to sear the beef or vegetables
One of the best parts about slow-roasting in the Dutch oven is that there's no need to sear or saute. Simply chop the vegetables and layer them into the pot. I suggest placing the barley about halfway down in the mixture so that it doesn't have a chance to dry out on the surface. Barley is amazingly absorbent and you want it to soak up all the great flavors during cooking.
If you want to make this more of a soup than a stew, reduce the barley to ½ cup and have extra broth on hand in case it's more solid after the long, slow baking than you want.
Please pin for later!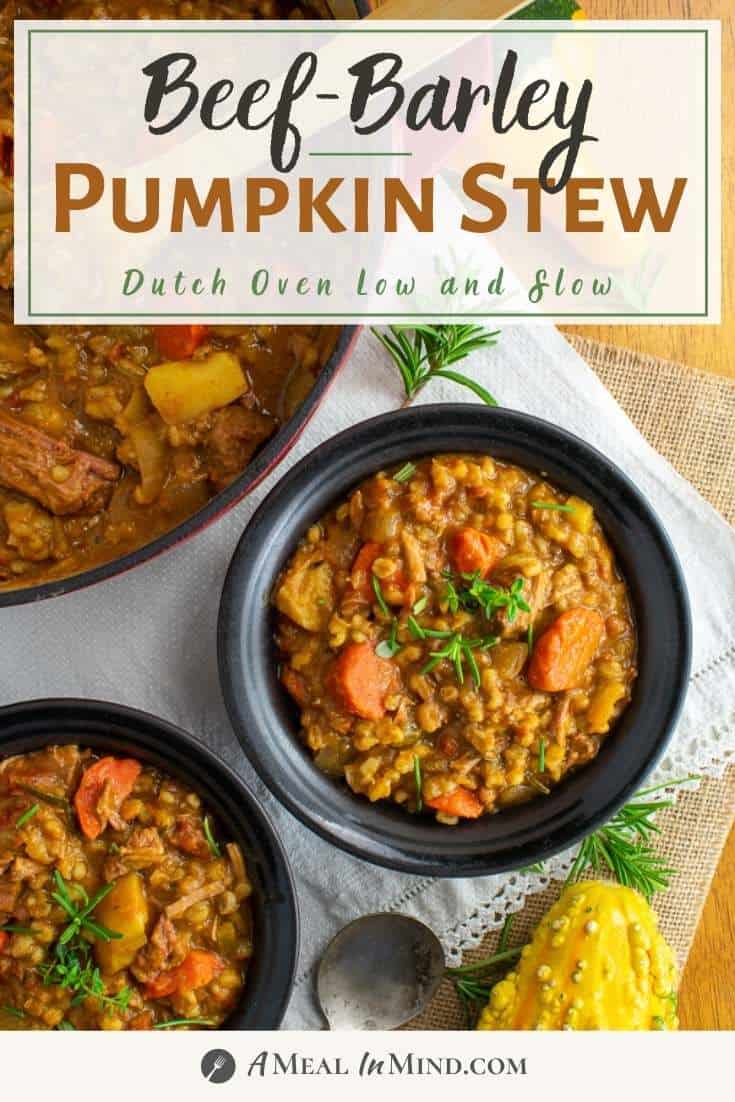 Beef chuck or brisket?
Braising like this results in tender beef, whichever cut you choose. I used brisket for this batch and it came out even more tender than expected. It came out as shredded beef without my having to do more than stir. Beef chuck will be tender but the chunks will be intact.
If you have a chance to make this recipe, please leave me a comment so I know how it went!
Beth
Other soups and stews on A Meal In Mind
Roasted Hatch Green Chile Tortilla Soup
Roasted Butternut Squash Curry Chicken Soup
Old Fashioned Slow-Baked Beef Stew Gluten-free
Steelhead Potato Chowder with Bacon
Shop beef barley pumpkin stew
Links to products for purchase are affiliate links. If you click on a link and make a purchase, I may earn a small commission on the sale at no additional cost to you. This helps me with the costs of blogging, and I thank you! You can find my 'shop' page here.
Beef Barley Pumpkin Stew
This Dutch oven beef barley pumpkin stew has tender beef and barley with perfectly-cooked vegetables, ready to spoon into bowls and devour. It's my perfect kind of meal: mix all the ingredients together, cover, and forget in the oven for 7 hours. 
Ingredients
1 ½

pounds

beef chuck stew meat

or brisket, cut into bite-size pieces

3

stalks celery

chopped

1

large yellow onion

diced

3

medium-large carrots

diced

2

medium to large Yukon gold potatoes

1 14-

oz

can tomatoes

1 15-

oz

can pumpkin puree

¾

cup

pearl barley

rinsed

2

teaspoons

dried thyme

6

tablespoons

Worcestershire sauce

2

bay leaves

½

teaspoon

garlic powder

1

teaspoon

pink sea salt

1

teaspoon

ground black pepper

6

cups

beef broth or stock

2

sprigs each of fresh thyme and rosemary for garnish
Instructions
Preheat your oven to 275 degrees F.

Chop all the ingredients and layer in your Dutch oven. I added mine in this order: 

Potatoes, beef, carrots, barley, onions, celery, tomatoes, pumpkin puree, herbs and seasonings. Then pour the broth and Worcestershire over all. 

Cover the Dutch oven tightly with foil. 

Place the lid on top of the foil covering. 

Roast in the oven for 7 hours. 

Stir, check the meat for done-ness and adjust the seasonings and amount of broth. 

Serve in bowls, and garnish with fresh thyme and/or rosemary if desired.
Notes
I used rosemary and thyme as garnishes because I had them available fresh. Parsley would also be delicious as a garnish. 
About your cut of beef: Brisket has lots of fatty connections but tenderizes really well. The problem is that you can't really skim any fat off because the barley absorbs so much liquid. If you use grass-fed beef, as we do, we understand that the fats contain higher omega-3 fatty acids than if we used corn-fed beef, so we are less concerned about the fat content of this dish. Plus those fats make the stew very satisfying. However, if you prefer less fat in general, stew beef/chuck is likely your better choice of cut.