Roasted Hatch Green Chile Tortilla Soup is good any time of the year, but especially when fresh Olathe corn and Hatch Green Chiles are in season. These ingredients make it a special late-summer meal in Colorado.
This is a "two-ways" recipe which means that I've included instructions to make the soup vegan and to provide seasoned chicken on the side.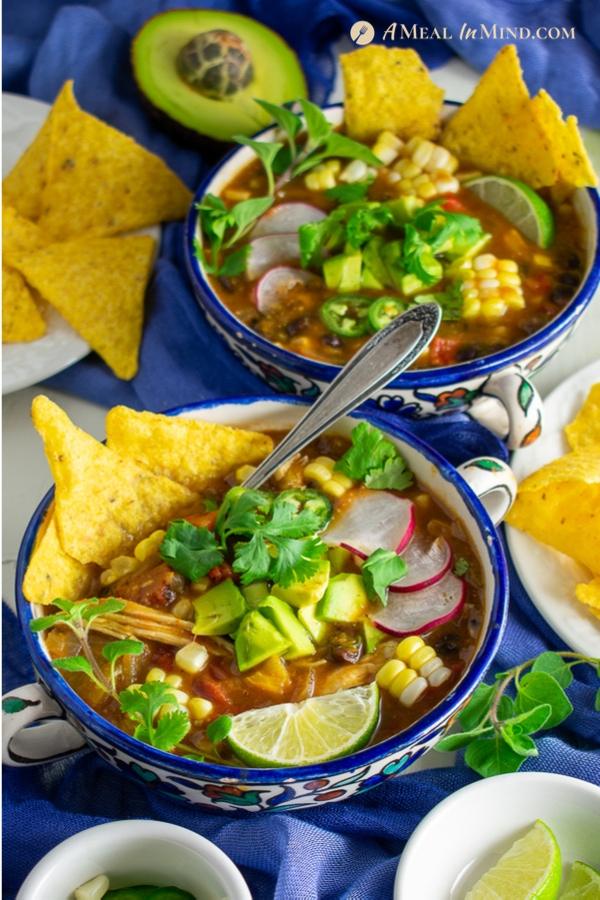 I love using and featuring fresh local produce, especially if I can get it organically grown. We like to support organic farmers because we believe it's better for our health, and it's often not more expensive, or not much.
Olathe corn is sweet corn, and wonderful used fresh in the soup. I cut the corn from an ear by holding one upright on my cutting board and slicing downward to remove the kernels. I save any chunks of kernels to float on top of the soup.
Roasted Hatch Green Chiles
Now I can't swear that the chiles are organic, but they are a tasty treat right now. The roadside stands are visible by clouds of smoke rising from metal mesh drums full of chiles. You can buy mild, medium, or hot.
Hatch green chiles were developed in the Hatch Valley, New Mexico. According to Bon Appetit magazine, they are the "pumpkin spice of the Rio Grande," reminding us of the Fall season.
The drums of chiles are turned over flames by hardy individuals until the skins of the chiles blacken. The chiles are then packed by heat level into ziplok bags and sold to customers like me. I take them home, remove the skins, deseed and mix them into yummy dishes.
You can use the chiles right away, as I did here, or freeze them. I usually remove them from the ziplok bag as soon as possible and put them in a glass container to reduce the amount of leaching from the plastic to the food. I know it's not a perfect solution, but it's what I do.
Of course if you don't have freshly roasted chiles, you can sub the canned green chiles, but it's so much fun to get them fresh if you can!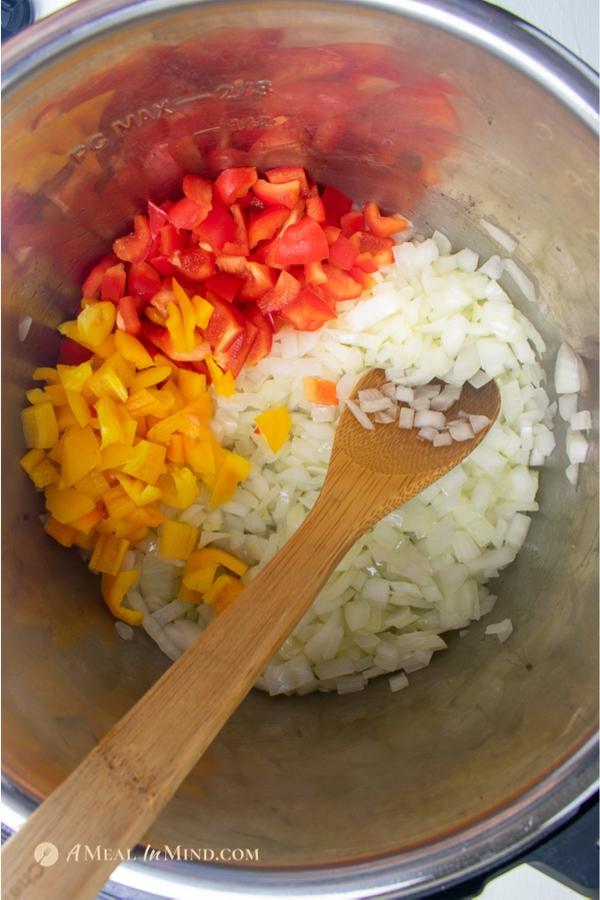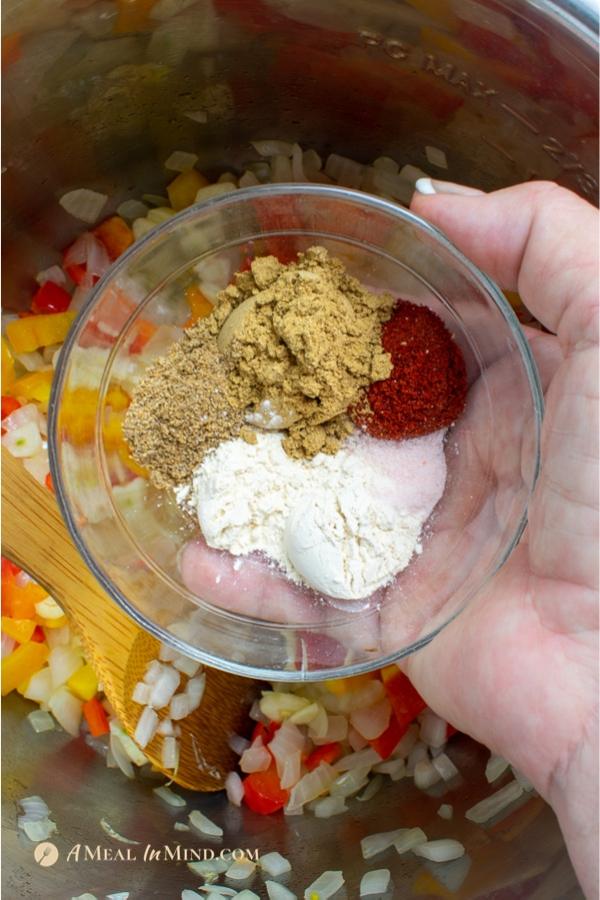 Is this soup gluten-free?
This soup is naturally gluten-free as long as your corn chips and your taco seasoning are gluten-free. It is thickened by including the chips in the soup and by mashing some of the beans. The starches from the beans and the corn chips are enough natural thickening.
If you are eating grain-free, try using Siete Cassava Chips. I have not used these in the soup, though, to verify their thickening ability.
When I'm in a hurry, I will add some of Frontera Brand's Carne Asada sauce. It's gluten-free and add lots of flavor. But you can achieve the same effect with the seasonings in the recipe.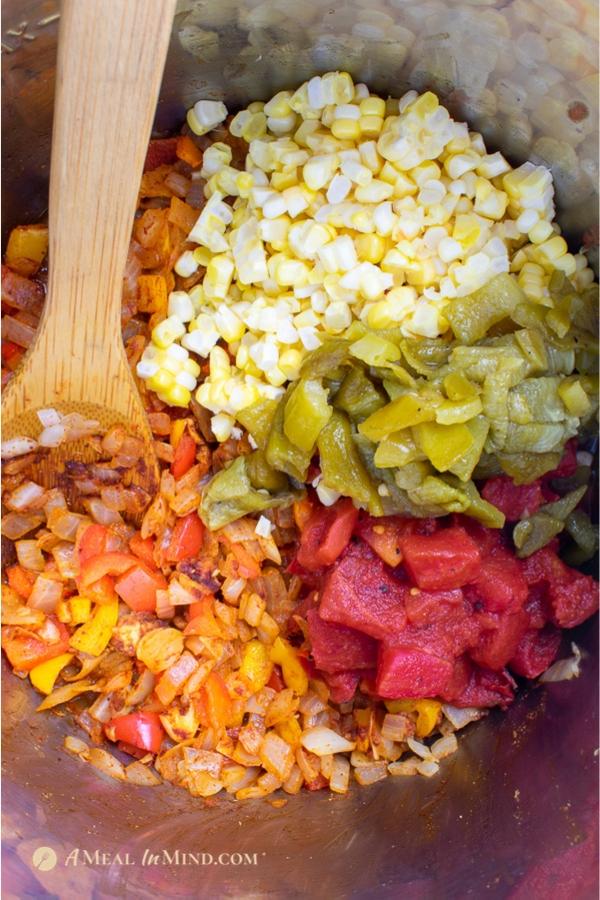 How can I make this soup vegan or vegetarian?
The directions for the vegan soup base will give you a vegan meal. Add chicken if you are feeding meat-eaters at your table - instructions are below. If none of your eaters will be eating meat, ignore the instructions for the chicken and use vegetable broth.
See suggestions in the notes for vegan brands of Worcestershire sauce - there are at least two.
If many of your eaters will not be eating meat, also increase the amount of beans to 1 ½ cups of dry beans, cooked to about 3 cups or more. And, if using canned beans, increase the quantity from 2 to 3 cans.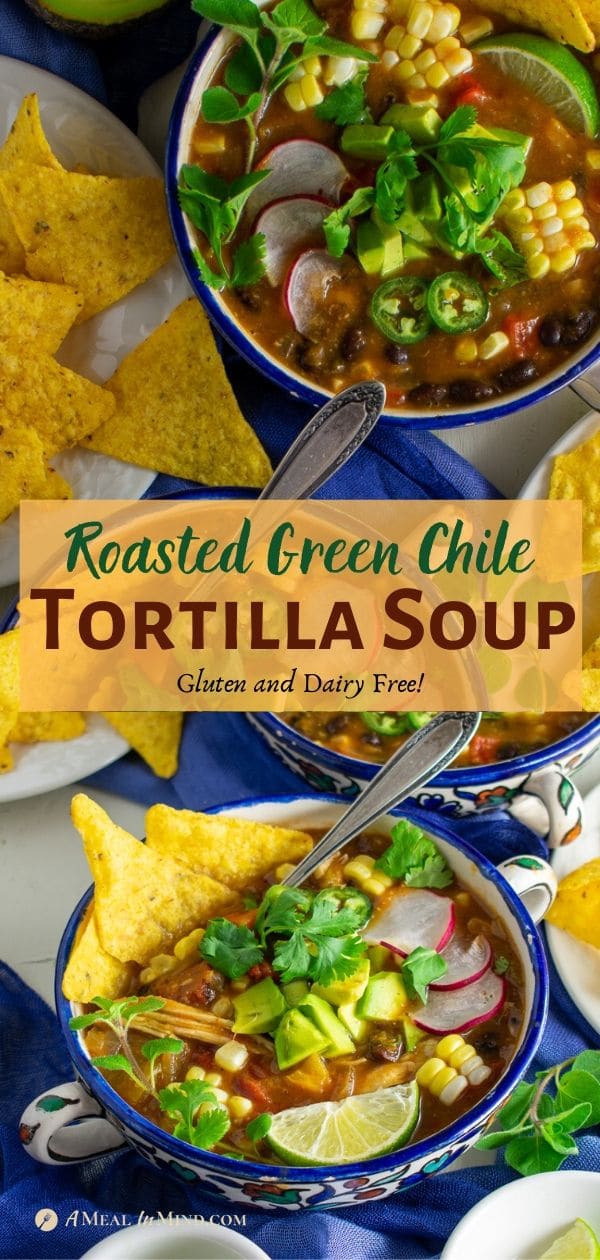 Preparing the optional chicken in advance
The goal, if there will be meat-eaters at your table, is to serve tasty shredded chicken on the side. The timing given assumes that you have made the chicken ahead of time. But, you can simplify the prep for your soup by using rotisserie chicken. Or, you can slow-cook (or pressure-cook, if you wish) your chicken in the Instant Pot.
In the Pinterest image above, the bowl in the lower section contains chicken; the upper bowl is vegan.
Pin for later!
How long does this soup take to prepare?
This can be an all-day soup, say on a weekend. I slow-cook the chicken during the morning, shred it and place it in the fridge. If feeding vegetarians at the table too, I carefully clean the pot. Then I assemble the soup and let it slow-simmer in the Instant Pot until dinner time.
Or, if you have just an hour and a half, use the directions as written.
The recipe looks long! But it's worth every ingredient and step. As always, if you make this recipe, please leave me a comment to let me know how it went.
Enjoy!
Beth
Other recipes you may enjoy
Beef barbacoa taco sliders with avocado lime dressing
Almond-Crusted Steelhead or Salmon Tacos
Easy Layered Green-Chili Chicken Enchiladas
Shop
Roasted Hatch Green Chile Tortilla Soup
Links to products for purchase are affiliate links. If you click on a link and make a purchase, I may earn a small commission on the sale at no additional cost to you. This helps me with the costs of blogging, and I thank you! You can find my 'shop' page here.
Roasted Hatch Green Chile Tortilla Soup 
Roasted Hatch Green Chile Tortilla Soup is warming and delicious any time of the year, but especially when Olathe corn and Hatch Green Chiles are in season. These ingredients make it a favorite late-summer meal in Colorado. 
Ingredients
1 ½

pounds

boneless skinless chicken breast

from rotisserie chicken OR cooked as in instructions for the meat option

1

teaspoon

sea salt

optional if your taco seasoning is salt-free

1-2

teaspoons

taco seasoning

see the recipe for two blends here

2

tablespoons

olive oil

divided

1

cup

chopped white onion

¼-inch dice

¾

cup

chopped red bell pepper

¼-inch dice

1

tablespoon

minced garlic

about 4-5 cloves

2 ½

teaspoons

cumin powder

1 ½

teaspoons

coriander powder

1

teaspoon

chili powder

¼

cup

tomato paste

¼

cup

or more Frontera carne asada sauce

see note (less spicy than barbacoa) or make your own sauce with 3 tablespoons worcestershire (not the Asian type, see note) sauce, 2 teaspoons lime juice, 1 teaspoon onion powder, 1 teaspoon garlic powder

¼

cup

or more! seeded and chopped local Hatch chiles, mild or to taste

1

cup

corn kernels

fresh, canned or frozen, about 2 ears of fresh corn

14.5-

ounce

can diced fire roasted tomatoes

undrained

5

cups

unsalted vegetable stock

for vegan version or chicken stock, or bone broth

1 ½

teaspoons

dried oregano or 2 tablespoons fresh

1

cup

corn tortilla chips or strips

1

cup

dry beans cooked to about 2 ½ cups

or 2 14-ounce cans of cooked black beans, rinsed and drained

1

tablespoon

lime juice or to taste; may not need it

¼

cup

cilantro leaves

for garnish; slices of jalapeno, radish, lime slices, sour cream and more corn chips
Instructions
If serving with meat: 

Lightly season chicken breasts on both sides with Taco seasoning (I don't add any salt or pepper at this stage). 

Place chicken breasts in a single layer in the Instant Pot. Pour ¼ cup water into the Instant Pot without washing any of the seasonings off the chicken pieces. 

Slow-cook on the medium setting until the internal temperature reaches 160F, 3 to 4 hours. The chicken cooks more quickly and evenly when I slow-cook it in the Instant Pot, perhaps because it has a tighter seal than my crock pot. Of course, you can pressure-cook the chicken in the Instant Pot as well if you are short of time and you've had good success with it that way.

Transfer chicken to a clean plate and use two forks to shred into smaller pieces once cooled, reserve. 

NOTE: If you are not making this for vegetarians or vegans, reserve the broth to add to the soup. If you are, reserve the broth for another use and wash the pot well. 
For a vegan base:
In the Instant Pot over medium saute setting, add 1 tablespoon of olive oil.

Once the oil is hot, add the onions and saute for 1 minute. Add the bell peppers and saute for about 1 minute more. Stir in the garlic and saute until fragrant, about 1 more minute. 

Add the cumin, coriander, and chili powder, continuously stirring for 30 seconds to bring out the flavor of the spices and flavor the oil. 

Add tomato paste and saute for 1 minute to bring out the tomato flavor.

Add your carne asada sauce (purchased or homemade) and stir well.

Add Hatch chiles, corn, fire-roasted tomatoes, stock, oregano, salt, and 1 cup tortilla strips, stir to combine.

Place the cover on the Instant Pot and set for 10 minutes on the soup setting at low pressure. Let the pressure come down naturally for 10 minutes, then release pressure manually. 

Add the cooked beans.

Bring to a boil and then reduce to a simmer until it is as thick as you like. I might mash some of the beans to thicken, but I usually don't need to as the corn chips thicken the soup a lot. 

Stir in more lime juice or Worcestershire if needed, taste and adjust seasoning with salt and pepper as desired. 

Serve the soup with favorite toppings: avocado, sour cream/yogurt, cilantro, extra tortilla chips.

Place the pulled chicken on the side for anyone who wishes it. 
Notes
There are several types of Worcestershire sauce, and I have both in my cupboards. The Wan Ja Shan (Asian) and Annies both make a vegan Worcestershire. The Wan Ja Shan is sweeter, and I prefer the Annie's. If you are not making this for vegans, or if you have pescatarians, the conventional worcestershire with its anchovies adds a lot of flavor.
Taco seasoning. See my homemade recipe here! If you want something spicier, either add more cayenne or try my Cajun seasoning blend. 
We love the flavor of Frontera's sauces. Recently, however, we have decided to stop eating canola oil (because of its GMO content and recommendations not to use it in cooking), which those sauces contain, so now use our homemade mixture instead.