The best seasoning mixes are those you make yourself, and here are two homemade gluten-free taco seasoning recipes, of which one is low-FODMAP. Great for burritos or enchiladas, too.
Why make more than one taco seasoning?
We experimented with varying our taco seasoning to learn if certain foods caused my 4-month-old grandson to spit up after nursing. Following the advice of a lactation consultant, my daughter-in-law (as well as the rest of us) ate an elimination diet in which we avoided corn, soy, wheat, dairy, spicy foods, onions, garlic, tree nuts and more.
The great thing about nachos is that we set out the ingredients salad-bar-style and everyone creates the plateful they need to eat.
We just make separate batches of seasoned meat, one without the irritating spices, and one batch with them.
Tacos or nachos, while simple to prepare, can be a culinary landmine for the gluten-free diet and especially for the elimination diet.
Not eating corn or wheat? Out they go.

No spicy foods - there goes the chili and cayenne, not to mention jalapenos - will this taste like Mexican food? Same question applies if you are following an AIP eating plan (Auto-Immune Protocol).

No onions or garlic - can you hear me moaning yet?
OK, OK, we are not focusing on what we CAN'T have.
Asafetida is a wonderful flavoring
Fortunately, we can use a little known (at least to me until recently) spice called asafetida (more about this spice here) to sub for the onions and garlic. Of course it is very well known in Indian cuisine, where it's used in certain holidays when onions are garlic are not eaten.
Cumin, coriander and mustard do a pretty good job of providing flavor and aroma in seasoning #2. Of course, a real aficionado won't be fooled, but this tastes darned good! And for nachos, so much depends on the flavor of the chips and of the salsa.
A gluten-free taco seasoning recipe
The first recipe will have a more familiar taste than the second. It has chili powder and cayenne and gives the typical red color to taco meat, but omits the wheat flour and maltodextrin that packaged taco seasonings contain. Make it as spicy as you like!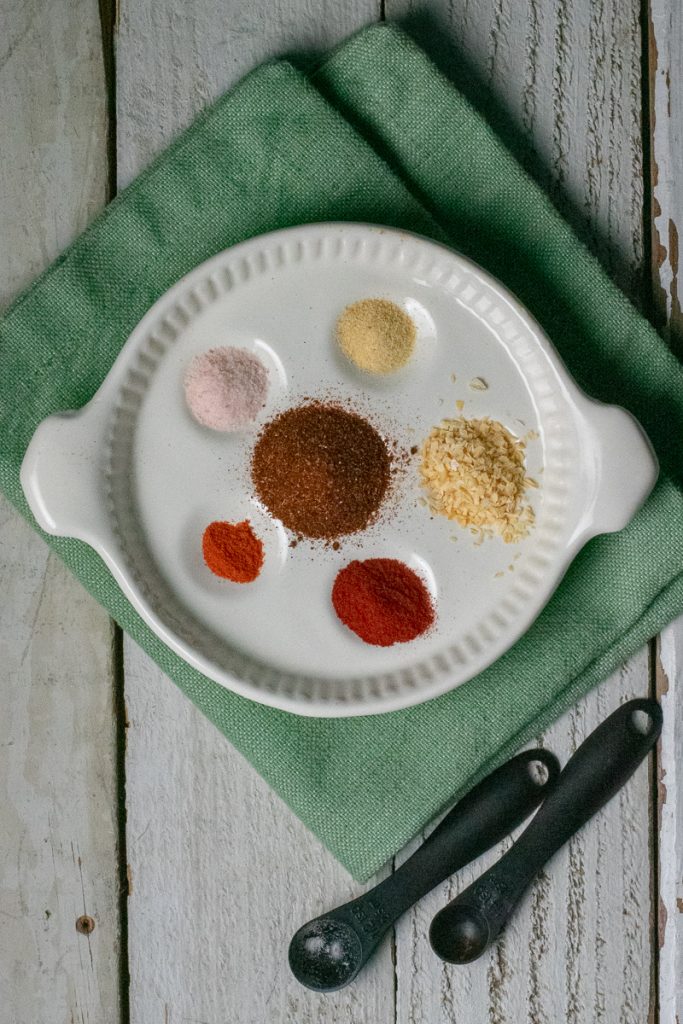 The low-fodmap option
The second recipe is low-FODMAP (no onions or garlic) but contains some mild pepper. The brown color of this mixture comes from the cumin and coriander, and the oniony flavor from the asafetida.
Both of these recipes work for nachos, burrito fillings, etc. I used the low-FODMAP blend I used for my Savory Gluten-Free Nachos. (see below)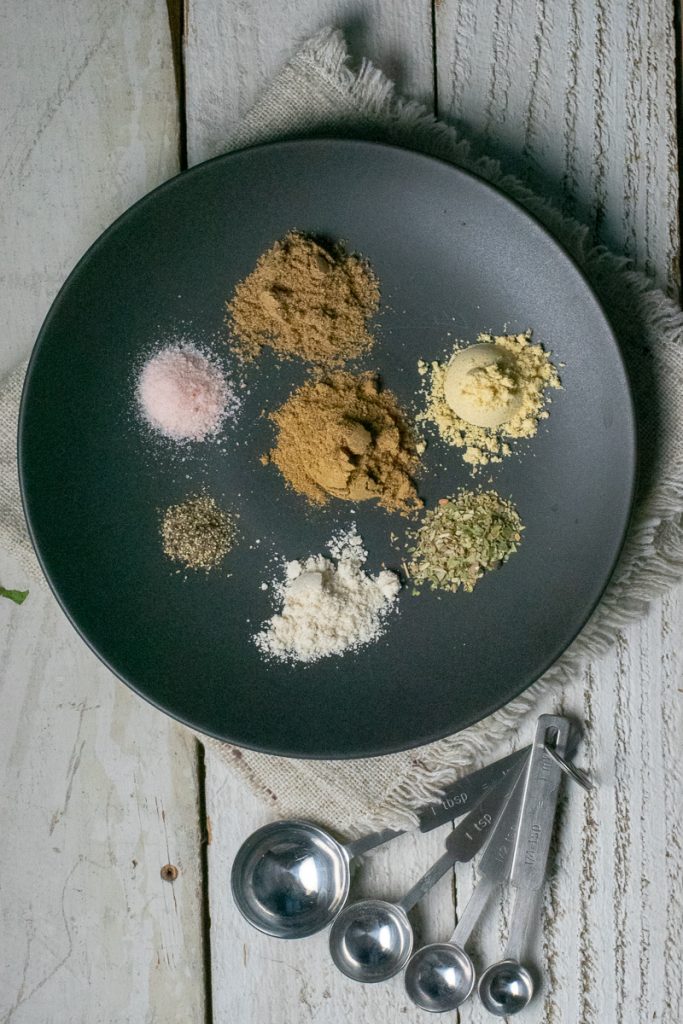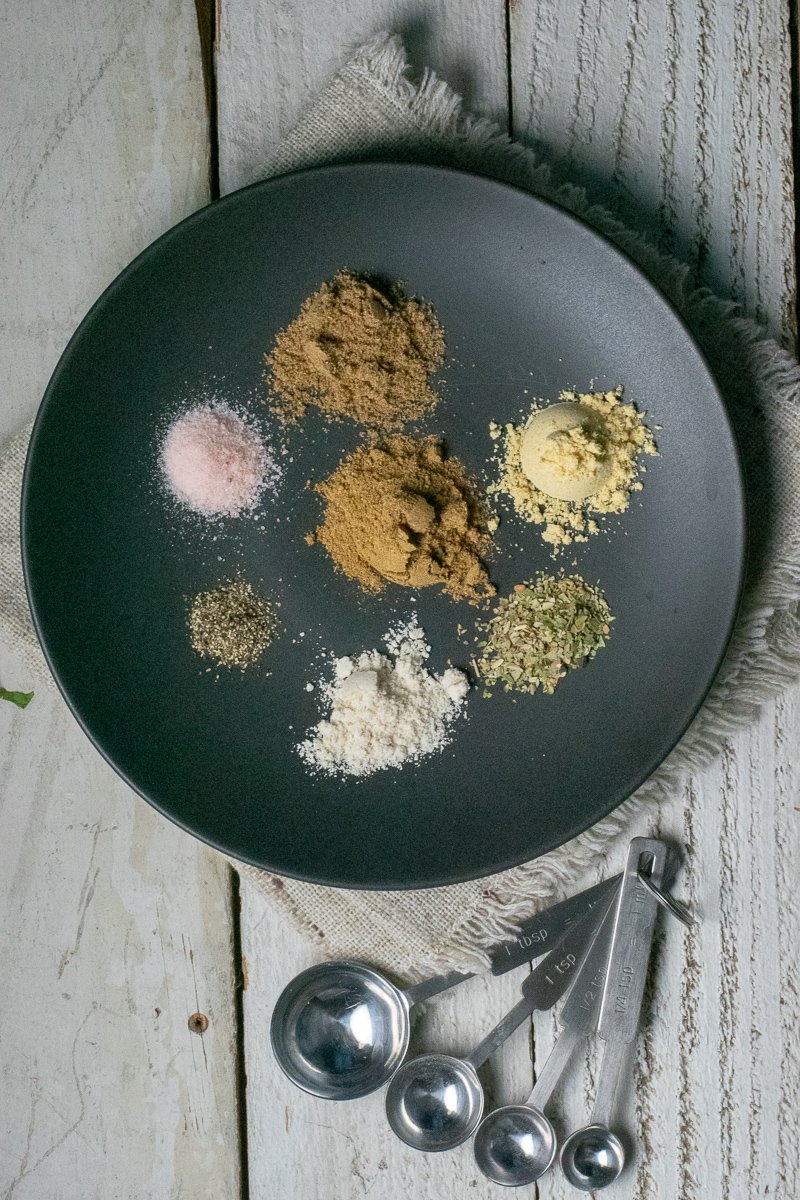 What can I used to thicken homemade gluten-free taco seasoning?
Most taco seasoning mixes have corn starch or wheat as a thickener. Arrowroot is an excellent gluten-free thickener, and tapioca would work too. If you find that your taco meat has too much liquid, you can add 1 (or even up to 3) teaspoons of arrowroot flour to the mix. But I haven't found it necessary.
With either seasoning mix, you simply stir the the amount you want (#2 shown in photo) into the meat (or meat alternative) once it is cooked. Then it's ready to arrange on your nachos!
Other Mexican-inspired recipes you may enjoy
Roasted Hatch Green Chile Tortilla Soup
Beef barbacoa taco sliders with avocado lime dressing
Southwestern Roasted Sweet Potatoes; Paleo
If you make this recipe, please let me know! Leave a comment, rate it, and don't forget to tag a photo #amealinmind on Instagram. I'd love to see what you come up with. Thank you so much!!
Beth
2 Gluten-Free Taco Seasoning Recipes
These gluten-free taco seasoning recipes will suit different eaters. Version 1 is for people who can eat spicy foods, onions and garlic. Version 2 is for anyone on a low-FODMAP diet who is also limiting spicy foods. Both have been pronounced very tasty!
Ingredients
Taco Seasoning #1

Gluten Free for 1 pound ground meat or meat alternative

2

teaspoons

chili powder

1 ½

teaspoon

dried onion flakes

¼

teaspoon

garlic powder

⅛

teaspoon

cayenne

or to taste

1

Tablespoon

arrowroot flour

½

teaspoon

salt

Taco Seasoning #2

Gluten Free, low FODMAP for 1 pound ground meat or meat alternative

2

teaspoons

ground cumin

1

teaspoon

ground coriander

1

teaspoon

mustard powder

½

teaspoon

dried oregano leaves

½

teaspoon

asafetida

1

teaspoon

arrowroot flour

optional

1

teaspoon

sea salt

or salt to taste

½

teaspoon

black pepper or to taste

omit for AIP
Instructions
Combine all ingredients in the spice blend of your choice. 

Add to 1 pound of cooked meat or meat alternative and stir.
Please pin for later!