This vegan cauliflower wild rice curry soup is topped with lightly seasoned chickpeas and other healthy ingredients like
coconut milk
, pureed vegetables, vegetable broth and curry spices. Be sure to try this good clean-out-the-fridge soup with its savory, creamy base.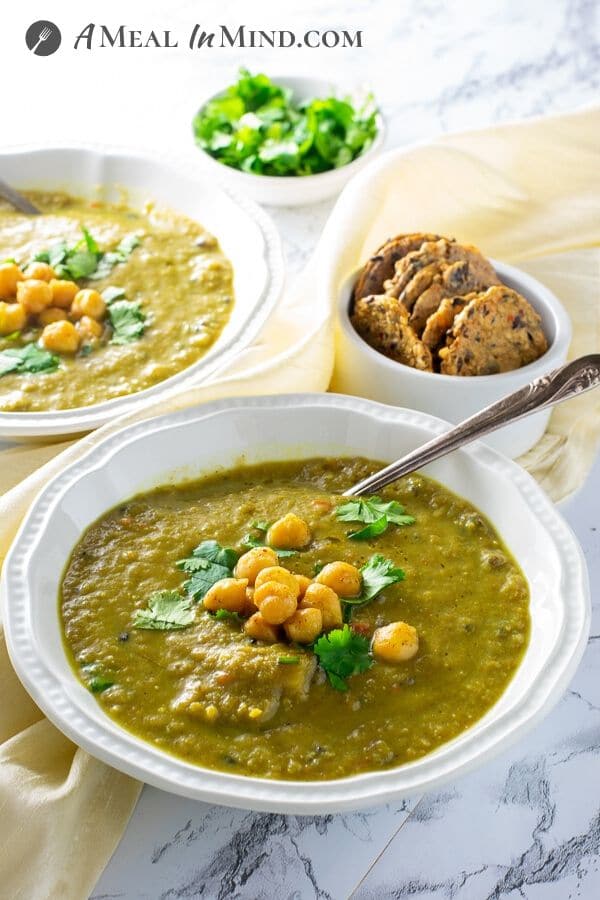 Is this a good soup for a potluck?
I took a large pot of this soup to my last choir practice three weeks ago -- before we decided we couldn't sing together any more because of the social distancing needed in the time of the coronavirus. We all hope that is going to change very soon - according to health guidelines, of course.
My potluck offering had to be vegan, gluten- and nut-free -- that way, everyone in the group could eat it. I also wanted it to have healthy, virus-fighting ingredients like ginger and turmeric. So a curry came to mind - see below for some health notes!
The recipe made a big batch because I used a Costco-sized bag of cauliflower and matched the quantities of the other ingredients to that.
I have to say that at first, my soup didn't "rush out of the pot" like the chili someone else had brought the week before. I don't know about you, but I always hope that what I take to a potluck will be loved - would it be? But then, I overheard at least two people say, almost surprised, "this is good!" and then others started to try it. Whew! So, it's flavorful and just a touch unusual, smooth and filling.
I made this recipe entirely in the Instant Pot -- sauteing, simmering and pressure cooking. I topped it with cilantro and chickpeas lightly stir-fried in a little oil and curry powder. Delicious and different!
Can I add meat to this soup?
If you eat meat and want to increase the protein content of this soup, I suggest stirring in shredded chicken when you add the cooked rice. As you'd do with any change to a recipe, be sure to taste and adjust the seasonings in case you need more salt or curry.
Health benefits of this soup
Coconut milk may reduce inflammation (Healthline)
Curry powder "contains a variety of anti-inflammatory spices, including turmeric, coriander, and chili powder." (Healthline)
A mirepoix (MEER-pwah) of onions, carrots and celery contribute flavor and lots of nutrition - plus a little color. (foodandnutrition.org)
Can't find the ingredients for the Mirepoix? If you have a container of Costco's organic multi-herb and spice seasoning in your pantry as I do, it makes a great soup base when you can't get all the fresh ingredients you want.
I hope you'll give this easy and savory recipe a try and let me know in the comments how you liked it!
Please pin for later!
Other recipes you may enjoy
Note: these are products I suggest if you can't get them locally, or prefer not to go out to shop in the time of the coronavirus, here at the end of March 2020. Unfortunately a number of these products had warnings that they might be out of stock. As always, I appreciate any of my readers who purchase through my site - now more than ever!! -- Beth
Links to products for purchase are affiliate links. If you click on a link and make a purchase, I may earn a small commission on the sale at no additional cost to you. This helps me with the costs of blogging, and I thank you! You can find my
'shop' page here
.
Cauliflower Wild Rice Curry Soup
This vegan cauliflower wild rice curry soup is as full of healthy ingredients as it is with flavor.  Its savory, rich, and creamy base is made with coconut milk, pureed vegetables, vegetable broth and curry spices.
Ingredients
1

cup

uncooked wild rice

soaked and cooked to 3 cups, see note

2

tablespoons

coconut oil

1

large white or yellow onion

diced

2

medium carrots

peeled and diced

2

stalks celery

trimmed and diced

4-5

cloves

garlic

chopped

1

tablespoon

curry powder or more to taste

2

teaspoons

ground cumin

½

teaspoon

turmeric powder

½

teaspoon

coriander powder

¼

teaspoon

powdered ginger

2-3

cups

low-sodium vegetable broth

1

can full-fat coconut milk

4

cups

or more fresh or frozen cauliflower florets

1 ½

teaspoons

sea salt

plus more to taste

½

cup

curry-seasoned chickpeas

for garnish, see note

Chopped cilantro for garnish
Instructions
Cook the rice according to package instructions or see instructions below.

Meanwhile (about halfway through cooking the rice), heat the olive oil in a large stockpot or dutch oven over medium-low heat. Add the carrots and saute for 5 minutes; then the onion for about 5 minutes more, and the celery for 3 minutes after that.

Stir in the garlic and saute until fragrant, about 1 minute more. Add the curry spices and saute briefly to flavor the oil (this is called tempering).

Pour in the vegetable broth and add the cauliflower florets. Stir to coat the cauliflower with the seasonings (it will be rather crowded in the Instant Pot).

Cover the Instant Pot and set to pressure-cook on high pressure for 5 minutes, with natural pressure release.

Use an immersion blender to partly puree the cauliflower and other vegetables to your preference. I like mine a little chunky but without large blobs of vegetables. You can add the coconut milk now or after you have processed the vegetables. 

Add the cooked rice to the pot of soup and stir to incorporate. Set the heat to "slow-cook - high" and continue to simmer in the uncovered pot for about 5 minutes.

Taste and season with sea salt. (I usually add a little more salt once the rice has soaked up some of the flavor.)

Serve warm with the garnishes.

Leftovers can be refrigerated for up to 5 days or frozen for up to 1 month.

If the soup is thicker than desired after refrigerating and reheating, simply whisk in a bit more vegetable broth or filtered water and adjust seasonings as needed.
Notes
Cooking the wild rice. Combine the 1 cup of rice with 2 cups of water. Allow to soak if you have time, at least an hour is best. Bring to a low boil, and turn down to a simmer so that the bubbling stays inside the pot and doesn't boil over. It's best to let the rice cook slowly, and using a pan with a glass lid will help you be sure it doesn't cook too fast and scorch. Rice is done when no more bubbles are rising above the grain and no liquid can be seen at the sides when you tilt the pot. 15-20 minutes. You can use any rice if you don't have wild: black, multicolored, brown, etc. The darker the color the more color contrast you will get. For the lightly curried chickpea garnish, warm a little olive or coconut oil in a small saucepan and add the ½ cup cooked chickpeas. Sprinkle with ¼ teaspoon curry powder and ¼ cup sea salt. Bring to a low simmer until the chickpeas shrink slightly but before they become too tough or crisp. Sprinkle 1-2 tablespoonfuls over each bowl of soup along with a small handful of cilantro to taste.
RECOMMENDED PRODUCTS
As an Amazon Associate and member of other affiliate programs, I earn from qualifying purchases.
Pin for later!