For years, this roasted butternut squash curry chicken soup has been a family favorite, as it is aromatic, savory and satisfying. The curry spices compliment the nuttiness of the roasted squash perfectly! Slow-cooked chicken broth and meat supply the protein for a satisfying meal.
Uses for dark vs. light chicken meat
After slow-cooking a whole organic chicken, I typically make a soup as the first meal. The dark meat and the cooking broth go into the soup and the light meat goes into a meal like Green Chile Chicken Enchiladas or Green Chicken Chicken Enchilada Soup. I make bone broth for yet a later meal. This is my way to get as much food value from the high-quality bird as I can!
The thigh and leg meat from a cooked chicken hold up well when added to soup, without falling apart as breast meat often does. Are there eaters in your house who find dark meat rather strong, so you often have chicken thighs or drumsticks left over? In my house, those people say that in this soup, the cumin and curry seasonings, plus the mellowness of the coconut milk, are what they taste most, and they love it!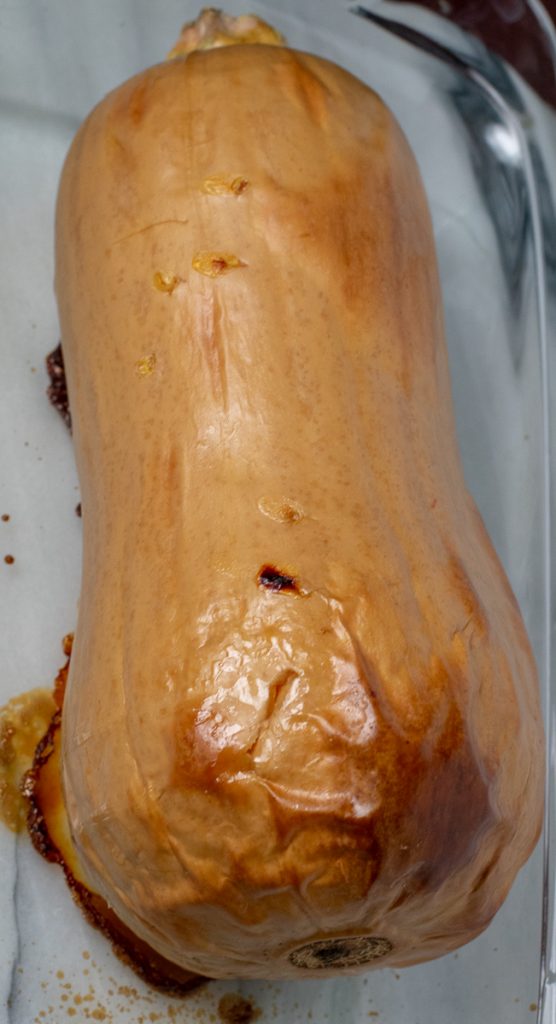 How to roast the squash
I used to cut the butternut squash in half before roasting it, but I've stopped doing so. It takes a lot of work to cut a raw squash in half, especially the larger ones!
Roasting the squash whole results in excellent flavor, and sometimes I will nibble on the seeds, which come out roasted too. I can also roast it longer without worrying about it drying out. It caramelizes, which adds more flavor.
Why do you add Mirepoix to this soup?
I almost always start my soups with Mirepoix (mir-a-pwah), or a mixture of chopped carrots, onions, and celery -- cooked in oil. The sauteed vegetables provide a lot of flavor and nutritional benefits.
I use coconut oil for two reasons. One is because it is colorless, which allows me to see when the carrots have released some of their beta-carotenes, and the oil turns golden. The second is because it is a high-heat oil, so I can sauté without worrying that I am damaging the fats.
Cooking tips
The vegetables can be diced fairly large because they'll be partly pureed later, using an immersion blender.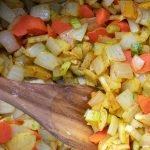 I add the spices to the vegetables before adding the broth so that they will flavor the oil. This makes cumin and curry spices even more savory!
Puree the soup
The immersion blender is an inexpensive and very handy way to blend hot liquids. I prefer not to transfer hot liquids to plastic containers (otherwise I'd put my Vitamix to work) because of concerns about materials from the plastic leaching into the food.
Besides, it's a lot easier to wash the immersion blender than the Vitamix container. The soup will thicken as you blend it, a property of squashes. You can leave some chunks of vegetables un-blended, according to what you prefer.
After blending, add the coconut milk (reserving some for a garnish) and simmer. I usually taste the soup at this point and adjust the salt. Every squash is a little different, which affects the soup! I typically make it a little on the salty side, since the meat will soak up some of the salty flavor.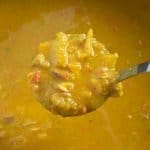 When you are almost ready to serve your roasted butternut squash curry chicken soup, add your chopped or shredded chicken. You don't want the meat to cook much more, just be warmed by the heat of the soup. Taste again and adjust the salt if needed.
Ladle into bowls and top with a drizzle of coconut milk and a few pumpkin seeds. Yum!
Can I Make this Butternut Squash Soup Vegan?
Yes, simply substitute vegetable broth for the chicken broth, and cashews for the chicken. Adding the cashews late in the cooking process keeps them from becoming too soft.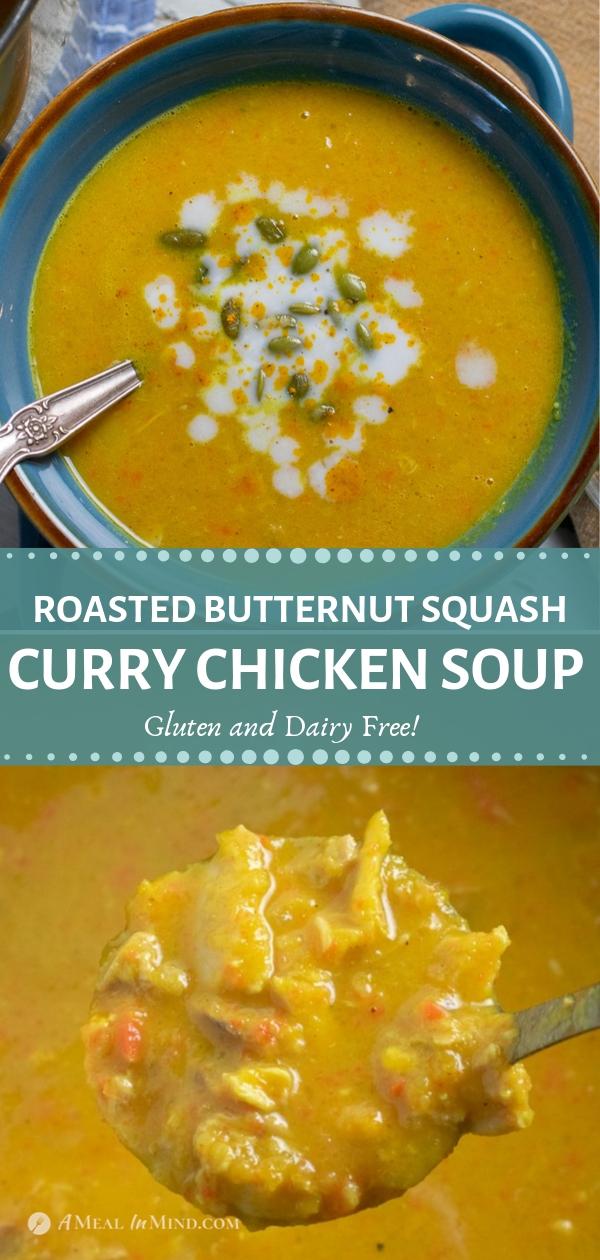 Other soups you may enjoy
Chicken, Black Rice and Zucchini Soup
Steelhead Potato Chowder with Bacon
Roasted Butternut Squash and Heirloom Tomato Soup
Creamy Asparagus-Sausage Soup; GF, DF
Roasted Butternut Squash Curry Chicken Soup
This roasted butternut squash curry chicken soup is aromatic, savory and satisfying. The curry spices complement the nuttiness of the roasted squash perfectly! The chicken broth and meat supply the protein for a satisfying meal.
Ingredients
1

tablespoon

coconut oil

1

large carrot

diced

1

large onion

diced

3

stalks celery

diced

3

cloves

garlic

chopped

1

tablespoon

ground cumin

1

tablespoon

curry powder

1

tablespoon

sea salt

1

quart

chicken broth

overnight chicken broth in the Instant Pot

1

medium-sized butternut squash

roasted, seeded and flesh scooped out of the skin

1 13.5-

ounce

can coconut milk

reserve ¼ c for garnish

5

cups

dark-meat chicken

from Instant Pot, chopped or shredded (or other chicken of your choice)

¼

cup

pumpkin seeds

for garnish (optional)
Instructions
Melt coconut oil over medium-low heat in large stock pot.

Sauté carrots until the oil takes on a golden color, about 8 minutes.

Add the onions and sauté until slightly softened, about 5 more minutes.

Add the celery and stir to combine, about 3 more minutes, then add garlic and cook about 2 minutes more.

Stir in the cumin and curry powder and continue to heat while stirring to coat the vegetables with the spices, about 2 minutes.

Add the salt and the chicken broth.

Bring to a gentle boil and simmer about 10 minutes. Add the squash and stir to combine. If the squash is not completely soft, cook the combined ingredients for another 5 minutes.

Using a stick blender, mostly puree the vegetables and broth, leaving some small chunks for a bisque-like consistency.

Add the coconut milk, except for the reserved portion, and stir.

Stir in the chopped chicken.

Adjust the seasonings; I typically add another teaspoonful of salt and one of curry at this point.

Serve into bowls, dribbling a little reserved coconut milk and a few pumpkin seeds on top.
Notes
This soup can be made vegan by using vegetable broth and cashews. To do this, add the cashews at the same point as you would the chicken. This timing keeps the cashews from becoming too soft.
Nutrition
Serving:
1
cup
|
Calories:
321
kcal
|
Carbohydrates:
3
g
|
Protein:
18
g
|
Fat:
27
g
|
Saturated Fat:
13
g
|
Polyunsaturated Fat:
4
g
|
Monounsaturated Fat:
8
g
|
Trans Fat:
0.1
g
|
Cholesterol:
98
mg
|
Sodium:
957
mg
|
Potassium:
338
mg
|
Fiber:
1
g
|
Sugar:
2
g
|
Vitamin A:
114
IU
|
Vitamin C:
1
mg
|
Calcium:
26
mg
|
Iron:
2
mg
Please Pin for later!