This chicken black rice zucchini soup is simple to prepare, yet flavorful and aromatic. It owes its wonderful colors to the turmeric, carrots, black rice and zucchini. I made it for my daughter-in-law, who can't eat onions or garlic right now, and she loved it.
I also served it to my "picky eaters" — people who were not on an elimination diet — and no one noticed anything "missing." It would be a great cold-remedy soup for anyone who can't have chicken noodle!
An elimination diet
This is the first of a series of dinners I prepared for my daughter-in-law while she was following an elimination diet suggested by a lactation consultant. The recipes in this series are free of corn, soy, gluten, dairy, tree nuts, eggs, the cabbage family and citrus.
The plan she is following is similar to a low-fodmap diet, often prescribed for IBS. The idea is that by eliminating inflammatory foods from the diet, healing can take place.
I have enjoyed trying the secret ingredient, asafetida, which gives the flavor of onions without being in the onion family. Read more about asafetida here.
Pin for later!
Preparing the chicken
The protein content of this soup is enhanced by the use of chicken bone broth. I love that the broth makes itself while the chicken is cooking. The turmeric gives the soup such a beautiful color!
I like to start the chicken first thing in the morning and let it slow-cook for most of the day on Sunday. Then I de-bone it and use the broth and part of the meat for the soup as described here. I save the rest of the meat for a casserole a couple of days later. If time is short, you can also make this soup using purchased broth and pre-cooked chicken.
However, a purchased chicken may have been seasoned with onions or garlic, so read the label carefully!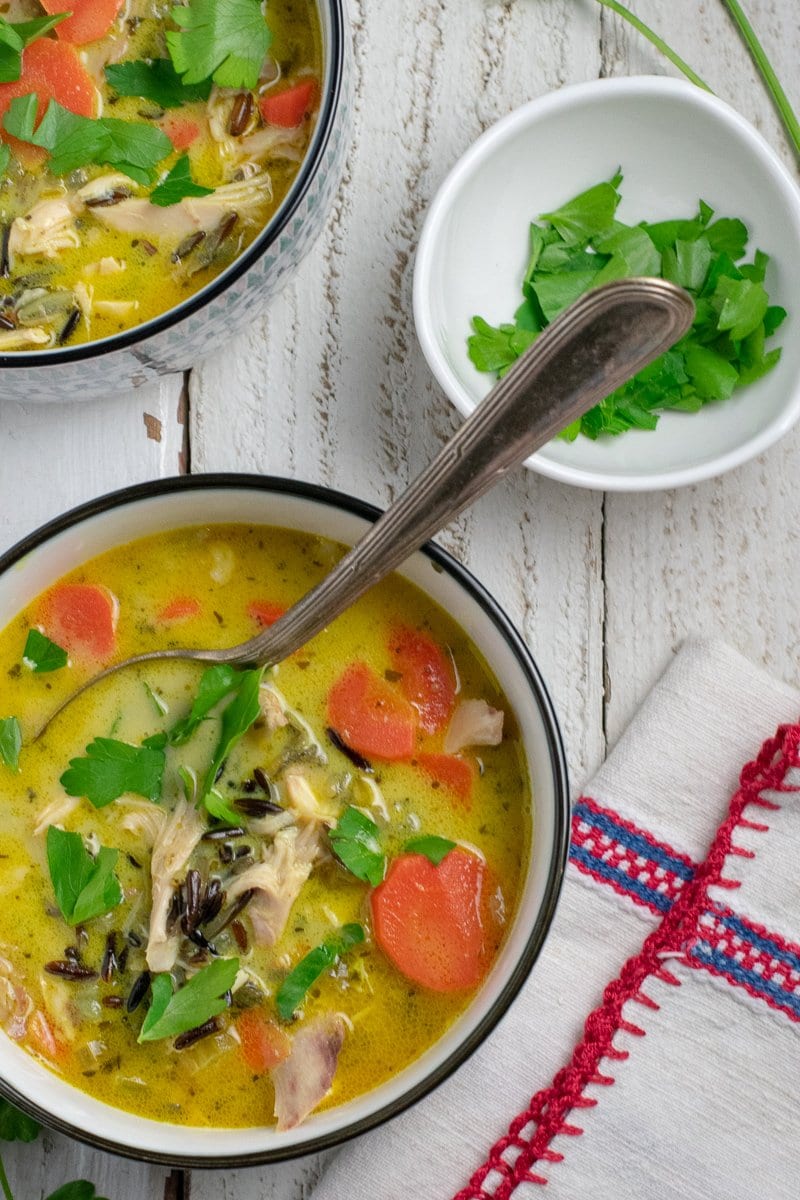 Seasonings
Previously I used Trader Joe's 21 Seasoning Salute on my chicken in the Instant Pot. I still love that mix because it's so easy to sprinkle on.
But, because that blend has onions, garlic, and lemon, It's off-limits for a low-fodmap dish. Instead, I used individual herbs to season the chicken for this dish: thyme, tarragon, salt, and a little black pepper. The result is savory and aromatic!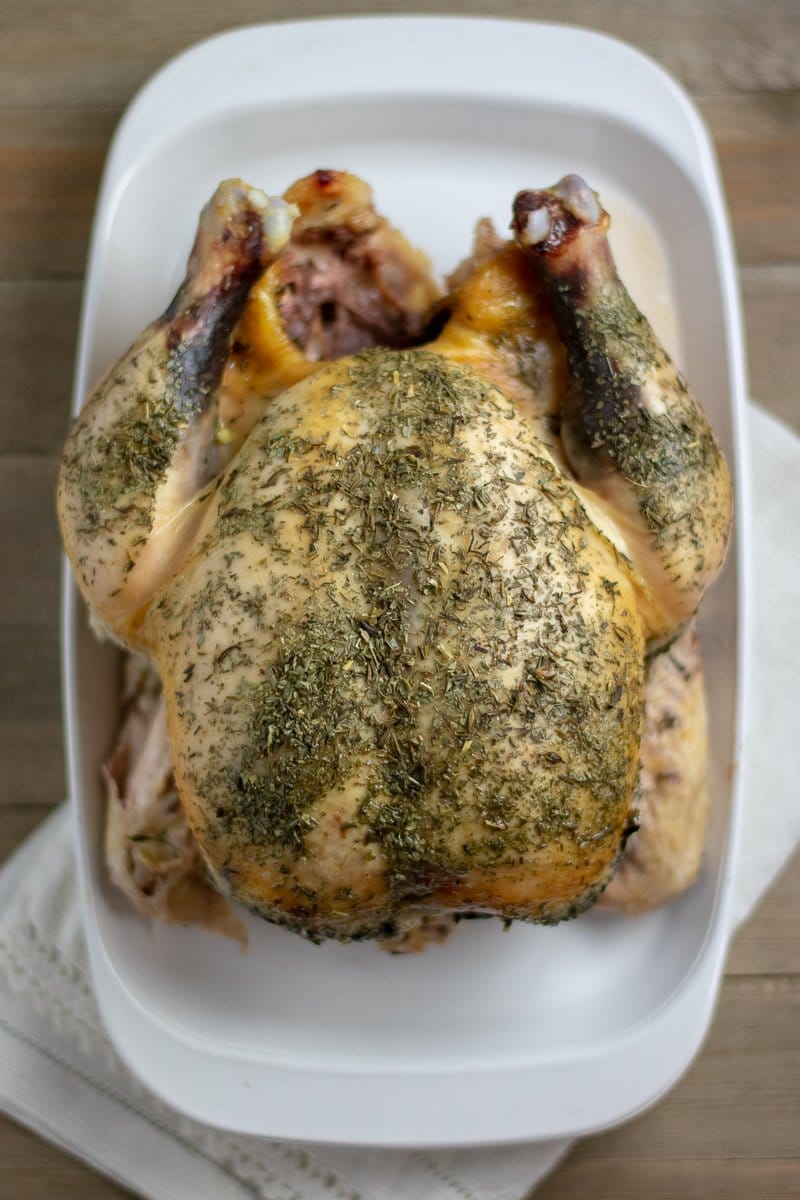 You can cook the black rice in advance, which will make this soup go together very quickly. If you decide to cook the rice in the soup, be sure not to add the chicken until after the rice is done. That way the meat won't get overcooked and tough.
Pin for later!
I hope that if you make this recipe, you will let me know in the comments how it went!
Beth
Other delicious soups on A Meal In Mind
Roasted Hatch Green Chile Tortilla Soup
Roasted Butternut Squash Curry Chicken Soup
Shop chicken, black rice and zucchini soup
Links to products for purchase are affiliate links. If you click on a link and make a purchase, I may earn a small commission on the sale at no additional cost to you. This helps me with the costs of blogging, and I thank you! You can find my 'shop' page here.
Print
Chicken, Black Rice and Zucchini Soup
Author:

Prep Time:

20 minutes

Cook Time:

40 minutes

Total Time:

1 hour

Yield:

6

servings

1

x

Category:

Main Dish, Soup

Method:

Stovetop

Cuisine:

American
---
Description
This chicken, black rice and zucchini soup is simple to prepare, yet flavorful. It owes its wonderful colors to the turmeric, carrots, black rice and zucchini. Everyone who tried it liked it, whether on an elimination diet or not. It would be a great cold-remedy soup!
---
Scale
Ingredients
1 tablespoon avocado oil
2 carrots, about 1 ½ cups, sliced (see fun tip on cutting carrots)
3 stalks of celery, sliced
1 tablespoon turmeric
¼ teaspoon asafetida (see ingredient tip here)
1 bay leaf
1 teaspoon dried thyme
2 teaspoons salt
1 quart bone broth from slow-cooked chicken, or purchased bone broth
⅔ cup black or wild rice
2 cups zucchini, coarsely chopped
1 can (13.5 ounces) full-fat coconut milk
2–3 cups chicken from slow-cooked chicken
small handful parsley, for garnish
---
Instructions
Saute the carrots using low heat in the avocado oil, about 10 minutes.

Add the celery and saute another 2 minutes.

Add the turmeric and asafetida and stir until fragrant, about 1 more minute.

Add the bay leaf, thyme, salt and chicken broth and bring to a gentle boil.

Stir in the black rice. Cover and allow to cook for 20 minutes or until the rice is done (see note).

Stir in the zucchini and allow to cook for 5 minutes or until soft. Stir in the coconut milk and chicken.

Check the seasonings and add salt if needed. Garnish with fresh thyme, if available.
---
Notes
At high altitude, you will probably need to cook the soup at least another 10 minutes before the rice is cooked through. Or, pre-cook the rice to save time at the end. 
Keywords: elimination diet, gluten-free, dairy-free, low fodmap, easy
Sharing is caring! Please pin for later!