These savory gluten-free nachos are easy and quick to prepare. The flavors of the seasoned meat and the refried beans blend with the fresh cilantro, avocado, tomato and lime. It's a beautiful and colorful meal, though it often gets eaten so quickly hardly anyone seems to notice.
Self-Serve!
I LOVE being able to set out all the ingredients salad-bar style and let everyone spoon on what they want (that is to say, what they can eat). I make enough for leftovers the next day and keep a bag of the cassava chips in reserve.
Ingredient tips
Mexican food is mostly gluten-free naturally. However, taco seasoning blends often contain wheat flour as a thickener. Arrowroot, as I've used here, works perfectly in its place.
Commercial taco seasoning often contain maltodextrin to enhance the flavor of the sauce. While maltodextrin doesn't contain gluten, it is as quickly metabolized as sugars are. This can raise blood glucose, and so I avoid it as if it were a sugar.
The only cooking (unless you are making your own refried beans, as I do - see below) is browning the meat and stirring in the seasonings. After that, it's just cutting the vegetables into bite-sized pieces. In fact, sometimes I put my eaters to work chopping!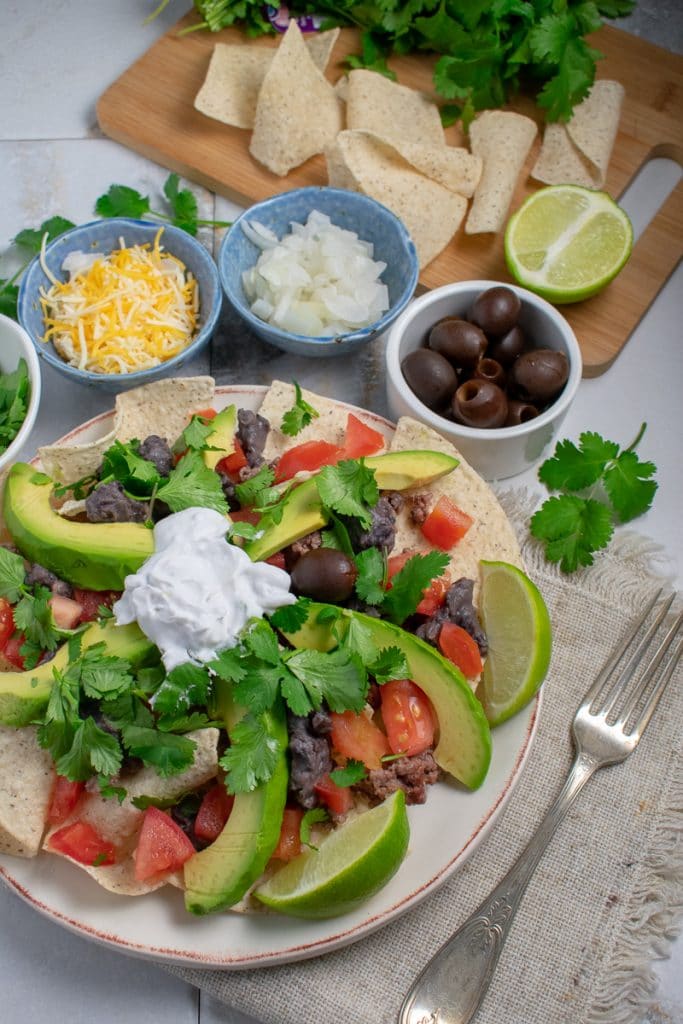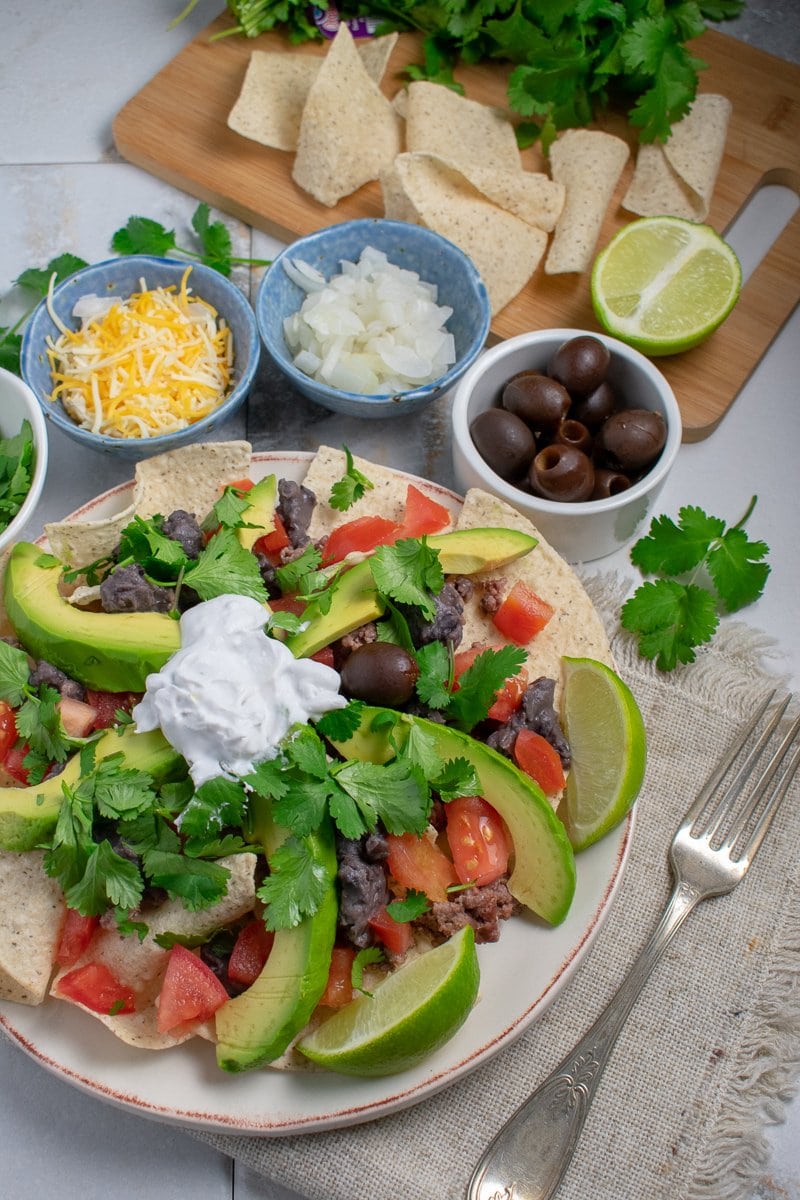 Cassava tortilla chips form the "bed" and add crunch. The meat, beans, avocado and cilantro, which everyone can eat, are the foundation above the chips. I've suggested a number of optional toppings, depending on your taste, such as sour cream and cheese as well as their non-dairy equivalents. I'm often asked to set out all of them!
What Seasonings Do You Use?
In a related post, you'll find recipes for two seasoning blends. They can be stirred into cooked meat (or meat alternatives) for nachos but also tacos and other Mexican dishes. While perhaps not traditional, they are full of flavor. Both are gluten-free and simple to mix up. This is the elimination diet version below.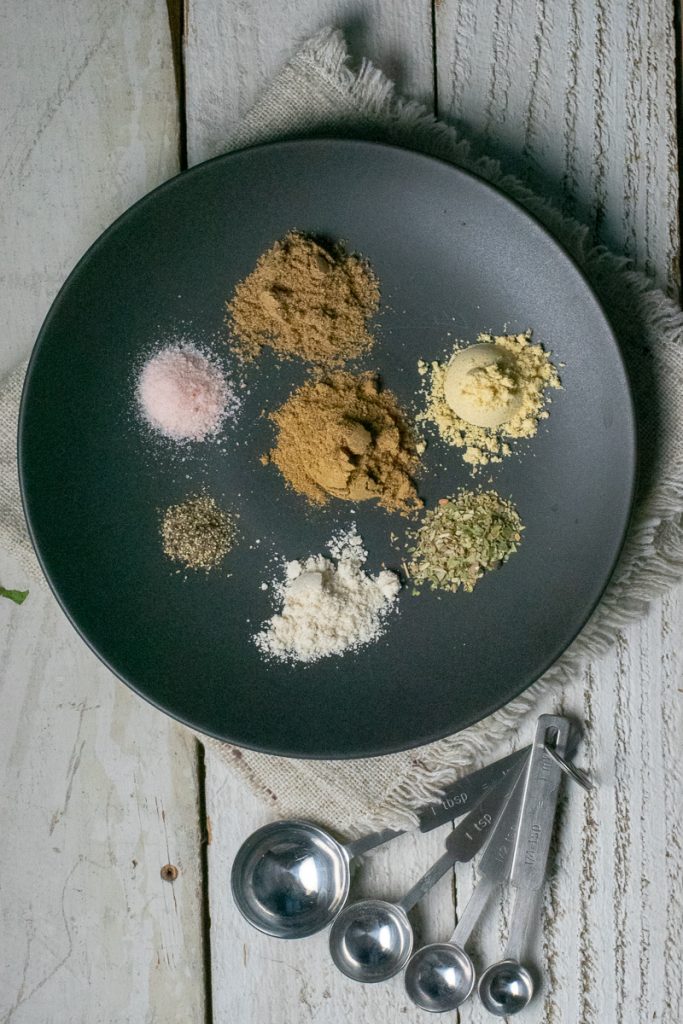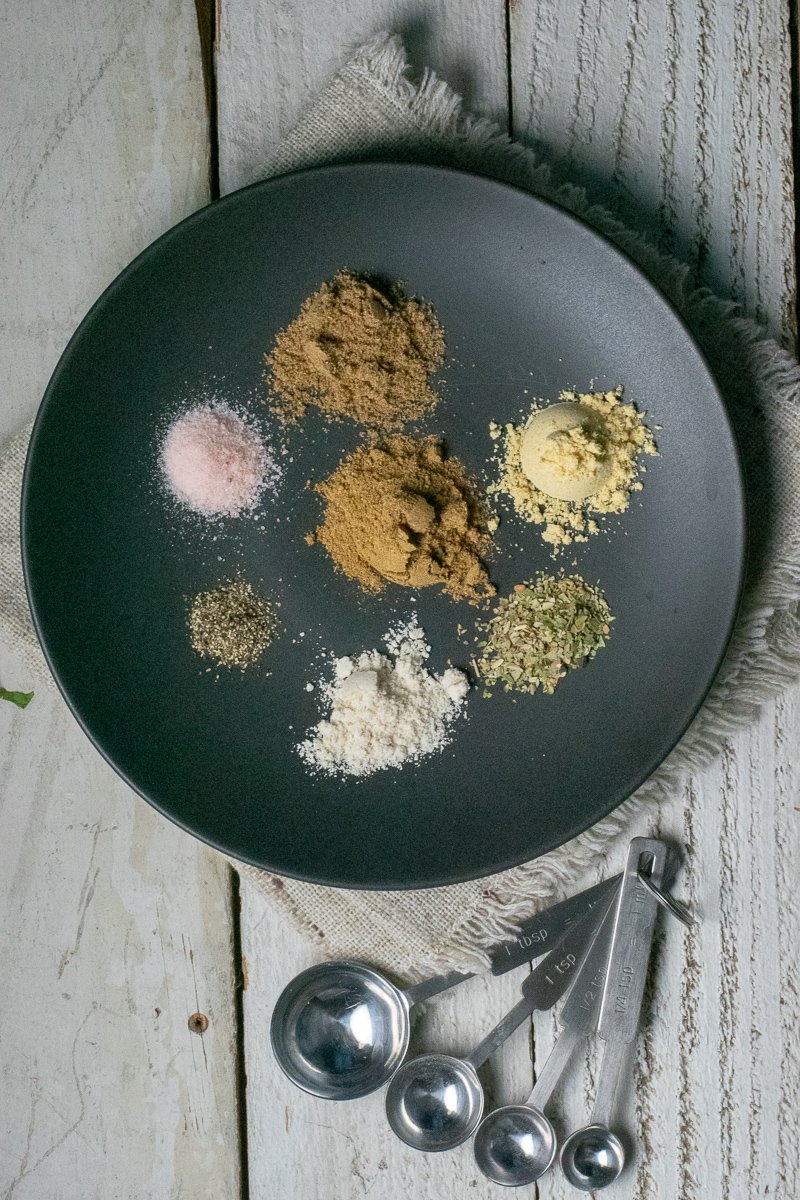 I used Asafetida instead of onions and garlic in this seasoning option, which is appropriate for a low-FODMAP diet. This is the seasoning I have shown sprinkled onto the cooked ground beef. Though it can't contribute the texture and thickening ability of onions and garlic, it adds some umami flavor and aroma that keeps you from missing the other two - mostly!
Please pin for later!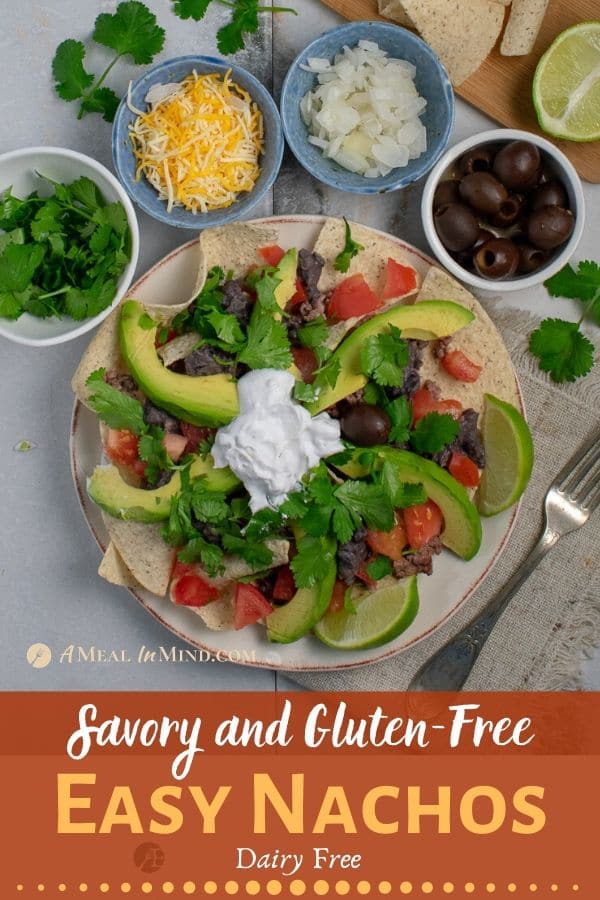 If you have a chance to make this recipe, please leave me a comment so that I know how it went!
Beth
Other recipes you may enjoy
Beef barbacoa taco sliders with avocado lime dressing
Almond-Crusted Steelhead or Salmon Tacos
Roasted Hatch Green Chile Tortilla Soup
Savory Gluten-Free Nachos
The ingredients for these savory gluten-free nachos are set out in separate bowls, buffet style. Flavorful seasoned ground beef, homemade refried beans and fresh toppings give lots of flavor. Everybody gets to assemble them as they like!
Ingredients
1 ¼

pound

ground beef

preferably grass-fed

1

batch of taco seasoning

version #2

1 ½

cups

refried black beans

homemade; see instructions in Notes

1 - 2

ripe avocados

sliced lengthwise

2

packages cassava chips

Siete brand

½

cup

cilantro

coarsely chopped

1

cup

diced fresh tomatoes
Additional toppings as desired:
½

cup

raw or cooked onions

½

cup

black olives

½

cup

sour cream or coconut cream

1

cup

cheese or cheese substitute

Daiya

¼

cup

jalapeno or serrano peppers

thinly sliced and seeds removed

1

cupful of salsa of choice
Instructions
Place the ground beef in a skillet over medium heat.

Cook until all traces of pink color are gone. (see note)

Stir in the taco seasoning blend until well mixed in. That's it!
If you want to make your own refried beans:
Note that you will need to start them the day before and allow for cooking and cooling:
Soak 1 cup of dried black beans overnight in the Instant Pot, rinsing at least twice during the soaking time.

Cook in the Instant Pot for 30 minutes (this should result in beans that are easily mashable).

Allow the pressure to come down naturally, which will take another 30 minutes.

Remove the cover of the Instant Pot and allow the beans to cool until you can touch the sides of the cooking pot.

Drain off and reserve most of the cooking liquid in a bowl.

Add about ¼ cup of fat of your choice. (I used to use butter or lard, but now usually use ghee or coconut oil. With coconut oil, the beans will be vegan.)

IMPORTANT! Don't leave out the salt or the beans will taste quite flat. Start with 1 teaspoon of salt and add more to taste.

Turn on the Instant Pot on slow-cook if needed so that the fat will melt. Using a vegetable masher, mash the cooked beans until about ¾ mashed. Add a little of the cooking liquid if the beans are too thick.

Adjust the salt and add more ghee or coconut oil if you like.
Notes
If you drain the fat from your cooked beef, this is the time. We usually don't, as grass-fed beef is high in omega-3 fatty acids, and those are important for our health. If you are not able to use grass-fed beef, you should go ahead and drain off the fat.
Cooking time for the refried beans is not included in the time estimate for the meal.
Pin for later!