This recipe, just in time for Taco Tuesday, is for almond-crusted steelhead or salmon tacos matched with red cabbage, fresh tomatoes, spicy guacamole and feta cheese. Simple, tasty and easy to make using leftover fish from the recipe in the previous post.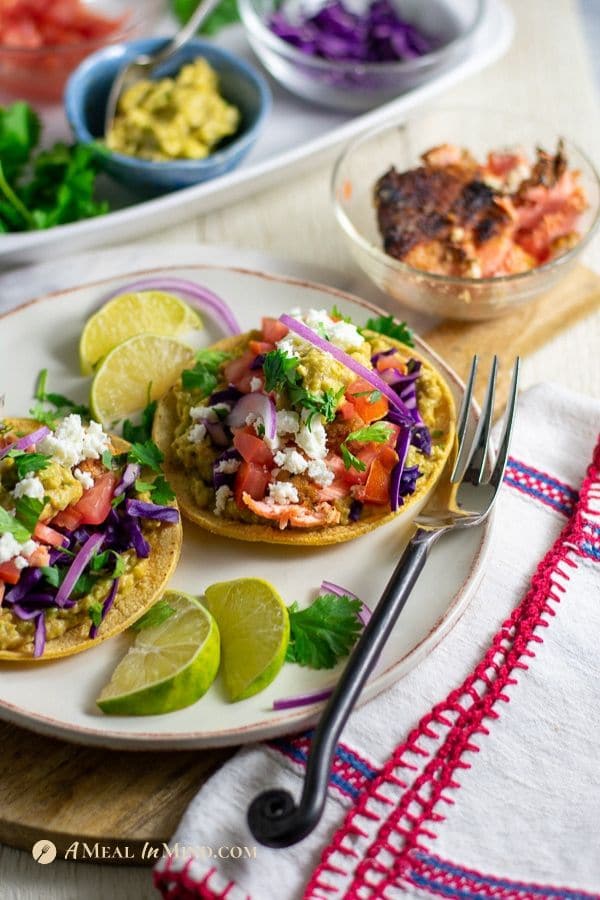 This is the next recipe in my quest to make street-style tacos. First it was Beef Barbacoa sliders, and this time it's with fish. This recipe works equally well with steelhead or salmon - see notes below. Usually fish tacos contain breaded fish. Crispy and delicious but not available to gluten-free eaters. So what's a gluten-free cook to do?
Why an almond flour coating?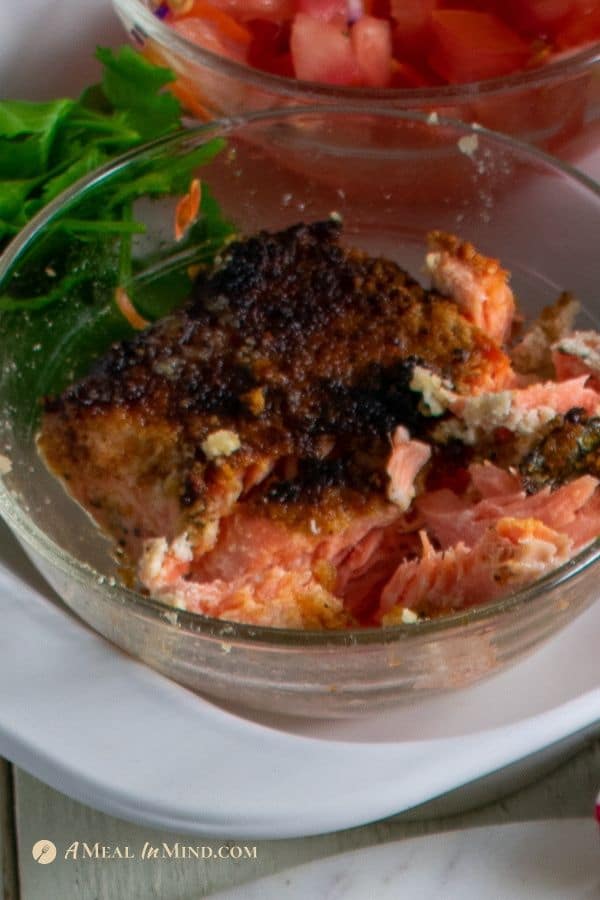 I wanted to use almond flour in my coating to be consistent with a lower glycemic index meal than a gluten-free baking mix would give. My recipe for Almond-Flour Crusted Salmon uses seasonings that are simple enough to use for more than one meal and tasty enough to hold up in a taco. If you plan to make it only into tacos, feel free to add more spiciness or cumin or oregano to the coating!
The fish you see in the small bowl above was heated briefly in the oven to re-crisp it before using it on the tacos. The almond flour coating, which can soften in the refrigerator, crisped and turned a little browner in this process.
The almond flour coating not only gives a delicate crunch to the outside of the fish pieces but seals in some of the juices and brings whatever seasonings you use for the fish right into every bite. The fish is then extra-easy to flake and place as much onto your taco as you like.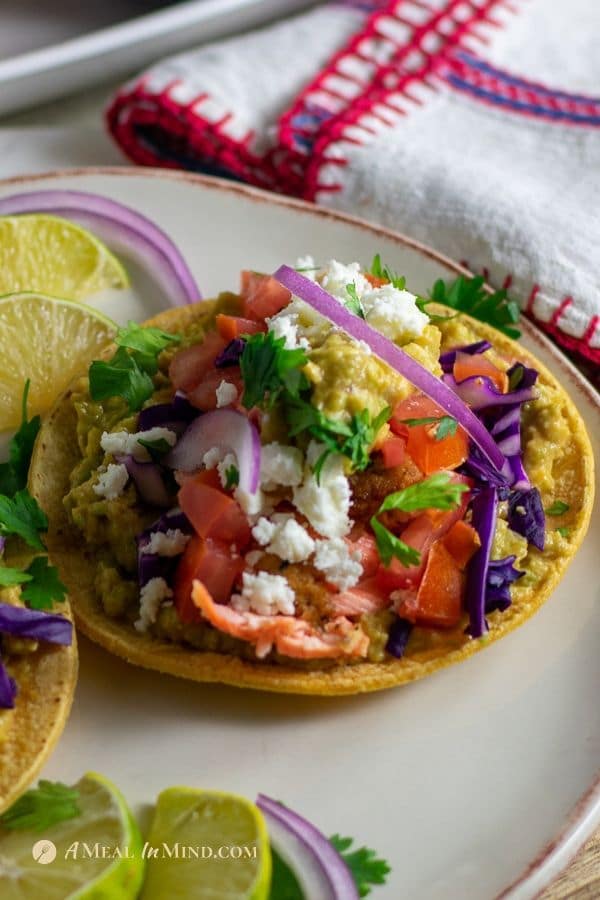 Why Salmon or Steelhead?
Salmon and steelhead both work well in a recipe like this because they are firm enough to not fall apart in a pan. Both fish contain enough wonderful fats that keep them from drying out too much in the process. The hard part is that the crispy coating makes the fish seem like snack food and I have to hide enough for the tacos later!
We use steelhead whenever we can find it because it is rated higher in sustainability than wild salmon. Both have excellent omega-3 fatty acid profiles. We no longer purchase farmed salmon because the fatty acid profile is poor and they contain high levels of PCB's. Nor do we eat fish tacos "out" because we don't know what the quality of their fish might be.
Topping tips
You could also use my creamy avocado-lime guac dressing to top these, if you prefer that to making guacamole. Taco nirvana part 2!
The sweetness of the fish is balanced by the tartness of the tomatoes and lime, the spiciness of the guacamole and the salty taste of the feta. The red cabbage provides extra crunch and freshness.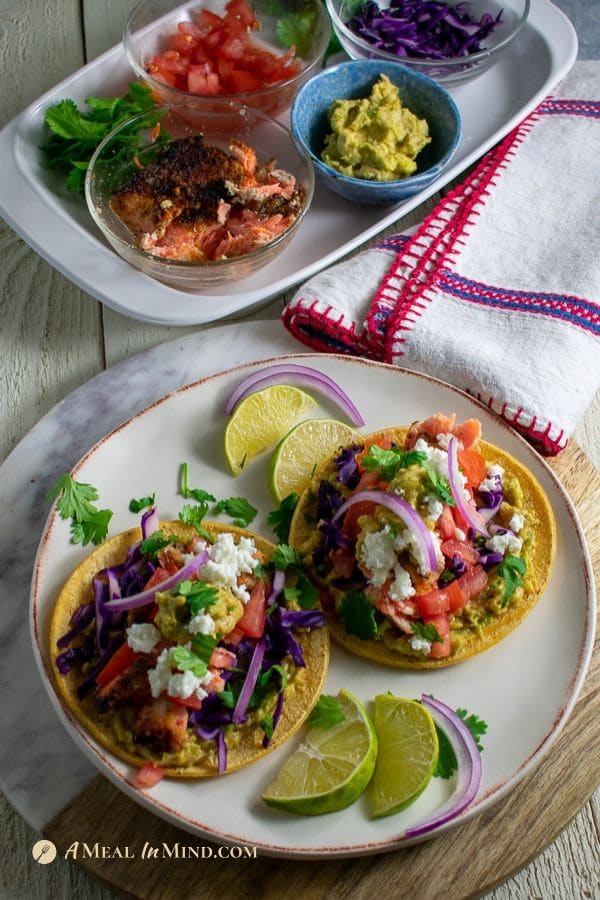 This recipe is gluten-free if you use the almond flour crust on the fish, and provided that your tortillas are gluten-free. It happens that feta is one of the few cheeses we can all eat because it has almost no lactose, and we like the Mt. Vikos brand. If you are eating dairy free for other reasons, try the Violife brand.
Other Mexican-inspired recipes you may enjoy
Beef barbacoa taco sliders with avocado lime dressing
Veracruz Style Steelhead or Salmon
2 Gluten-Free Taco Seasoning Recipes
Links to products for purchase are affiliate links. If you click on a link and make a purchase, I may earn a small commission on the sale at no additional cost to you. This helps me with the costs of blogging, and I thank you!
Kitchen items used in this recipe
I fall in love with the versatiity of this Cuisinart skillet more every day, which is why, even though it's what I used for the fish and not for the tacos directly, I'm featuring it again here.
Oven mitts are essential when removing a hot stainless-steel pan from the oven! And I'm not really a fan of the silicone ones, colorful though they are. It always feels like I'm handling cookware with two clubs.
This is Costco almond flour, and I buy it there - if you don't have a Costco nearby, here is the same Kirkland product.
This is my preferred olive oil because even though I'm sure other olive oils are great, I like to support American agriculture.
These Mi Rancho tortillas are available at Natural Grocers, where I buy them, but also on Amazon if that is more convenient for you. They are the perfect size for these sliders, organic and just delicious.
Almond-Crusted Steelhead or Salmon Tacos
This recipe, just in time for Taco Tuesday, is for almond-crusted steelhead or salmon tacos matched with red cabbage, fresh tomatoes, spicy guacamole and feta cheese. Simple, tasty and great party food.
Ingredients
For the salmon or steelhead

more detail and photos in previous post

½

cup

almond flour

1

teaspoon

garlic powder

1

teaspoon

dried herbs of choice - oregano

thyme, etc.

½

teaspoon

paprika

1

teaspoon

sea salt

½

teaspoon

ground black pepper

4

– 4 ounce boneless skinless salmon or steelhead fillets

2

tablespoons

olive oil
For tacos
slider tortillas

1 package, Mi Rancho brand

Guacamole

homemade or purchased, about 2 cups

red cabbage

thinly sliced, about 1 cup

ripe tomatoes

diced, about 2 cups

feta cheese

about ½ cup

thinly sliced red onion and cilantro for garnish

lime wedges
Instructions
For the salmon or steelhead
Preheat oven to 425 degrees.

In a shallow bowl mix the almond flour and seasonings.   Press fish fillets into almond flour mixture.

Heat an ovenproof skillet over medium-high heat.  Add 1 tablespoon oil and sear one side of fish for 3 minutes. If you are using steelhead, this should be enough to allow you to remove the skin, if desired. 

Flip and sear for 3 more minutes.  

Place fish into the preheated oven and bake for 10 minutes, or until the fish flakes and the almond flour coating is slightly browned.
For the tacos
Warm the tortillas in the oven or microwave until softened

Spread each tortilla with a layer of guacamole

Place about 2-3 tablespoons of flaked fish along the center of each tortilla

Place additional toppings as desired and top with a small dollop of guacamole and the cheese

Squeeze lime juice over each taco and serve with additional toppings
Pin for later!!