These tender, extra-savory, thin-sliced Southwestern roasted sweet potatoes are a great Paleo side dish for your holiday table - or any time. Sweet potatoes roasted with olive oil, a touch of butter, garlic and the bold flavors of cumin, coriander and chile powder, garnished with cilantro.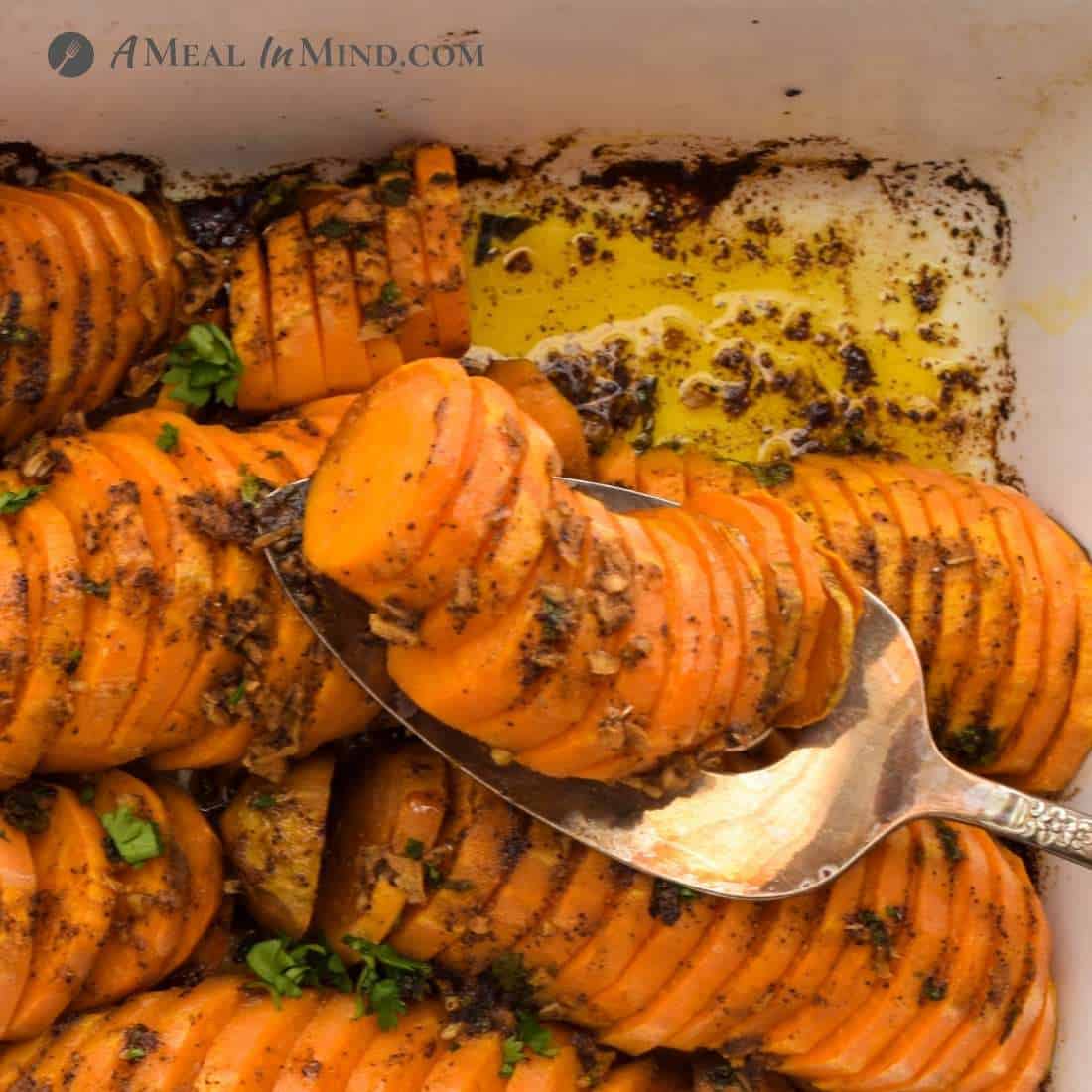 Not only is this a delicious recipe, it's beautiful, and very easy to put together. You could take this to any potluck gathering and impress your host and fellow guests.
The sweet potato dish is ideal for a novice cook. Once you've sliced the sweet potatoes and assembled the dish, there is no guessing about cooking it. The combination of baking the sliced, seasoned sweet potatoes covered first, then uncovered at a higher temperature, makes it a showy and tasty dish that only requires a steady hand in slicing.
Plus, I've included options for Thanksgiving or Mediterranean flavors, just by changing the seasonings.
Links to products for purchase are affiliate links. If you click on a link and make a purchase, as an Amazon affiliate I may earn a small commission on the sale at no additional cost to you. This helps me with the costs of blogging, and I thank you! You can find my 'shop' page here.
Steps in making this dish
Step 1.
Preheat the oven to 375 degrees F. Measure out the herbs and spices, peel and mince the garlic, then make the seasoned butter/oil mixture.
Stir together olive oil and melted butter with minced garlic, salt and pepper, and ground cumin, coriander, chile powder and chopped cilantro. Spread a tablespoonful or so of the mixture over the bottom of a 9 x 13 inch baking dish.
Step 2.
Slice and season the sweet potatoes.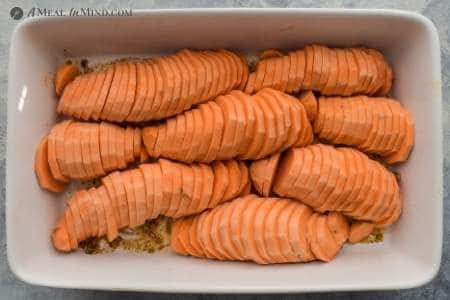 Peel and slice the sweet potatoes about ¼ inch thick. Making the slices the same thickness will help them cook evenly and make a more attractive dish. Hold each sliced potato together while placing it carefully in the pan. I place the first potato in the center of the side of the pan. Then I place half the slices from the second potato pointing in the opposite direction from the first (see photo). Continue alternating placement of the sweet potatoes.
Brush the remaining butter mixture over the tops of the potatoes. Cover the pan with foil.
Step 3. Roasting
Place the covered baking dish into the oven and roast for 45 minutes. Then remove the foil, turn up the heat to 450 degrees F and roast the uncovered potatoes for 15 more minutes (20-25 minutes at high altitude).
If the sweet potatoes have dried out during the last roasting, brush the tops with a small amount of olive oil just before serving. Enjoy this great side dish!
What can I serve this side dish with?
The roasted sweet potatoes are wonderful with Dutch oven Carne Asada and a green vegetable.
They are also a perfect non-sugary Thanksgiving side dish, especially with the substitution of pumpkin pie spice for the cumin, coriander and chile powder. We will be enjoying them with caramelized Brussels sprouts, Instant Pot salt potatoes, cranberry sauce with apples, and our roasted turkey.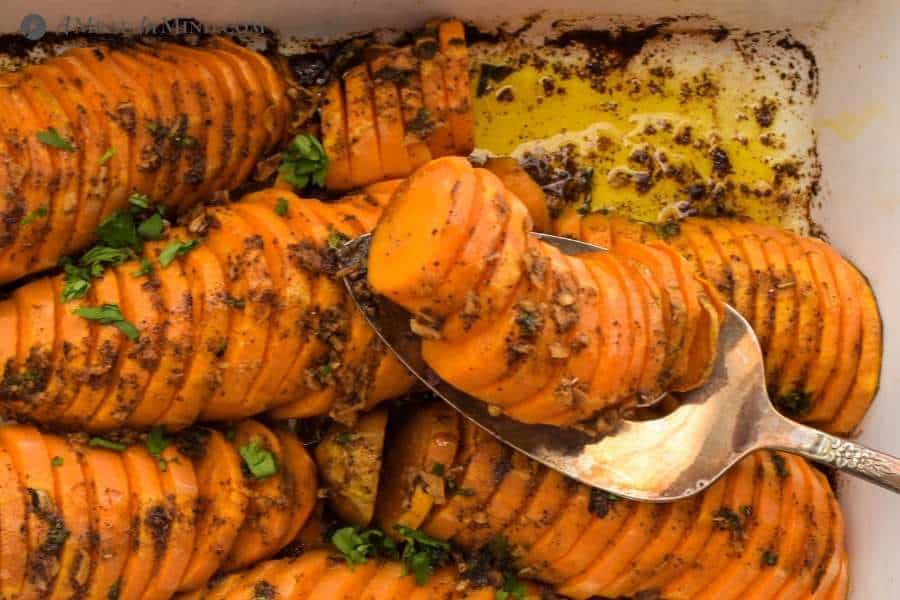 What other seasonings are good on these sweet potatoes?
As I noted above, to harmonize this dish with your Thanksgiving dishes, use pumpkin pie spice instead of the cumin/coriander mixture. The sweet potatoes will have plenty of flavor without adding sugar. However, if your family is used to a sweet" sweet potato dish, stir in ¼ cup coconut sugar into the sauce before using it for basting.
As a Middle-Eastern variation on the Southwestern seasonings, substitute berbere seasoning, leaving everything else the same. So fragrant!
Other delicious side dishes
Roasted Sweet Potato Fries with Sriracha-Lime Mayo
Lemon-Roasted Broccoli and White Sweet Potatoes
Easy Caramelized Brussels Sprouts
Instant Pot Seasoned Salt Potatoes
Shop Southwestern Roasted Sweet Potatoes
If you make this recipe, please let me know! Leave a comment, rate it, and don't forget to tag a photo #amealinmind on Instagram. I'd love to see what you come up with. Thank you so much!!
Beth
Southwestern Roasted Sweet Potatoes - Paleo
These tender, extra-savory, thin-sliced Southwestern roasted sweet potatoes are a great Paleo side dish for your holiday table - or any time. With very simple prep, this fancy-looking dish roasts in an hour. Vegetarian with vegan option. Make it for your next gathering!
Ingredients
3

pounds

sweet potatoes

peeled and thinly sliced

¼

cup

olive oil

¼

cup

butter (or nondairy spread)

melted

4-6

cloves

garlic

minced

2

teaspoons

ground cumin

1

teaspoon

ground coriander

1

teaspoon

chili powder

½ to 1

teaspoon

salt

to taste

¼

teaspoon

freshly ground pepper

or to taste

¼

cup

cilantro leaves

chopped and divided
Instructions
Preheat oven to 375F.

Combine olive oil, melted butter or non-dairy spread, garlic, spices, salt and pepper and half the cilantro in a small mixing bowl; stir to combine.

Spread 1-2 tablespoons of the mixture in the bottom of a 9 x 13 inch baking dish. 

Arrange sweet potato slices in the dish and brush potatoes with the remaining olive oil mixture, reserving a couple of teaspoonfuls.

Cover with foil and bake for 45 minutes.

Remove foil and increase oven temperature to 450F.

Roast potatoes for an additional 15 minutes, or until potatoes are slightly browned. Allow an extra 5 to 10 minutes at high altitude or if your sweet potatoes are large. 

Remove sweet potatoes from the oven and test an end piece for doneness. If the sweet potatoes have dried out during roasting, brush them with reserved seasoned olive oil.

Garnish with cilantro leaves.
Notes
For this recipe I look for small to medium-sized sweet potatoes of a uniform size (about 1 ½ to 2 inches across at the widest point). The bagged ones from Sprouts or Trader Joes, rather than loose, are most likely to be about the same size and usually are sold in 3-pound lots.
To make this dish into a slightly sweet Thanksgiving side, substitute 4 teaspoons of pumpkin pie spice for the cumin, coriander and chile powder. For an additional, yet still mild sweetness, stir ¼ cup of coconut sugar into the sauce mixture.
Please pin for later!
Click the pin button for more pin images, and thank you for sharing!!