These easy caramelized Brussels sprouts develop a savory umami flavor and aroma that make you want to pop them in your mouth. You'd hardly recognize these sweet babies as coming from a cabbage relative! The dish is the delectable result of three simple steps and four basic ingredients. There is very little prep. Roast lots and have them with breakfast, too!
Because this is a completely plant-based recipe, they go well on any dietary plan. For anyone who really wants to add-on parmesan or bacon, see notes! Naturally gluten- and dairy-free, of course.
The keys are:
starting with fresh, cleaned Brussels sprouts
PATIENCE to sear them in oil -- then --
MORE PATIENCE to let them roast in the oven long enough.
And DON'T cover them with foil when they are still hot (yeah, yeah, that's thing #4)
If you do those steps, you should be serving tasty sprouts in an hour or so (depending on your oven and sprout size). And you shouldn't end up with undercooked, chewy sprouts OR overcooked, mushy ones.
The Saute step
Saute the sprouts in a wok until coated with oil and just starting to brown. In this important step, you are pre-caramelizing them! I know, I know, it means another pan to wash - I think it's worth it. Although the recipe calls for one pound of sprouts, with this saute method I can make 2 pounds (which Costco sells) in a 9 x 13 pan without worrying that they won't roast evenly.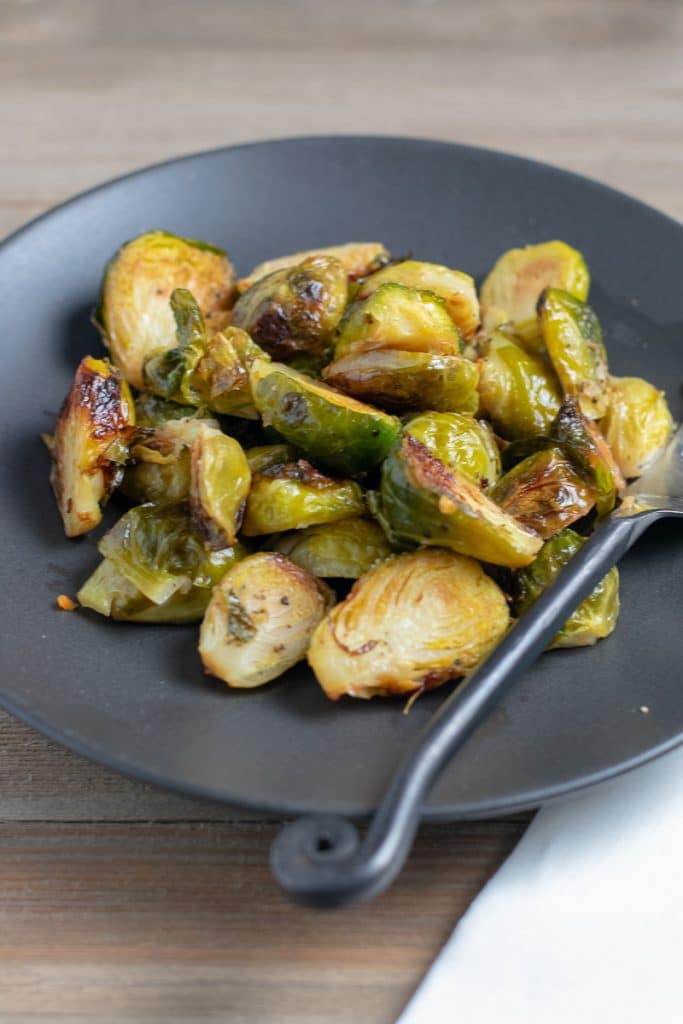 These caramelized Brussels sprouts would be a great side dish with my Beef-Spinach Mini-Meatloaves.
Enjoy!
Beth
Other side dishes on A Meal In Mind
Beet-Feta Salad with Garlicky Crispy Walnuts
Mediterranean Quinoa Vegetable Salad
Coconut Milk Garden Chive Quinoa 4-ingredient
Posts on A Meal In Mind may contain affiliate links. When you click on a link and make a purchase, I may earn a small commission on the sale. This helps support my blogging work, and I thank you!
Easy Caramelized Brussels Sprouts
These easy caramelized Brussels sprouts develop a savory umami flavor and aroma that makes you want to pop them in your mouth. These are the delectable result of three simple steps and four basic ingredients.
Ingredients
1

pound

Brussels sprouts

washed, drained, trimmed and halved lengthwise

2

tablespoons

coconut oil

or 1 tablespoon coconut oil + 1 tablespoon olive oil

½

teaspoon

good sea salt

plus more for the table

1

teaspoon

other seasonings of choice: I like Trader Joe's 21 seasoning salute or Kirkland organic no-salt seasoning; or a mix of black pepper and herbs like thyme

rosemary, paprika, lemon peel, etc.
Instructions
Preheat oven to 375 degrees F.

Heat the oil(s) in a large (12-inch) non-stick wok or skillet over medium heat.

Add the cleaned brussels sprouts and stir-fry so that all are coated with the oil, 3-5 minutes. Add more oil if needed but not so much that you get a puddle in the pan. Some of the sprouts will brown slightly, and the outside leaves will take on a soaked look.

Transfer the sauteed sprouts to a shallow 9 x 13-inch baking dish. Spread them out as much as possible. It's worth turning as many of the cut sides down, especially around the edges of the pan, without spending a huge amount of time at it.

Sprinkle the salt and seasoning mix evenly over the sprouts.

Place pan in the oven and roast for at least 40 minutes, stirring every 20 minutes. I've learned it takes a bit longer at high altitude, nearly 60 minutes depending on how large the sprouts are. They are done when the sprouts have softened and browned and are tender and flavorful.

Remove from the oven and allow to cool for about 5 minutes. If they are done before the rest of your meal, do NOT cover with foil to keep them warm. They will steam and become soggy and develop a cabbage-y flavor. Yuck. Better to place them back in the oven at around 300 degrees F. They will continue to caramelize at that temperature, but shouldn't burn.

Sprinkle with just a little more good sea salt before serving, or serve extra salt on the table.
Notes
Bacon or parmesan cheese could be pretty tasty additions!
If adding parmesan, do so right when you take the sprouts out of the oven for the last time. The cheese will melt from the heat of the sprouts.
For bacon, add uncooked chopped bacon when the sprouts are about halfway baked and you are stirring them anyway.