Looking for a way to up the vegetable count in your potato salad? Look no further. This creamy, vegetable-filled Hawaii-style potato salad has crunch, flavor and color. I call it Hawaii-style because it's the closest to what we make for potlucks when we're there.
My son (born and raised on Oahu) asked why there weren't more of our old favorite Hawaii recipes on the blog? I said -- why not, since of course he has to taste-test and make sure they come up to snuff.
This salad goes perfectly with Hawaii style roasted chicken (a lot like teriyaki but try it and see, recipe soon!), roasted sweet potatoes and rice. So welcome to our "potluck" that will take a few posts to complete.
Some history, fyi. We moved to Honolulu on New Year's Day of 1983. My husband was a new faculty member at the University of Hawaii at Manoa (where he's still on the faculty), and we were invited to lots of potlucks. Lots of food - it is the Horticulture Department after all. A little nostalgia - All the faculty ladies wore mu'umu'u and the men wore aloha shirts. The mu'umu'u have become less common but the potlucks and the aloha shirts continue.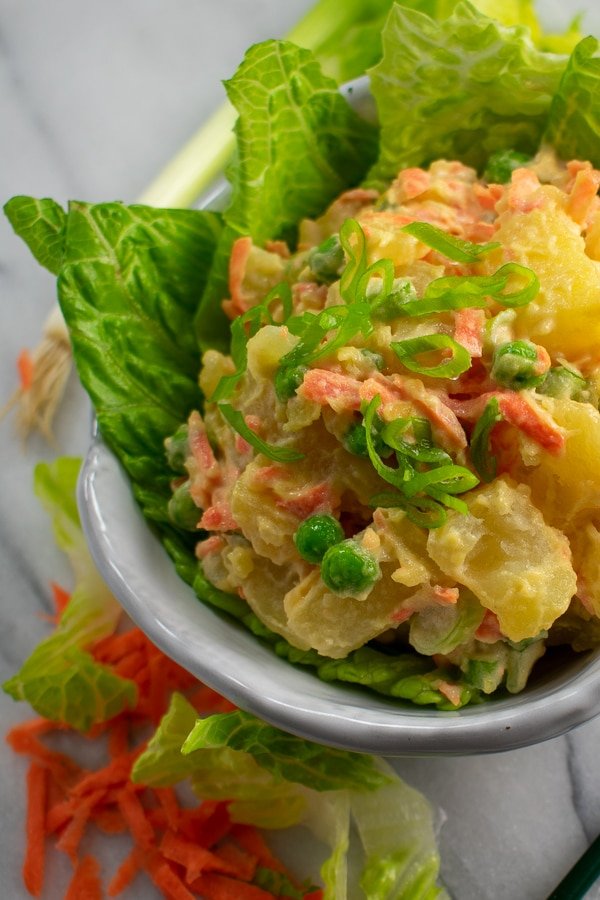 A Hawaii potluck
Well, more about food! As far as dishes, there would certainly be lots of white rice, a salad or several, tropical fruits, sliced roasted sweet potatoes and lots of tasty desserts.
And hopefully (since I love it!) poi. And kalua pork, oh my.
Going drool now.
But there would definitely be potato salad (or, even more often, potato mac salad). I've always loved potato salad, maybe because I enjoy mayonnaise - I know not everyone does, though. We discovered Japanese mayo, which adds a little extra vinegary flavor, and sometimes people who don't like American mayo enjoy that.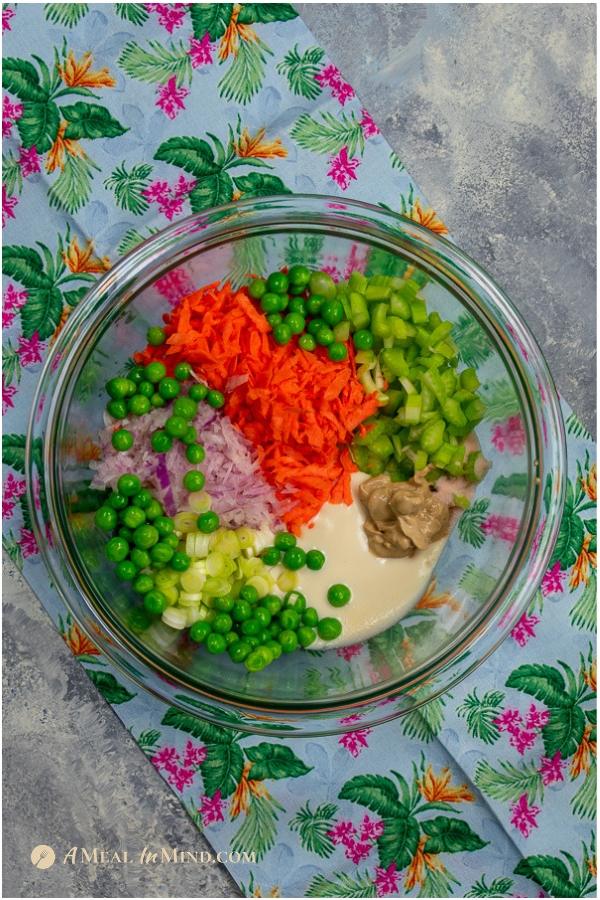 Hawaii style potato Salad ingredients
This is the Hawaii-style potato salad we've developed over the years, and we think it's pretty good. It's loaded with carrots, celery, onions and peas for flavor and texture, not to mention to balance the starchiness of the potatoes.
I decided not to include macaroni, authentic though that would be. It's just hard to imagine any of the gluten-free noodles in this, and these recipes are gluten-free - but stay tuned, I could find just the right one!
I love Yukon gold potatoes in any recipe but I consider them to be particularly wonderful in salads. Their creaminess allows the other textures to come through. Red potatoes would be great, too, and give added color, except that I tend to peel most of the skins off.
But whichever you prefer, I can't recommend strongly enough that you use organically-grown potatoes, since commercial ones are high enough in pesticides to be listed on the Dirty Dozen.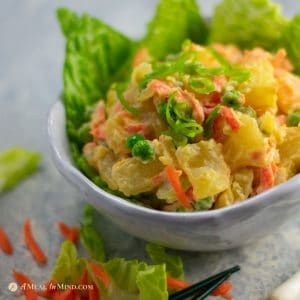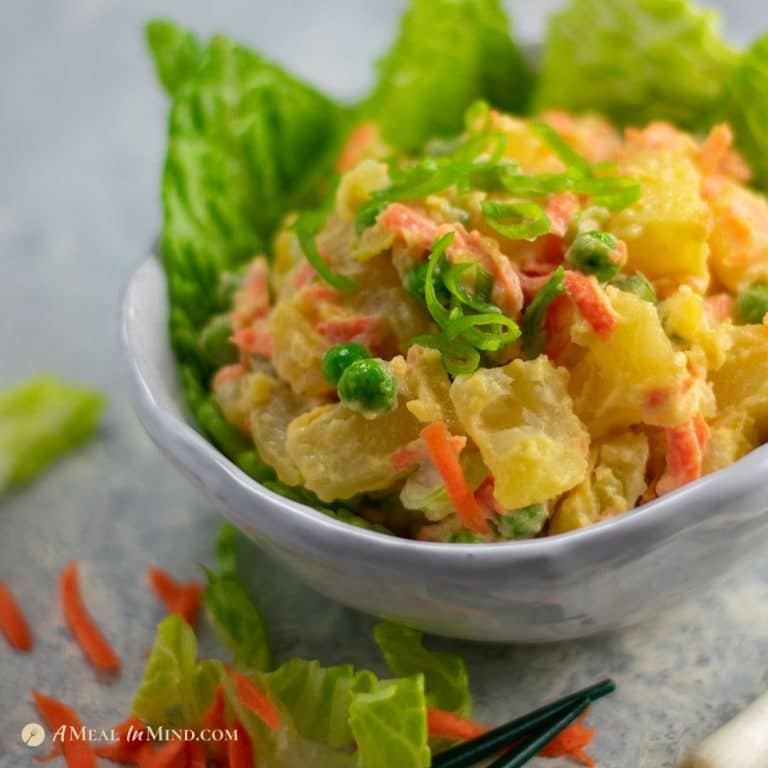 A Note about Mayonnaise
Another note about mayonnaise, given our eating style these days. We no longer eat any foods with canola oil (article on oils on its way!) I like using the Primal mayonnaise because of the healthy oils (avocado) and because it tastes like the mayos I grew up with. For anything we are allowing my grandson to eat, we are avoiding eggs until he's a year old, which is why I've also mentioned the Chosen Foods vegan mayo.
Both of those prepared mayos have lots of flavor, so I don't use lots. When you make this, use your favorite, and adjust the amount as you wish. I'd use Japanese mayonnaise (Kewpie) but it has a small amount of MSG, which we are avoiding. I understand the quantity of MSG has been reduced in the Kewpie mayo sold in the US.
The potatoes will tend to soak up the mayonnaise over time so the amount I've suggested will work if you will serve right away. If you plan to refrigerate the salad and serve it the next day, stir in another ¼ cup of mayo just before serving.
Pin for later!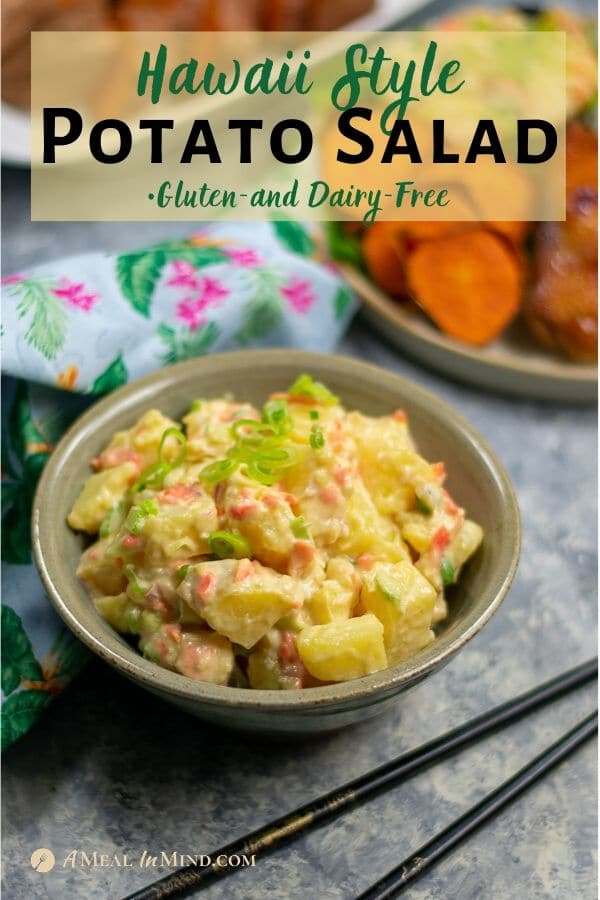 The addition of mustard is a personal taste preference. Often recipes for mac or potato salad will call for pickle relish instead. The sweet pickles are tasty, I'll admit - and if you like it, throw some in - but sweeter than I want. With Dijon mustard, you get that little vinegary pop without the sweetness.
You could start preferring this to your old potato salad recipe because it's so bright and fresh-tasting. Whatever you decide, I hope you enjoy it.
Beth
Other Hawaii-style recipes you may enjoy
Seared Opah with papaya-avocado salsa
Easy Coconut Milk Tapioca Dessert
Japanese Chicken Curry from Scratch
Hawaii-style "huli-huli" chicken thighs
Kitchen Items used in Hawaii style potato salad
In case you can't find Primal or Chosen Foods mayos locally, Amazon does carry both. If you want real Japanese flavor, go ahead and use Kewpie Mayo - I love it!
I don't know what I'd do without my santoku knife!!
And for poking potatoes, this item, interestingly called a granny fork (whaat?) is what I use.
Links to products for purchase are Amazon affiliate links. If you click on a link and make a purchase, I may earn a small commission on the sale at no additional cost to you. This helps me with the costs of blogging, and I thank you!
Hawaii-Style Potato Salad
Looking for a way to up the vegetable count in your potato salad? Look no further. This creamy, vegetable-filled potato salad has crunch, flavor and color. I call it Hawaii-style because it's the closest to what we make for potlucks when we're there. 
Ingredients
2

pounds

Yukon Gold potatoes of similar size

scrubbed.

½

cup

grated sweet or red onion.

½

cup

diced celery

leaves removed

1

large carrot

grated, about ¾ cup

¾

cup

frozen peas

thawed

½

cup

chopped scallions

1

cup

Primal or Chosen Foods vegan mayonnaise

or to taste

1

tablespoon

Dijon mustard

½

teaspoon

sea salt

or more to taste
Instructions
Add unpeeled potatoes to a pot that has a cover and is deep enough to boil them. Add enough water to cover the potatoes and place over medium-high heat.

Bring water to a boil, reduce heat to medium, cover the pot and cook at a low boil for 20 to 25 minutes, or until the centers are just tender when pierced with a fork, and the skins have not split. Drain and immediately place potatoes into cold water until cool enough to handle.

Peel the cooled potatoes and chop into 1-inch chunks.

In your salad bowl, combine mayonnaise, mustard, shredded onion, sliced scallions, grated carrots, diced celery and salt. Stir well to combine evenly.

Stir in cubed potatoes.

Taste and season with additional salt, if needed.

Garnish with diagonally sliced green onions.

Serve immediately or refrigerate overnight and serve the following day.
Notes
If you will be refrigerating this salad for more than an hour, plan to add a little more mayonnaise just before serving, as the potatoes will absorb the moisture during refrigeration.