This seared opah with papaya-avocado salsa is a mouth-watering combination of sweet and tart fruits, buttery fish and creamy avocados. This is a guideline as much as a specific recipe because you can use whatever fish and fruit are freshest.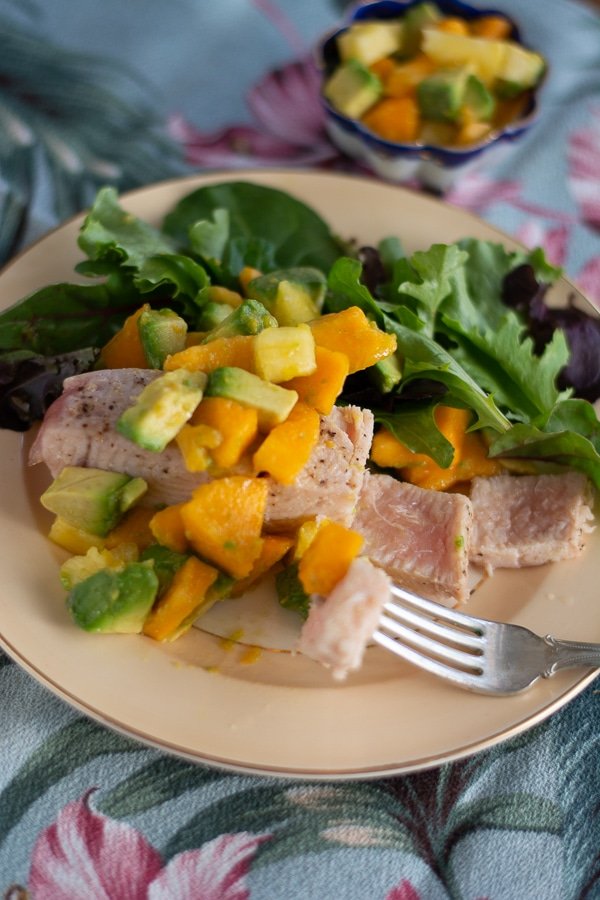 I enjoy grilled fish when it's done by someone who knows what they're doing, but I don't have a grill, so I like to sear opah. It's a tender and flavorful fish that will stand quick cooking and be almost sweet in the middle.
Here I've shown the pieces after their first 2-minute sear and just turned for the second one.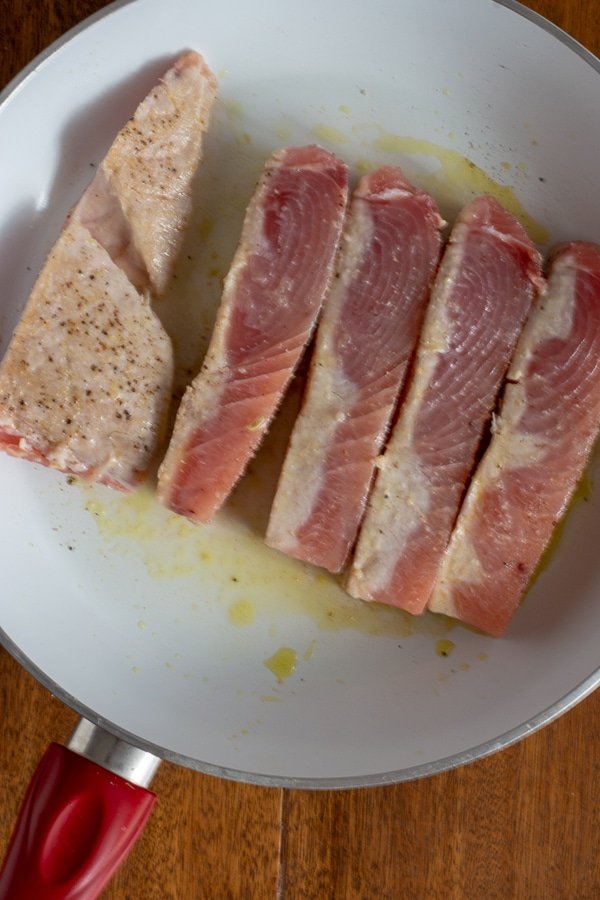 Choosing fish
Opah is a large, beautiful, silvery fish that is almost round when seen from the side, which gives it the name of moonfish. It's also called wahoo. When I first heard of it about 30 years ago, a friend told me that he didn't like fish, but he had finally found one that tasted like chicken.
It was opah!!!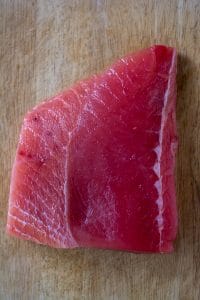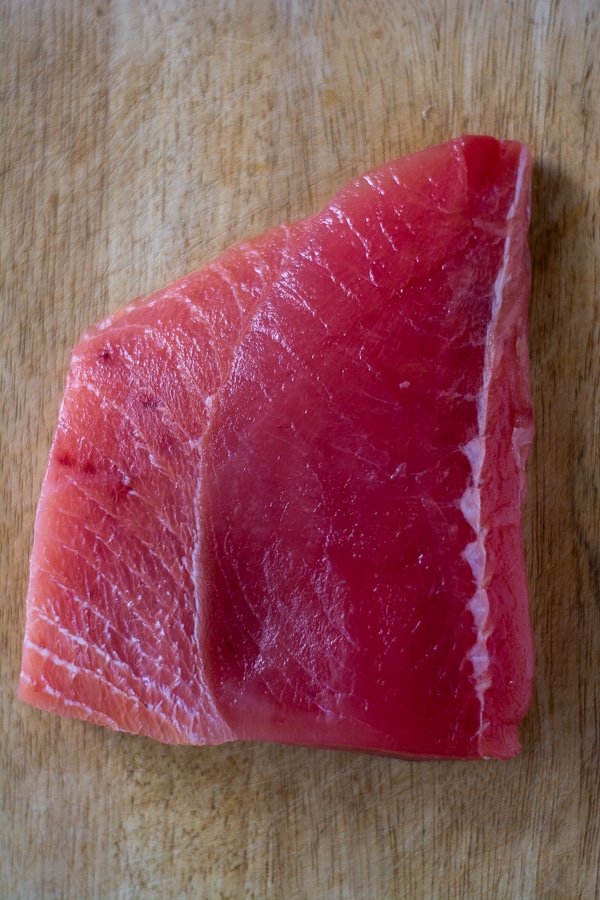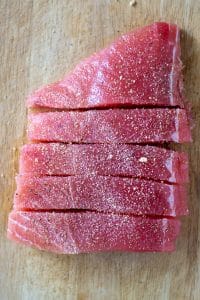 In terms of sustainability, it's best to eat opah only if it was caught wild in the Pacific. So look for it when in Hawaii! Not there? Almost any sashimi-quality fish can work as well, like ahi tuna; monchong; mahi-mahi; salmon. Ahi is very popular for searing, because it keeps its color so well in the center.
Please Pin for later!
Other seafood recipes on A Meal In Mind
I also love opah in my Thai Green Coconut Milk Mahi Mahi Curry. There I prize not only its flavor but also the fact that it will cook gently in the remaining heat of the finished curry when you add it as the last ingredient. Even people who don't love fish enjoy that curry's subtle flavors.
Miso-Lemon Baked Steelhead Trout
Roasted Shrimp with Broccoli and Cherry Tomatoes
Almond-Crusted Steelhead or Salmon Tacos
If you try this recipe, leave a comment to let me know how it went!
Enjoy,
Beth
Shop seared opah with papaya-avocado salsa
My favorite olive oil is by California Olive Ranch. It smells like olives, has a classic green color, and makes me feel good for supporting American farming.
Redmond real sea salt has electrolytes that make it pink and I use it whenever I add salt to a dish.
I love my Henckels Santoku knives - they hold their edges for a long time and slice through fish as well as being light in the hand to chop vegetables.
I don't use my ceramic non-stick pans as much as I used to because I've learned to love stainless steel, but for a recipe like this one where the fish will sear so quickly and I absolutely don't want it sticking, I go with my GreenLife nonstick skillet.
Seared Opah with Papaya-Avocado Salsa 
This seared opah with papaya-avocado salsa is a mouth-watering combination of sweet and tart fruits, buttery fish and creamy avocados. Takes you to the tropics - in less than 30 minutes!
Ingredients
½

lemon

juiced,

1

pound

opah or other firm fish

extra virgin olive oil

about 2 tablespoons

salt and pepper to taste
For the Salsa:
½

papaya

or mango if that is more readily available, diced

½

cup

pineapple

diced

1

ripe avocado

diced

½

lemon

juiced

½

lime

juiced

zest of 1 lemon

½

orange

juiced

¼

cup

sweet or red onion

minced

1

tablespoon

cilantro

coarsely chopped

¼

teaspoon

salt

¼

teaspoon

fresh black pepper
Instructions
Cut opah into smaller fillets the same width as the fillet is thick so that it will sear evenly.

Squeeze lemon all over all sides of fish.

Salt and pepper all sides of fish.

Heat olive oil in frying pan. Sear fish over high heat for about 1-2 minutes per side so that the inside is still pink.

Serve on plates with the papaya-avocado salsa.
Notes
For opah, substitute other fresh, sashimi-quality fish such as ahi tuna, salmon fillet, mahi-mahi, or monchong.
Please Pin for later!