Fork-tender beef, savory potatoes and carrots, slow-baked with tomato and herb goodness! All these make this old-fashioned beef stew perfect for the cooler evenings that we're having in early October. Make this for your next company meal!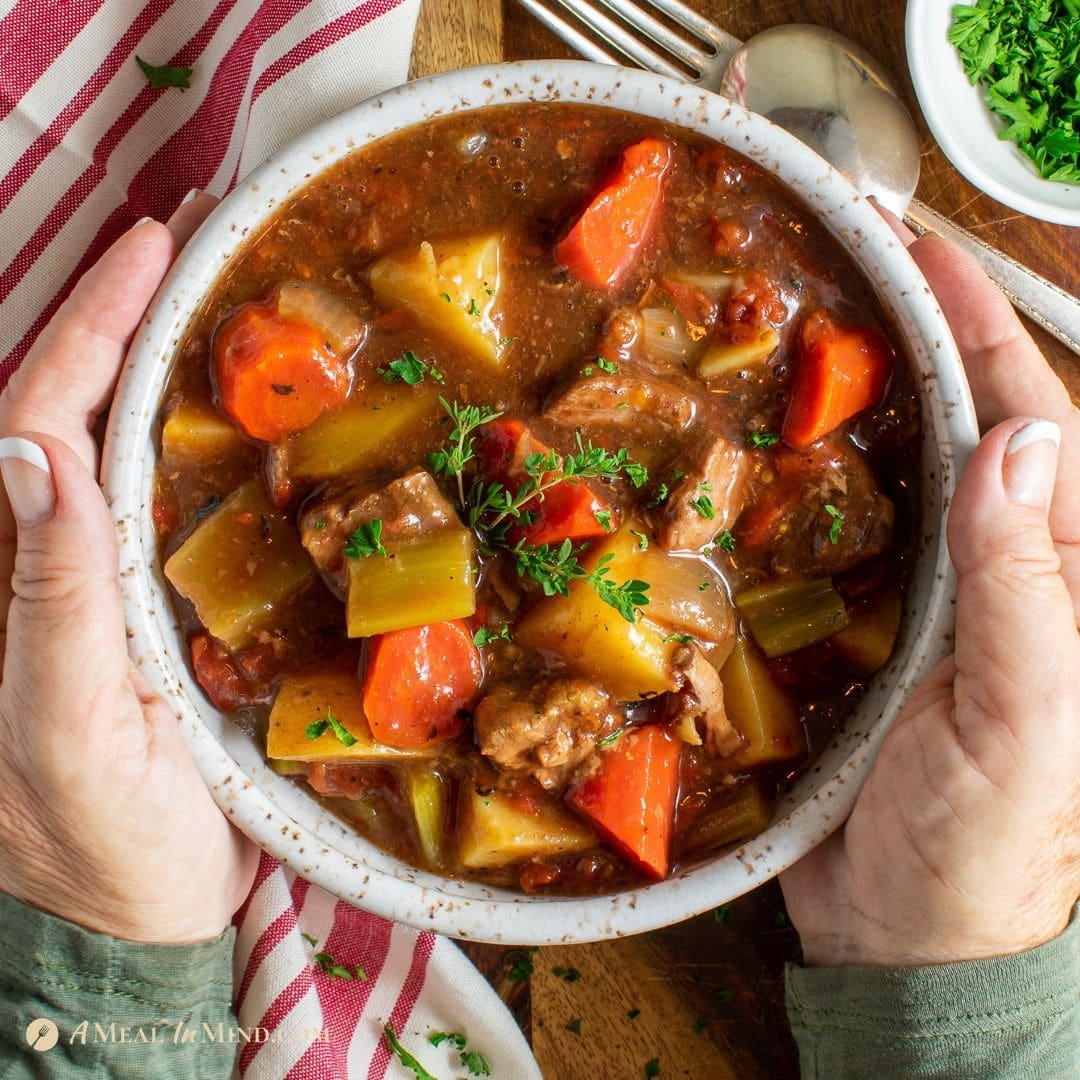 It's a quick prep because you simply chop and combine the ingredients in your Dutch oven. Then, cover and roast for most of the day. My kind of meal!
This slow-baked beef stew reminds me of the roast beef my mom used to make for Sunday dinners, except I think this beef is juicier - sorry, mom! This was always a comfort-food sort of company meal, and it has that feeling for me today.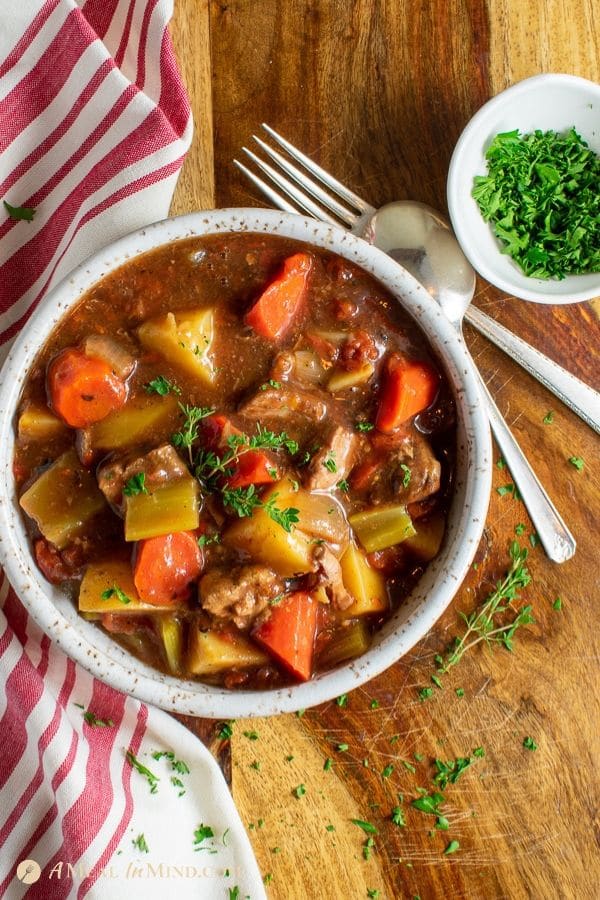 I adapted this recipe from one by my fellow blogger Angela Sedlak of Mean Green Chef. Her blog is beautiful and her delicious recipes and savvy kitchen and blogging tips are always such an inspiration to me. I hope that you will visit her site (after you've spent time here, of course)!
What makes this beef stew old-fashioned?
I call this an old-fashioned beef stew because - of course - cooking in a Dutch oven has been around much longer than Crockpots or Instant Pots. I love my Dutch oven for the its ability to switch from stovetop to oven, as well as how easy it is to clean. Of course there is no stovetop step in this recipe, but still.
The stew is also old-fashioned because the ingredient list is simple: just beef, vegetables and a few seasonings. If you don't have fire-roasted canned tomatoes, regular diced ones would work just fine.
But another factor making it old-fashioned is because Angela says this is her grandmother's recipe. That gets high marks for old-fashioned-ness in my book.
Can I make adjustments to this recipe?
I made a few adjustments for our family's taste preferences, such as Yukon gold potatoes rather than russets, and regular carrots over baby ones. Otherwise, I have used the same process for slow-baking in the Dutch Oven. The vegetables and beef chunks are all about the same size so that they cook together.
Unlike my other soup and stew recipes, this one does not include searing the beef or sautéing the vegetables. In fact, Angela states specifically in her recipe not to pre-cook any of the ingredients, but to simply combine once chopped. This makes it even simpler!
Happily, the meat comes out as tender as you could wish. I think it's more tender and flavorful than beef stew cooked in the crockpot or the Instant Pot. I'm officially in love with this Dutch oven roasting technique.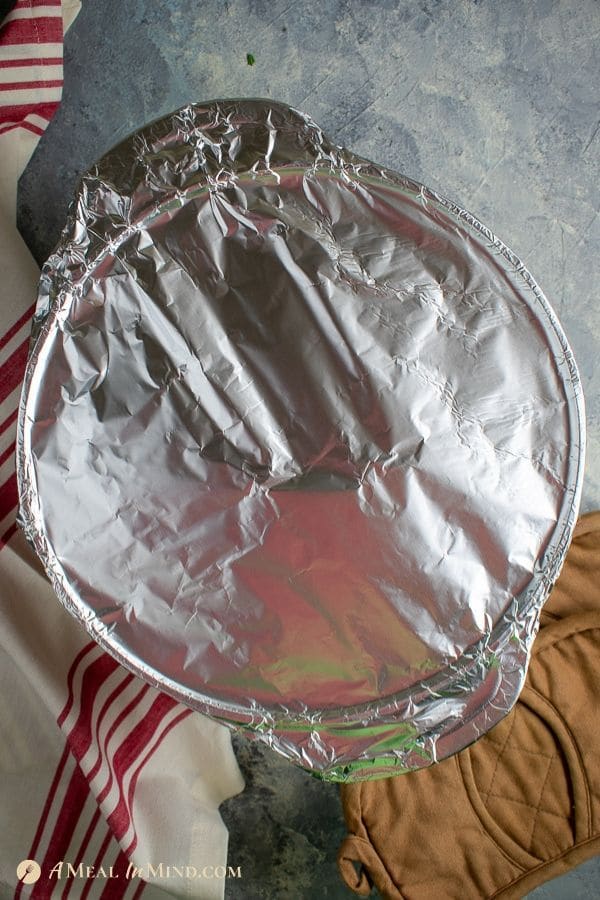 Is it important to use grass-fed beef?
Yes, we think so. Grass-fed beef and dairy contain high levels of good omega-3 fatty acids. I heard one health professional say that grass-fed beef could be as healthy as salmon. It may cost more than corn-feed beef, but grass-fed cattle are are also easier on the environment because the animals are kept on grass rather than large animal-feeding operations.
If the meat is labeled as pastured but not grass-fed, ask before you buy. Sometimes that is fine, and other times it means that the animals ate corn as their last feeding stage. Corn is not healthy for beef animals!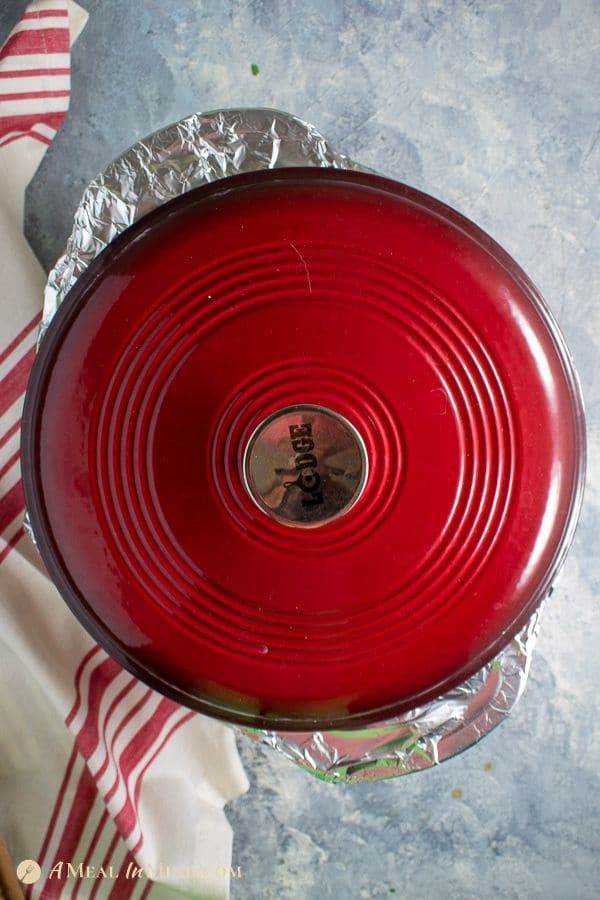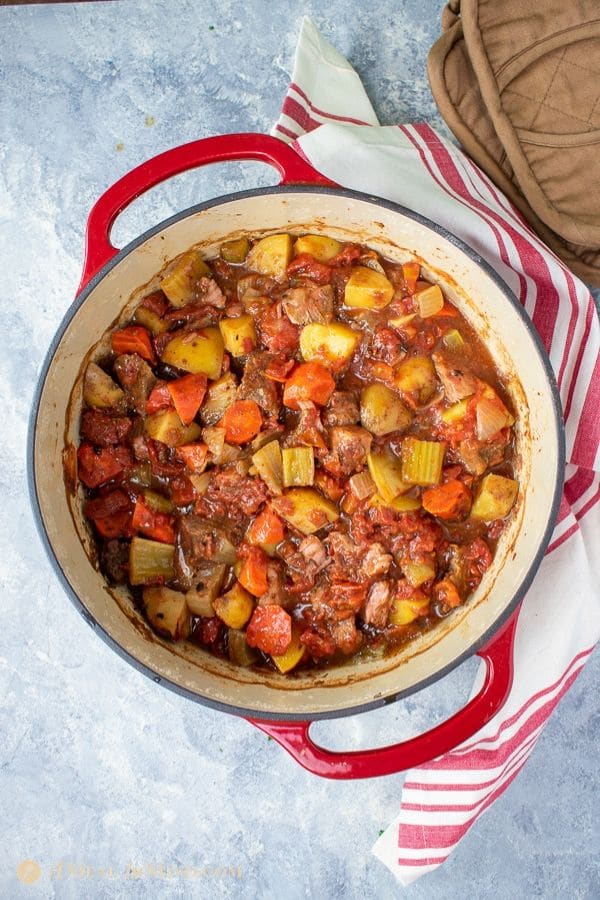 How to make the beef stew gluten-free
It took very little adjusting to make this recipe gluten-free. Replacing the panko breadcrumbs in Angela's recipe with tapioca was a simple fix. We also decided we preferred the texture of tapioca starch to the pearl tapioca she recommends to thicken the stew, and might in future try it with arrowroot to test out its texture in the gravy.
Once we had increased the quantity of tapioca starch, we found that we needed to dissolve the tapioca by heating it in broth before adding it to the stew - a small extra step that is well worth it.
In the first small photo above, I had coated the meat and vegetables with tapioca starch before baking. The next time I made the dish, I added beef broth and dissolved the tapioca thoroughly before assembling the stew for baking, as I've described in the recipe.
Below is the stew when the additional broth is used - lots of satiny gravy as well as everything else perfectly cooked.
Also for our family's taste, (well, actually, mine) I decreased the quantity of tomatoes by one can and increased the proportion of the other vegetables. I LOVE the flavor that carrots and potatoes get when they are stewed with beef, almost more than I like the beef itself.
And voila!
Finish with fresh herbs, like the thyme we have in our garden, and chopped parsley. Serve hot, with gluten-free rolls, like Udi's.
As always, if you make this recipe, please let me know in the comments how it went!
Beth
Other recipes you may enjoy
40-Minute Instant Pot Beef Stroganoff – Dairy-free, Gluten-free
Steelhead Potato Chowder with Bacon
Shop Old Fashioned Slow Baked Beef Stew
I've featured this Lodge Dutch Oven in several of my recipes. Since I didn't grow up in a household that used a cast iron Dutch oven, it wasn't until starting this blog that I came to appreciate one. For what will probably be a lifetime investment, is was reasonably priced and made in the US. Easy to clean, even after the six hours of baking in the oven, and it allows long, slow simmering and roasting. Downside: it's heavy! 13 pounds gives your muscles a workout.
I use Anthony's organic tapioca starch enough that I don't mind storing this 2 ½ pound bag. Amazon has smaller sizes, most costing more per ounce. You can very likely find tapioca flour locally.
I use coconut sugar in my baking, and Terrasoul is an excellent choice.
Whole Foods makes this very economical organic Worcestershire sauce. If I can find it on sale, I also like Annies brand.
If I have time and can find beef bones, I make my own bone broth. If not, I consider this Kettle and Fire brand the best.
Links to products for purchase are affiliate links. If you click on a link and make a purchase, I may earn a small commission on the sale at no additional cost to you. This helps me with the costs of blogging, and I thank you! You can find my 'shop' page here.
Old Fashioned Slow-Baked Beef Stew - Gluten-free
Fork-tender beef, savory potatoes, and carrots, slow-baked with tomato and herb goodness make this old-fashioned beef stew perfect for the cooler Fall evenings.
Ingredients
1 ½

cups

beef broth

½

cup

tapioca starch

4

ribs celery

washed and diced in 1-inch chunks

5-6

large carrots

just over 1 pound, peeled and cut in angled 1-inch chunks

1

large onion

coarsely chopped

8-9

Yukon gold potatoes

about 2 pounds, scrubbed and diced in 1-inch chunks

1

can diced fire-roasted tomatoes with liquid

2

pounds

beef chunks - grass-fed tri-tip roast or chuck roast

cut into pieces; butcher will cut for you

1-2

teaspoons

Redmond pink sea salt

see note

½-1

teaspoon

ground black pepper

1-2

teaspoons

coconut sugar

½

cup

Worcestershire sauce
Instructions
Preheat oven to 275 degrees F.

In a small saucepan, stir the tapioca starch with the beef broth. Heat until just before it simmers, stirring frequently until the tapioca is dissolved. Remove from the heat.

Chop all the vegetables and meat as described. 

Stir together in your cast iron Dutch oven.

Pour the tapioca-broth mixture over the vegetables and meat and stir well.

Add the fire-roasted tomatoes, pepper, salt, sugar and Worcestershire sauce and stir until combined.

Cover the Dutch oven tightly with foil, then place the lid on top.

Roast at 250 degrees F for 6 hours. Don't peek! 
Notes
Since you are using quite a bit of tapioca for your thickening, some of the starch can collect in the bottom of the cast iron pan and cook into a blob. To solve this, heat the tapioca in a cup of beef broth until it's dissolved before adding to the remaining ingredients. Then when you roast, the tapioca will stay in the gravy. The added broth also ensures a good amount of gravy, which we like. 
We are eating a fairly low-salt and this recipe reflects that. Plus, there is some salt in the fire-roasted tomatoes, the Worcestershire and the beef broth. You can always add salt later.
Please Pin for later!