This One-Pot Spiced Beef-Lentil Stew is exotic yet so soothing, and easily made from pantry ingredients. It has the intense flavors of Persian and Moroccan cuisine: vegetables and beef with cinnamon, cumin and ginger. Just close your eyes and imagine palm trees next to your table!
And if you already DO have palm trees next to your table, it should taste even better!
The "why" of some ingredients
This is the second in a series of meals I devised to fit in with an elimination diet for my daughter-in-law. No wheat, dairy, corn, soy, sugar, onions, garlic, or cabbage relatives.
As with the Chicken Black Rice Zucchini Soup, the hidden hero in the recipe is asafetida. Add a pinch of asafetida to a dish to substitute for garlic and onions. It's a helpful ingredient in low FODMAP recipes. Though it is a little pricey, it lasts for a long time as you need very little in a recipe.
According to Healthline, "lentils are often overlooked, even though they're an inexpensive way of getting a wide range of nutrients ... they're packed with B vitamins, magnesium, zinc and potassium. Lentils are made up of over 25% protein and are a great source of iron... "
Some diets, including Paleo and Keto, don't include lentils because of their high starch content. Lentils also contain high amounts of lectin, which can interfere with digestion but the lectin is destroyed in cooking.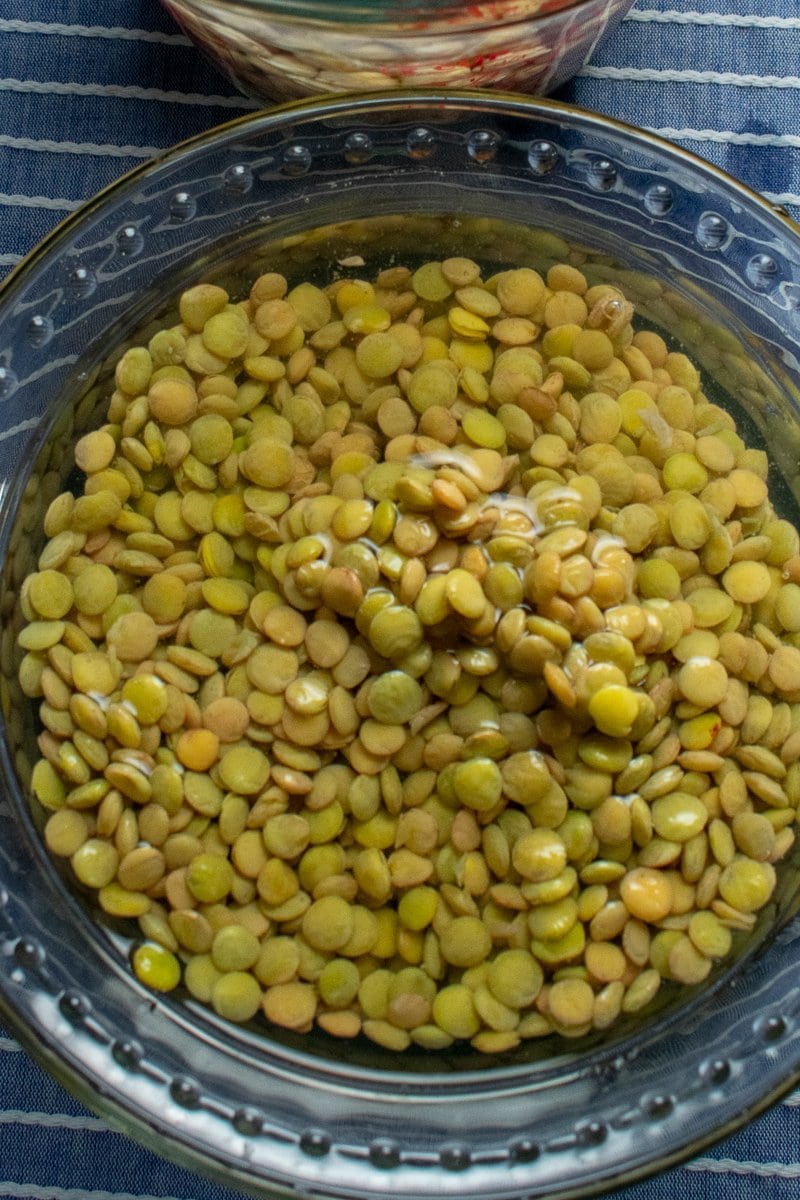 To soak or not to soak your lentils?
Lentils absorb flavors beautifully and cook much more quickly than other legumes even without soaking. for more information, see this post about how to cook beans. Still, you could soak these and even pre-cook them if you want to speed up the meal process, especially if you are at high altitude. Though I didn't use my Instant Pot for this dish, you could.
I used green lentils for this recipe, since that's what I had in the pantry, but red lentils cook even faster and will thicken the stew more than the green.
A spontaneous recipe from pantry ingredients
This meal was also inspired by what I had on hand on a snowy day. With six inches of snow in the forecast, I didn't want to go shopping. Beef and lentils in my kitchen? Beef and lentils it is!
The raisin chutney that I served with this spiced beef-lentil stew also came from what I had on hand: raisins, ginger and a few other odds and ends. It was pronounced tasty by even my pickier eater!! He said, all you need is sweet, sour and ginger, right? The easy recipe is here.
Please pin for Later!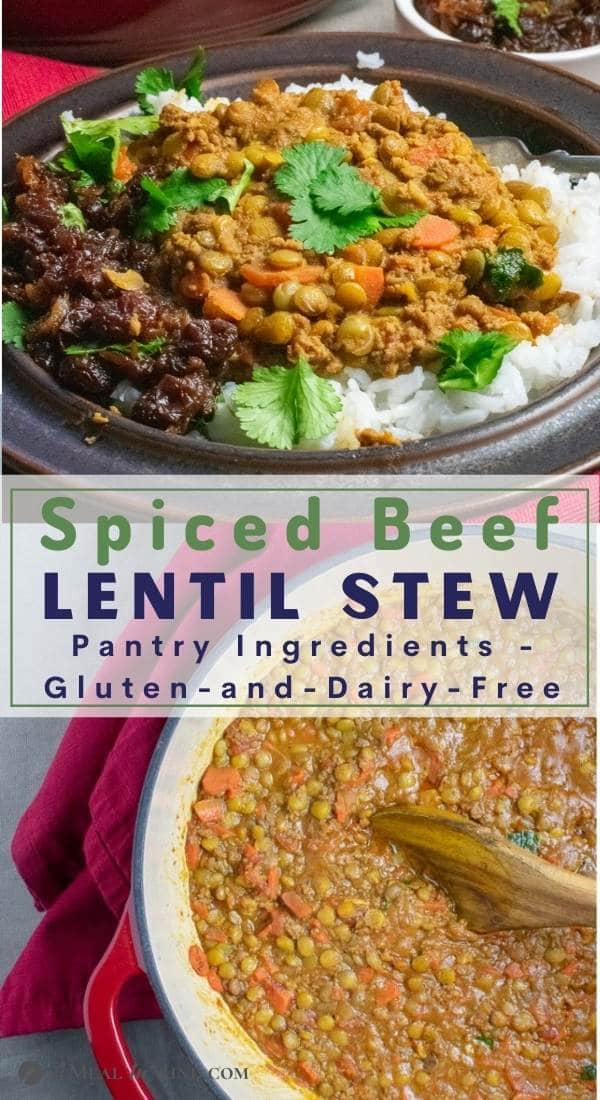 If you had a chance to try this recipe, please leave me a comment to tell me how it went!
Enjoy,
Beth
Other spiced dishes on A Meal In Mind
Coconut Milk Garden Chive Quinoa 4-ingredient
Instant Pot Beef Coconut Milk Curry
Spiced Beef-Lentil Stew
This One-Pot Spiced Beef-Lentil Stew is exotic yet soothing. And I made it with what I had in the house during a snowstorm! It has the intense flavors of Persian and Moroccan cuisine: vegetables and beef with cinnamon, coriander, cumin and ginger. Yum!
Ingredients
1

cup

lentils

rinsed and sorted (soaked for at least an hour)

2

cups

water

2

Tablespoonfuls olive oil

2

carrots

minced

1

pound

ground beef

preferably grass-fed

1

teaspoon

turmeric

1

teaspoon

cinnamon

1

Tablespoon

coriander

½

teaspoon

asafetida

read about asafetida

1

teaspoon

cumin

½

teaspoon

ginger

dried (or 1 teaspoon fresh)

1

tablespoon

arrowroot or tapioca powder

2 ½

teaspoons

salt

pink sea salt

1 14-

ounce

can diced tomatoes

1

cup

beef broth

½

cup

cilantro leaves
Instructions
If you are going to pre-cook the lentils after soaking, bring the water to a boil, then add the soaked lentils. Cook until the lentils are just tender, about 20 minutes. Add at step #6. 

Heat the olive oil over low heat in a dutch oven. Cook the carrots at a slow simmer until just becoming tender, 5-8 minutes.

Adjust the heat to medium. Add the ground beef and cook, breaking up the meat, until all traces of pink have disappeared.

Add all the spices and salt and continue to heat until well mixed and fragrant. Stir in the arrowroot flour.

Pour in the diced tomatoes and broth and bring to a simmer for about 5 minutes.

Add the lentils. Simmer gently until the lentils are tender and the sauce has thickened slightly.

Stir in cilantro.

Serve over basmati rice.
Please pin for Later!