This easy and savory butternut squash chicken rice bake combines tender chicken, nutty squash, sweet potatoes, wild rice and just a little sweetness from currants. It is naturally gluten-free, and I call it a bake, rather than a casserole. Read on to see why.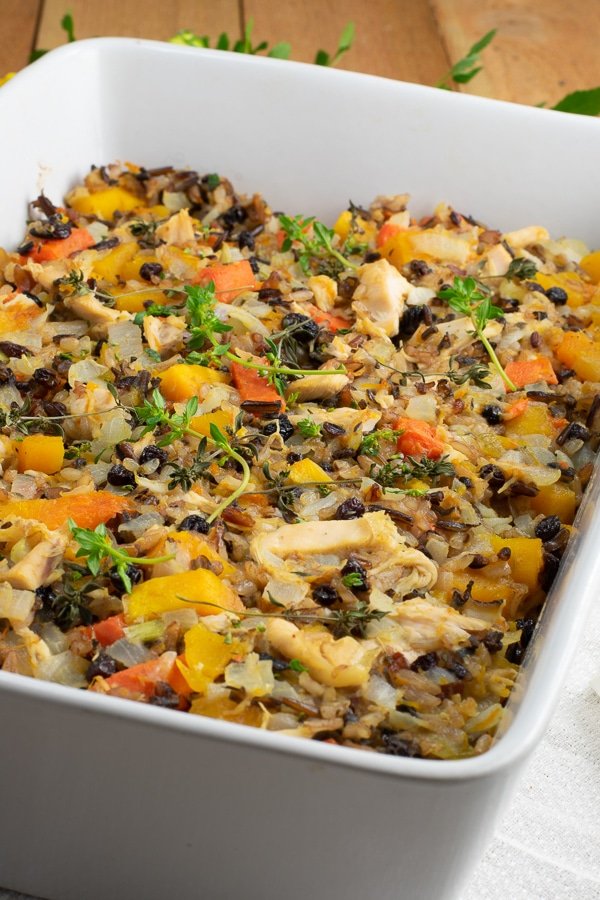 This recipe's a fantastic way to use rotisserie or leftover cooked chicken and just different enough that the "same old" chicken won't feel old. Dairy-free but a little cheesy with the additions of nutritional yeast and coconut milk.
And of course, it would be a perfect dish for leftover turkey!
The recipe is adapted from this one.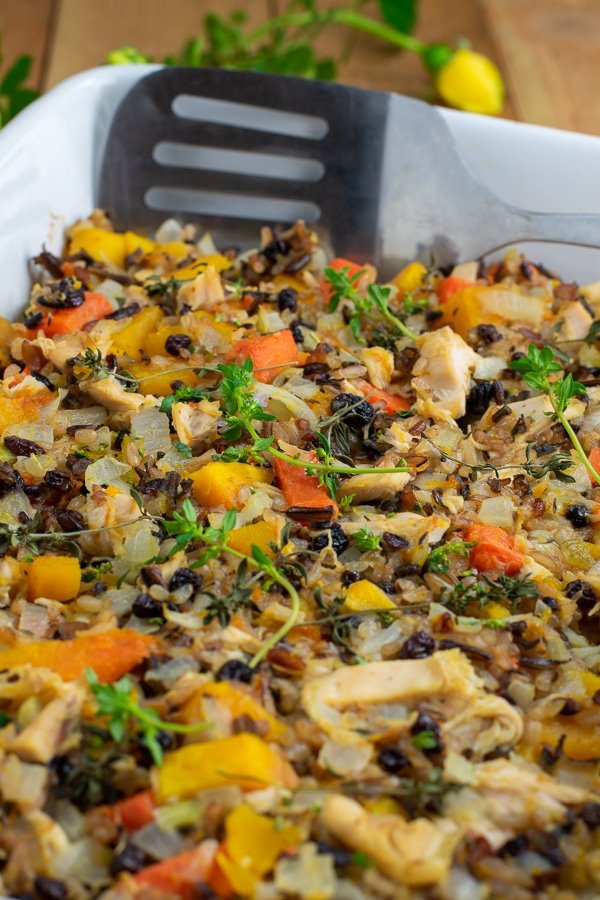 Casserole or bake?
I'm a real fan of casseroles. Put my favorite ingredients together, mix, and bake. They look colorful and appetizing in the pan and I can usually count on leftovers. Cook once, eat twice is always a winner in my book!!
However, I've often relied on cheese or eggs to hold casseroles together - or, healthy diets aside, sour cream! They all bind drier ingredients and provide creaminess and lots of flavor.
Pin for later!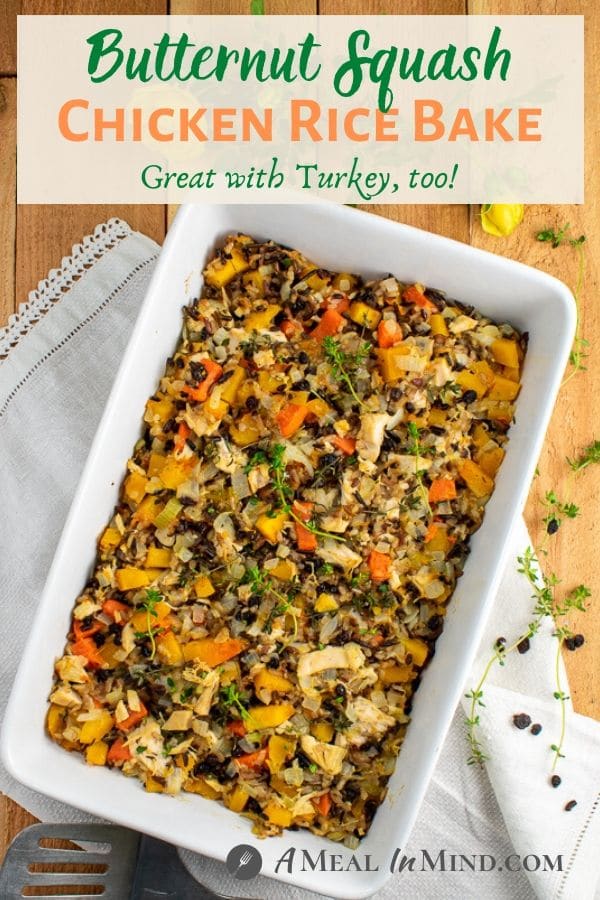 Dairy-free, egg-free
But - what if you aren't eating eggs or dairy? If you've read any of my other recipes you know how often coconut milk comes to the rescue!
Here you have a solution with lots of flavor, but coconut milk doesn't so much bind the ingredients as it plumps everything up and makes the rice a little stickier than it would be. Hard to describe - try it and see.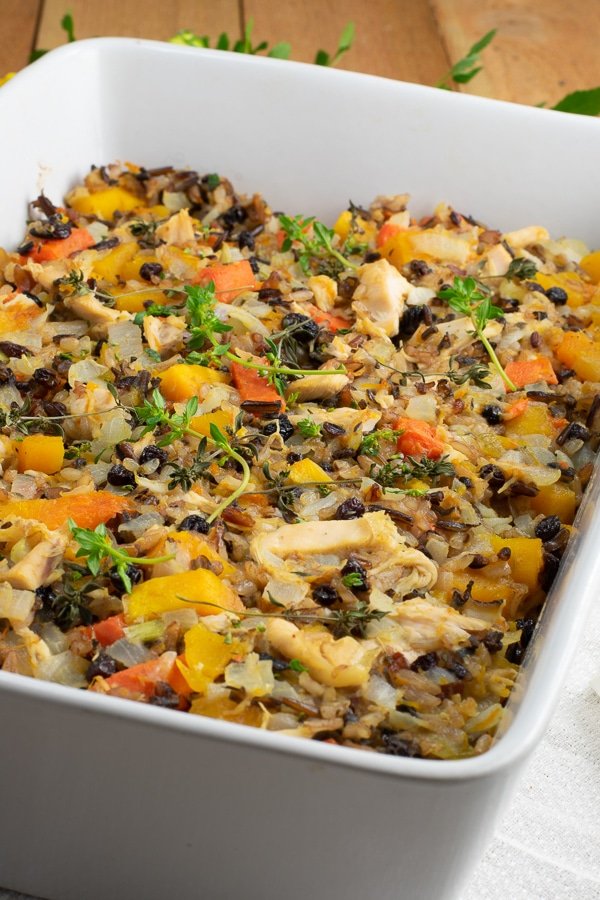 Interestingly enough, my eaters liked this better than what they thought of as casseroles, which is why I'm calling it a bake. One said it was more like a mixed-up rice bowl because it wasn't held together by a bunch of gooey stuff. He liked that.
How's that for a recommendation?
Ways to customize
This recipe would be great with leftover turkey instead of chicken, all sweet potatoes or butternut squash, different dried fruits. In my mind, one of the key ingredients is the fresh thyme, but rosemary or tarragon would be great in this too.
If you make this recipe, please leave a comment!
Beth
Other bakes and casseroles on A Meal In Mind
Easy Layered Green-Chili Chicken Enchiladas
One-Pan Roasted Chicken with Vegetables
Spaghetti Squash Greek Pastitsio Gluten and Dairy Free
Shepherds Pie Gluten and Dairy-Free
Shop butternut squash chicken rice bake
I enjoy HIC's rectangular baking pan for its consistent heating. Plus, it looks nice and is easy to clean.
My Henckels santoku knife is my favorite. It holds its edge well and is light in the hand. The grooves are intended to keep vegetables from sticking to the knife as you are slicing and dicing, and it helps.
I used a wild rice blend from Natural Grocers but it's very similar to this one from Lundberg.
For the coconut milk, if you use it as often as I do, the cost of buying 12 cans at once doesn't seem so high. Again, if I can buy it at Natural Grocers, I do, but Thrive Market is an excellent source (see ad in sidebar).
My favorite olive oil is this California Olive Ranch brand. I'm sure all the Italian and Mediterranean oils are good quality but I buy local-ish if I can!
Frontier's products are great, and their nutritional yeast is no exception.
Links to products for purchase are Amazon affiliate links. If you click on a link and make a purchase, I may earn a small commission on the sale at no additional cost to you. This helps me with the costs of blogging, and I thank you!
Butternut Squash Chicken Rice Bake
This easy and savory dish combines tender chicken, nutty squash, sweet potatoes, wild rice and just a little sweetness from currants. It's more like a baked rice bowl than a typical casserole, and gets eaten quickly! 
Ingredients
1

cup

uncooked wild rice blend

will make 3 cups cooked rice

2

tablespoons

olive oil

1 to 1½

pound

cooked white meat chicken

cubed

1

medium yellow onion

diced

1

small butternut squash

about 1¼ pounds, peeled and cut into ½ inch cubes

1

small sweet potato

peeled and cut into cubes, about 1 cup

½

teaspoon

sea salt

½

teaspoon

black pepper

1

tablespoon

chopped fresh thyme

plus 8-10 sprigs for garnish

½

cup

dried currants

1

cup

coconut milk

I use full-fat organic

¼

cup

nutritional yeast
Instructions
Cook the rice according to package directions.

Preheat your oven to 350 degrees F. Lightly coat a 9x13-inch baking dish with olive oil and set aside.

In a deep Dutch oven or pan, heat 1 tablespoon olive oil over medium heat.

Sauté the onions for 3-5 minutes until they are just tender. Add the garlic and the cubes of squash and sweet potatoes. Cover and cook, stirring occasionally, until the squash and sweet potatoes are just tender when poked with a fork, about 5-6 minutes (may take a couple more minutes at high altitude). 

Stir in the chopped thyme, currants, chicken, cooked rice, coconut milk and nutritional yeast.

Transfer the mixture to the prepared baking dish. Bake in the oven for 25-30 minutes (the higher time at high altitude).

Garnish with sprigs of fresh thyme and serve warm with a green or vegetable salad.
Pin for later!