Greek pastitsio is a relative of lasagna - spiced, layered and creamy. This spaghetti squash Greek pastitsio's white, creamy béchamel-like sauce gives a beautiful contrast with the tomato-y red and cinnamon in the meat filling. Spaghetti squash strands form the the gluten-free "pasta" layers.
As with so many of my recipes, it's not about what it DOESN'T have but what it DOES have - lots of great flavor and texture.
There is creaminess from cauliflower and coconut cream, cheesiness from nutritional yeast and the slightly sweet tenderness of spaghetti squash strands.
I know it's a long list of ingredients and steps, but the rewards are worth it, believe me!
Kitchen Tip: Cooking the Spaghetti Squash
In past recipes, I have always baked my spaghetti squash to loosen the threads. It gives the squash threads a roasted flavor that I like. However, if you have an Instant Pot and haven't tried cooking your spaghetti squash in it, I highly recommend trying it, especially if you are short on time.
Using the Instant Pot was easy and quick. And, the threads came out of the squash more completely than they do after baking it. Maybe this is because when you roast the spaghetti squash in the oven, one part always gets a little more roasted than the other.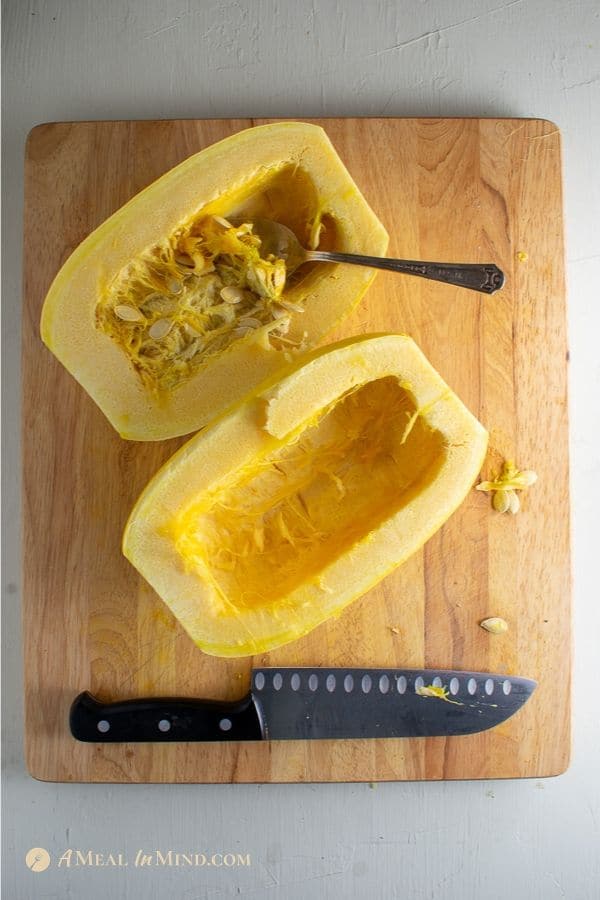 What gives this Pastitsio its Greek flavors?
Spaghetti squash has a very mild flavor of its own, so needs the flavors of the added tomatoes and any spices or seasonings to really shine. In that way, it's a lot like wheat pasta.
In the beef mixture, you'll want to balance the quantity of beef and of tomato paste to be sure there is enough flavor to go along with the blander béchamel and squash. If you have a large spaghetti squash, as I did, you can consider adding even more tomato flavor. Oregano and rosemary are typical herbs in this cuisine and you can add more than I've indicated if you wish.
The other distinctive flavoring is the cinnamon in the beef layer and in the topping. Ceylon cinnamon has even more flavor than the cassia cinnamon more common in stores. It's more expensive, but wonderful, and I've included a link for purchase on Amazon in case you can't find it near you.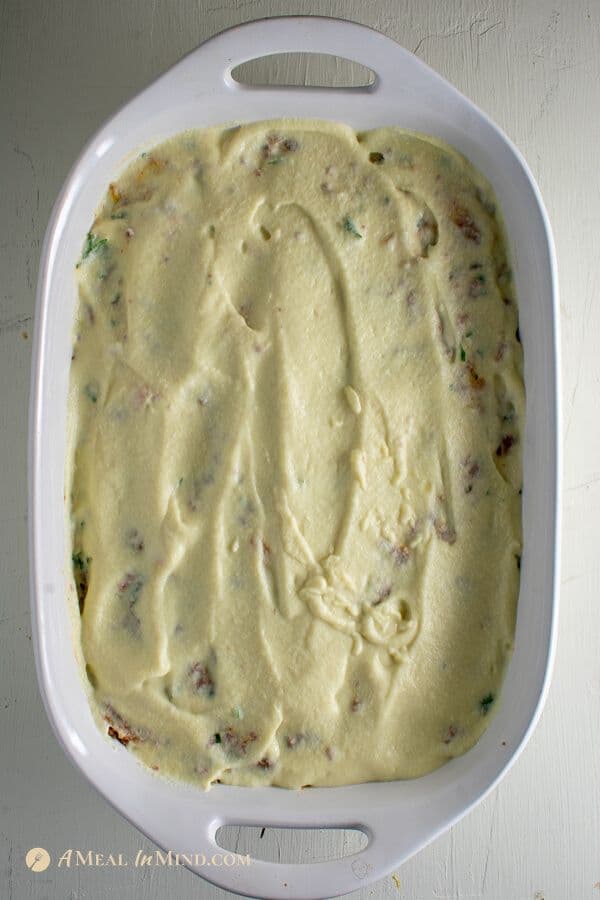 What is béchamel sauce?
For a traditional béchamel, you'd begin by cooking a roux of fat and flour, to which you would add milk, and heat and stir until thickened. In this delicious alternative, coconut cream and steamed, blended cauliflower provide the body and whiteness for the sauce.
This béchamel is thickened with a little arrowroot flour and flavored with nutritional yeast and lemon juice for a slight cheesy flavor.
Tips about finishing Spaghetti Squash Greek Pastitsio
Just before baking the casserole, you sprinkle on a topping of nutritional yeast, cinnamon, and a pinch of salt, which help give a lovely browned color and interesting complexity to the dish.
This pastitsio is a beautiful gold color coming out of the oven. I love company meals like this that also have a surprise contrasting filling in the middle. We like it garnished with extra fresh parsley.
And it's perfect with my Heirloom tomato salad and its tart dressing! Or you can serve it with any sides with Greek or Italian flavors, such as my Beet-Feta salad or Mediterranean quinoa salad.
Thank you to Raquel of Meals and Mile Markers for including this Greek Pastitsio recipe in her recipe roundup 40+ Casserole Ideas to Make Meal Planning Easy. So many wonderful recipes there!
For another take on cooking spaghetti squash in the Instant Pot, with more photos and tips, check out the article from The Japantry called Easiest Way to Cook Spaghetti Squash. Akiko, the author, was kind enough to mention this recipe on her post.
If you make this dish, please leave me a comment so I know how it went! Share on Pinterest, Instagram or Facebook - I love to see what you have made!
Beth
And Pin for Later!
Delicious side recipes on A Meal In Mind
Beet-Feta Salad with Garlicky Crispy Walnuts
Heirloom Tomato Salad with Capers and Feta GF and Vegan
Mediterranean Quinoa Vegetable Salad
Easy Caramelized Brussels Sprouts
Shop Spaghetti Squash Greek Pastitsio
Links to products for purchase are affiliate links. If you click on a link and make a purchase, I may earn a small commission on the sale at no additional cost to you. This helps me with the costs of blogging, and I thank you! You can find my 'shop' page here.
Spaghetti Squash Greek Pastitsio - Gluten and Dairy Free
Greek pastitsio is a relative of lasagna - spiced, layered and creamy, yet gluten-free. This spaghetti squash Greek pastitsio has a white, creamy béchamel-like sauce, which gives a beautiful contrast with the tomato-y red and the cinnamon in the meat filling. The recipe is long, but worth every ingredient!
Ingredients
Spaghetti Squash Layer

1

large or 2 small-medium spaghetti squash

you'll need approx. 4-5 cups cooked

1

cup

water

if using the Instant Pot

Ground Meat Layer

1

tablespoon

coconut oil

1

medium yellow onion

chopped small

3

cloves

garlic

minced

6

tablespoons

tomato paste

1 small can

1 ¼

pound

organic

grass-fed ground beef or lamb

2

teaspoons

dried oregano

½

teaspoon

dried rosemary

½

teaspoon

sea salt

2

teaspoons

cinnamon

preferably Ceylon, see note

½

cup

chopped parsley

Cauliflower "Bechamel" Sauce

3-4

cups

cauliflower florets

about 1 small head, steamed

1

can

14 ounces coconut cream

¼

cup

nutritional yeast flakes

½

cup

water

2

tablespoons

arrowroot starch/flour

2

tablespoons

lemon juice

½

teaspoon

sea salt

Nutritional Yeast-Cinnamon Topping

3

tablespoons

nutritional yeast flakes

1-2

teaspoons

cinnamon

preferably Ceylon, see note

¼

teaspoon

sea salt
Instructions
Grease a 9 x 13-inch baking dish lightly with coconut oil and set aside. Pre-heat oven to 350 degrees F. (I usually do this when I'm about the assemble the layers, see note below)

Spaghetti Squash ("Pasta") Layer

Cut the spaghetti squash in half lengthwise (see note for softening in the microwave first), and scoop out the seeds. 

If using an Instant Pot, place the steamer insert inside the pot and pour in 1 cup of water. Place the cut and seeded halves of the squash on the insert, close the lid and make sure the valve is closed. Set to "MANUAL" for 7 minutes. Once done, turn off the cooking and quick-release by carefully using a wooden spoon to turn the top valve to "venting." See notes.

If not using an Instant Pot, lightly oil the cut squash halves and place them on a baking sheet at 375 degrees F for approx. 30-35 minutes facing down. You want the squash cooked enough to remove the threads, but al dente enough not to over-cook during the baking step.

When done, set aside and let cool.

Ground Meat Layer

Heat the pan on medium and cook the ground meat, breaking it up into small pieces, until all the pink color is gone. Remove the cooked meat to a bowl. 

Return the pan to medium heat and add a little oil. Add the onions to the pan and stir them for 3-5 minutes until translucent and soft. Stir in the garlic and cook until fragrant, 1 minute more.

Stir in the tomato paste and let it cook for 2 minutes to release the flavor without letting it burn. 

Return the ground meat to the pot and stir. Add the herbs and other seasonings and mix well. 

Taste the meat mixture and season to your liking, then set aside.

Cauliflower "Cream" Sauce

In a pot with a steamer insert, steam cauliflower florets until tender when pricked with a fork (10-15 minutes). When it's done, remove from the heat.

Meanwhile, heat the coconut cream in a saucepan over low heat until the creamy parts dissolve. Add the nutritional yeast and stir, using a wooden spoon, until mixed. 

While that cooks, stir the arrowroot flour into the water until it creates a slurry with no clumps at the bottom. Once that's mixed well, pour it into the pot of coconut cream. Continue to stir the mixture. 

Bring the sauce to a simmer, and cook until the sauce is thick enough to coat your spoon. Turn heat off.

Add the cooled cauliflower to a high-speed blender (I use a Vitamix) with the lemon juice and salt. Pour the cream sauce over it and blend on high until everything is mixed well and smooth, about 30-40 seconds. Taste and add salt as desired, set aside.

Stir together the topping for the very end: mix 2 tablespoons nutritional yeast with 1-2 teaspoons of cinnamon and the sea salt in a bowl. Chop your parsley and place in another small bowl. Set aside.

Assemble the layers and bake

I usually preheat the oven to 350 degrees F now. 

Add two-thirds of your spaghetti squash evenly to the bottom of your greased baking dish. 

Spread the ground meat mixture on top of that.

Pour two-thirds of your cauliflower-cream sauce over the meat and spread it to cover the meat evenly. 

Now, pull the remaining "threads" out of the squash onto the sauce-covered surface in forkfuls.

Spread the remaining "cream" sauce over the top.

Sprinkle your nutritional yeast-cinnamon topping lightly and evenly over the whole dish. Sprinkle with chopped parsley, if desired

Bake for 40 minutes until the top is golden-brown and the edges are bubbling. Let rest for 5-10 minutes before cutting into it. Enjoy! This will keep well in the fridge for a week.
Notes
 I had a very large squash that I knew would give me around 4-5 cups of cooked squash, and it fit perfectly into the Instant Pot. If you have smaller ones, repeat the cooking process for a 2nd squash.
You can make it easier to cut these squash in half by microwaving the intact squash for 3-5 minutes first, allow to cool. 
Ceylon cinnamon has more flavor than the Cassia cinnamon typically sold in stores. If you can't find the Ceylon type, increase the amount of cinnamon by about half again (such as, where I call for 1 teaspoon, use 1 ½ teaspoons) I'm also experimenting with adding nutmeg, which bring out the flavor of cheese in other dishes, and if you like it add some!
My recipe for the cauliflower-coconut cream combination is adapted from this excellent one!
Pin for later!