Here's a recipe for light, easy almond flour dark chocolate chip cookies that is gluten- and dairy-free. It can be made vegan by using a flax egg. There's just something about chocolate chip cookies: So classic, so tasty, and loved by all - at least in my house.
This recipe has under 10 ingredients, and that's including a little cocoa I added for swirls. These are crunchy on the outside and slightly soft on the inside. And until you add the chocolate chips, it can all be mixed up in your food processor.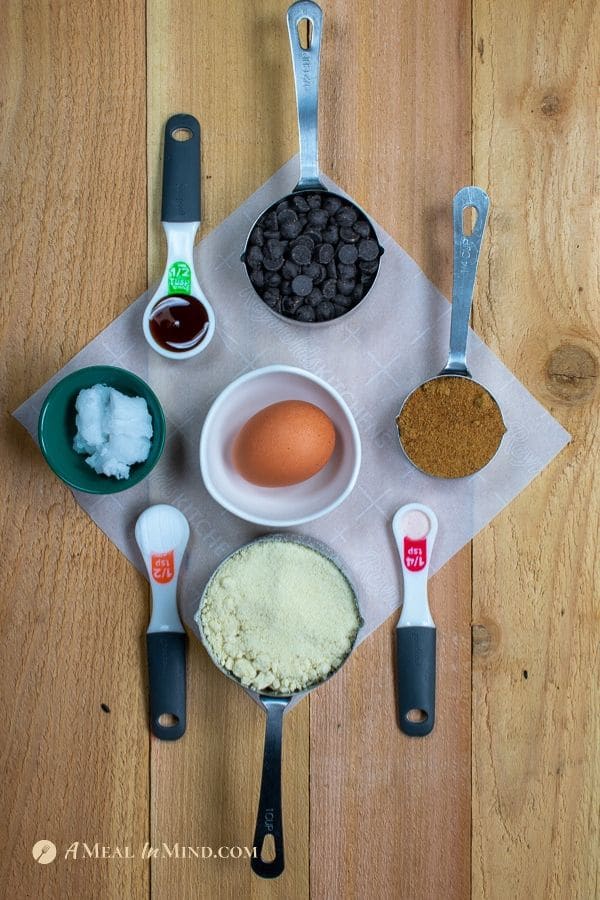 why almond flour?
Of course glutinous flours hold a cookie together and provide easy-to-work-with dough. It's natural to want to use a very close replacement. Common ones are rice flour, pea flour, potato, sorghum, millet and arrowroot flour or blends of them.
Still, according to my own article about the dangers of gluten-free processed foods and the high glycemic index of many gluten-free flours, the best options to keep blood sugar from spiking (well, any more than the sugar will) are almond and coconut flours. So, the least I can do is to offer you recipes for almond-flour goodies that don't contain the flours I just critiqued.
Almond flour gives a nutrient-dense cookie because its oil content is higher (and carbohydrate content lower) than that of the grain and seed flours. We can't consider anything with this much sugar healthy, you realize that, right? But if you let yourself have a sweet treat from time to time, try this one.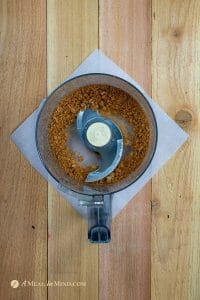 The cookies are easy to mix together, especially if you use a food processor. Just make sure your coconut oil is mostly solid and you add it after all the dry ingredients are in the food processor bowl. You're going to use the blades of the food processor to cut the solid fat into the cookie in the same way that solid butter is cut into a similar dough. The fat/oil ends up cut into small pieces that give flakiness to the baked good.
Don't have a food processor? You can get the same result using a pastry cutter or two knives to cut the fat into the dry ingredients.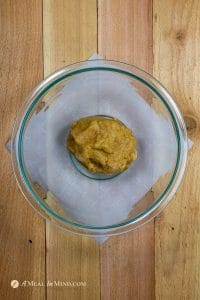 If you are a fan of a sweet cookie, know that these could have up to ½ cup coconut sugar instead of the ¼ cup in this recipe. But they are plenty sweet for me with ¼ cup - or less! Especially because the dark chocolate chips contain sugar and I've used maple syrup instead of vanilla as I wait for my homemade vanilla extract to cure (stay tuned for that!)
In my blueberry apple crisp recipe I suggested that unblanched almond flour was preferred. Here you want the blanched, superfine almond flour to give a smooth texture and to hold the chocolate chips in place.
At high altitude (Denver) I baked a "test" batch of cookies for a full 14 minutes thinking I'd need it for a crisp cookie. In the next batch I learned that 12 minutes was enough if I allowed time for the cookies to cool. At lower elevations, the range will be 9-12 minutes depending on your oven.
Pin for later!
the vegan option
This recipe can be made vegan with flax egg. A flax egg is 1 tablespoon ground flax seed plus 3-4 tablespoons of water, allowed to gel for at least 5 minutes - 15 is better. Use the smaller amount of water at high altitude and the larger amount at sea level.
All the photos above show the almond flour dark chocolate chip cookies with the chicken egg. With the flax egg, less of the dough gathered into a ball in the food processor so I worked the remaining dough pieces in by hand.
The main difference was that it was trickier to incorporate the chocolate chips. With the flax eggs, I really only needed ⅓ cup of the chips before I couldn't get any more of them to stay in the cookies. I formed the cookies onto the baking sheet as best I could, then pressed the chocolate chips into the top of each cookie. That's why the photos (below) show cookies with somewhat less smooth outlines.
Good news is: My taste-testers said they were very good!! In fact, my son said they were so good he ate six, and they were pretty filling! That's a characteristic of an almond-flour cookie, eater beware! The flax-egg cookies came out like this: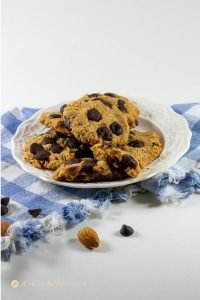 This recipe is modified from several nearly-identical ones available online, including one from King Arthur Flour as well as several private blogs. I was tempted to add some coconut flour as I was mixing the dough, thinking that it would help to firm it up, but was glad I didn't.
I hope you will enjoy these if you get a chance to make them! We did.
Beth
Other dessert recipes on A Meal In Mind
Easy Coconut Milk Tapioca Dessert
Apple Blueberry Crisp Paleo and Gluten-Free
Sunflower-Tahini Fruit-Sweetened Baked Apples
Apple-Apricot Fruit-Sweetened Muffins
Kitchen items used in this recipe
I don't know what I'd do without my food processor. I rely on it for most of my baking because it's reliable and I don't have the oomph in my stirring arm that I used to. Mine is this 11-cup model by Cuisinart, which has a great warranty. It's also large enough to blend ingredients for a quiche, for example. (Quiche recipe on its way).
Any baking sheet will do, but I tend to use this one because it's so light and because the sides keep crumbs from falling into the oven. Non-stick is not essential, but it can be convenient.
I nearly always use parchment paper to cover the surfaces in baking. I don't like to use white parchment paper with food because bleached paper can contain dioxin, and even in trace amounts I don't want that in my food. This IF YOU CARE brand is brown and, in my mind, safe.
A cooling rack is important to allow the cookies to cool from the bottom as well as the top, especially if you want the outsides crisp. It's essential for the cookies to have cooled before you place them in a container for storage so that steam doesn't make the cookies soggy.
I like these oven mitts because they protect my hands yet are flexible - I always feel like I'm wrestling with cardboard when I use silicone ones.
We like the dark chocolate morsels by Enjoy Life. It's what allows this recipe to be dairy-free. They are sweetened, but not too much. You can probably find them in your local health food store, but if not, or if you bake fairly often with chocolate chips, the link below is for a six-package bundle.
If you make this recipe, please let me know! Leave a comment, rate it, and don't forget to tag a photo #amealinmind on Instagram. I'd love to see what you come up with. Thank you so much!!
Links to products for purchase are Amazon affiliate links. If you click on a link and make a purchase, I may earn a small commission on the sale at no additional cost to you. This helps me with the costs of blogging, and I thank you!
Almond Flour Dark Chocolate Chip Cookies - GF
This recipe for a light, easy almond flour dark chocolate chip cookies is gluten- and dairy-free. It can be made vegan by using a flax egg. There's just something about chocolate chip cookies: So classic, so tasty, and everyone loves them. Now I have one to share with my vegan AND gluten-free friends. 
Ingredients
¼

cup

coconut sugar

or to taste

½

teaspoon

baking soda

¼

teaspoon

sea salt

2

cups

almond flour

2

tablespoons

coconut oil

softened but not liquid

1

teaspoon

maple syrup or vanilla

1

large egg or 1 flax egg

1 tb flax + 3 tablespoons water, allow to gel for 15 minutes

⅓ to ½

cup

chocolate chips

1

teaspoon

cocoa powder

unsweetened, optional (for swirl)
Instructions
If using a flax egg, stir the ground flax seeds into the water in a separate, small bowl and allow to gel for 15 minutes before adding to the dough in step 6.

Spread parchment paper onto your cookie sheet.

Preheat the oven to 350 degrees F.

Combine almond flour, coconut sugar, baking soda and sea salt in food processor. Pulse to mix until you can't see the darker sugar in with the lighter flour.

Spoon in coconut oil, separating it into ½-tablespoonfuls around the processor. Pulse to blend until the oil is chopped into split-pea sized crumbs.

Blend in the maple syrup or vanilla and the egg or flax egg and pulse until all the ingredients form into a ball.

Remove the dough from the food processor into a bowl. It will be shiny and hold together well.

Fold the chocolate chips into the dough until fairly uniformly mixed in. If making swirls, flatten the dough slightly and sprinkle the cocoa powder over it. Roll the dough inward a couple of times until it's somewhat mixed but you can see trails of cocoa.

Scoop out dough by heaping tablespoonfuls. Roll in hands into balls and place onto prepared cookie sheet. Tuck chocolate chips that fall out back into the sides or tops of the cookies. 

Bake for 9-12 minutes (12 at high altitude) until edges are golden. Allow to cool for at least 15 minutes before removing from the parchment paper to the rack. Cookies may be crumbly but will firm up as they cool.
Notes
Coconut oil typically becomes liquid at 76 degrees F, which is why it's sometimes called 76-degree oil. If it's already liquid in your kitchen, place the amount you plan to use in the refrigerator for 10 minutes or so until it firms up.
Be sure to let your flax egg sit for 15 minutes before adding it to the dough in the food processor. This gives time for the gel to develop that will hold everything together.
Please Pin for later!