These Apple-Apricot Fruit-Sweetened muffins are also gluten-free, dairy-free, egg-free, tree-nut-free and vegan. Truly an elimination diet muffin, yet flavorful and versatile. Because they are not very sweet, they are almost a scone.
There are quite a few variations on elimination diets but all are based on the same premise. It is that we each have food sensitivities, if not outright allergies. We may not be allergic enough for a doctor to detect a specific food as an allergen to us. But if we spend a certain amount of time (three weeks is often suggested) without eating the most common allergens, then add them back one by one, we can often learn which foods to stop eating for a longer period and which we can happily add back.
We are about a week into an elimination diet to try to help with my grandson's spitting up. My daughter-in-law has been eating gluten- and dairy-free for years. Most recipes on this blog have been designed to share at their house. Now, she was advised that she should also eliminate sugar, corn, soy, eggs, nuts, spicy foods, citrus, onions, and garlic, as well as broccoli and other members of the cabbage family. Since I love cooking with onions, most of my favorites are off the table, so to speak. So, onward to new favorites!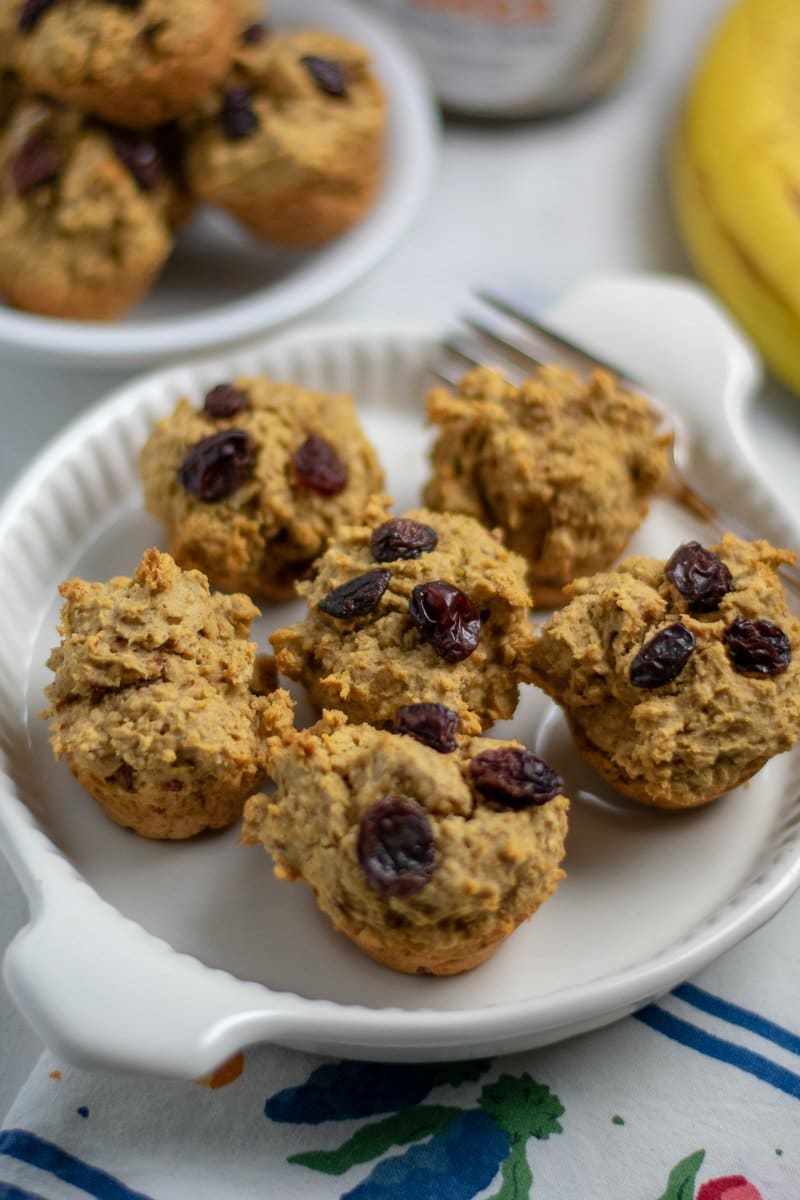 Of course, I also take this as an opportunity to be inspired by the experience of others, though no recipes that I found have this ingredient profile. That would be too simple!! Recipes that eliminate onions and garlic are usually in the low-FODMAPS category. Most egg-free recipes are also vegan, which we don't always need. And so on.
My hat's off to those of you who are dealing with allergies and sensitivities to particular foods all the time! Many have said this: the most important thing to do is to focus on all the amazing foods one CAN eat – and there are lots.
So far we like these muffins best with a combination of apples and dried, soaked apricots. That is the variation in the recipe below. If you want them slightly sweeter, substitute a date or two for some of the apple.
I even made one batch with some of the last pie pumpkin I had saved from fall's amazing Colorado pumpkins. All those wonderful carotenes gave a slightly orange color to the muffins and made me feel healthy as well as thrifty. I added an equal amount of mashed banana. I thought they could have used a couple of dates — next time!
And of course, if you aren't limiting all the foods we are, you can add nuts or substitute eggs for the flax seed and liquid. (see notes) If you are baking for young children, little raisin faces are fun.
These apple-apricot muffins go together incredibly quickly when you mix them up in a food processor. Pay careful note of the order of ingredients, though, especially the coconut oil and the oats, and note that there is a bowl-and-spoon procedure too.
With the food processor, the coconut oil is added to the dry ingredients, rather than the wet. This is so it will be cut into the flour as it would be with a pastry cutter. This method is easier for me because coconut oil is solid at the cool temperatures we are having in Denver, and is hard to stir in by hand. You can certainly melt it if you like, and I would too if I didn't have the food processor. But that means a glass measuring cup to clean – ack! It also helps that the food processor chops the fruit and you can leave some small bits in the muffins for texture. Otherwise, I'd either chop it very fine or puree it.
The oats are added last, once the other dry ingredients have been blended with the wet. This keeps the oats from being processed completely into flour. It's nice having some texture as well as flavor from the oats. If any of this is unclear, please let me know in the comments, and I will happily update the recipe!!
Print
Apple-Apricot Fruit-Sweetened Muffins
Author:

Prep Time:

10 minutes

Cook Time:

20 minutes

Total Time:

30 minutes

Category:

Snack, Breakfast, Low-sugar

Method:

Baking

Cuisine:

American
---
Description
These apple-apricot fruit-sweetened muffins are very mildly sweet from the fruit and have a pleasant, light texture. They go together in ten minutes and are ready in 30 minutes total. They are also gluten-free, dairy-free, egg-free and tree-nut-free. Truly an elimination diet muffin, yet flavorful and versatile. Because they are not very sweet, they are almost a scone.
---
Scale
Ingredients
1 cup oats
1 cup flour (such as Pillsbury gluten-free, cassava, rice or other preferred gluten-free flour)
1/4 cup ground flax seeds
1/2 teaspoon baking powder
1/2 teaspoon baking soda
1 teaspoon pumpkin pie spice
¼ teaspoon powdered ginger
1 cup fruit puree or chopped fruit, see note* (such as 1 apple and 2 dried apricots, soaked for a few minutes)
1/2 cup coconut milk (or almond milk if you can tolerate tree nuts)
1/4 cup coconut oil
pinch sea salt
Oil for greasing muffin cups
Raisins for garnish, optional
---
Instructions
In the food processor
    Preheat oven to 375 degrees F. Grease muffin cups.

    Combine in food processor: flour, ground flax seed, baking powder, baking soda, spices and salt. Whizz for a few seconds until blended.

    Process in the coconut oil until in bits the size of small peas, then the fruit, then the coconut milk.

    Pulse in the oats until mixed.

    Fill muffin cups about halfway if the batter is moist. If it is drier, form it into balls and place into muffin cups or onto parchment paper. For mini-muffins you will use a little less than 2 tablespoonfuls per muffin, and for regular-size muffins about ¼ cup batter. If you decide to garnish with raisins, press them into the tops of the muffins.

    Bake for 20 minutes (for mini's) or 25 (for regular muffins) until golden brown and cooked through.

Cool and serve.
With bowl and spoon:
Preheat oven to 375 degrees F. Grease muffin cups
    Mix oats, flour, ground flax seeds, baking powder, and baking soda together.

 In a separate bowl, mix remaining ingredients together.

 Combine wet and dry ingredients. Stir until blended. Form into muffins as described above.

 Bake for 20-25 minutes until golden brown and cooked through.

 Cool and serve.
---
Notes
Egg equivalent = 1 tablespoon flax seed + ⅓ c liquid; caution; another source gives 1 tablespoon flax meal to 3 tablespoons water. If trying a recipe for the first time, start with the smaller amount of water; you can add more if the batter is dry. See more detail on using flax as an egg substitute here. 

I tried one batch with quinoa flakes instead of oats, thinking to make a grain-free recipe, but unfortunately there was a slight bitter flavor from the quinoa

If your apple is more sweet than sour, add a teaspoonful of apple cider vinegar to the wet ingredients for flavor.
Keywords: Gluten-free, dairy-free, refined-sugar-free, tree-nut-free, egg-free, vegetarian, vegan