Bake up these gluten-free satisfying and flavorful Cranberry-Pecan Pumpkin Muffins and fill your house with the aromas of cinnamon and cloves. With canned pumpkin and frozen cranberries you can enjoy fall holiday baking beyond the fall!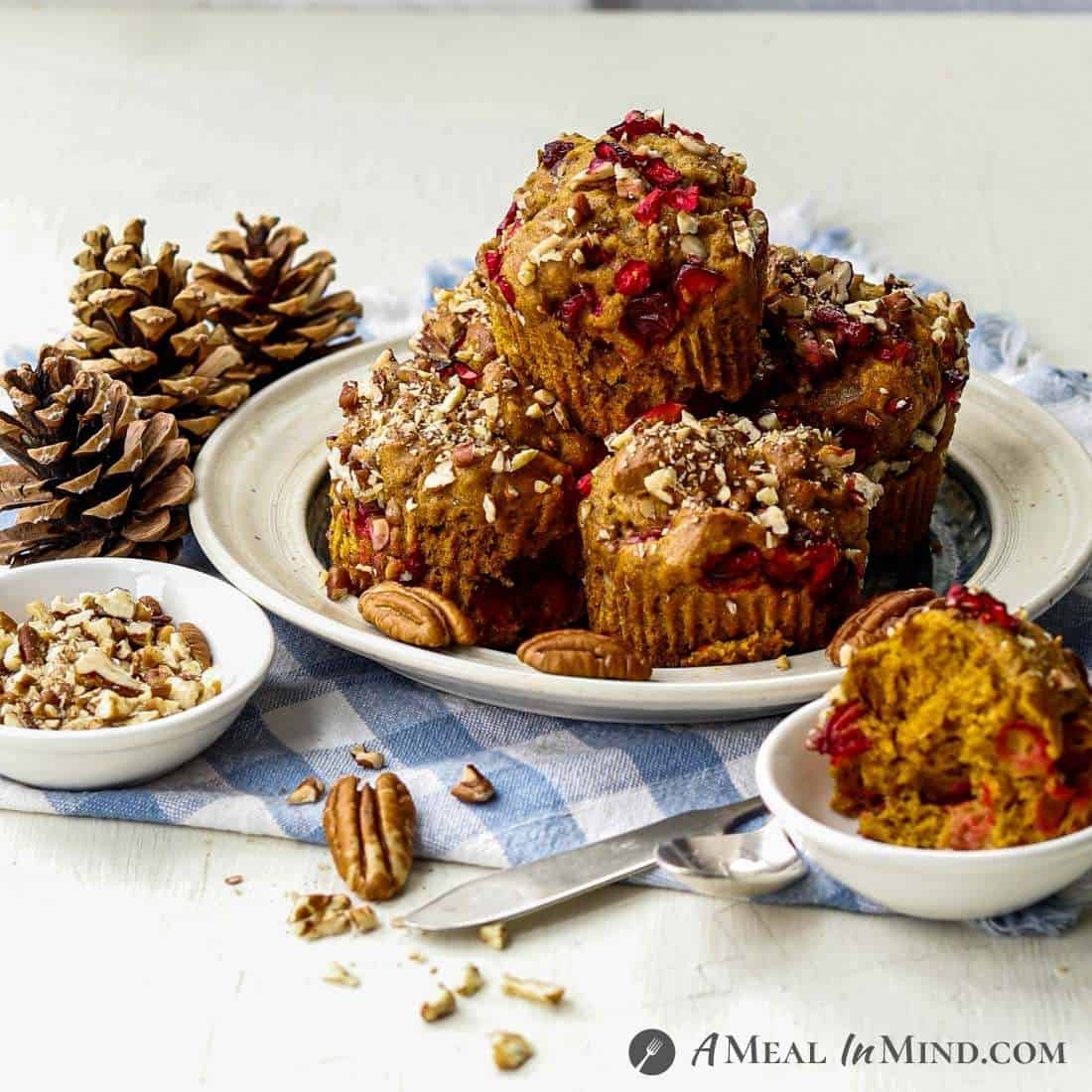 I don't know about you, but here it is, early January, and I'm not quite done with cranberry and pumpkin season. Until Valentine's Day baking gets going around here, everyone else seems very happy to enjoy this comfort-food as much as I do.
Though I might not be making whole loaves of cranberry-pumpkin bread now, we are continuing to enjoy Fall flavors and spices in these Cranberry-Pecan Pumpkin Muffins. They bake up faster than my Cranberry Bread and are easy to grab for a snack.
Maybe it's just stretching out the last few months of quarantine baking and next Fall we won't feel like we need to extend the Holiday comfort feeling - or maybe extending it's a good thing!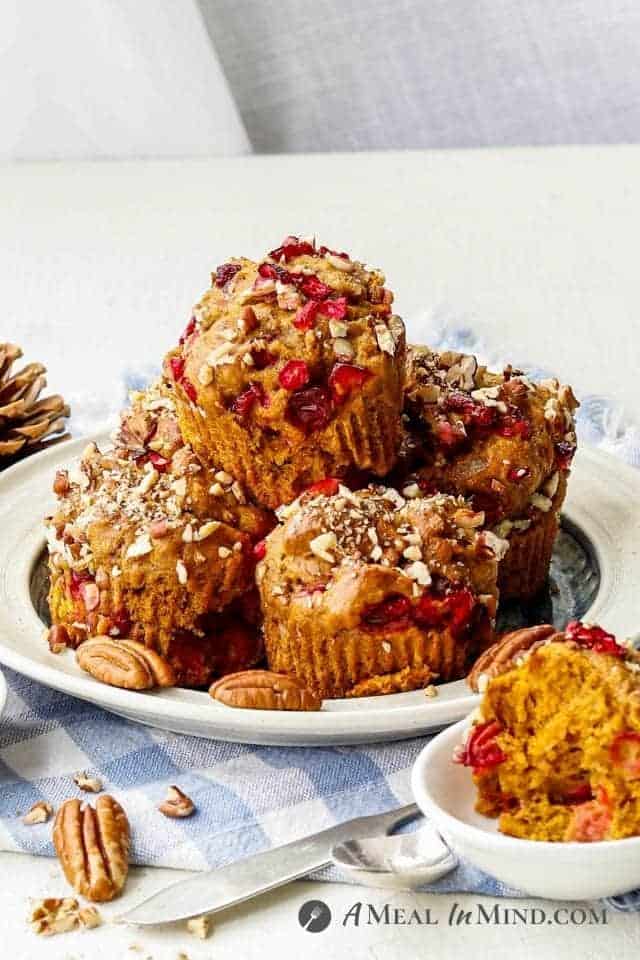 What gluten-free flour should I use?
The flour I like for these muffins is the Cup4Cup brand. It's a good choice when you want to incorporate a lot of moisture from the pumpkin and the cranberries. Cup4Cup is a light blend of mostly cornstarch and rice flours.
Cup4Cup also contains milk powder. For a dairy-free muffin I'd use King Arthur GF flour and a dairy-free spread for creaming the sugar.
For a corn-and-dairy-free blend, I would use Better Batter. It is a blend of mostly rice flours, potato starch and tapioca.
Links to products for purchase are affiliate links. If you click on a link and make a purchase, as an Amazon affiliate I may earn a small commission on the sale at no additional cost to you. This helps me with the costs of blogging, and I thank you! You can find my 'shop' page here.
Why place nuts just on top?
We have noticed that when my grandson eats nuts, his diapers are messier to clean. You know what I mean by that, right? So we are trying out a nut-free eating plan for him.
But sometimes even adults don't like nuts in their muffins. I've done the thing where you make part of the batter with and part without nuts, and it's a pain! Besides, I like that when you sprinkle the nuts on top, they get toasty and fragrant.
So this recipe makes a tasty muffin that we all can enjoy, and you decide how many of the muffins get the nuts on top. (In this batch, all of them did). Stir some nuts into the batter if that works for you.
You can also vary the nuts according to your preferences: walnuts, macadamias, or hazelnuts would all be delicious.
Or, make them nut-free with sunflower seeds or hemp.
Other recipes you may enjoy
Cranberry Pumpkin Bread; Gluten-Free Libby's Copycat
Pumpkin Pie Spice Bars, Gluten-free / Vegan
Gingered Cranberry-Plum Sauce; 5 Ingredient, Paleo
Raisin-Sweetened Oatmeal Cookies; Gluten-Free
Sharing this recipe to Fiesta Friday # 363 this week, co-hosted by Angie @ FiestaFriday and Jhuls @ The Not So Creative Cook
If you make this recipe, please let me know! Leave a comment, rate it, and don't forget to tag a photo #amealinmind on Instagram. I'd love to see what you come up with. Thank you so much!!
Beth
Cranberry-Pecan Pumpkin Muffins - Gluten-Free
Bake up these gluten-free satisfying and flavorful Cranberry-Pecan Pumpkin Muffins and fill your house with the aromas of cinnamon and cloves. With canned pumpkin and frozen cranberries you can enjoy fall holiday baking beyond the fall!
Equipment
Muffin tin

Cooling rack

Muffin Liners

Mixing bowls
Ingredients
⅓

cup

butter or dairy-free spread

¾

cup

coconut sugar

use 1 cup if you like conventionally sweet baked goods, see note

2

eggs

½

cup

minus ½ tablespoon pumpkin puree

or 7 ½ tablespoons

⅓

cup

water

use ¼ cup at high altitude

1 ⅔

cup

flour

I used cup4cup gluten-free flour, see note

¾

teaspoon

salt

1

teaspoon

baking soda

¼

teaspoon

baking powder

½

teaspoon

ground cinnamon

½

teaspoon

ground cloves

1

cup

fresh or frozen cranberries

whole or chopped -- we prefer whole + extra for topping

⅓

cup

chopped pecans

for topping
Instructions
Preheat oven to 350 and place baking liners into 12 muffin tins.

In a large bowl, cream butter and sugar until fluffy.

Stir in eggs, pumpkin and water.

In a separate bowl combine flour, salt, baking soda, baking powder, cinnamon and cloves with a whisk or fork.

Add dry ingredients to wet and mix well without overmixing.

Stir in cranberries.

Spoon into muffin tins. Top with additional cranberries if desired, and chopped pecans.

Bake 30-35 minutes or until toothpick inserted into center comes out clean. Check muffins at 25 minutes and lightly cover with foil if the tops are browning too quickly, especially the cranberries. If you cover with foil, leave in an extra 10 minutes to make sure the centers cook well.

Let cool 10 mins. Remove from muffin tins and continue to cool on a rack.
Notes
We routinely reduce the sugar by a third or even half in published recipes for baked goods. Substituting coconut sugar for cane sugar reduces the sweetness still more, while giving a slight molasses flavor. If you prefer your baked goods sweeter, use the higher amounts I've given, and be sure to taste the batter before spooning it into the cups.
Every gluten-free flour blend will bake slightly differently. Blends containing rice will be lighter and crisper; those with bean flour will be denser; and a blend based on sorghum flour will be in-between. Cup4cup contains Cornstarch, White Rice Flour, Brown Rice Flour, rBST-Free Milk Powder, Tapioca Flour, Potato Starch, and Xanthan Gum.
This recipe adapted slightly from this one. 
Please Pin for Later!