This gingered cranberry plum sauce with its fresh ginger and hints of orange and plum is a delicious -- but not too different -- variation on the traditional cranberry sauce.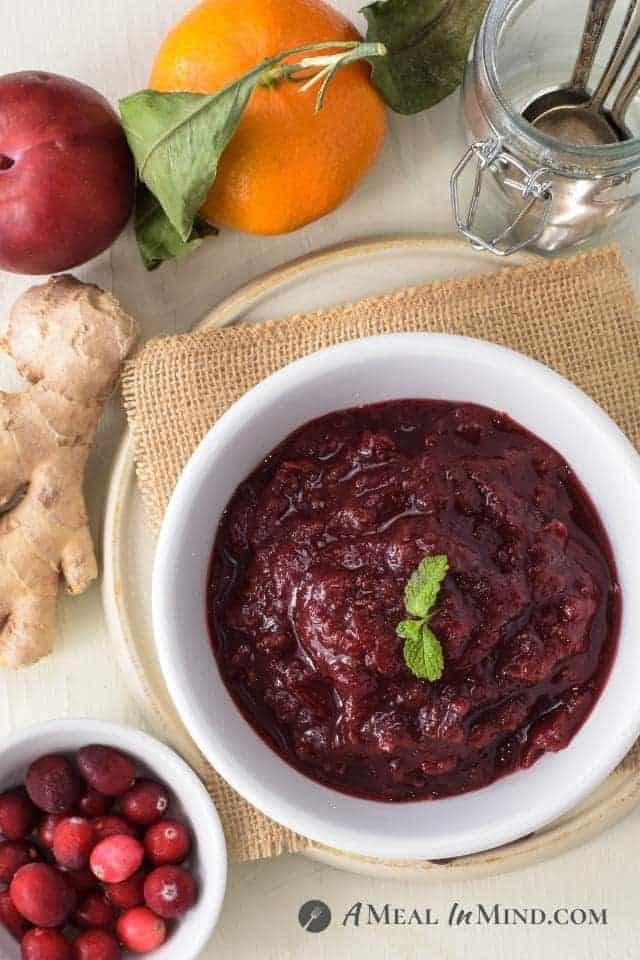 Last year I added apple to my cranberry sauce to make my Apple Cranberry Sauce. I didn't want to rock the cranberry-sauce boat and find out that I had changed the flavor too much! It was delicious, though I thought the apple flavor was pretty subtle.
But - I found myself wondering how plums would have been in this sauce. By Thanksgiving last year I had already baked all my plums into other dishes like these Plum Crumble Bars. This year I planned ahead and saved back the last few plums from early October's visit to the Farmer's Market when we learned those were the last plums they'd have.
I decided not to freeze the plums, though I probably could have, to make sure they didn't go bad - but even though a couple of them got a little wrinkled, they survived well in the fridge.
I used one medium-sized Santa Rosa plum so as not to make this predominantly a plum sauce. The Santa Rosas are pretty balanced in tartness and sweetness. The ginger was freshly grated, and the orange juice came from some incredibly fragrant and sweet mandarins. In fact, one advantage of making a sauce like this so close to Thanksgiving is that the oranges are really coming into their full sweetness in late Fall.
Best news is, this combination of cranberries, plums and oranges with the zip of ginger got rave reviews from everyone.
I made this batch on the stovetop so that the kitchen would fill up with these wonderful sweet and pungent aromas. But you could use the Instant Pot or slow-cooker to cook these fruits to softness. With only five ingredients, the preparation is easy and stovetop cooking only takes 30 minutes - though you can leave it to simmer longer if you like.
Links to products for purchase are affiliate links. If you click on a link and make a purchase, as an Amazon affiliate I may earn a small commission on the sale at no additional cost to you. This helps me with the costs of blogging, and I thank you! You can find my 'shop' page here.
Can you make this cranberry sauce without added sugar?
Cranberries are so tart that you would need a large amount of sweeter fruit to balance the acidity. Perhaps one of the sweeter plum relatives like the plumcot or pluot would work better for this than a plum.
Plus, the plums and the orange juice add their own acidity. I have reduced the amount of sugar from earlier trials of this recipe and would probably not reduce it more than I have or it might be pretty sour - especially because coconut sugar is less sweet than, say, granulated sugar anyway. But if you get a no-added-sugar version that works for you, I'd love to know about it.
If you want a sweet sauce but don't want to add carbohydrate calories, there are non-caloric sweeteners such as monkfruit - but unfortunately we don't use them in our family because we detect the aftertaste. That means I can't share any personal experience about their use.
How long can I keep cranberry sauce in the refrigerator?
Although the fairly high level of acidity will help preserve the sauce, I recommend freezing any leftover sauce if you haven't used it up within 5 days.
What other dishes will this cranberry sauce go with?
We most often make this for holiday meals though it's good during any time of the year that you can find fresh or frozen cranberries. As well as your turkey or ham or other main holiday dish, consider these options:
Instant Pot Garlic Mashed Potatoes; Gluten-Free
Easy Caramelized Brussels Sprouts
Bacon-wrapped garlic-herb pork tenderloin
If you make this recipe, please let me know! Leave a comment, rate it, and don't forget to tag a photo #amealinmind on Instagram. I'd love to see what you come up with. Thank you so much!!
Please pin for later!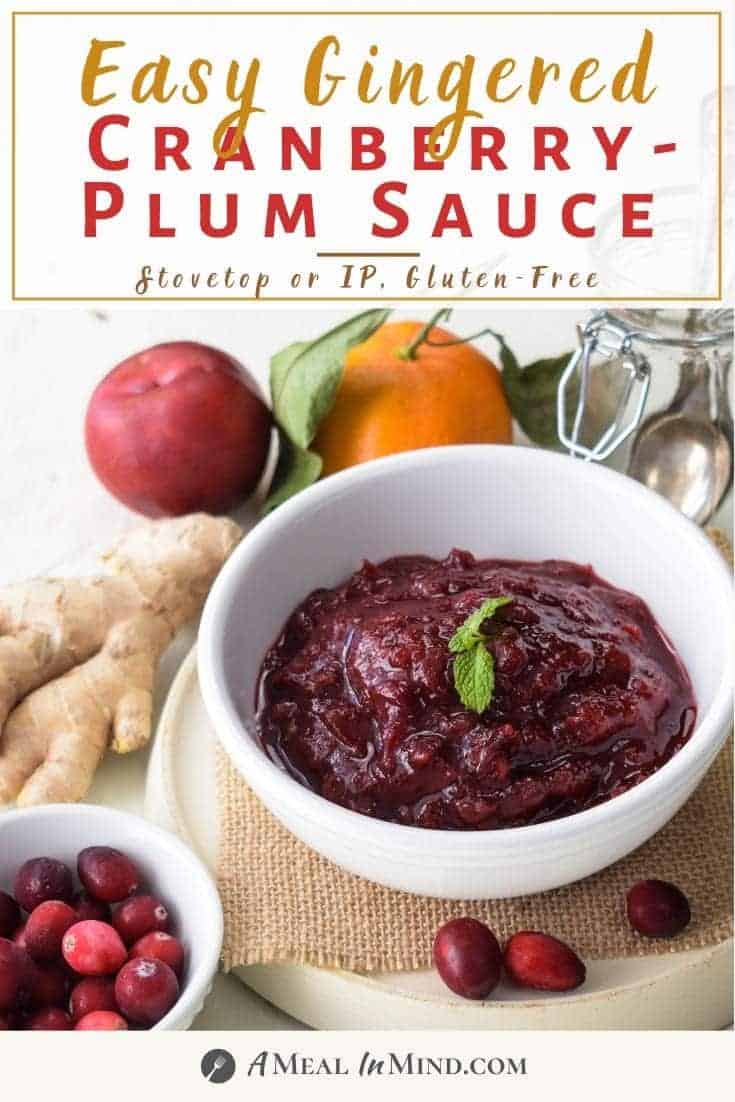 Gingered Cranberry Plum Sauce - Paleo
This gingered cranberry plum sauce with its fresh ginger and hints of orange and plum is a delicious -- but not too different -- variation on the traditional cranberry sauce. Add this to your holiday table for a treat!
Equipment
Stainless Steel Soup Pot

Stainless Potato Masher
Ingredients
2

cups

cranberries

1

plum

chopped

1

orange

juice and zest

½

cup

coconut sugar

2

teaspoons

fresh ginger

grated
Instructions
Combine all ingredients in a heavy-bottomed soup pot.

Simmer at medium-low heat for a half hour until the berries and plum chunks are tender enough to mash. Mash until the sauce is your desired consistency (we usually leave ours a little chunky).

If needed, continue to simmer at very low heat to thicken the sauce. The pectins in the fruit will cause the sauce to thicken. The sauce is thick enough when you can draw a spoon along the bottom of the pan and the sauce won't fill in the space right away.
Please pin for later!