This mildly sweet, fragrant cranberry pumpkin bread is a gluten-free and reduced-sugar copycat of Libby's recipe. Also dairy-free, this loaf will fill your house with the aromas of pumpkin pie spice.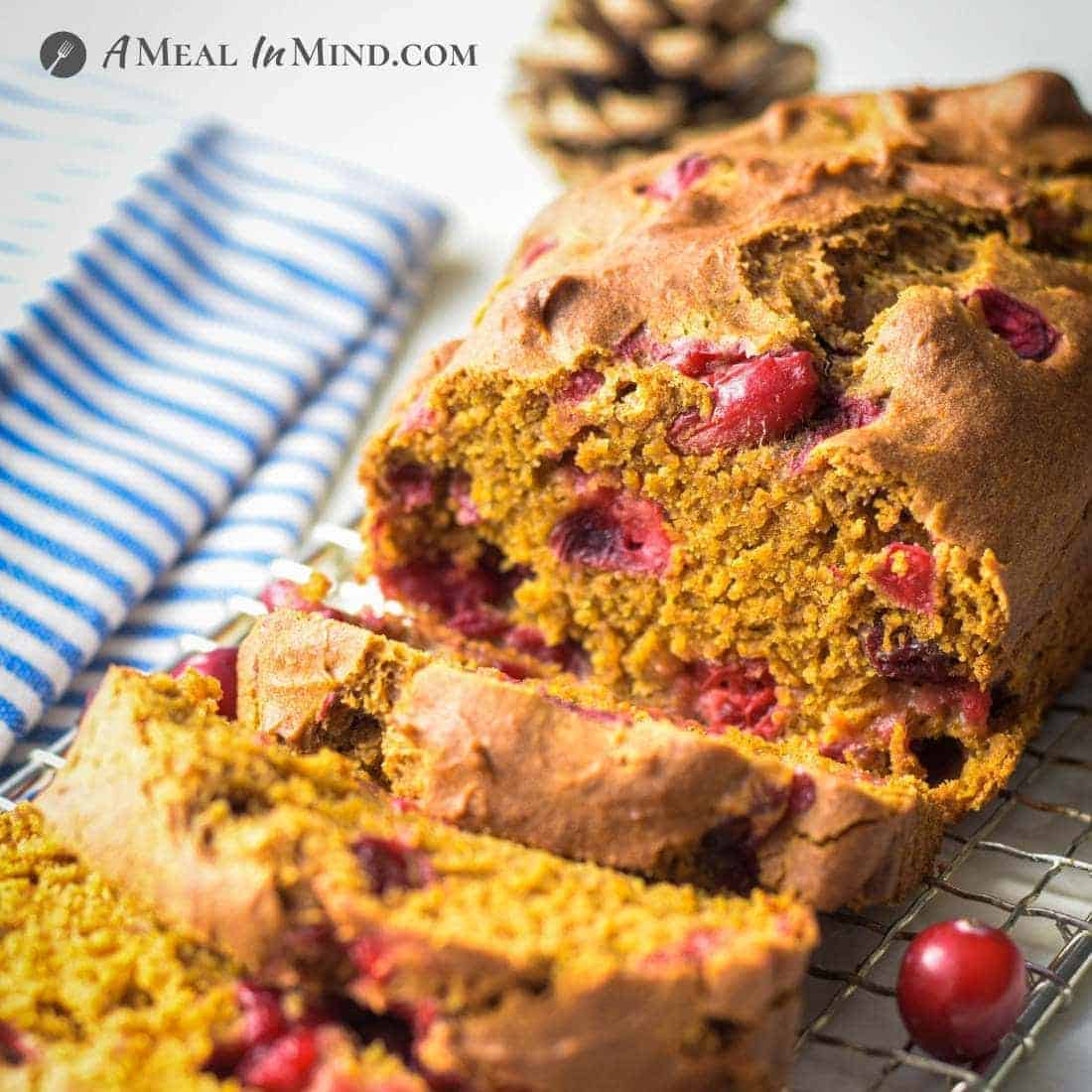 This is a half-recipe compared to Libby's original. That means it will use a half can of pumpkin puree, and will make one 9 x 5 loaf pan or two 4 x 6 pans.
I cut the Libby's original cranberry-pumpkin bread recipe out of a magazine at least 20 years ago (!) and still have the cutting in my favorites binder. Even then, we found the recipe much sweeter than our taste. We immediately cut down on the sugar and increased the cranberries.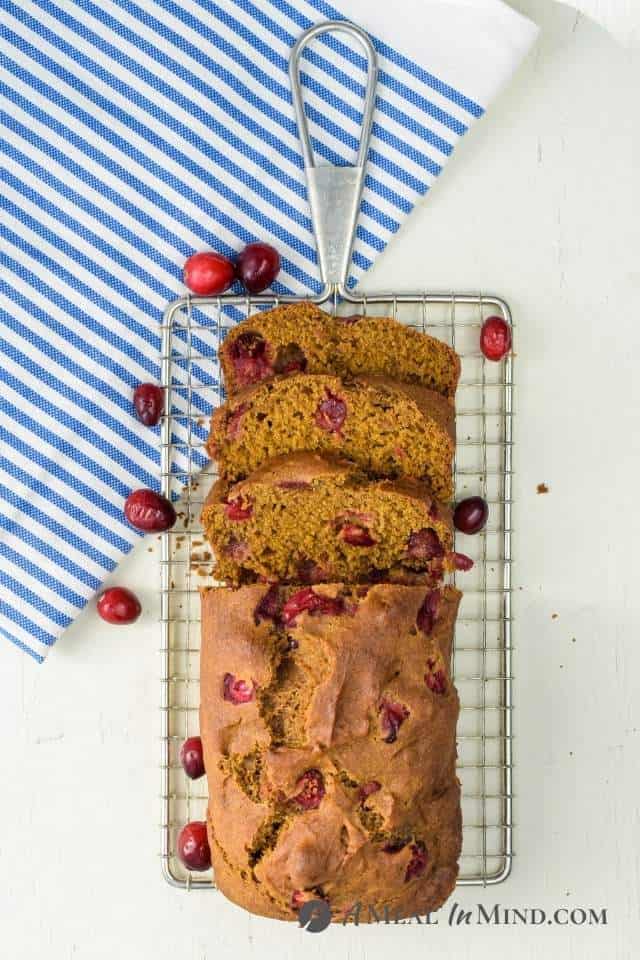 In those days, whole wheat flour rather than white flour, and reducing the sugar, were our healthy recipe conversions. This was an easy and popular holiday gift from us to others, and I baked and gave away dozens of loaves during the season. We never gave a thought about gluten. How things have changed!
What size loaf pan works best for cranberry pumpkin bread?
I've made this loaf in all sizes, depending on whether it was for the family to consume (read, inhale) or to give as gifts. That included the standard 9 x 5 loaf pan, half-pans (4 x 8) and quarter-loaf (3 x 6) pans.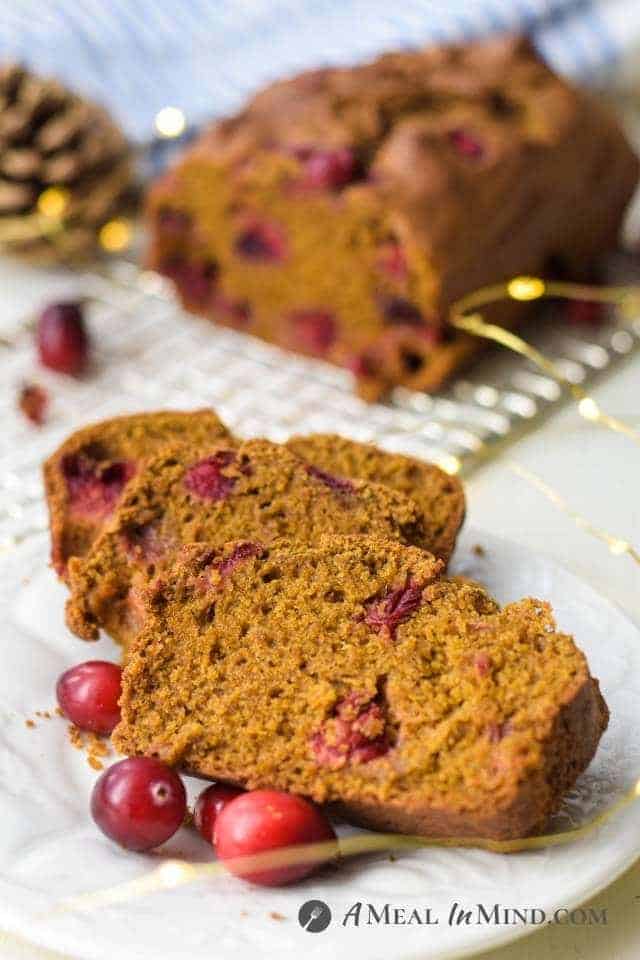 The pan I recommend here is a 4 x 8 Pyrex half-pan. It takes just over half the time to bake the loaves in this size as for a 9 x 5 pan, both at sea level and at high altitude. It's a good size to give as a gift without it being so small that you feel that something else should go with it (which is how I feel when giving a 3 x 6 loaf).
When I do bake in the 3 x 6 inch mini-pans, I make sure to check early for doneness because any variation in heating in your oven will make a greater difference in the smaller-sized loaves than with the medium or large ones. The right time for the small size could range from 20-25 minutes or less.
You can purchase covers for the 4 x 6 pans in case you are keeping the loaves for yourself and want to refrigerate them in the pan. The same size is available in other versions (see Amazon ad below for sourcing).
Links to products for purchase are affiliate links. If you click on a link and make a purchase, as an Amazon affiliate I may earn a small commission on the sale at no additional cost to you. This helps me with the costs of blogging, and I thank you! You can find my 'shop' page here.
Can you freeze cranberry pumpkin bread?
These loaves freeze very well, and in fact even seem a little moister after freezing and thawing. Remove the loaf from the baking dish and let it cool completely on a rack. Wrap the loaf in waxed paper, then in aluminum foil. To keep it for longer than 2 weeks, place the wrapped loaf in a Ziplok bag to prevent freezer burn.
Use the frozen loaves within 3 months. Thaw the loaf in the refrigerator before removing the wrappings to prevent the loaf from getting soggy.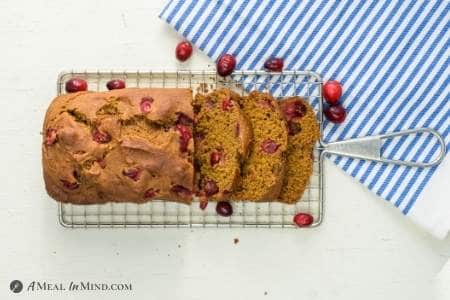 How do different gluten-free flours work for cranberry bread?
I've baked this gluten-free cranberry pumpkin bread with Better Batter and King Arthur flours. My plan is to make it with at least two others - Cup4Cup and Bob's Red Mill -- and I will update the post when I do.
Better Batter is a grain-free option without xanthan gum. I tried one batch with added xanthan gum (from Natural Grocers) and one without. I found the bread a little more crumbly without it, but the loaf held together well during removal from the pan and slicing. None of my tasters complained about the crumbliness, and we found that it became less crumbly when refrigerated after baking.
These photographs are of the loaf made from Better Batter + xanthan gum.
King Arthur has a similar consistency to Better Batter, in the baked loaf. King Arthur does contain grains (white and brown rice) as well as tapioca and potato flours, and xanthan gum. The rice flour gives a slightly shiner top and crunch, I believe. We noticed less crumbliness than with the Better Batter on its own, but of course don't know whether that has to do with the flour content, the xanthan gum, or both.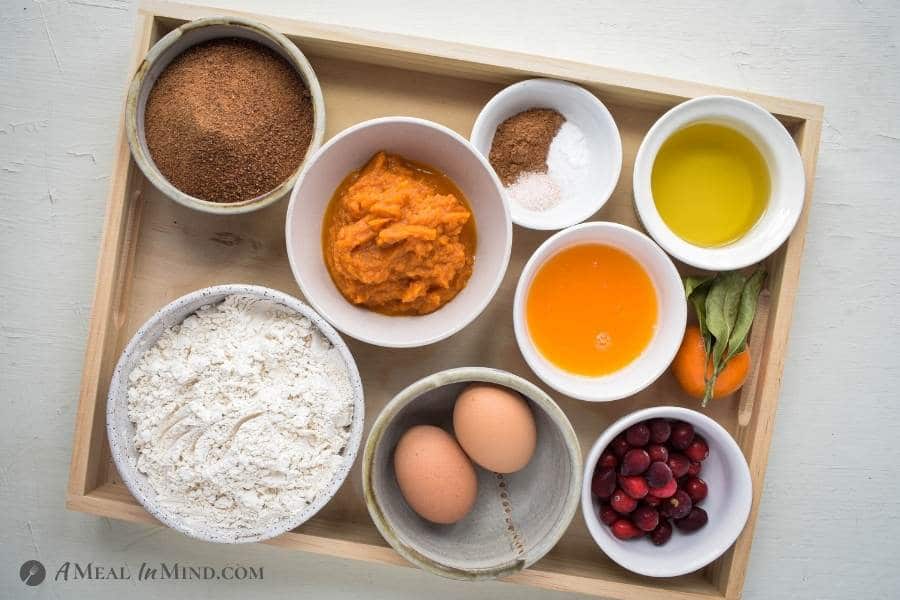 Is Xanthan gum healthy to use?
For most people, yes. Xanthan gum is added to baked goods or baking flours to stabilize them. In gluten-free baking it's added to take on the role of gluten in binding the dough together and holding the bubbles that form during baking.
According to Dr. Chris Kresser in this article, if you have food allergies, the risk to you is that you may be allergic to what the Xanthomonas bacteria that produce the xanthan gum are grown on. The strain of bacteria that is producing Xanthan gum could be cultured on wheat, soy, corn, or dairy. And it may not be possible to find out which.
If in doubt, leave it out!
Other recipes to enjoy
Gingered Cranberry-Plum Sauce; 5 Ingredient, Paleo
Cranberry Almond-Flour Pinwheel Cookies
Instant Pot Garlic Mashed Potatoes; Gluten-Free
If you make this recipe, please let me know! Leave a comment, rate it, and don't forget to tag a photo #amealinmind on Instagram. I'd love to see what you come up with. Thank you so much!!
Cranberry-Pumpkin Bread - Gluten-free, Libby's copycat
This mildly sweet, fragrant cranberry pumpkin bread is a gluten-free and reduced-sugar copycat of Libby's recipe. Also dairy-free, this loaf will fill your house with the aromas of pumpkin pie spice. Make it for gifts or your holiday table!
Equipment
Loaf pans

Cooling rack

Mixing bowls
Ingredients
1 ¾

cups

gluten-free flour

we used Better Batter or King Arthur

1 ½

teaspoons

xanthan gum

less or none if your GF flour has it

2 ½

teaspoons

pumpkin pie spice

1

teaspoon

baking soda

¾

teaspoon

salt

¾

cup

coconut sugar

see note

½

can

7 ½ ounces pumpkin puree (see note)

2

large eggs

½

cup

vegetable

I use avocado oil

2-4

tablespoons

orange juice

see note

Zest from ½ organic orange

optional

½

cup

fresh or frozen whole cranberries plus ¼ cup cranberries cut in half
Instructions
Preheat the oven to 350 degrees F.

Oil the bottoms of your loaf pans well. If you are using pans that could be sticky, line them with parchment. I used avocado or MCT oil. With MCT oil in particular, the loaves slid right out of the pans.

Combine flour, xanthan gum, baking soda, salt and pumpkin pie spice in a large bowl. In a separate smaller bowl, combine the pumpkin and eggs until just blended. Stir in the avocado oil and the orange juice.

Add the wet ingredients to the dry, stirring gently until no pockets of dry ingredients remain.

Fold in the cranberries. Don't overmix.

Spread into two 4 x 6 loaf pans (see note about sizes), four 3 x 6 pans or one 9 x 5 inch pan. Bake the smaller pans for 35 minutes and the larger pan for 60-65 minutes. The top and edges of the loaf will be slightly golden and a toothpick inserted into the loaf to test for doneness will come out clean.

Allow the loaf to cool in the pan for 10 minutes, then remove to a rack to cool the rest of the way.
Notes
The original recipe contained 1 ½ cups of sugar, so be sure that you adjust that upward if you prefer a conventionally sweet baked good.
7 ½ ounces is just under ½ cup of pumpkin puree
I use the smaller amount of orange juice when baking this bread at high altitude, to reduce the amount of liquid in the loaf and keep it from having an underdone middle. If I have organic oranges, I add the zest from the orange to make up for the loss of flavor.
To double the recipe, start with 3 cups of flour, adding more only if the batter is too runny. The original recipe called for 3 cups of all-purpose wheat flour. 
Nutrition
Serving:
1
slice
|
Calories:
164
kcal
|
Carbohydrates:
31.9
g
|
Protein:
2.7
g
|
Fat:
3.1
g
|
Saturated Fat:
0.8
g
|
Cholesterol:
47
mg
|
Sodium:
428
mg
|
Potassium:
123
mg
|
Fiber:
2.5
g
|
Sugar:
19.4
g
|
Calcium:
18
mg
|
Iron:
1
mg
Please pin for later!