These cranberry almond-flour pinwheel cookies are a fruity, pink two-layer cookie. They get their sweetness from honey, but also from the natural sugars in fruit powder and cranberries. Make some for Valentine's day!
Also, check out my Almond-Flour Carob Pinwheel Cookies. They have more contrast from their (of course) carob-colored layer to make the pinwheel, and are really tasty.
In this recipe, the pink layer is from a combo of MacroLife's Miracle Reds superfruit powder and ground dried cranberries. I love my food processor anyway, but it really came in handy to grind the dried cranberries into the pink dough.
Start by making your dough in the food processor up to the point of adding the fruit powder. Then you chill, shape and roll the vanilla half of the dough. If you form the dough into a square with your hands after the chilling step, it will help it stay square-ish during the rolling. That's square, right?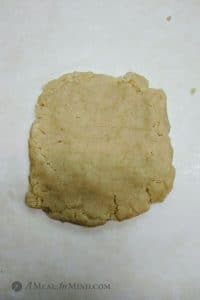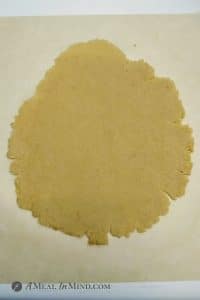 Follow the same process with the chilled pink dough. It will be crumblier, so when you get to the rolling step, you are relying on the less-crumbly vanilla dough to help hold both together.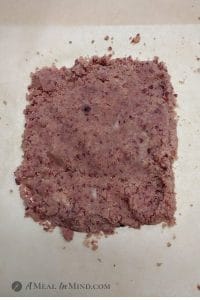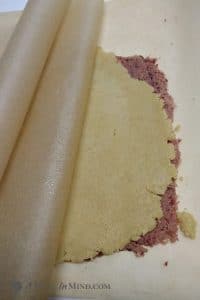 What are my options for a naturally pink cookie layer?
The pink base is a superfoods powder by MacroLife. There's lots of flavor and a wonderful aroma from pomegranate, acai and cranberry. But I wanted more pink color than I got from the powder alone.
I could have added some natural food coloring like this one by Watkins. Or I could have added some beet powder, since that's in the natural red food coloring, but the thought of beet powder in cookies didn't quite do it for me.
What about adding more of the fruit powder? Well since each packet of the superfood powder was nearly $3 (a little insane but hopefully VERY healthy) I didn't want to increase the expense by adding another. So, I ground up some dried sweetened cranberries in the last step of processing the pink dough.
What Ingredient substitutions can you make in this recipe?
Depending on what you eat, these are possible substitutions for selected ingredients. Since I used a flax egg in this batch, my grandson (who's allergic to eggs) could eat some. I have considered using MCT oil, since it so low in saturated fat compared to the coconut oil, but haven't yet.
Each substitution will change how easy the cookies are to shape and roll!
coconut oil -- butter
arrowroot flour -- cornstarch
honey -- maple syrup
flax egg -- chicken egg
Do you have to chill the doughs?
I have not tried making these cookies without chilling the dough, and of course the chilling adds to the time involved. Chilling firms the coconut oil or butter and allows you to work with the dough without it becoming too crumbly. Chilling is important to:
allow you to roll out the layers evenly and for

slicing the roll without flattening it too much.
A fun cookie project
These cookies are a fun project, something a little different and tasty. They'd be a great Valentine's gift if you want to give a treat that is not chocolate and very mildly sweet.
Children with some baking experience would enjoy the surprise stripes when you slice the cookies. But I'd strongly recommend making the carob version of these cookies first since those are much easier to shape and roll out. Or, just use food coloring or beet powder for the pink dough. If you are eating dairy, the cookies are easier to roll if you use butter as the fat, which I learned in modifying my source recipe.
(Hint: I had been planning to form a few of these into something like heart shapes. You can see one attempt on the cookie sheet - pretty warty, right? Not the best idea for the crumblier dough.)
Pin for later!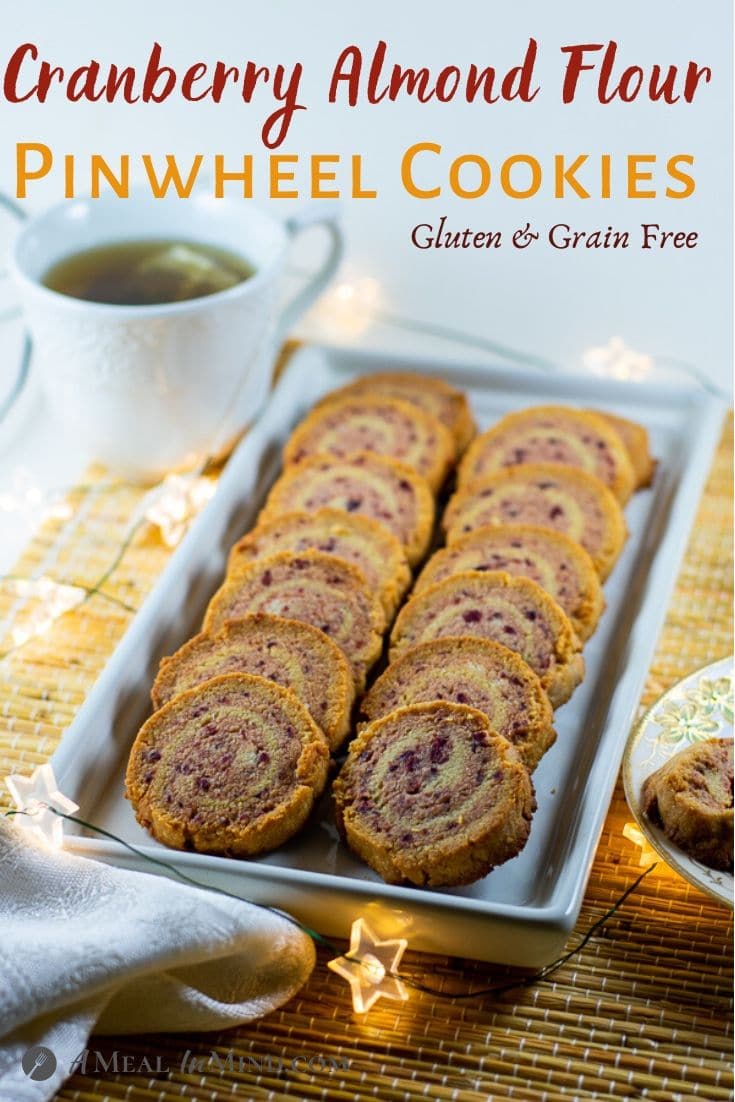 If you have a chance to make this recipe, please leave me a comment so that I know how it went!
Enjoy!
Beth
Other Cookie Recipes you may enjoy
Pumpkin Cookies with Apple Butter Thumbprint Paleo, Vegan
Almond Flour Dark Chocolate Chip Cookies GF
Pumpkin Pie Spice Bars, Gluten-free / Vegan
Shop Cranberry Almond-Flour Pinwheel Cookies
Links to products for purchase are affiliate links. If you click on a link and make a purchase, I may earn a small commission on the sale at no additional cost to you. This helps me with the costs of blogging, and I thank you! You can find my 'shop' page here.
Cranberry Almond-Flour Pinwheel Cookies
These cranberry almond-flour pinwheel cookies are a fun, fruity, pink striped cookie. They get some of their sweetness from honey and some from the natural sugars in the fruit. Make some for Valentine's day!
Ingredients
2

cups

almond flour

2

tablespoons

arrowroot powder or cornstarch

½

teaspoon

salt

5

tablespoons

coconut oil

softened

1

flax egg = 1 tablespoon flax seed + 2½ tablespoons water)

2

tablespoons

raw honey

or maple syrup

2

teaspoons

vanilla extract

1

packet superfood powder

about 1½ teaspoons

¼

cup

dried cranberries
Instructions
In your food processor, add the almond flour, arrowroot powder and salt and pulse until just blended. 

Add the coconut oil and pulse until the fat is cut into the dry ingredients. 

Add the flax egg and pulse - the dough will begin to gather into a ball. Add the honey and vanilla, and process until all is mixed together. 

Remove half the dough and place in a covered container. 

Add the superfood powder to the remaining dough in the food processor and pulse until well mixed in. Add the dried cranberries and process until finely ground into the dough, about 1-2 minutes. If the dough seems very dry and crumbly, add another tablespoon of water and continue to blend. 

Remove from the food processor bowl and knead the dough a bit if needed to incorporate any bits of fruit or powder that haven't gotten mixed in. Place the "pink" dough into a container. 

Refrigerate the two balls of dough for 1 hour. 

Form the vanilla dough into a squarish blob on a sheet of parchment paper, then cover with another sheet of parchment paper and roll into a 10-inch square. Remove the top sheet of paper.

Repeat the process with the "pink" dough, then flip the vanilla dough on top of the pink. Gently roll over the top with a rolling pin to make the doughs adhere.

Trim the edges of the doughs closest to you if they are really ragged. Carefully roll the dough into a tight log. It can help the rolling if you lift up the parchment paper and use it to curve the edges over, then keep nudging the roll and supporting it with the paper, to keep it from cracking. 

Wrap the rolled dough in the parchment paper, then freeze it for 30 minutes.

Using a sharp, thin knife, cut the chilled dough into ¼-inch thick slices and transfer each piece to a cookie sheet lined with parchment paper.

Bake at 325°F for about 12-15 minutes or until the top and edges start to turn brown.

Allow cookies to cool on the baking sheet for 5 minutes then transfer to a wire rack. Enjoy! 
Notes
This recipe has been modified twice from this Paleo Pinwheel Cookie recipe.
Prep time doesn't include chilling time.
Pin for later!