These chocolate-walnut banana muffins are slightly sweet, filling, and satisfying, with just a touch of passionfruit or orange juice to give flavor without sweetness. Top with dark chocolate and chopped macadamias for a tasty and wholesome muffin.
Banana bread is such a classic - and these muffins are nothing more than little bites of banana bread, garnished with dark chocolate chunks and macadamia nuts. Walnuts and almond flours form a large part of the basis of the muffin.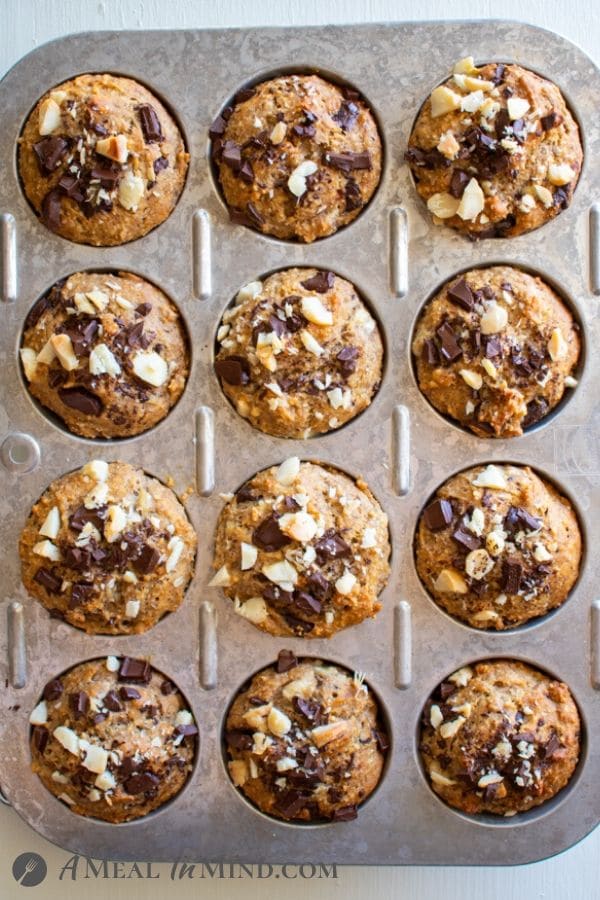 Ingredient tips
Some members of my family don't like large chunks of walnuts in a bread, because walnuts are slightly bitter compared to, say, pecans. Yet I love walnuts - I find them earthy and slightly sweet.
Grinding the walnuts in a food processor to make walnut meal keeps anyone from being bothered by that bitterness, plus then you get the heartiness from the good fats in walnuts. The food processor is perfect because its product is finer than you'd be able to obtain by hand, but there's less risk of the walnuts becoming walnut butter than if you used a blender.
The gluten-free flour I use is mainly rice flour, with some tapioca, that I buy at our local food co-op. King Arthur's gluten-free flour is similar to what I use.
Safeway's 61% cacao chocolate chunks are easy to work with whether stirring them into a batter or chopping them to sprinkle on top. Whole Foods has a similar product but our store hasn't had them for a while.
I have some passionfruit juice left from last year's vines at our house. You could use juice concentrate or, if that's not available where you live, orange juice. The slightly sour addition gives a mysterious, yet wonderful flavor and helps balance out the sweetness of the chocolate.
A low-sugar muffin
If you like conventionally sweet muffins, you may find these not very sweet - I suggest tasting the batter (just a little) before spooning it into the muffin tins. My friend Yuki, who is Japanese, says that she often finds American baked goods too sweet, but she thought these were about right for her. I was so delighted!
I have worked over a long period of time to cut down on the amount of sugar in my baking, rather than go with monkfruit or other non-sugar sweeteners. I'm a supertaster and they all, even stevia, have an aftertaste for me.
An easy muffin recipe
Mixing these muffins is simple: you'll cream the oil and honey together and stir in the rest of the wet ingredients. Then mix the dry ingredients and stir the dry into the wet.
Pay attention to the baking soda when you mix it into the flours - this is because some times baking soda can form little lumps that you can see easily when stirring it into the flours (since the flour is less white than the baking soda).
Last step is to add the chocolate chunks.
I'm lucky enough to have fresh plain macadamia nuts to chop and sprinkle on top - but hazelnuts would have a similar look and texture, too.
If you have a chance to make this recipe, please leave me a comment and let me know how it went!!
Enjoy,
Beth
Other recipes you may enjoy
Almond Flour Dark Chocolate Chip Cookies GF
Almond Flour-Carob Pinwheel Cookies
Blueberry Lemon Almond-Flour Muffins
Shop Chocolate-Walnut Banana Muffins
Equipment
Ingredients
Links to products for purchase are affiliate links. If you click on a link and make a purchase, I may earn a small commission on the sale at no additional cost to you. This helps me with the costs of blogging, and I thank you! You can find my 'shop' page here.
Chocolate-Walnut Banana Muffins
These chocolate-walnut banana muffins are satisfying and slightly sweet, with dark chocolate, chopped macadamias, and just a touch of passionfruit flavor. Treat yourself to a batch of these tasty snacks!
Ingredients
¼

cup

coconut oil

melted

2

tablespoons

honey

or maple syrup

2

eggs

¾

cup

mashed very ripe banana

1 ½ large, or 3-4 small apple bananas

¼

cup

passionfruit juice

or orange juice

1

teaspoon

baking soda

1

teaspoon

vanilla essence

½

teaspoon

salt

1

cup

gluten-free baking flour

I recommend King Arthur

¾

cup

almond meal

¾

cup

walnut meal

grind in food processor

⅓

cup

dark chocolate chunks

plus another 2 tablespoonfuls, chopped, for topping

2

tablespoons

chopped macadamias or hazelnuts
Instructions
Preheat oven to 160C (325F) and grease muffin tin, or use muffin papers.

Process the walnuts in the food processor until ground finely but not until they become walnut butter, about 1-2 minutes tops. Remove from the food processor into the bowl you'll be using for the dry ingredients. 

Whisk together the coconut oil and honey until combined. Add both eggs and mix well. Add mashed bananas and passionfruit juice - stir in gently, and you can leave clumps of banana - it doesn't need to be smooth. Stir in the vanilla. 

In a separate bowl, stir the flour, almond meal, and walnut meal until just combined. Add the baking soda and salt and stir well, checking for lumps of baking soda. Add the dry ingredients to the wet, stirring carefully but not overmixing. Gently fold in the dark chocolate chunks. 

Scoop evenly into muffin tin - you can fill nearly to the top of each muffin cup, as these do not rise very much. Sprinkle the top of each muffin with chopped chocolate and nuts. 

Bake 26-28 minutes or until a toothpick inserted comes out clean. As ovens vary, the first time you make the recipe, check at 24 minutes. 
Notes
If you are using Central American bananas (like Chiquita) they don't need to be spotty/black, but the riper they are, the easier they will be to mash, and the more aromatic they will be. If you have the good fortune to have Apple bananas, the riper the better for ease of mashing, as Apple bananas are firmer than the Central American type.
I use an ice cream scoop to help get the same amount of batter into each muffin cup.

Please Pin for Later!