Ruby Cacao Chip Valentine Cookies are a tasty way to enjoy ruby cacao chips and make a simple, rustic, heart-shaped cookie for Valentine's Day. With only five ingredients other than the chips, this is a quick gluten-free cookie recipe to make for any day.
These six-ingredient Ruby Cacao Chip Cookies started out as a Paleo cookie, and I plan to make several Paleo versions of it. It's Valentine's day, though, and pink chocolate chips are too amazing to pass up!
Of course, adding the ruby cacao chips keeps it from being Paleo since they contain refined sugar. If you are not attached to the pink color, it's easy to convert the recipe back to Paleo with cacao nibs.
But if you have been as fascinated as I have by the pink color and fruity flavor of ruby cacao, you might be tempted to throw a few of these chips into your otherwise healthy cookie.
Variations on this Cookie dough
This cookie dough has a low quantity of added sugar to compensate for the sweetness of the ruby cacao chips.

Although the dough recipe contains one egg, the recipe can be egg-free with a flax or chia egg.

Depending on the amount of dough per cookie, they will be slightly crisp (¼ inch thick) to soft (½ inch).
What is ruby cacao?
If you are not familiar with ruby cacao, it's not surprising, since it was only introduced in 2017 by the Callebaut chocolate company. It was in development since 2004, though.
In its article on the subject, Wikipedia notes that the exact production method is a secret but there is speculation that ruby cacao is from unfermented Brazil Lavados cacao beans, which are naturally pinkish and probably become more pink when citric acid is added to them.
Other than Callebaut, Chocolove bars and Kit Kat, there are few companies marketing the ruby cacao. In all cases, the products were much more expensive than what I bought at Sprouts. Someday, I'm picturing ruby cacao Oreos ....
Recommendations for Ruby Cacao Valentine Cookies
Links to products for purchase are affiliate links. If you click on a link and make a purchase, as an Amazon affiliate I may earn a small commission on the sale at no additional cost to you. This helps me with the costs of blogging, and I thank you! You can find my 'shop' page here.
Where do you buy ruby cacao?
I bought my ruby cacao chips from the bulk bins at Sprouts Market. At $11.99 per pound, I had to think twice about whether I wanted to spend that much. But after comparing them to Chocolove's Ruby Cacao bars and any of Amazon's options, I rationalized that the chips were a little less pricey than any of those!
Ingredients for ruby cacao Valentine cookies
There are five ingredients other than the chips, which makes these quick and easy.
almond flour
vanilla extract
egg (or flax egg)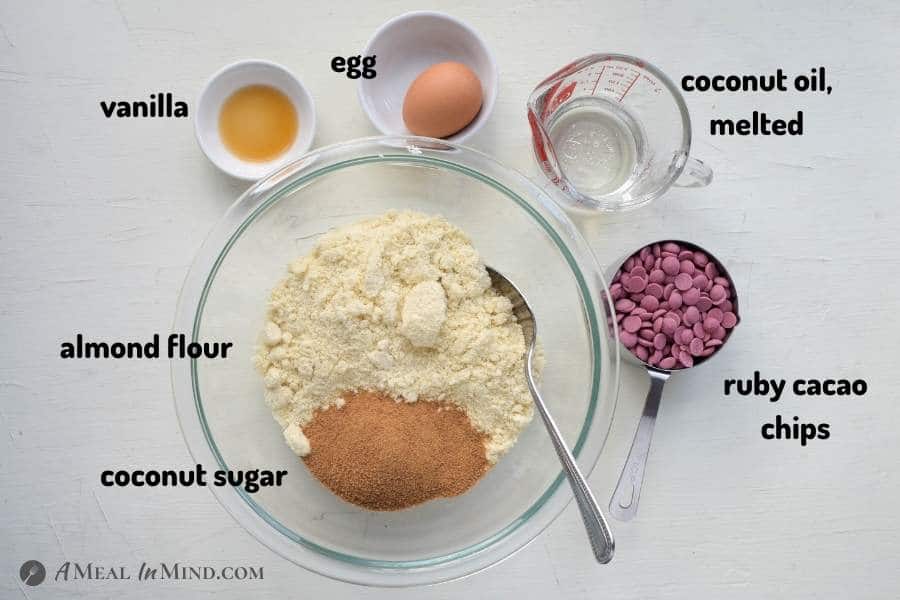 Once those ingredients are stirred together, fold in the ruby chips.
Tips for shaping ruby cacao chip cookies
Most chip cookies have a round shape from being rolled into smooth balls and then flattened. To make the heart shape, I pressed the same amount of cookie dough into my heart-shaped cookie cutter, then lifted the cutter off the cookie.
I used my 2-tablespoon cookie scoop to make the volume of each cookie about the same, though the presence of the chips made this a little challenging as they were unevenly distributed through the dough, even after stirring.
Because the cacao chips were often close to the edge of the cookie cutter and kept the dough from being even at the edges, not all of the cookies were perfectly heart-shaped! But they are pretty close. Pat the edges down a bit after lifting the cookie cutter off to round the edges.
Tips for timing these ruby cacao cookies
Since there are so few ingredients, the mixing process is no more than 10 minutes, and a mixing bowl and spoon are just right for stirring them together. Placing each cookie on the baking sheet took another 10 minutes or so because of the time it takes to press each one into the cookie cutter.
As far as baking time, I adjust what would be about 10 minutes of baking at sea level to 12 minutes because of the high altitude here in Denver. Thinner cookies are done sooner and come out crisper. Any leftover cookies, even the crisper ones, will soften up when they are in a covered container in the refrigerator.
Thank you for the inspiration for this recipe from this site, which contains elimination diet and AIP recipes.
If you make this recipe, please let me know! Leave a comment, rate it, and don't forget to tag a photo #amealinmind on Instagram. I'd love to see what you come up with. Thank you so much!!
Beth
Other cookie recipes you may enjoy
Raisin-Sweetened Oatmeal Cookies; Gluten-Free
Cranberry Almond-Flour Pinwheel Cookies
Pecan Almond Flour Red White and Blue Cookies
Almond Flour-Carob Pinwheel Cookies
Almond Flour Dark Chocolate Chip Cookies; GF
Ruby Cacao Chip Valentine Cookies
Ruby Cacao Chip Valentine Cookies are a tasty way to enjoy ruby cacao chips and make a simple, rustic, heart-shaped cookie for Valentine's Day. With only five ingredients other than the chips, this is a quick basic recipe to customize for any day. 
Equipment
Baking Sheets

Baking Parchment

Ruby Cacao Chips and Chocolove Bars
Ingredients
⅓

cup

coconut sugar

reduced from ¾ because of ruby chips

1

egg

lightly beaten - flax egg also works great

½

cup

coconut oil

slightly melted

1

teaspoon

vanilla extract

2 ¼

cups

almond flour

½

cup

ruby cacao chips

plus extras to place on top of the cookies
Instructions
Line cookie sheet with parchment, and preheat oven to 350 degrees F.

In medium-sized bowl, stir almond flour and coconut sugar together.

Stir in egg, coconut oil and vanilla until wet and dry ingredients are well mixed.

Fold in ½ cup of ruby chips.

Scoop by 2 tablespoonfuls into heart cookie cutter. Press evenly into the cookie cutter to fill out the heart shape. If you have large clumps of chips, you may want to redistribute them.

Gently lift up on the cookie cutter to release the cookie, and pat the edges with your fingers to round them. Press extra ruby chips into the tops of the cookies.

Bake for 10 minutes or until edges are golden brown (12 minutes at high altitude).

Let cool for 5 minutes and enjoy!
Notes
We have made these cookies with ¼ cup of coconut sugar and ⅓ cup of ruby chips and enjoyed the less-sweet version too. If you substitute less-sweet chocolate chips or cacao nibs, you may wish to increase the coconut sugar to as much as ¾ cup. 
The cookie dough freezes well and is worth making a double batch to keep half on hand for future cookies. Be sure to let it defrost for 30 minutes to allow the coconut oil to soften.
Thanks for inspiration from this recipe. 
Nutrition information is an approximation, as always - in this case, because the Ruby Chocolate Chips were not found in the HappyForks.com database.
Please pin for later!