These millet-currant biscuits are light, savory and just a little sweet from the currants. They are versatile and easy to mix up in the food processor or by hand.
My go-to flour for biscuits is usually almond, if I want to cut down on the glycemic index as described here. Then I will make my Almond Flour Biscuits.
But sometimes I want a biscuit that is nut-free. For example, one singing group I am a part of holds regular potlucks and recently asked for no nuts in any of the dishes.
In developing this nut-free recipe, I also wanted to use some millet flour that I had left over from another recipe. Millet flour adds a slight crispy crunch to the lightness of the baking mix. And it had to be vegan - for someone else in the same singing group.
These were such a hit! And if you make them really small, as I did, they are pretty quick to bake, too.
Steps in preparing the biscuits
I mix up the dry ingredients in the food processor. Then I drop in the coconut oil by spoonfuls, scattering it over the surface.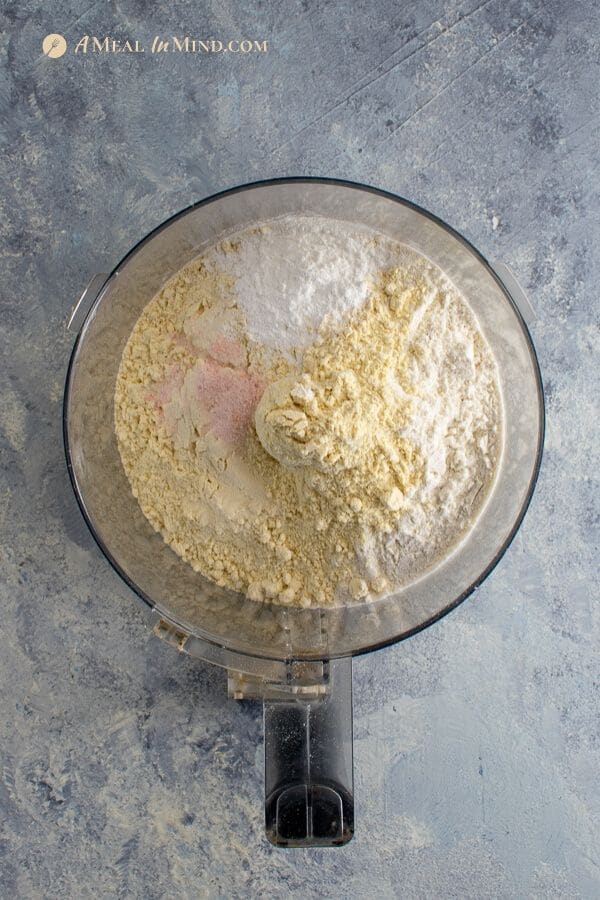 Blend in the coconut oil until it's chopped into pea-sized bits. Then add non-dairy milk combined with apple cider vinegar, and a flax egg. Blend to get a sticky dough. Turn that into a bowl and mix in the currants.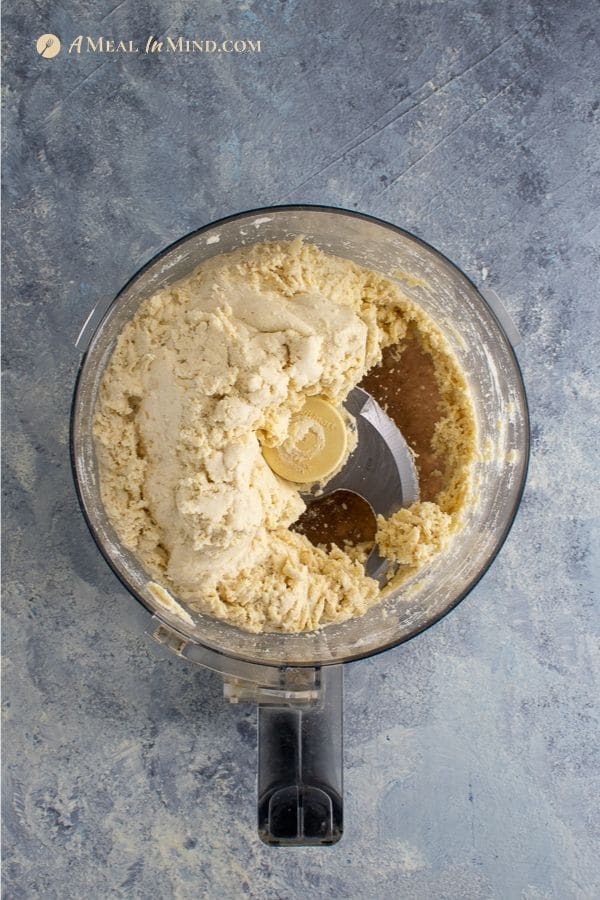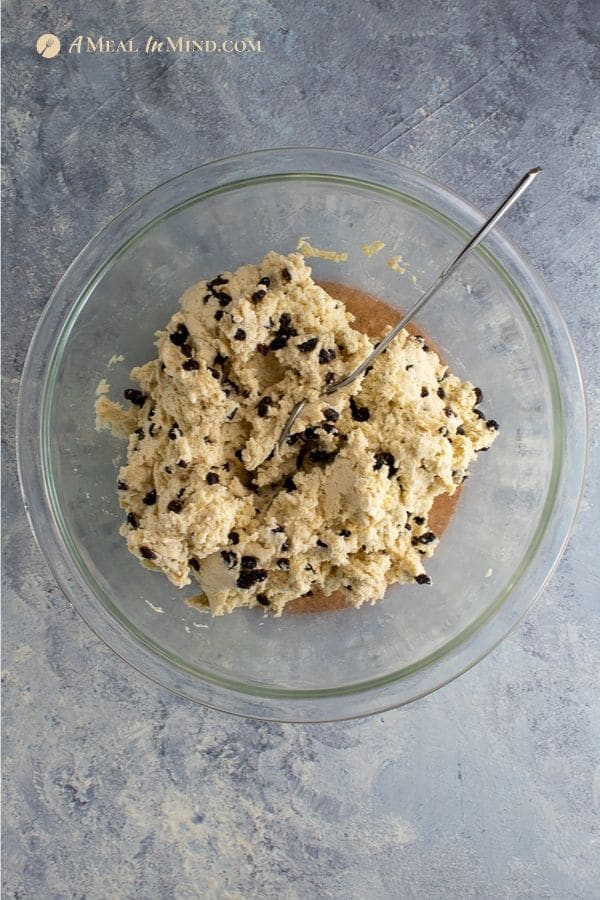 Roll even-sized balls of dough, place on parchment paper, and bake. You can leave them round or flatten them. They spread out very little in baking, and will brown slightly.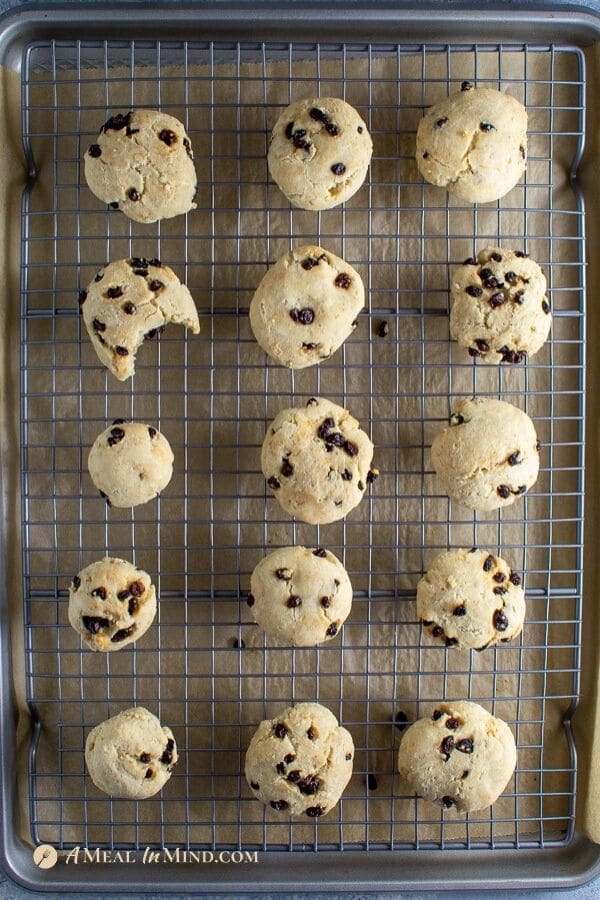 A popular recipe
I took these to a potluck and the biscuits were an immediate hit. They don't give the impression of being for any sort of special "diet" yet anyone in that group can eat them, whether vegetarian, vegan, gluten-free, nut-free or omnivorous.
The biscuits are such a simple item we have them often at home too. They are as good with homemade apple butter as they are alongside a soup or stew. My grandson can nibble on them, but they aren't so soft that they fall apart in his little hands.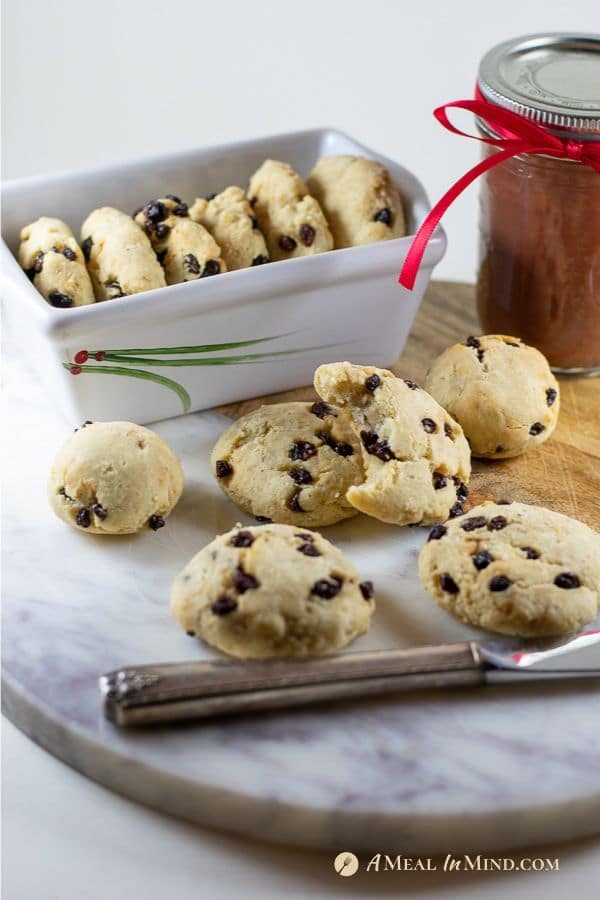 And I'm thinking they'd make nice gifts as we get closer to the holidays, as they are not obviously for any specific occasion, but could be made festive.
Stay tuned in case I get more inspired than that!
As always, if you have a chance to try this recipe, please leave me a comment so I know how it went!
Beth
Related recipes on A Meal In Mind
Almond-Flour Biscuits 5-Ingredient
Almond Flour Dark Chocolate Chip Cookies GF
Pumpkin Cookies with Apple Butter Thumbprint Paleo, Vegan
How to Make Apple Butter (Vegan, Paleo)
Shop Millet-Currant Biscuits, GF and Vegan
Links to products for purchase are affiliate links. If you click on a link and make a purchase, I may earn a small commission on the sale at no additional cost to you. This helps me with the costs of blogging, and I thank you! You can find my 'shop' page here.
Millet-Currant Biscuits, GF and Vegan
These millet-currant biscuits are light and savory with just a little sweetness from the currants. They can go with both sweet or savory dishes. And they are quick and easy to mix up in the food processor or by hand.
Servings
24
small biscuits
Ingredients
2 ½

cups

Bob's Red Mill or King Arthur 1:1 gluten-free baking mix plus 2 tablespoons for dusting hands

1

cup

millet flour

¼

teaspoon

xanthan gum

just enough for the millet flour, as the baking mix has some

½

teaspoon

pink sea salt

1

tablespoon

GF baking powder

9

tablespoons

coconut oil at cool room temperature

1 ¼

cups

hemp

coconut or other preferred non-dairy milk and one tablespoon apple cider vinegar stirred together to make non-dairy buttermilk

1 ½

tablespoons

ground flaxseed plus 3 tablespoons water

¾

cup

currants
Instructions
Preheat oven to 400 degrees F.

Place all the dry ingredients together in the food processor and pulse until mixed. 

Drop in the coconut oil by spoonfuls around the food processor bowl, and pulse until the coconut oil is chopped into pieces the size of peas. As long as the coconut oil isn't too cold, the mixing happens quickly.

Pour in the butter"milk" and then the flax eggs and pulse until the dough gathers together in a ball. It will be slightly sticky. 

If needed, use the extra Red Mill baking mix to dust your hands before removing the dough from the food processor bowl and placing into a mixing bowl. Fold in the currants until evenly distributed.

Scoop the dough out to form approximately 1 to 1½-inch balls. I use an ice cream scoop for this, then roll the balls in my hands.

Place balls of dough on parchment paper on a baking sheet and flatten slightly or leave round depending on your preference. 

Bake for 12-15 min at sea level; at high altitude bake for 20 minutes. If your dough was very sticky, aim to bake for the longer time. 

Biscuits will brown very slightly on the top and more so on the bottoms. The outside will be crisp and a biscuit will give just a little when pressed in the center. 
Pin for Later!