Keep it simple, sweetie, is the motto for this slow-cooker peach butter. Simmer the peaches lovingly with a little coconut sugar and a touch of lemon juice. Leave out strong spices that would overpower the distinctive flavor and aroma of the peaches. Puree with a hand blender and simmer until the peach butter is thick enough to mound up on your spoon.
Then just decide what to lavish it on, like these almond-flour biscuits!
Or even my currant-millet biscuits.
Using the slow-cooker feature of my Instant Pot
Why the Instant Pot, you ask? It seems a waste of its capability, maybe? However, I've read (one more thing to worry about) that lead can leach from ceramic slow-cookers.
So, I prefer to cook in stainless steel whenever possible.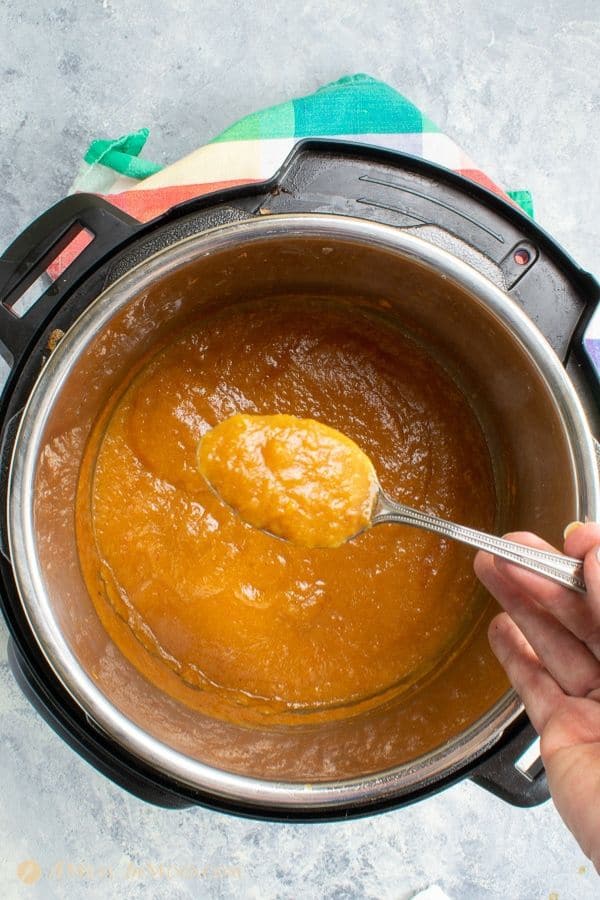 My goal this season has been to enjoy the wonderful bounty of our local peaches in every one of their forms, including as butter.
In this recipe, all you do is to heat gently to reduce the amount of liquid, puree as desired and end up with a thick spread. I don't even peel my peaches completely, just make sure the fuzz is well washed off.
As with my other peach recipes, we buy from a local organic grower, Ela Family Farms, because the fruit is consistently full of flavor and perfectly picked.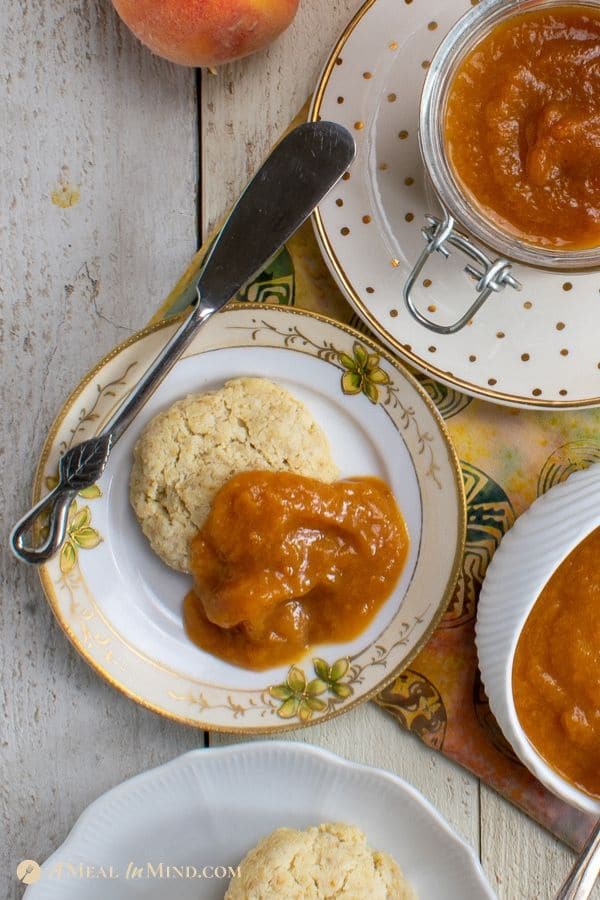 The list of ingredients is very short, but although the directions are a bit longer, the process is actually very simple!
Pin for later!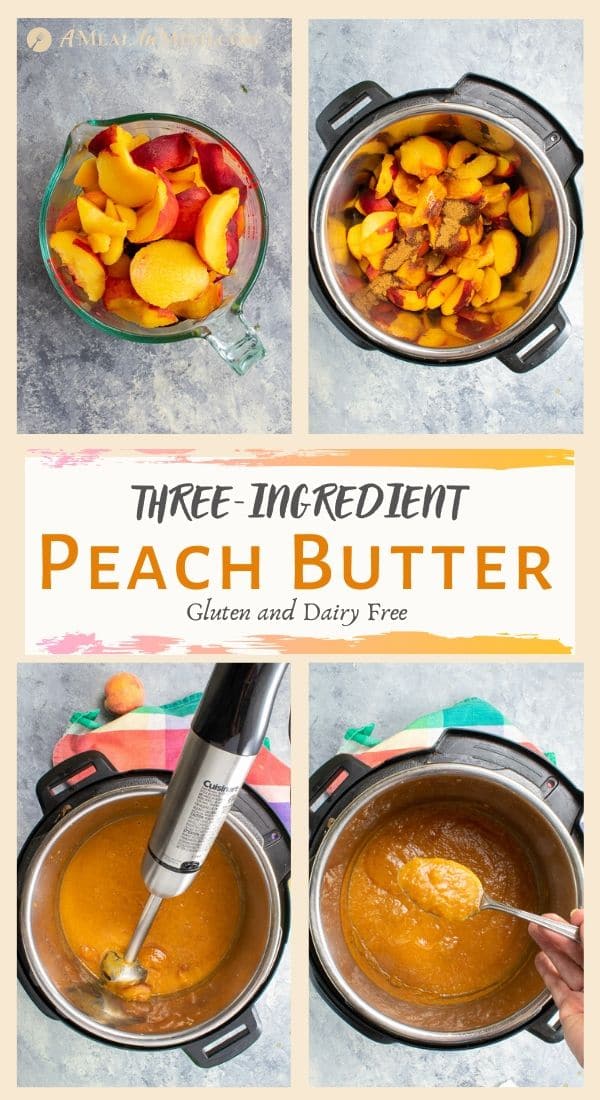 If you have a chance to make this recipe, please let me know in the comments how it went!
Enjoy,
Beth
Other peach recipes on A Meal In Mind
Peach Oatmeal Breakfast Clafoutis
Stone Fruit Salad with Citrus Dressing
Shop slow-cooker peach butter - 3 ingredient
Links to products for purchase are affiliate links. If you click on a link and make a purchase, I may earn a small commission on the sale at no additional cost to you. This helps me with the costs of blogging, and I thank you! You can find my 'shop' page here.
Slow-Cooker Peach Butter - 3 ingredient
Easy, 3-ingredient peach butter is simmered lovingly in your Instant Pot with a little coconut sugar and a touch of lemon juice. Puree with a stick blender and get out your homemade biscuits!
Ingredients
4

pounds

fresh peaches

about 10 good-sized peaches = 8 cups; peeling is optional; chopped

⅓

cup

coconut sugar

¼ to ½

cup

water

optional (if your peaches are juicy, as mine usually are, omit the water)

2

tablespoons

fresh lemon juice
Instructions
Wash and rough chop the peaches. Pare away any softer spots, but otherwise don't bother peeling the peaches if you are using organically-grown ones.

Add the peaches to your Instant Pot.

Stir in the lemon juice and sugar.

Cover and slow-cook on the medium setting for 4 hours. When you open the lid, do your best to capture and discard the water that has collected in the lid.

At this point I use my hand blender to puree the peaches. I'm not concerned about getting all the lumps, because I like my peach butter to have little surprises in it. If you want completely smooth peach butter, you can puree yours in a blender, then return it to your Instant Pot.

Cook for an hour or more on medium until the peach butter is as thick as you like. My guideline is that it mounds a little on the spoon when you lift some out of the pot. Another way to tell if it is thick enough is to run your finger down the middle of the spoonful of peach butter. If the butter doesn't fill in the strip, it's ready. It will thicken slightly when it cools. It will also darken a little during this last heating step.

Ladle the hot peach butter into a clean jar or jars and let cool before capping and refrigerating. Consume within a couple of weeks, or follow safe canning or freezing practices.

Serve on gluten-free biscuits - Yum!
Pin for later!