Peach oatmeal breakfast clafoutis is an easy and delicious one-pan breakfast bake that showcases beautiful seasonal fruits. Colorado peaches raise this baked oatmeal dish to company-brunch levels. Gluten-and-dairy-free, with vegan option.
What is a Clafoutis?
A clafoutis is a French baked dish that includes fruit, traditionally cherries, but here I've taken advantage of the beautiful local peaches available in August. This dish is filling, not too sweet and loaded with some of my favorite ingredients.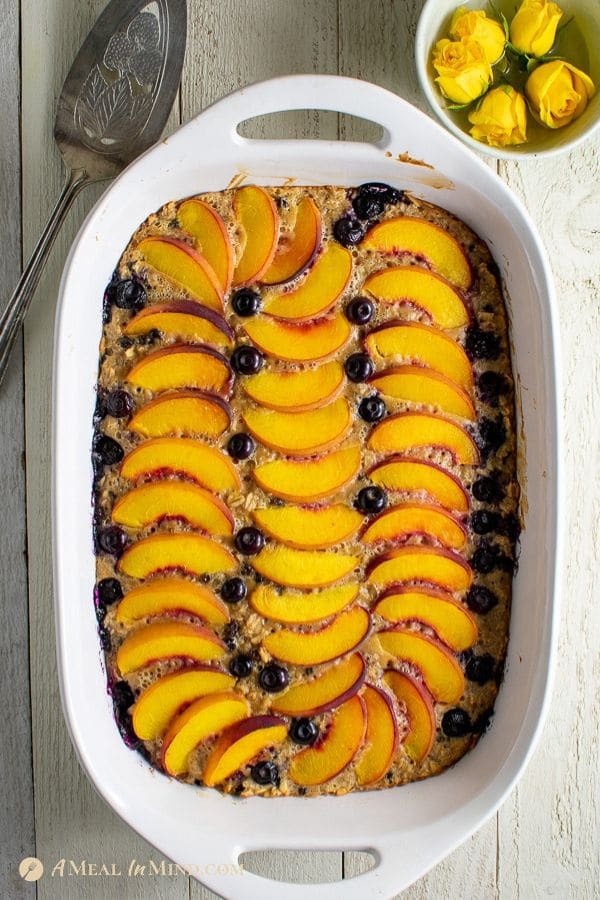 You can stir the fruit into the mixture - in which case you can chop it as you like - or use it as a decoration as I've done.
A top garnish is a great way to showcase beautiful fruit and doesn't take that much extra time as long as your fruit is easy to slice. The clafoutis is a great potluck dish.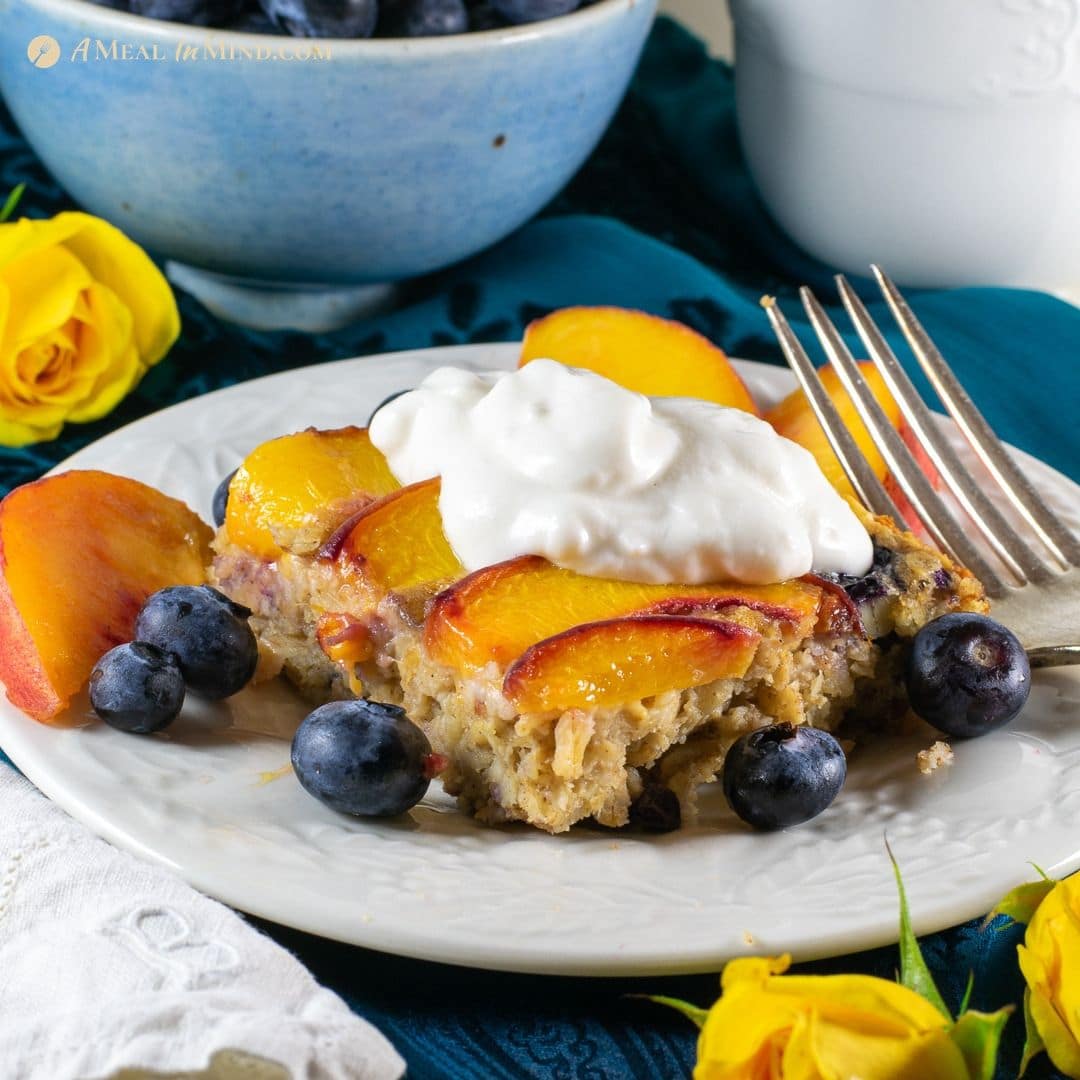 I have read that this oatmeal version is based on a recipe from Quaker Oats. I have not been able to locate an original to give credit. I've modified it to my taste, and made it dairy-and-gluten-free.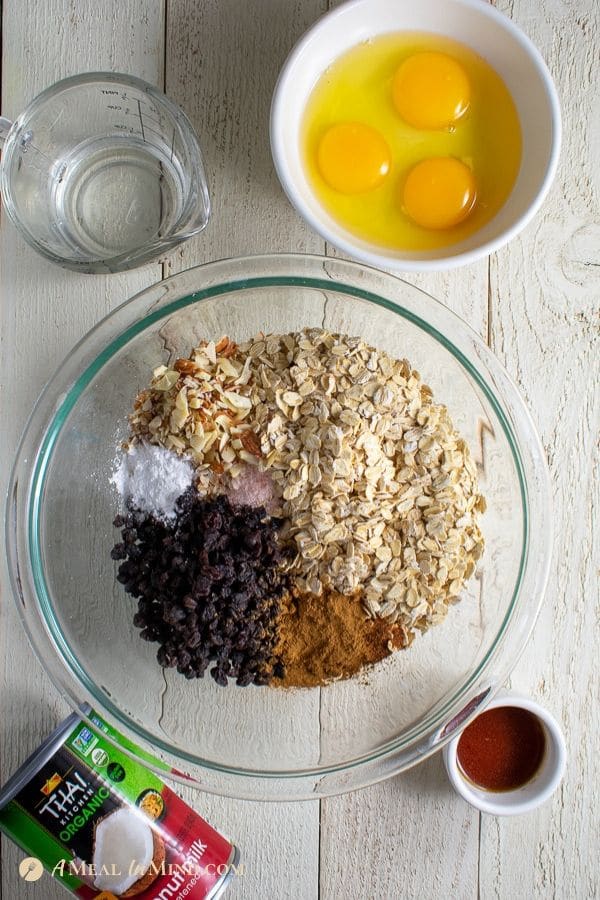 You can mix this recipe and bake it right away if you are an early riser. But my favorite use of it is as an overnight recipe. Mix everything together the night before. The batter will seem quite liquid when you first mix it up, but the next day the oats will have soaked up a lot of the moisture.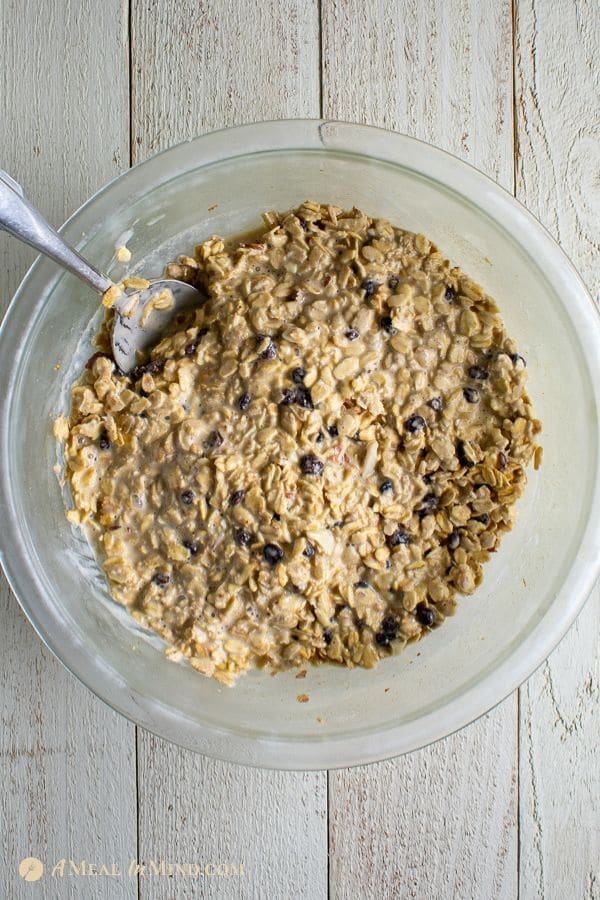 In the morning, preheat the oven. While it is preheating you should have just the right amount of time to prepare the baking dish, pour the batter into the pan, and garnish with your fresh fruit. Then bake and prepare to enjoy.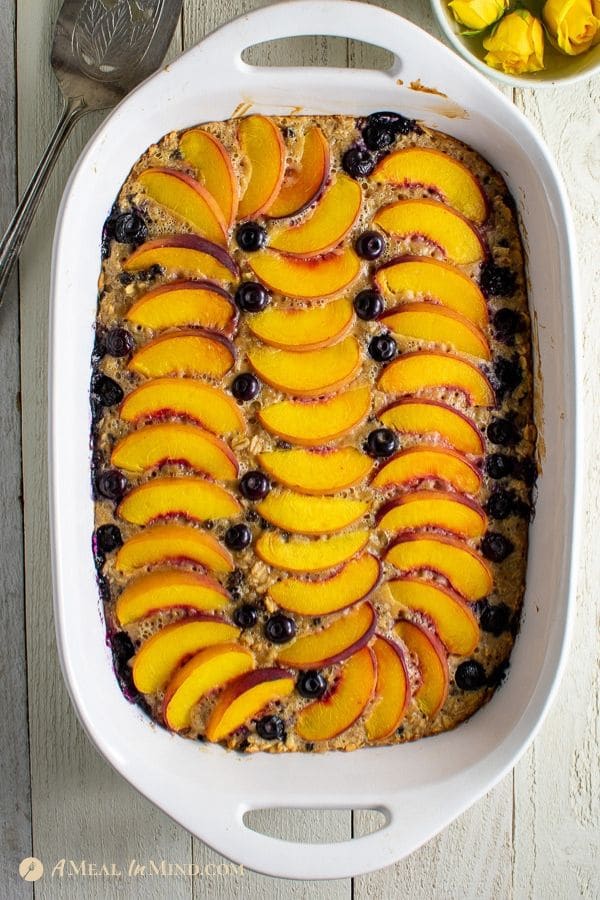 What fruit can you use?
Choose your fruit according to season. Free-stone peaches (July to August) make a beautiful garnish with their orange and red peels. In June to July, you can use fresh cherries - pitted, of course. Plums are lovely, too, if you can find some that slice easily. Apples are in season starting in September and are great for clafoutis.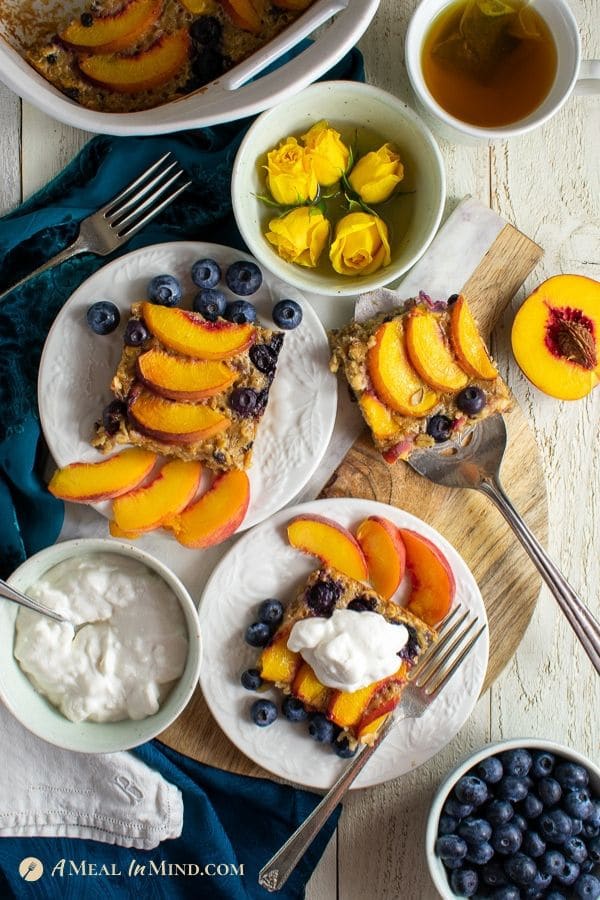 As far as the fruit inside the clafoutis, I prefer currants because they are smaller and less sweet than raisins. If you prefer sweeter flavors, dried cranberries would work beautifully and pair nicely with a red apple, like Jonathans.
Other easy substitutions:
Almond milk instead of coconut milk

Flax eggs instead of dairy eggs, for a vegan breakfast

Quinoa flakes instead of oats, for a grain-free dish
This recipe is very similar to my Baked Oatmeal, except for the fruit topping.
If you make this recipe, please let me know in the comments!
Beth
Pin for later!
Other breakfasts on A Meal In Mind
Flourless Oatmeal Coconut Milk Pancakes
Moringa Fruit-Nut-Ola Grain-Free
Blueberry Lemon Almond-Flour Muffins
Shop Peach Oatmeal Baked Clafoutis
Links to products for purchase are affiliate links. If you click on a link and make a purchase, I may earn a small commission on the sale at no additional cost to you. This helps me with the costs of blogging, and I thank you! You can find my 'shop' page here.
Peach Oatmeal Breakfast Clafoutis
Peach oatmeal breakfast clafoutis is an easy and delicious one-pan breakfast bake that showcases beautiful seasonal fruits. Colorado peaches raise this baked oatmeal dish to company-brunch levels. Gluten-and-dairy-free, with vegan option.
Ingredients
Dry ingredients

3

cups

rolled gluten-free oats

⅔

cup

dried currants

¼ to ⅓

cup

walnuts

or almonds, sunflower seeds, hazelnuts coarsely chopped

1

teaspoon

ground allspice or ¼ teaspoon nutmeg

1½

teaspoons

ground cinnamon

1

teaspoon

baking soda

use ¾ teaspoon at high altitude

½

teaspoon

pink sea salt

Wet ingredients

4

large eggs

slightly beaten, or 1 cup egg substitute (at high altitude use 3 eggs)

2

tablespoons

maple syrup

1

can coconut milk + ⅓ can water

¼ can water at high altitude

⅓

cup

coconut oil

melted

1

teaspoon

vanilla extract

optional
To add on the second day
2-3

peaches

sliced in thin wedges (or apple, plum, etc)

½

cup

blueberries

optional

Coconut Oil or MCT oil to grease the pan

about 1 tablespoonful
Instructions
Stir the dry ingredients together. Mix the wet ingredients, except for the fruit garnish and oil for greasing. Then stir the wet into the dry.

I recommend letting the mixture soak together, covered and refrigerated, for at least two hours, preferably overnight. Soak time is not included in prep time.

Preheat the oven to 350 F. (at high altitude use 375 F.)

Oil a 9 x 13 baking dish.

Spread the mixture evenly in the oiled pan. 

Garnish with the sliced fruit. For the clafoutis pictured here, I sliced the peaches about ¼ inch thick and used just over 2½ peaches (3 inch diameter). I could have sliced them a little thicker and used all 3 peaches. I added the blueberries because I had them on hand and it was a way to cover more of the oatmeal.

Bake for 35 minutes (40 minutes at high altitude).

Remove from the oven and allow to cool for at least 10 minutes before slicing. 

Garnish with a dollop of coconut yogurt and enjoy with more fresh fruit! 

Refrigerate leftovers. Consume within 5 days. 
Notes
The clafoutis is tolerable cold as a quick breakfast, though people who don't like oatmeal may find it a bit dense like that. It's quite good reheated, though, and about 30 seconds or so in the microwave seems to actually plump up the oats a bit. The reheating reduces the glue-like texture that cooked oats can take on. 
I usually cut the clafoutis into 12 pieces and assume each serving is two of them when garnished with non-dairy yogurt and extra fruit.
Please pin for later!