The sauce for this pecan-garlic-salmon pasta is a savory, country-style blend of salmon, pecans, coconut milk and white wine. It's a garlicky, non-tomato-based topping for pasta that gives you an easy second meal whenever you have leftovers from a large fillet like the one I used for my Crusted Pecan-Mustard Salmon.
I have long been trying to recreate this dish based on one I enjoyed in Honolulu, at an Italian restaurant called Sabrina's. Sabrina's was nestled in a little shopping area not far from our house - and there was a real Sabrina who would come to the table and ask us how our meal was! They've closed now, perhaps to retire, but the restaurant held its own on that corner for years, despite a lack of parking and seemingly few guests on some nights.
Dining at Sabrina's was that lovely European experience in which you choose antipasti, primi and secondi and then plan to sit and visit with your fellow diners for hours as your courses arrive.
I never asked Sabrina how she made this dish because the last time we went there a year or so ago, it was no longer on the menu, it was a busy night, and I thought I could just ask her another time. But I remember this pasta dish being absolute comfort food. My version tastes as close as I remember, though I suspect hers had more white wine than mine. And of to make this dairy-free, I've used coconut milk rather than the cream I think the original had.
Sabrina's recipe contained walnuts, which I'd have preferred to use - but I didn't have any and chose to use what I did have in my pantry (pecans) and my yard (rosemary).
Maybe this is the sort of simple, homey dish your Italian grandma might have served. Not being Italian, but being a grandma, maybe it's appropriate.
Anyway, if you want a different way of serving your omega-3 fish, this is worth a try! It's a great way to use the ends of the salmon that are less likely to get eaten because they don't slice into such pretty fillets. And if you have any asparagus left, chop that in too. But at my house, that always disappears with the first meal.
See my Crusted Pecan-Mustard Salmon for directions for cooking the salmon you see below.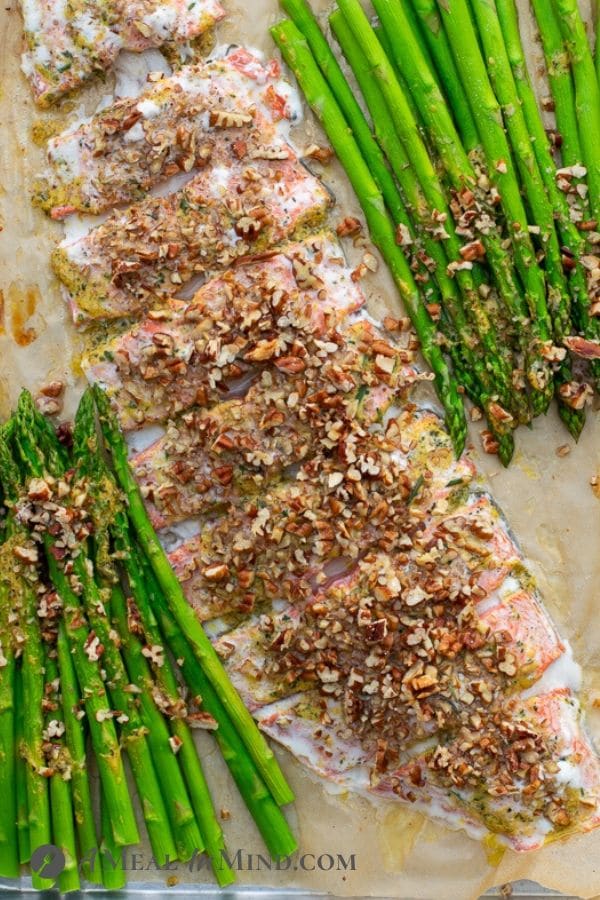 Is this a healthy meal?
Salmon, olive oil and grass-fed butter all are high in heart-healthy fats. If you do make the dish with walnuts, their healthy fat content is higher than that of pecans.
The meal is gluten-free with gluten-free pasta (I used Banza) and dairy-free with olive oil and coconut milk.
Can I use smoked or canned salmon for this dish?
Yes, either would work in this recipe. When using the smoked salmon, because it has so much flavor of its own, I'd reduce or eliminate the mustard and I'd taste carefully when I was adding the vinegar or lemon.
Please pin for later!
Can I use other fish in this recipe?
Steelhead trout would be the closest in color and flavor to salmon, and is considered a more sustainable catch. A firm fish would be the best match in texture. But cod, tilapia and barramundi are common in fish/pasta recipes, as are shellfish.
If you have a chance to make this recipe, please share!! And leave me a comment so that I know how it went for you.
AND if you are Italian and have a similar recipe, I'd love to see it. How close did I get?
Enjoy,
Beth
Other seafood recipes you may enjoy
Garlic Dijon-Herb Salmon Baked in Parchment
Thai Green Coconut Milk Mahi Mahi Curry
Easy Massaman Salmon or Steelhead Curry
Shrimp Pasta with Olives and Artichoke Hearts
Shop Pecan-Garlic-Salmon Pasta
Links to products for purchase are affiliate links. If you click on a link and make a purchase, I may earn a small commission on the sale at no additional cost to you. This helps me with the costs of blogging, and I thank you! You can find my 'shop' page here.
Pecan-Garlic Salmon Pasta
The sauce for this pecan-garlic-salmon pasta is a savory, country-style blend of salmon, pecans, coconut milk, and white wine. It's a garlicky, non-tomato-based topping for pasta that gives you an easy second meal with leftover salmon.
Ingredients
2

tablespoons

butter or good olive oil

1

small onion

finely chopped

2

tablespoons

garlic

minced or pressed

1

cup

toasted or raw walnut

or pecan pieces, chopped

½

teaspoon

black pepper

½

teaspoon

salt

13

ounces

1 can full-fat coconut milk

½

cup

white wine * optional but highly recommended

1

tablespoon

spicy brown mustard

2

tablespoons

white wine vinegar or lemon juice or a mixture of the two

1

tablespoon

fresh rosemary

minced

¾

pound

of the cooked salmon from Crusted Pecan Rosemary Salmon- skinned and flaked

¾

cup

leftover cooked vegetable such as asparagus from the sheet pan recipe

or zucchini, or peas (optional)

1

pound

pasta - cooked until desired doneness

I used Banza garbanzo spaghetti

Parsley/rosemary to garnish
Instructions
Saute the chopped onion in the butter or olive oil until becoming translucent, 5-6 minutes.

Add the garlic and saute until fragrant, about 1 more minute. 

Stir in the walnut pieces until they are coated with oil and, if you have used raw pieces, until they are a little toasted. Season with salt and pepper.

Pour in the coconut milk, wine and mustard. Continue to cook on low-medium heat until the sauce thickens a bit. Add the vinegar or lemon juice and taste the sauce. The vinegar or lemon should wake up the flavor of the sauce without making it too sour. 

Gently stir in the rosemary and the chopped salmon and taste again. It can be slightly salty as the pasta will soak up some of the salty flavor. Stir in the optional leftover cooked vegetable. 

Place the cooked pasta into bowls and serve the sauce over, garnishing with extra chopped rosemary or parsley.
Pin for later!