Bold and savory garlic dijon-herb salmon in parchment bakes up moist and flavorful with a tangy garlicky sauce. Use whatever herbs you have in your garden!
If you want tender, flaky salmon, this is the recipe for you. And you can easily make it a weeknight dinner.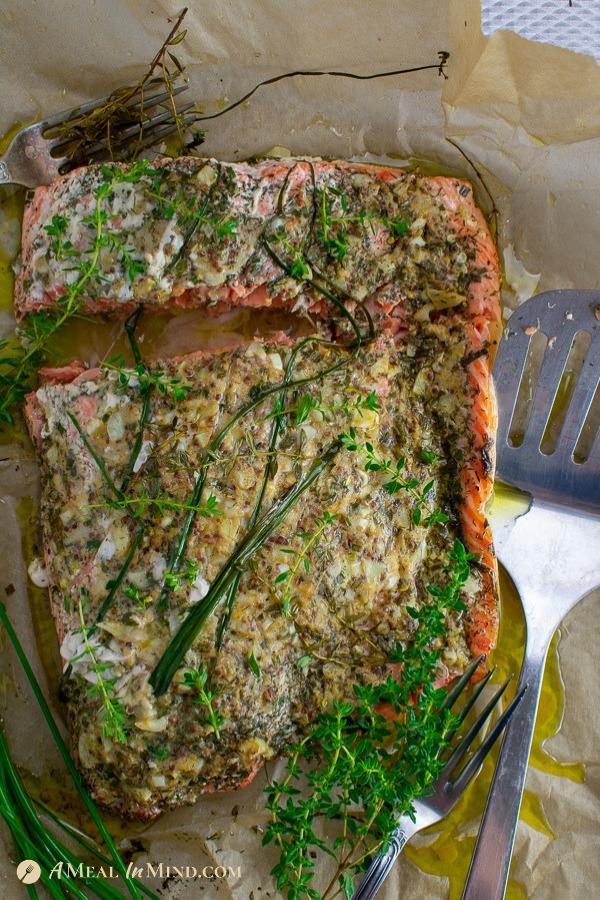 My daughter-in-law said that she thought this was the best salmon recipe I'd made so far. That's always such a great thing for a home cook to hear!
(And I thought some of my other fish recipes, like the Massaman Salmon Curry, were pretty darn good!)
In this easy recipe, the garlic, herbs and two mustards are a savory combo and a great complement to salmon's slight sweetness.
Is parchment paper better than foil?
In French, baking food in parchment paper is called en papillote. In this simple technique, the food gently poaches inside the parchment, so that the flavors meld and juices don't dry out.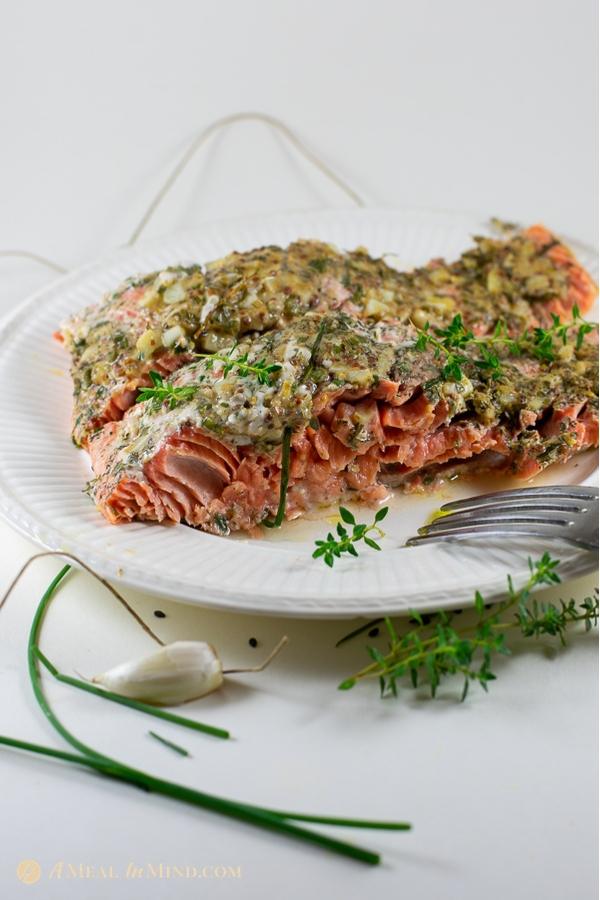 I believe it's safer to bake in parchment than in foil. Aluminum reacts with acids, even very mild ones. Foods are slightly acidic, even salmon, which doesn't taste sour, and mustard, which does because of its vinegar content.
Thus, acidic foods coming into contact with aluminum can slightly dissolve it. If you have ever seen tiny holes in foil that you used to cover a pan of tomato-ey lasagna, that's why. I just don't want to eat the aluminum that dissolved onto my food!
The only downside of baking en papillote vs foil is that you can't throw a parchment paper packet onto your grill!
Why use brown parchment paper?
We use brown parchment paper to avoid the risk of dioxin leaching into the food from white, bleached parchment. You may need to purchase brown parchment at a health food store, but I see it at stores like Target as well.
I find the parchment paper sheets more often than the roll. Fortunately, the sheets fit my baking pan perfectly, but the roll of parchment is more economical, especially if I want to cut small pieces or rounds. See shopping links for both types.
Steps in making salmon en papillote
Place the salmon on a sheet of parchment on your baking pan, drizzle with olive oil and spread the oil evenly with a spoon. I got a little carried away with drizzling the oil on here - you don't need this much!
Sprinkle with herbs and a little salt and pepper. Make the sauce by mixing up your garlic, more herbs, and olive oil, then spread the garlic-herb paste onto the salmon.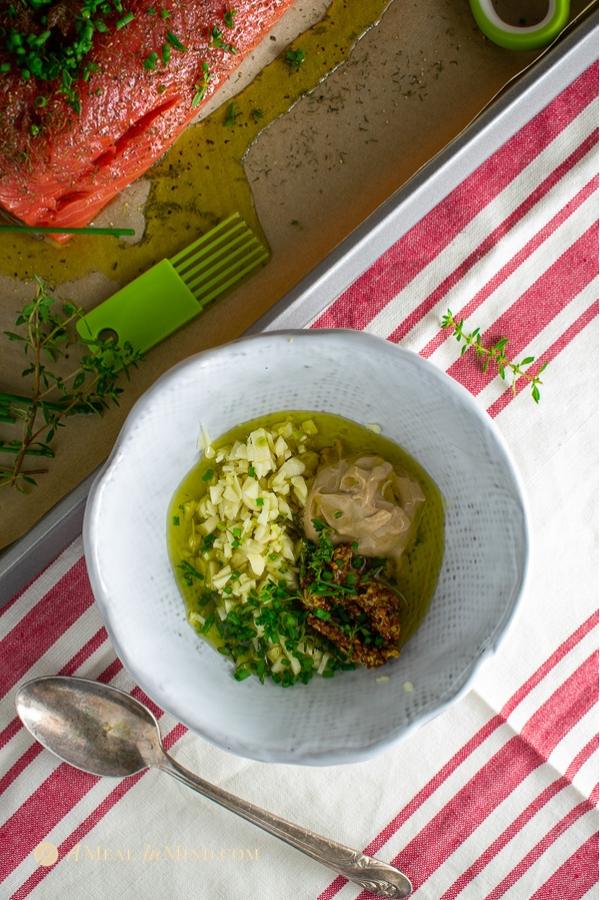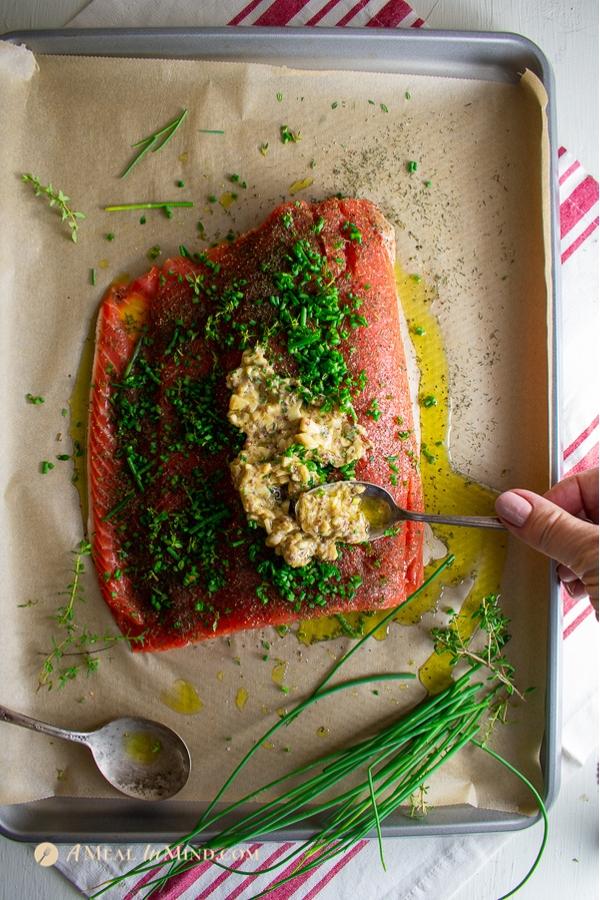 Sprinkle with more herbs if you like, then wrap and tie the parchment in both directions to form a packet. Any kitchen string will do; I use this hemp string.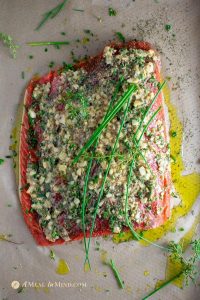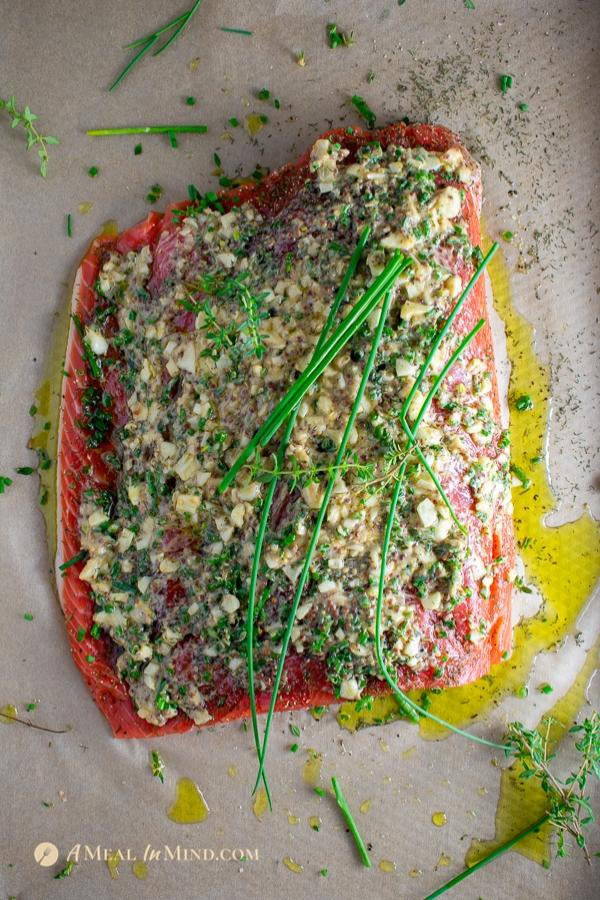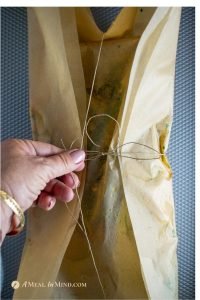 Bake, unwrap and serve!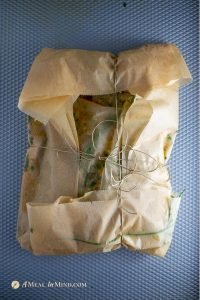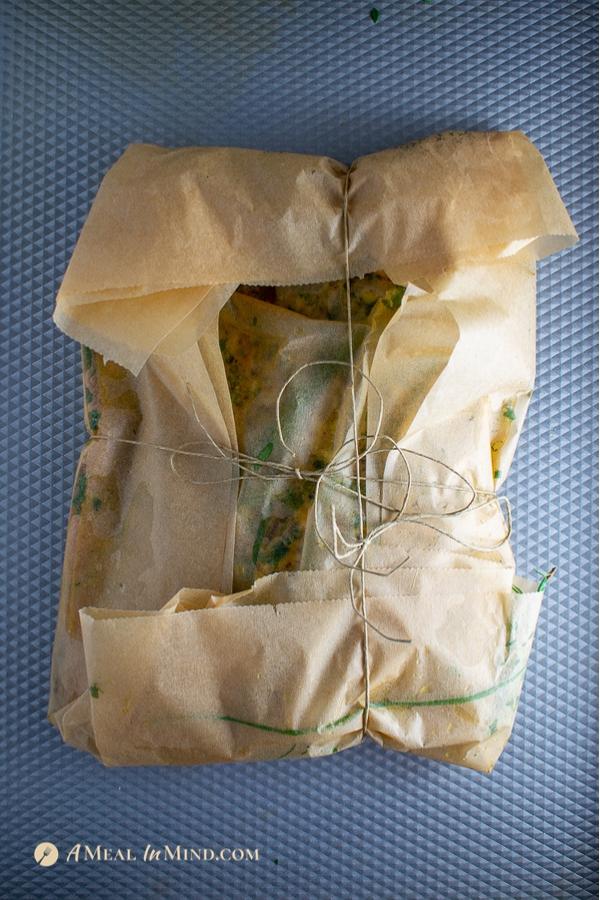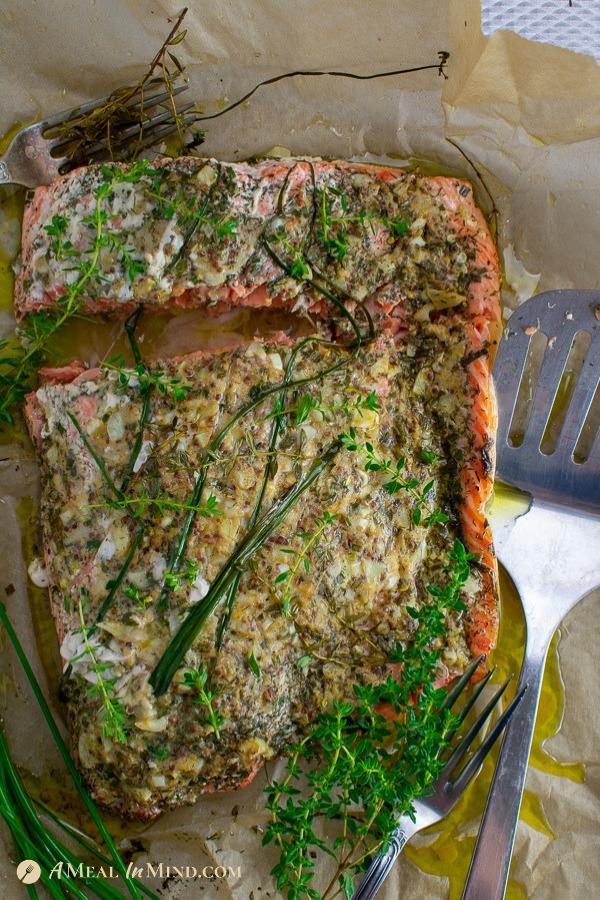 Should I use salmon or steelhead?
Although I often choose steelhead trout because of its high sustainability ratings, my Denver family members prefer wild salmon. The photos here show half of a beautiful fillet from Costco. The only downside of buying fish at Costco is that it's twice as much fish as I need for this meal! Already planning another tasty dish ...
I personally love the softer, mild texture of the steelhead trout, and I encourage you to try it if you haven't. Salmon is firmer, and will be more familiar to more people.
Pin for later!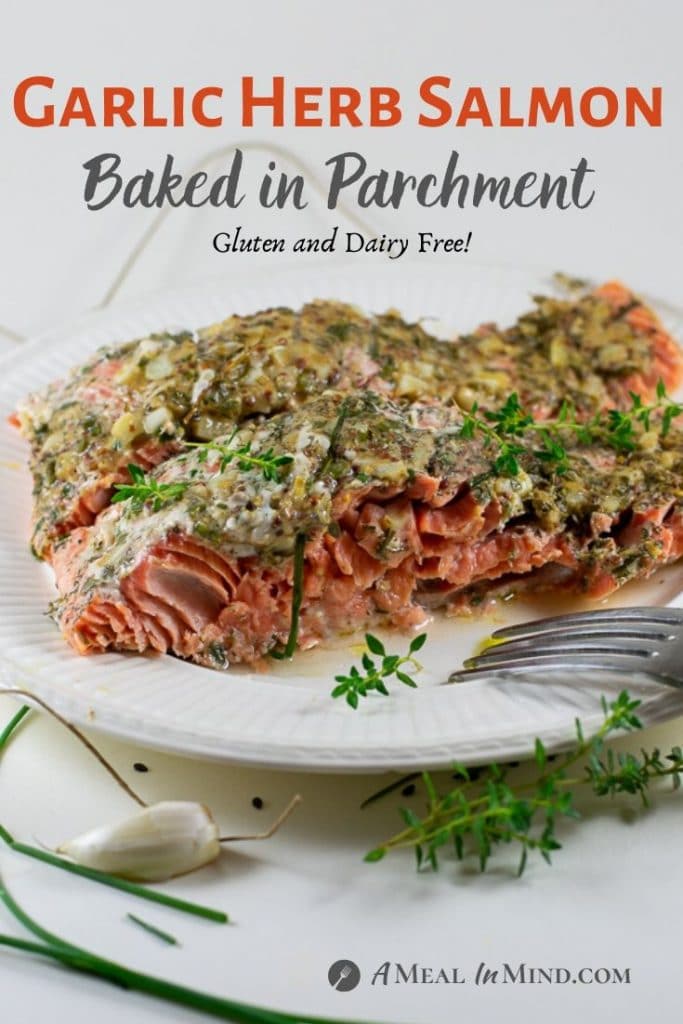 As always, if you made this recipe, please leave me a comment to let me know how it went.
Beth
Other fish recipes you may enjoy
Easy Massaman Salmon or Steelhead Curry
Veracruz Style Steelhead or Salmon
Seared Opah with papaya-avocado salsa
Shop garlic dijon salmon baked in parchment
Links to products for purchase are affiliate links. If you click on a link and make a purchase, I may earn a small commission on the sale at no additional cost to you. This helps me with the costs of blogging, and I thank you! You can find my 'shop' page here.
Garlic Dijon-Herb Salmon Baked in Parchment
Bold and savory garlic dijon-herb salmon in parchment bakes up moist and flavorful with a tangy garlicky sauce. Use whatever herbs you have in your garden, as I did! If you want tender, flaky salmon, baking in parchment is the method for you.
Ingredients
For the Fish
1

wild salmon fillet

about 1 ½ pounds

1-2

tablespoons

olive oil

salt and pepper to taste

about ⅛ teaspoon each

1

teaspoon

dried dill

or Italian seasoning herbs if you prefer
For the Garlic Dijon Sauce
3-4

tablespoons

olive oil

2

tablespoons

dijon mustard

2

teaspoons

whole grain dijon mustard

2

tablespoons

minced garlic - mince or press

salt and pepper

to taste (I used about ⅛ teaspoon each)

1

tablespoon

each fresh chopped thyme and chives
Instructions
Place a sheet of parchment paper onto a rimmed baking sheet and set the fillet in the center. Drizzle salmon with olive oil, rub using a spoon over the whole surface, then season with salt, pepper, and the dried dill or Italian seasoning. 

To make the sauce, stir together all ingredients in a bowl. 

Spread the sauce evenly over the salmon. Sprinkle with remaining herbs. 

If your salmon fillet is very large, as mine was, you will need two sheets of parchment paper. Place the second sheet of parchment paper over the salmon. Holding the side edges together, fold them toward the center and tie using string to seal closed so no juices leak. Repeat with the top and bottom edges, forming a packet. If your salmon is smaller, you may be able to create a packet with just one sheet of parchment. 

Bake the salmon in its parchment paper pack at 350 degrees F for 22-30 minutes (see note). 

When you untie the packet, be careful as steam may escape, with the risk of burns. Top with additional fresh chopped herbs if desired and serve. 
Notes
For the Italian seasoning dried herbs, you can also substitute with ¼ teaspoon each dried oregano, dried thyme, dried basil, and dried parsley. 
The time will depend on the thickness of the fish, your preference for how cooked the fish should be and your altitude. At 22 minutes a 1-inch thick fillet of fish will still be slightly pink in the center, and some of my family members like it that way. At 30 minutes the fish will have cooked all the way through, which others in my family prefer. At sea level, you may need to bake for a shorter time. 
Recipe adapted with thanks from this site. 
Pin for later!