Sheet-pan crusted pecan-mustard salmon with asparagus will be your new favorite, quick company dinner. Top your salmon fillets with butter (or ghee, or olive oil), nuts, mustard and rosemary, and after 20 minutes of baking, the meal is ready.
Enjoy this easy, quick recipe with Seasoned Salt Potatoes, which can be finished in the Instant Pot in the same time that you are preparing the fish and asparagus.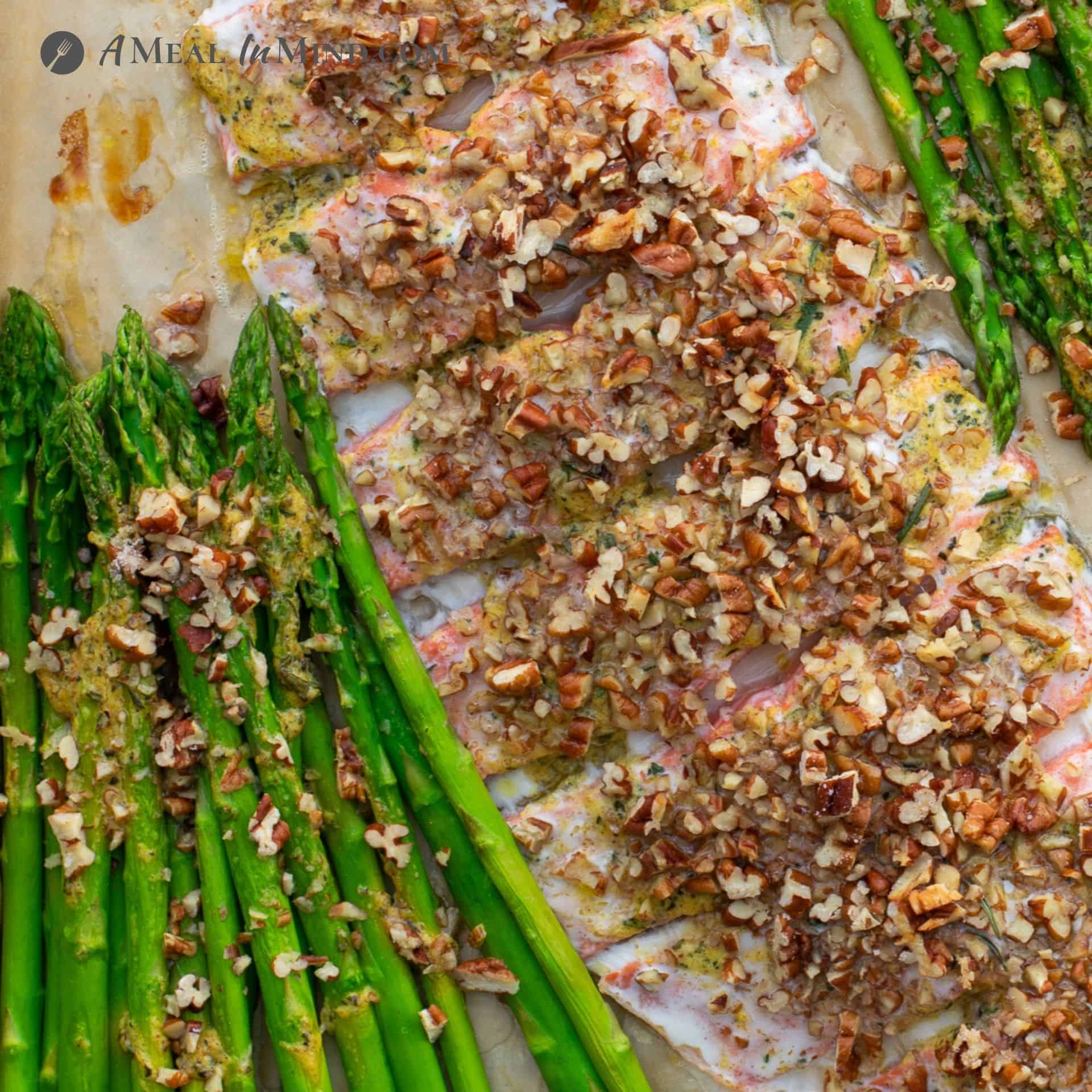 Salmon or steelhead?
I enjoy both salmon and steelhead trout in one-pan dishes because all you need to do to prep is to slice and arrange the fillets. The two fish are similar in flavor but steelhead fillets tend to be thicker, taking a few more minutes to bake. The thinner fillets of salmon can sometimes dry out sooner than I like, and in this dish the butter, nuts and mustard protect the delicate texture of the salmon.
Steelhead is considered very sustainable compared to wild salmon according to the Monterey Bay Seafood Sustainability List, so we buy the steelhead when it's available. You may hesitate to eat steelhead because it is farmed, but steelhead maintains its high omega-3 fatty-acid content when farmed, while salmon does not.
In the day we bought this at Costco, only the wild salmon was for sale, so we decided to enjoy it this time. To get the most out of the single, 1-¼ pound fillet, we made it into two meals (meal #2, a pasta dish using the leftovers, to come).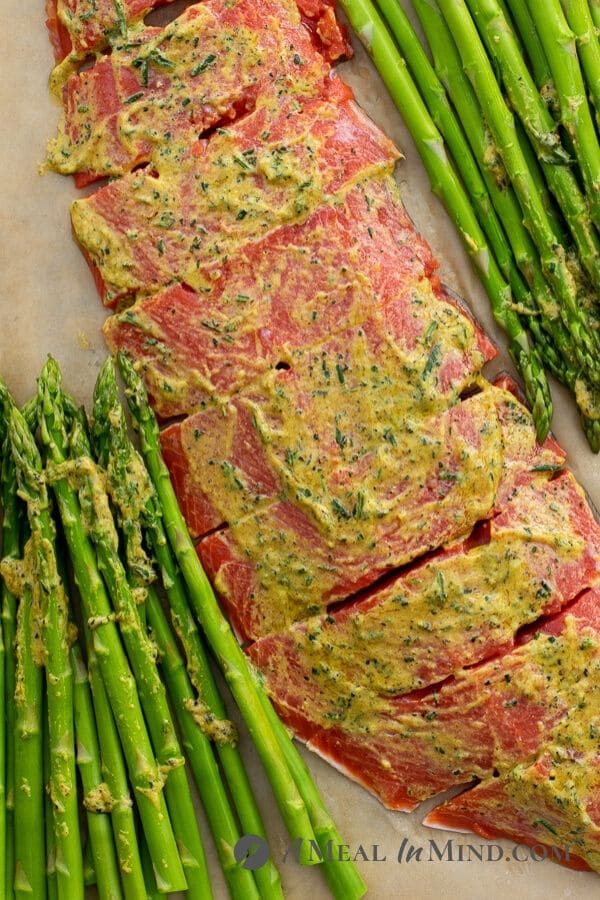 Pecans or walnuts?
Pecans often win on taste, with their naturally buttery flavor, while walnuts are healthier, with their higher omega-3 fatty acids. Walnuts can have a bitter flavor that some people don't like even if they want to be healthy. So, how to choose?
Luckily, the relatively strong flavors in this dish are perfect to counteract that bitterness in walnuts. The rosemary and mustard have just enough flavor without overpowering the salmon's sweetness. Either pecans or walnuts would add variety and crunch on both the fish and the asparagus.
No matter which you buy, there is no need to toast the nuts first, as they will crisp up during baking. And you don't need to spend a lot of extra money buying nut halves, unless you plan to make a pecan pie with the rest - you're going to chop them up anyway.
What other vegetable can I use besides asparagus?
I chose asparagus partly because of its color contrast, the fact that I could buy it fresh and partly because it was locally grown and in season.
If you want this to bake on a single sheet-pan, the vegetable also needs to cook in the same length of time as the salmon. Any vegetable that you enjoy nearly-raw would work here: zucchini, bell peppers, tomatoes. For other vegetables like broccoli, brussels sprouts or root vegetables, you'd either need to slice them very thin, or start them in advance of the fish.
Please pin for later!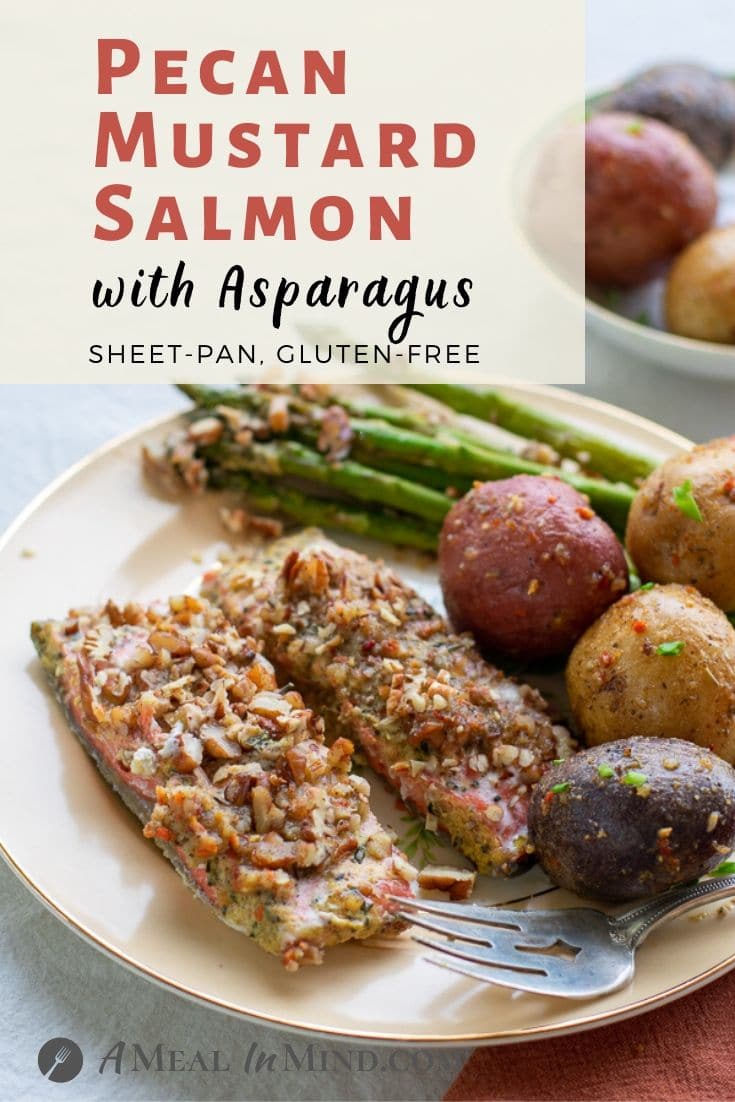 If you have a chance to try this recipe, please leave me a comment to let me know what you thought and how it went!
Beth
Other seafood recipes on A Meal In Mind
Garlic Dijon-Herb Salmon Baked in Parchment
Easy Massaman Salmon or Steelhead Curry
Miso-Lemon Baked Steelhead Trout
Veracruz Style Steelhead or Salmon
Shop Pecan-Mustard Salmon with Asparagus
Links to products for purchase are affiliate links. If you click on a link and make a purchase, I may earn a small commission on the sale at no additional cost to you. This helps me with the costs of blogging, and I thank you! You can find my 'shop' page here.
Crusted Pecan-Mustard Salmon with Asparagus
Sheet-pan buttery crusted pecan-mustard salmon with asparagus will be your new favorite, quick company dinner. Season to taste, and serve in 20 minutes.
Ingredients
1¼

pounds

of salmon

cut into fillets

¾

cup

chopped raw pecans or walnuts

1 ½

tablespoons

chopped fresh rosemary

big pinch of salt and pepper

3

tablespoons

dijon mustard

3

tablespoons

melted butter

ghee or good olive oil

1

tablespoon

dry sherry or honey

optional

1

pound

asparagus spears

tough ends removed
Instructions
Preheat oven to 350-375 degrees depending on thickness of salmon. Line small baking sheet with parchment paper.

Chop nuts and finely mince the rosemary. 

Melt butter in small dish. Add mustard and rosemary, then salt and pepper. and combine.

Place fillets onto prepared baking sheet and arrange the asparagus alongside. Drizzle mustard/rosemary/butter mixture onto each fillet and the asparagus.

Distribute nuts evenly over the butter mixture. .

Bake for 15-20 minutes or until salmon flakes easily with a fork and is cooked through. (Aim for 15 minutes if you like the fish very tender in the middle as we do). 
Notes
Please pin for later!