This company-dinner shrimp pasta with olives and artichoke hearts is full of Mediterranean flavors that are enhanced with white wine and a little feta. If you love kalamata olives and marinated artichoke hearts (I often eat both right out of the jar) you will love this!
How do you make the recipe gluten-free?
We used gluten-free pasta, particularly rice angel hair pasta. But any pasta would be delicious. The finer the pasta, the more surfaces the flavorful sauce has to cling to.
I simmer the sauce just long enough to allow all the rich flavors to blend, then add the shrimp to cook in it. Last, I garnish with some fresh parsley for a color contrast with the bell peppers.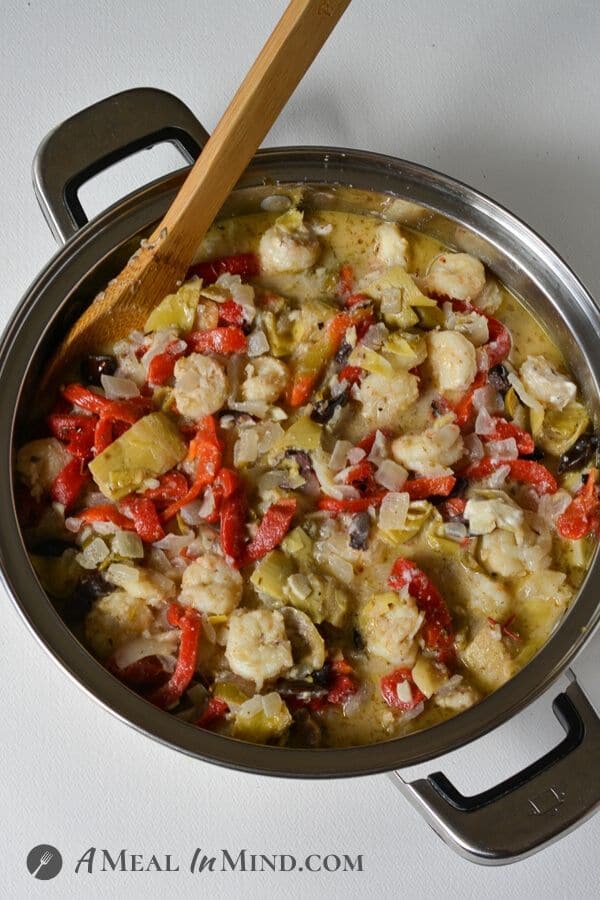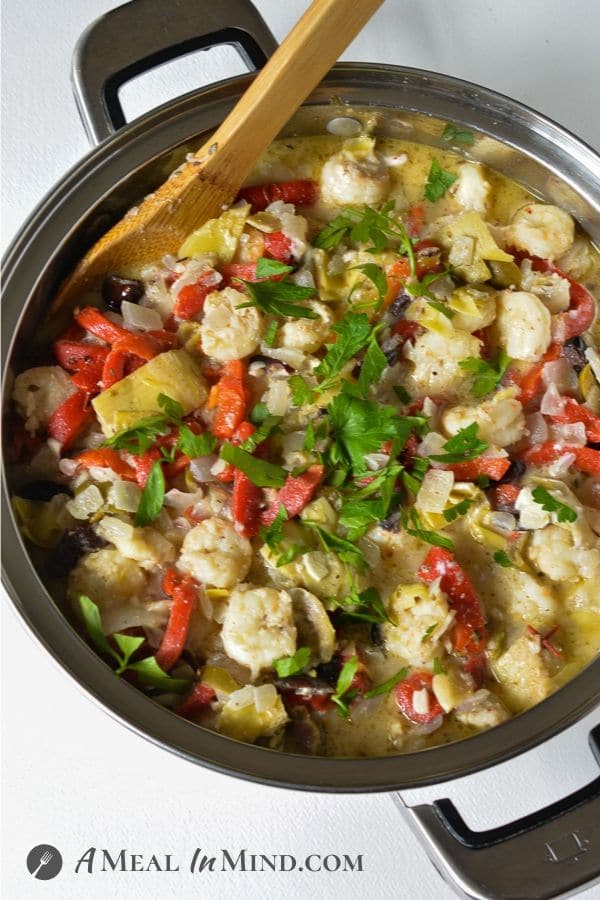 The recipe that inspired mine called for sun-dried tomatoes, which I always find a little chewy. But this dish would be very beige without some red! So I was really happy I had included the bell pepper strips for color.
These bell pepper strips are very mild and they also absorb the strong olive and vinegar flavors. Yum!
I served this dish recently to friends who loved the tart notes of flavor from the Kalamata olives, artichoke hearts and wine. I used small Key West shrimp, which we all thought were fantastic here, though they didn't turn as pink as I expected.
We cooked the pasta at the last minute and served the sauce on top, because they are the kinds of friends who like to spend a bit of time puttering in the kitchen together.
Can I make this pasta shrimp dish ahead of time?
Of course. To make the dish ahead of time, prepare the sauce and the pasta. It's best to undercook the shrimp slightly, as they will get tough otherwise when reheated.
Then use a fork to twirl the cooked pasta into 8 bundles and place evenly in your baking dish. Spoon the sauce over the pasta, cover with foil, and refrigerate. Warm it for about a half hour, covered, in a 325 degrees F oven as guests are arriving.
Pin for later!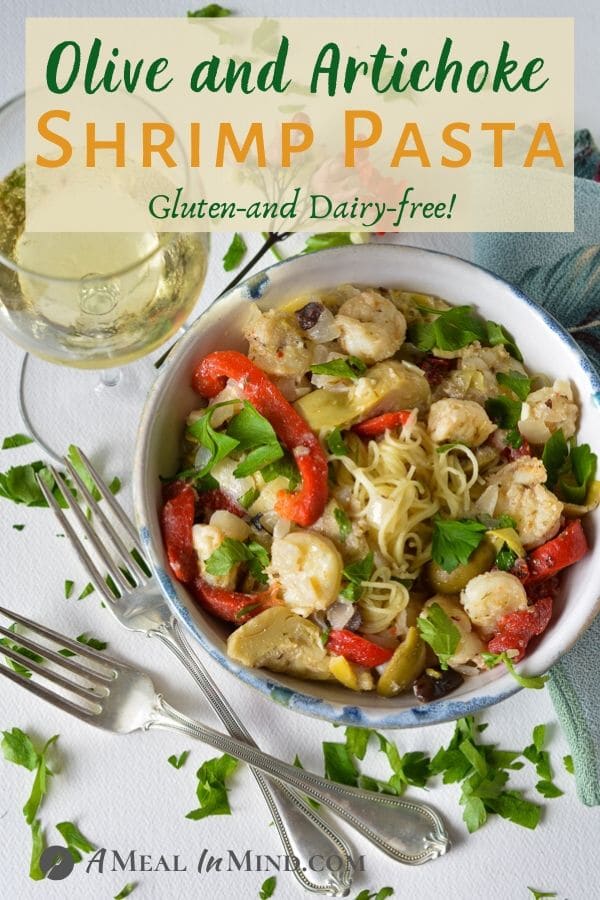 However you serve it, it's a tasty and showy dish that looks like you spent a lot of time in the kitchen. But really, it's the ingredients that do the work.
If you make this recipe, please let me know in the comments how it went! And kindly share on social media!
Beth
Other seafood recipes you may enjoy
Roasted Shrimp with Broccoli and Cherry Tomatoes - One Pan
Easy Massaman Salmon or Steelhead Curry
Steelhead Potato Chowder with Bacon
Shop Shrimp pasta with olives and artichokes
Links to products for purchase are affiliate links. If you click on a link and make a purchase, I may earn a small commission on the sale at no additional cost to you. This helps me with the costs of blogging, and I thank you! You can find my 'shop' page here.
Shrimp Pasta with Olives and Artichoke Hearts
This company-dinner shrimp pasta with olives and artichoke hearts is full of Mediterranean flavors and enhanced with white wine and a little feta. We used gluten-free pasta, but any pasta would be delicious.
Ingredients
1

⁄4 cup olive oil

4 -6

cloves

garlic

minced

1

sweet onion

chopped fine

1

tablespoon

fresh oregano

minced (or 1 teaspoon dried)

1¼

cup

marinated artichoke hearts

plus ¼ cup of the marinade

1

cup

roasted bell pepper strips

drained (I used Jeff's)

¾

cup

pitted kalamata olives

chopped

1½

teaspoons

sea salt

½

teaspoon

freshly ground black pepper

¾

cup

dry white wine

½

cup

coconut milk

or more if desired

2

pounds

shrimp

peeled and deveined

4

ounces

crumbled feta cheese

½

lemon

juiced

1

⁄4 cup chopped Italian parsley

16

ounces

fine pasta

such as gluten-free spaghettini or angel hair, cooked until al dente

extra virgin olive oil

as needed (optional)
Instructions
In a large deep skillet, heat olive oil on medium heat, and add chopped onions. Saute for about 5 minutes until the onions are starting to become translucent, then add garlic and cook for one more minute, just until fragrant.

Add the wine and coconut milk, reduce heat to low, and simmer, stirring occasionally, for 3-5 minutes.

Add the artichokes, sliced red peppers, oregano and chopped olives, and season with salt and pepper.

Add the shrimp to the pan, and cook over moderate heat until the shrimp curl and turn pink, several minutes. Stir in the lemon juice, half the parsley and the feta. Check the seasonings and add salt or pepper to taste. At this point you may wish to add more coconut milk, artichoke marinade or wine if you want to dish to contain more sauce. 

While you are simmering the shrimp, cook the pasta. Cook pasta until al dente, according to package directions (the Angel Hair took 4 minutes). Toss pasta with a little extra virgin olive oil to keep it from sticking together. 

Fold in the cooked pasta, tossing to mix, until everything is evenly blended. Or serve the pasta on the side and have your guests take the amount they want, then spoon the sauce over it. 

Sprinkle the dish with the rest of the parsley. 

Serve hot, with a green salad.
Pin for later!