A satisfying, tasty and gluten-free breakfast, these pie-spiced pumpkin pancakes have a protein boost in the form of added collagen powder. So easy to stir together and cook up for your next breakfast! And they reheat well -- if any are left over for the next day.
Pancakes are a great, gluten-free breakfast option. They are less time-consuming to make (for me) than a gluten-free bread, although of course that's not true if you are making a big batch.
In fact, I have fond memories of frying up batches of pancakes when camping, both with my family and with high school students. With the students, I'd have to get started pretty early to keep up with the number of people the great aromas would draw out of their tents.
Pancakes allow you to adjust the sweetness (I made them with very little coconut sugar) even from the first pancakes (which I make less sweet for me) to the last (where I might stir in a little extra coconut sugar). I can serve them as simply as I did on this platter with yogurt and walnuts or fancy them up with syrup or fruit on the side.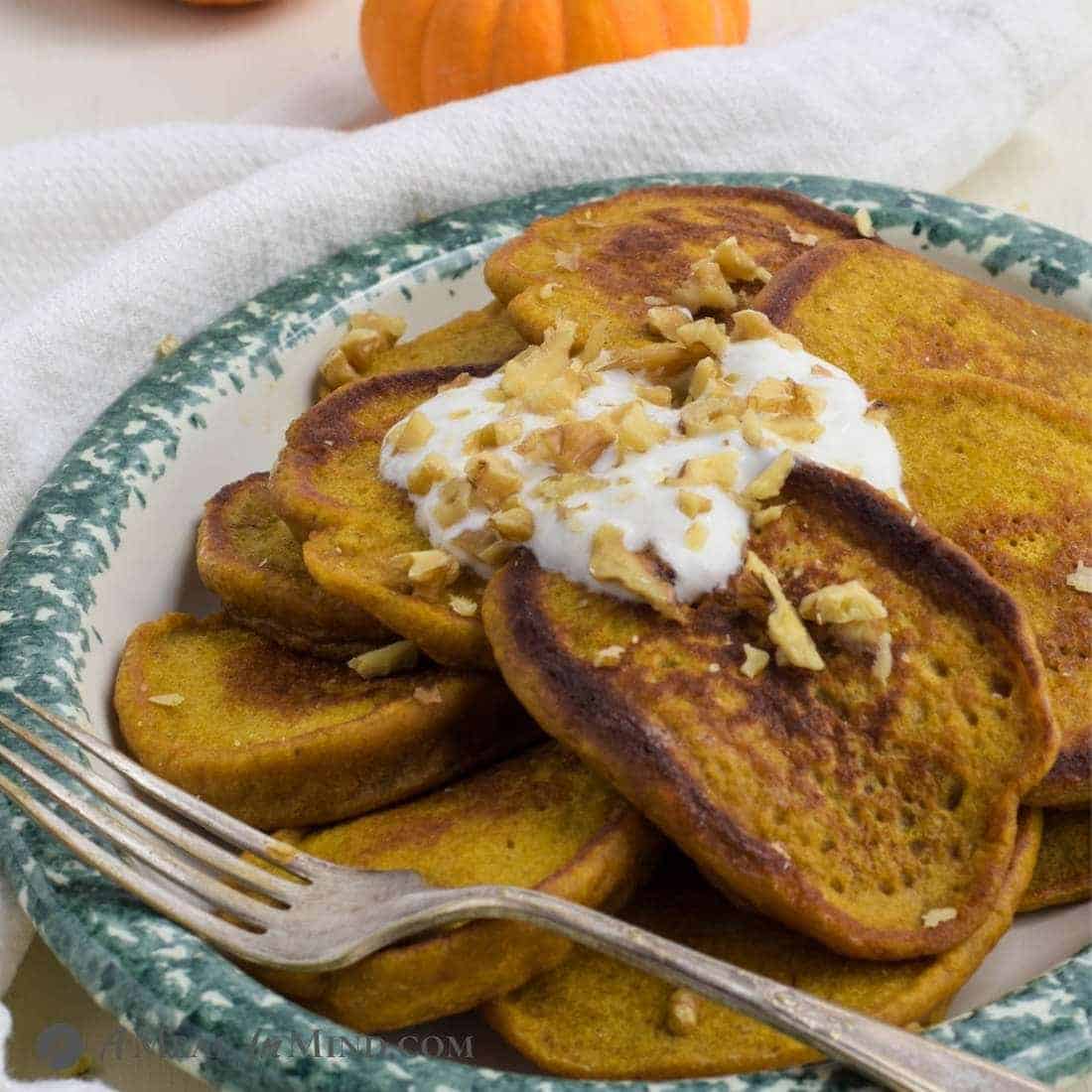 These pancakes a great toddler recipe because they're so easy for my 2-year-old grandson to eat - they are not too oily and the cut pieces stay on a little fork pretty well. And I'm not concerned that it's a sugary breakfast or snack.
I developed this pancake recipe for two reasons:
One, to use up some leftover pumpkin from another project; and
Two, because I knew how good they would taste with my apple-pluot butter - talk about a great fall flavor combo.
I liked mine best (as in, devoured!) with plain yogurt and apple-pluot butter. They would be great with maple syrup for a sweeter breakfast.
These pumpkin protein pancakes need a half cup of pumpkin puree, so are perfect if you have a little left over from your baking. You can use the canned pumpkin or any roasted pumpkin that you've made for another recipe.
Ingredient tips
Though this is not a sponsored post, I want to clarify that the gluten-free flour is Better Batter and the added protein is Thrive market's collagen peptides. Other great brands to check for the collagen are Great Lakes and Vital Proteins.
You can use any kind of milk but I use oat milk so my lactose-intolerant daughter-in-law can enjoy the pancakes freely. For baking I will use whatever brand I have on hand, though for drinking or in tea I like Oatly.
Once you've assembled everything, it's easy to stir the dry ingredients in one bowl and the wet ingredients in the other. Then stir the wet into the dry until the dry ingredients are all hydrated. Let stand while you heat the pan - the batter will thicken a lot.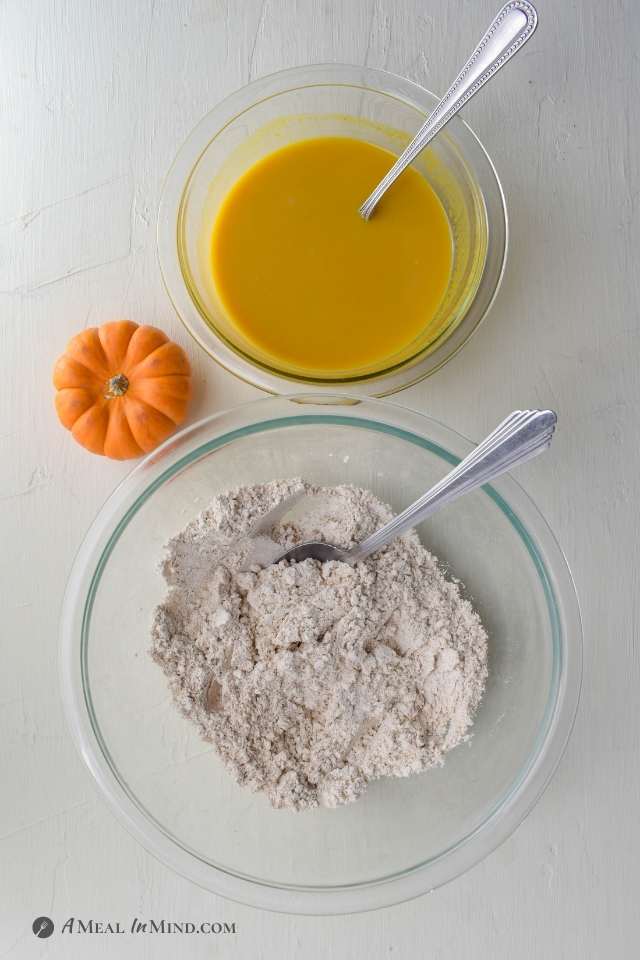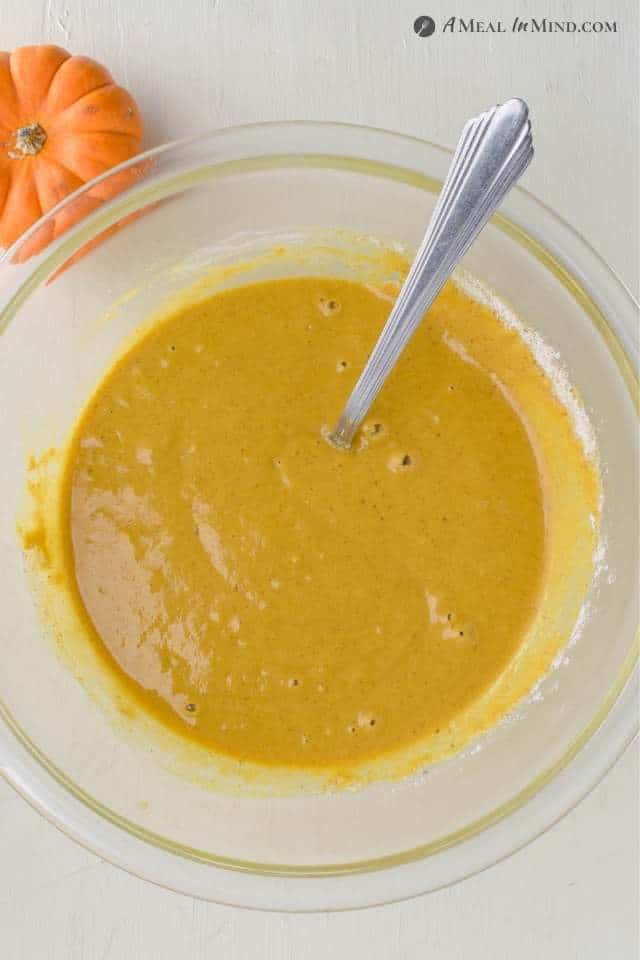 Adding collagen to a pancake increases the protein content but of course the pancakes would not be vegan or vegetarian. For a vegan option, in addition to subbing a flax egg for the chicken egg, you could use another protein, like pea. The collagen makes them a little stretchy and spongy. We enjoy the stretchy texture and a thinner pancake, but I can't vouch for the effect of the pea protein.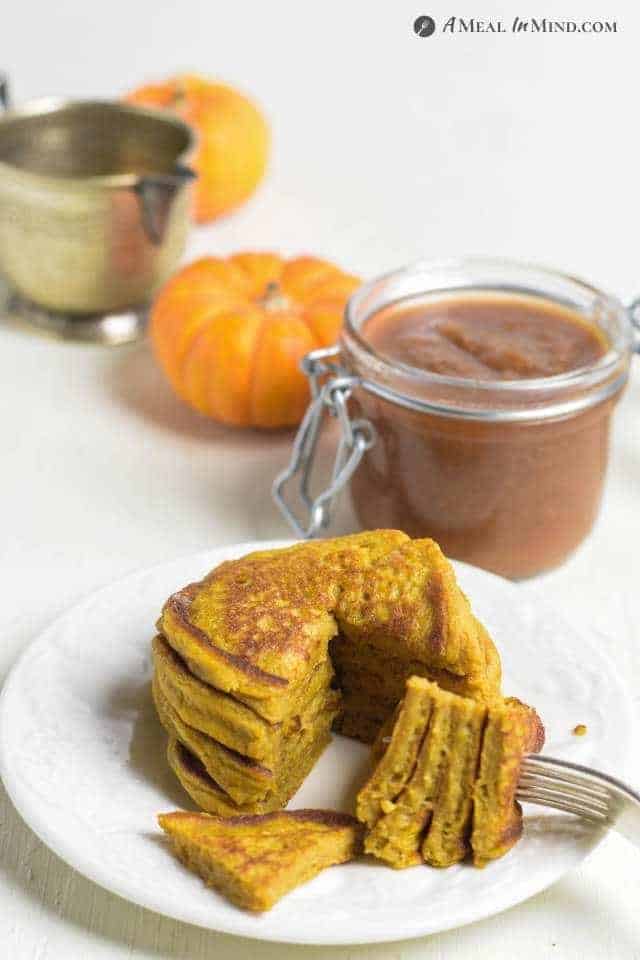 Bear in mind, though, that the collagen keeps the pancakes from forming and holding as many bubbles as they otherwise might while cooking. The flavor is still great -- just don't expect them to stay puffy even if they do rise while on the pan.
If you make this recipe, please let me know! Leave a comment, rate it, and don't forget to tag a photo #amealinmind on Instagram. I'd love to see what you come up with. Thank you so much!!
Beth
Other breakfast recipes you may enjoy
Peach Oatmeal Breakfast Clafoutis
Plum Breakfast Cake with Plum Caramel Sauce - Paleo
Quinoa Chia Breakfast Pudding with Mango, Banana and Yogurt
Sweet Potato Sausage Broccoli Breakfast Bake
Shop Pumpkin Protein Pancakes

Links to products for purchase are affiliate links. If you click on a link and make a purchase, I may earn a small commission on the sale at no additional cost to you. This helps me with the costs of blogging, and I thank you! You can find my 'shop' page here.
Pumpkin Protein Pancakes
A satisfying, tasty and gluten-free breakfast, these pie-spiced pumpkin pancakes have a protein boost in the form of added collagen powder. So easy to stir together and cook up for your next breakfast!
Ingredients
1

cup

gluten-free flour

I used Better Batter

1

teaspoon

baking powder

¾ teaspoon at high altitude

¼

teaspoon

baking soda

1

teaspoon

pink sea salt

1½

teaspoons

pumpkin pie spice

or 1 teaspoon cinnamon, ¼ teaspoon nutmeg, ⅛ teaspoon ginger, ⅛ teaspoon cloves

2

tablespoons

coconut sugar

double for a sweeter pancake

½

teaspoon

xanthan gum

1

tablespoon

collagen peptides powder

1

tablespoon

olive oil or a neutral oil

optional

1

egg

lightly beaten, or 1 flax egg

1

teaspoon

apple cider vinegar

½

cup

pumpkin puree

canned or homemade

1¼

cups

milk of choice plus up to ¼ cup more in case the batter becomes thick

I used oat milk, full fat

1

teaspoon

vanilla extract

Butter

ghee or coconut oil for the pan, about 4 teaspoons for a nonstick pan
Instructions
Combine the dry ingredients in a medium mixing bowl.

Combine the wet ingredients in a small mixing bowl.

Add the wet ingredients to the dry and stir until all the lumps of flour have been incorporated. Allow the dry ingredients to hydrate while you heat the skillet, at least 2-3 minutes. You may wish to add more oat milk if your batter is quite thick. 

Heat the skillet on medium to high heat until a drop of water bounces off and sizzles. 

Grease the pan with a teaspoonful (or more if you wish) of butter or coconut oil.

Use about 3 tablespoonfuls of batter per pancake. Cook on the first side until bubbles appear at the top and the top begins to look dry. 

Carefully flip the pancakes and brown the other sides. Remove to a plate and repeat with the remaining batter. Sometimes I need to add another tablespoonful of oat milk for the last few pancakes. 
Notes
Using salted butter or ghee for cooking the pancakes gives a slightly crisper top and bottom compared to coconut oil, plus a slight saltiness. You may wish to add slightly less than 1 teaspoon salt to the batter if you are cooking with butter. 
I have stopped adding oil to the pancakes; they are moist enough without it. 
Gluten-free flours and collagen powder both absorb a lot of moisture. The batter may seem runny at first but thickens quickly. The amount of thickening will depend on the flour and collagen powder you use.
Please pin for later!