This delicious low-sugar Paleo apple-pluot butter is made with seasonal apples and pluots - perfect for enjoying on biscuits, pancakes or breads. It's a Paleo recipe since the sweetener is coconut sugar. If your fruit is very sweet, you might find you prefer to leave the sugar out.
Last year I made apple butter using some "imperfect" Jonathans I had bought from Ela Family Farms. The Jonathan is still my favorite for apple butter, with macintosh a close second. But once you have made your own fruit butter, you realize almost any fruit will work, such as my peach butter.
And, you want to have some of this spiced treat around for those breakfasts or brunches that need just a little fruit garnish.
The flavor is very similar to apple butter but there is a certain silkiness from the stone fruit. Plus, it's a little easier to pour, as when we tried it on pancakes.
I missed the big boxes of Jonathans this year because I just recently returned to Denver from Honolulu, and I was in quarantine for two weeks with others shopping for me. We didn't get to the Farmer's Market until last week!
What I did have were some Honeycrisp and Empire apples that needed to be made into a recipe - plus the pluots - and this was it.
I know people seem to like the Honeycrisp, but I'm not wild about it as an eating apple. Would they would be tart enough for the apple butter? Rather than risk a bland fruit butter, my solution was to add a tart fruit, in this case pluots.
Is there butter in apple butter?
Fun fact: There is no butter in fruit butter. The name comes from the fact that the apples are cooked down to make a spread that is the texture of butter. I have had a passion fruit butter spread that did contain butter, though - boy, that was good.
What's the difference between apple butter and applesauce?
Applesauce is a stage on the way to apple butter; apple butter is cooked longer. And apple butter, like this apple-pluot butter, is more likely to have spices added, like cinnamon or cloves.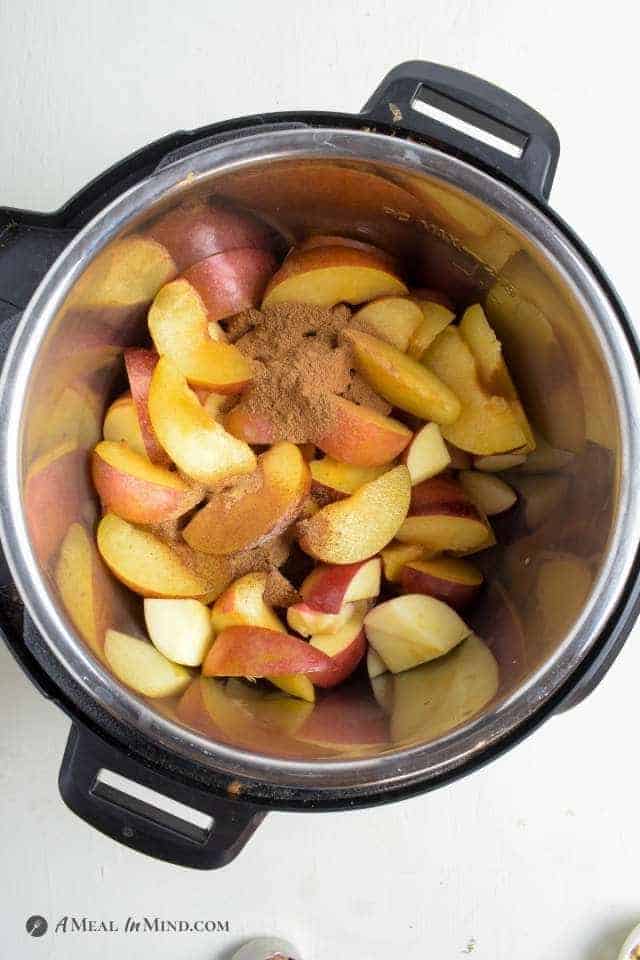 How long does it take to make fruit butter?
Pressure-cook process: about 1 ½ hours
The high slow-cook setting on your Instant Pot: about four hours.
Be sure to add the recommended amount of water if you pressure-cook so that you don't get a "burn" message on your Instant Pot. You may need to simmer to reduce it later, but it may turn out thick enough.
Then I strongly recommend using an immersion blender right in the pot to puree your cooked fruit and spices. If it's not thick enough to mound up in the spoon or on pancakes, set the Instant Pot on slow-cook (I use medium) for about a half hour to evaporate some of the water.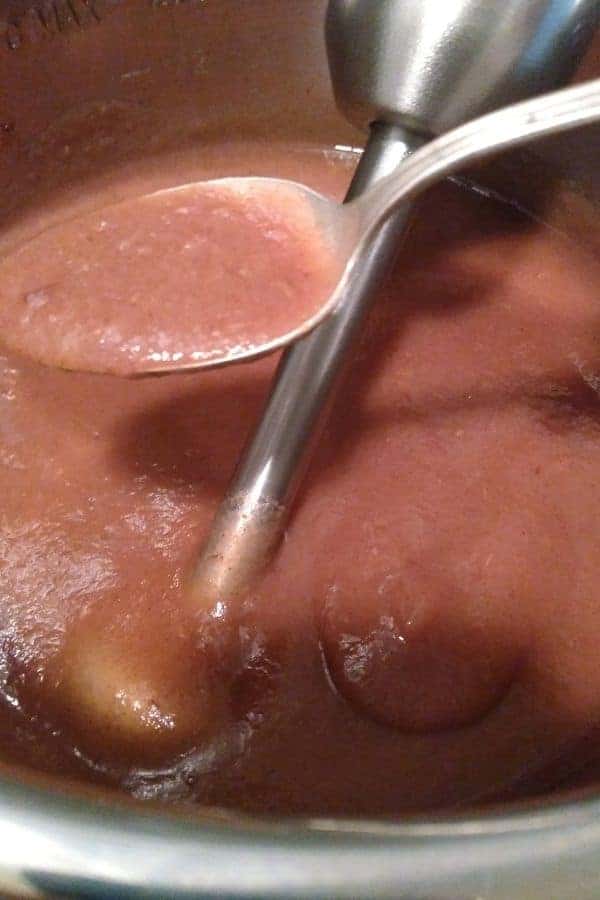 What apples are best for Paleo apple-pluot butter?
Tart apples: Jonathan, Braeburn, Granny Smith
Medium-tart apples: Empire, Gravenstein, McIntosh
Taster's comments
There was not as much plummy flavor as apple in this product, tasty though it was on our pumpkin pancakes. Next year I will make this recipe with some of the earlier plums that tend to be more tart - I can't wait!
This recipe was included in an extensive collection of recipes using apples in the Instant Pot:
Beth
If you make this recipe, please let me know! Leave a comment, rate it, and don't forget to tag a photo #amealinmind on Instagram. I'd love to see what you come up with. Thank you so much!!
Other recipes you may enjoy
How to Make Apple Butter (Vegan, Paleo)
Slow-Cooker Peach Butter 3 ingredient
Shop Paleo Apple-Pluot Butter
Links to products for purchase are affiliate links. If you click on a link and make a purchase, I may earn a small commission on the sale at no additional cost to you. This helps me with the costs of blogging, and I thank you! You can find my 'shop' page here.
Apple Pluot Butter in the Instant Pot - Vegan and Paleo
This delicious low-sugar Paleo fruit butter is made in the Instant Pot with seasonal apples and pluots - perfect for enjoying on biscuits, pancakes or breads. Only 5 ingredients!
Ingredients
2

pounds

unpeeled organic apples

5 or 6

2

pounds

pluots

or plumcots or plums (4 or 5

1

scant tablespoon pumpkin pie spice

or 2 teaspoons ground cinnamon, ¼ teaspoon allspice, ⅛ teaspoon cloves

⅓

cup

water

2

tablespoons

coconut sugar

optional, for overall sour fruit (I do not use any with Jonathans but did here)

½

tablespoon

apple cider vinegar or lemon juice

more for very sweet apples
Instructions
Wash the fruit.

Core and cut the apples into slices or chunks.

Cut wedges away from the pluot seeds. 
Place the fruit, spices, water and vinegar or lemon juice into your Instant Pot. Then follow one of these two methods:
Instant Pot Pressure-Cook Method: Cover and cook on the Pressure-cook or Manual setting for 15 minutes. When timer is finished, let pressure in pot release naturally for about 15 minutes. After 15 minutes, turn the Instant Pot off, turn the dial to the Vent position and let any remaining steam release. 
OR:
Instant Pot Slow-Cook Method: Cover and slow-cook on high heat for 3 hours.

Remove the lid, and drain any water that has collected in the lid into the sink (*see note).

Puree with an immersion or stick blender. If you don't have a hand-held blender, allow the apple-pluot butter to cool for about 30 minutes, then transfer it in batches to a standing blender. Puree until lumps are gone. 

If you want it a little thicker, and it's still in the IP, let the Instant Pot sit open on medium heat for another 30 minutes or more, stirring every 10 minutes or so. If not, pour it back in. 

When the apple butter is thick enough, it should mound up when you dip a spoon into it. Or, when you drag a fingertip through it on the spoon, the apple-pluot butter should not fill in the space. Careful - wait until the spoonful is cool enough to touch before you try this! 

Taste your apple-pluot butter and adjust the sweetness or acidity by adding more coconut sugar or apple cider vinegar, and stir well. The amounts of both depend so much on how sweet or tart your fruit is, plus your own taste preferences.
Notes
About a tablespoonful of water can collect in the lid of the Instant Pot. If you lift the lid straight upward, then tilt it over the sink, the fruit butter will have that much less water to eliminate by heating.
Please pin for later!
.