This Sweet Potato Sausage Broccoli Breakfast Bake is the perfect make-ahead meal for a Mother's Day brunch. It's a mouthwatering combination of sausage, sweet potatoes, broccoli, onions, and eggs. Gluten- and-dairy-free!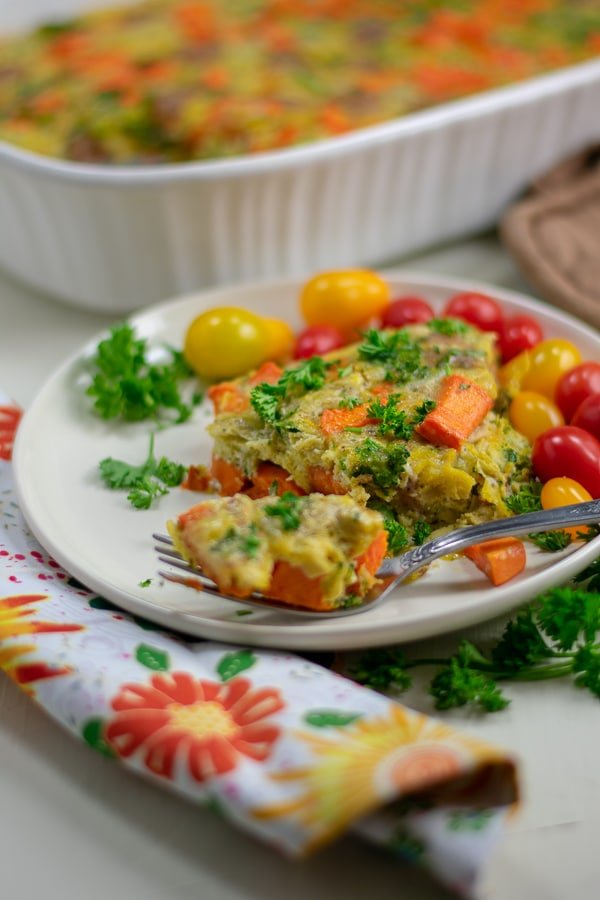 Cooking Tips
You'll chop, sauté and assemble the dish the night before. I like this for two reasons. One is because then I can tidy up the kitchen and not worry about that the next day. Two, if I'm making this for another mom, it can be something of a surprise for her!
As soon as you wake up in the morning, take the casserole out of the fridge, preheat your oven to 350°F and pop the casserole in. You can then go about your morning routine while you let the casserole bake for about 35-40 minutes.
Tip: If you are not refrigerating it overnight, bake for the shorter amount of time.
This is a two-pan meal because I sauté in a non-stick wok, then transfer the vegetables and sausage to a baking dish. If I had more room in my refrigerator (which I never do), I could prepare the entire dish in my 6-quart Lodge dutch oven. That's just a thought for you - and I've included an affiliate link below in case you're curious about which one.
In any case, to create maximum flavor, sauté the sausage and vegetables in oil to tenderize them and to flavor the oil. This way, all ingredients will be perfectly done when the eggs have baked.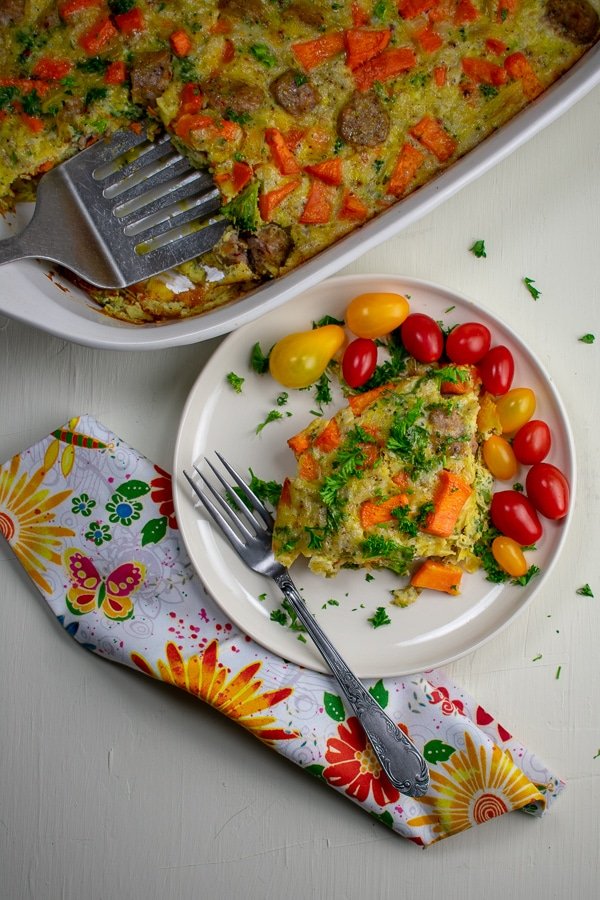 Flavor options
Customize the seasonings to your taste! If you don't have any of the seasoning blends I suggest, you can assemble your own. One or two of your favorite herbs (thyme, rosemary, tarragon or savory come to mind), pepper and salt would do it.
You can add cheese if you are eating dairy, but I don't think you will miss it if you don't. Coconut milk and Dijon mustard give the eggs a creaminess and savory flavor that's almost like using cheese. If you want a cheesy flavor, add a couple of tablespoonfuls of nutritional yeast to the egg mixture. The coconut milk gives this dish the softer texture of a crustless quiche rather than the eggy firmness of a frittata.
The sweet potatoes provide a flavorful carbohydrate balance to the eggs. They're not at all too sweet for this savory dish, but you can use white sweet potatoes for a less-sweet option.
Ingredients and Tips
This post may contain affiliate links. If you click on a link and make a purchase, I may earn a small commission on the sale at no additional cost to you. This helps support my blog, and I thank you!
My favorite

coconut milk

is from Thrive Market. It has a subtle sweetness and smooth consistency.
Annie's organic dijon mustard has a wonderful flavor without being too tart
High-quality

olive oil

is important for flavor and nutritional quality, whether from California or Europe
The mixed-herb, no-salt seasonings I use come from either Bragg's, Trader Joe's or Costco; all include pepper.
I love my Corningware ceramic baking dish for the evenness of heating, easy-grab handles and ease of cleaning. If you want to try this recipe as a one-pan dish, the Lodge 6-quart Dutch oven is a great option - just be aware that it weighs 13 pounds!
Shop Sweet Potato Sausage Broccoli Breakfast Bake
Other breakfast recipes you may like:
Flourless Oatmeal Coconut Milk Pancakes
Peach Oatmeal Breakfast Clafoutis
Moringa Fruit-Nut-Ola Grain-Free
Enjoy, pin or otherwise share and let me know if you tried the recipe!
Beth
Sweet Potato Sausage Broccoli Breakfast Bake
This Sweet Potato Sausage Broccoli Breakfast Bake is the perfect make-ahead meal for a Mother's Day brunch. It's a mouthwatering combination of sausage, sweet potatoes, broccoli, onions, and eggs. Gluten- and-dairy-free!
Ingredients
1

medium onion

about 1 cup chopped

⅔

pound

sweet potatoes

peeled and cubed

1.5

cup

broccoli florets

⅔

pound

Italian sausage

casings removed (we like Mulay's)

4

tablespoons

olive oil

2

tablespoons

parsley plus extra for serving

8

eggs

¾

cup

coconut milk

2

teaspoons

prepared mustard

1

tablespoon

mixed-herb seasoning

½-1 ½

teaspoons

salt

see note

black pepper

see note
Instructions
In a skillet or Dutch oven with a cover, heat 1 tablespoon of olive oil over medium heat. (If you plan to bake the casserole the same day, preheat oven to 350 degrees F.)

Add the sausage and cook until it is no longer pink, about 10 minutes.

Remove from the skillet and set aside.

Add the remaining olive oil.

Add the chopped onions and saute until they are slightly tender, 3 minutes.

Add the sweet potato, stir to coat with the oil, cover the skillet and cook for 5 minutes. Test with a toothpick - the sweet potatoes should be slightly softened but not mushy. If not, continue to cook for 2-5 minutes.

Add the broccoli florets and cook for 2-3 minutes more, uncovered.

Return the sausage to the skillet and mix to combine.

Season with salt and black pepper to taste and remove from the heat.

Pour the sausage mixture into a lightly greased 9 x 13-inch baking dish (unless you plan to use the Dutch oven for the entire dish, in which case just let the Dutch oven cool a bit).

In a bowl whisk the eggs.

Add the parsley and seasonings to taste.

Mix to combine.

Pour the eggs evenly over the sausage mixture.

Chill, covered, overnight. The next day, remove from the refrigerator for about 15 minutes before baking to take the chill off the casserole.

Bake in preheated oven, uncovered, at 350°F for 35 minutes (40 minutes if refrigerated overnight). The casserole is done when the eggs are set in the middle.

Sprinkle with extra fresh parsley, slice and serve.
Notes
For a vegetarian option, omit the sausage, increase the number of eggs to 10 and the coconut milk to 1 cup -- and add another tablespoonful of oil when cooking the vegetables.
The smaller amount of salt will give a low-salt version if you are dealing with any salt sensitivity or if your sausage is very salty. If not, use the larger amount.
If you use Trader Joe's 21 seasoning salute or Costco Organic Seasoning, you don't need to add pepper as well as they already contain it.
Please Pin for Later!
.