These tasty gluten-free buckwheat-currant pancakes are easy, nutty and hearty, and delicious with fruit and yogurt. The recipe includes both vegan and vegetarian versions. They make a great holiday breakfast for a special person!
I developed these pancakes as a Mother's Day tribute to my grandmother. She used to serve these pancakes (well, the Aunt Jemima mix version) with cottage cheese, and I thought they were as elegant as you could get.
I don't remember those pancakes being very sweet, though we probably ate them with maple syrup. But I remember how comforting they were. I've been craving this breakfast since being sheltered in place for a month and a half now.
We found buckwheat flour at a good health food store nearby. They still carry buckwheat flour in bulk and in packages by Bob's Red Mill.
My first batch was with just buckwheat flour thinking idealistically that was the perfect gluten-free option. Sadly, they came out a bit like lacy shoe leather! So, I did a number of experiments with proportions of gluten-free flour. The winner here is a 1:1 mixture of buckwheat to baking mix, with a little extra buckwheat added if the batter turns out thin.
We sweeten with a handful of currants rather than adding refined sugar. When we can't find currants, I'll coarsely chop raisins for the same effect.
But the real trick to great flavor in these pancakes is using buttermilk, or in this case a mixture of coconut milk and apple cider vinegar, both to add to the fluffiness of the pancake and to wake the flavor right up.
Steps in making buckwheat-currant pancakes
Combine the dry ingredients in one bowl and the wet ingredients in another. When mixing the wet ingredients, make "buttermilk" by stirring apple cider vinegar into the non-dairy milk you are using.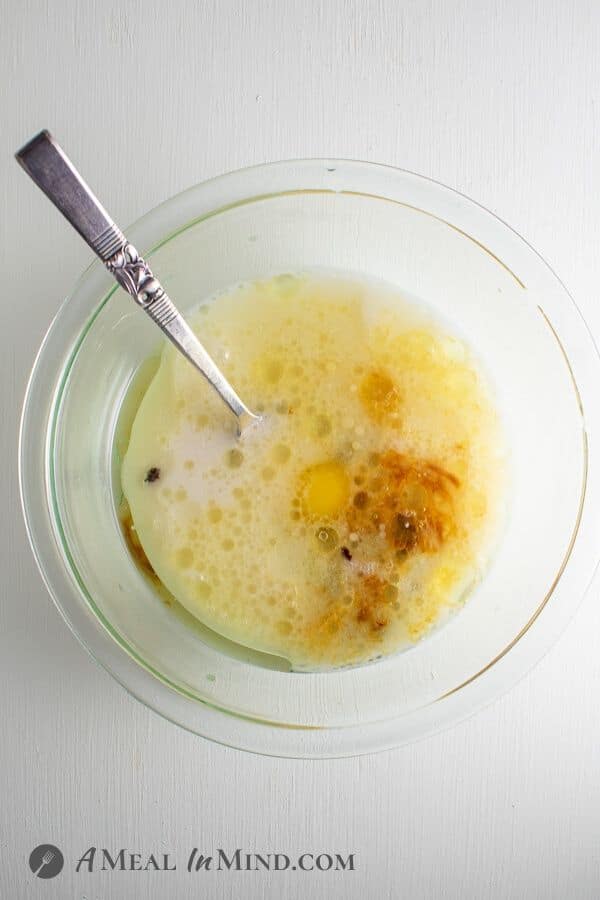 Stir the wet ingredients into the dry. This reduces clumping compared to stirring the dry into the wet. Stir until the lumps are gone, but the batter isn't too smooth. It helps to let the flours hydrate a bit as you are heating your pan.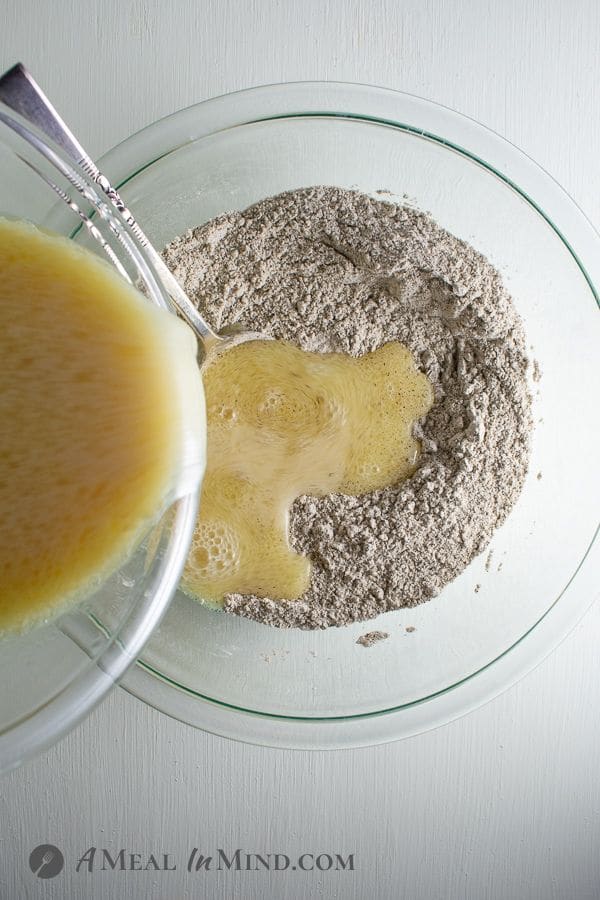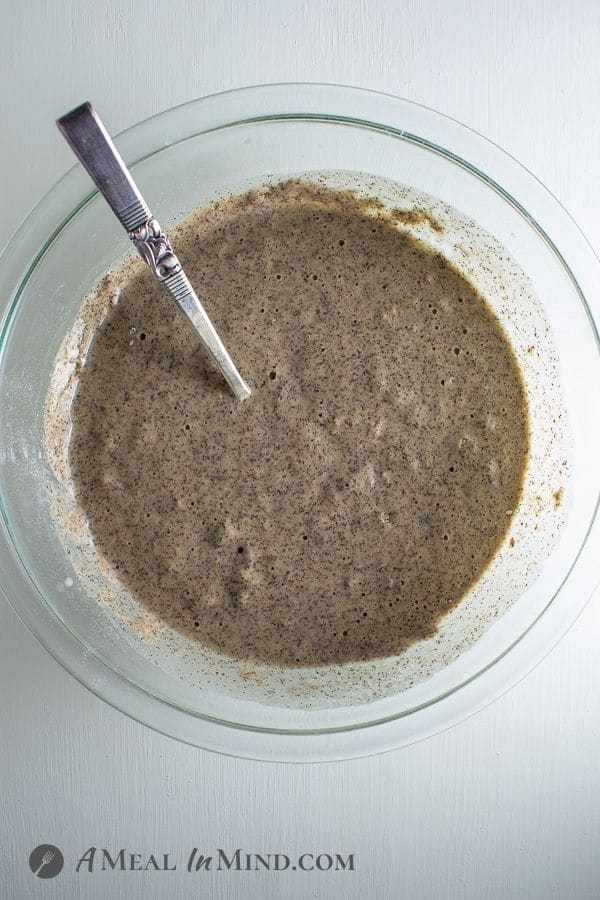 Although I don't have a shot here of pancakes cooking, you can see from the photo below how many holes formed in these pancakes. The first side only takes a minute when you have your pan just hot enough, and you'll get this golden browning on both sides.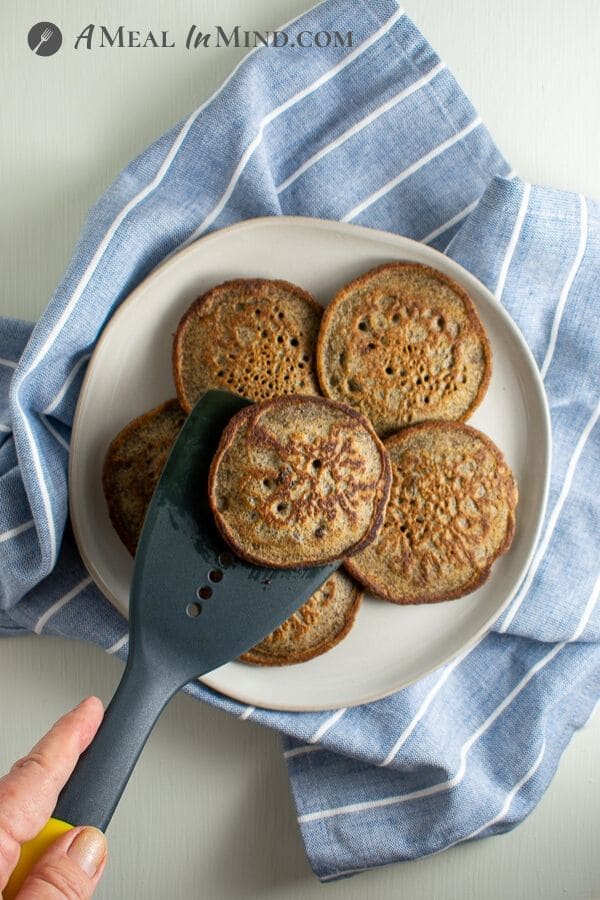 Other tips for great pancakes
The thickness of the pancakes depends greatly on the gluten-free baking mix. Be prepared to add a bit more coconut milk if the pancake batter mounds up on your spoon.
These pancakes are cooked in butter, which makes the edges crisp and enhances the flavor. To use as little butter as possible, consider using a non-stick pan.
I keep frozen wild blueberries handy and just warm them in a small pan while I'm making the pancakes. I tried adding some sugar to make them like blueberry syrup, but my eaters said the blueberry topping was better without sweetening, since the pancakes already have the currants in them. So easy!
Maybe you will be making these pancakes for someone on Mother's Day? or Valentine's?
If you have a chance to make this recipe, please share on social media, and leave me a comment so that I know how it went!
Beth
Other breakfast recipes on A Meal In Mind
Flourless Oatmeal Coconut Milk Pancakes
Peach Oatmeal Breakfast Clafoutis
Chia-Greens Peach Smoothie Bowl
Gluten-Free Oat-Hemp Protein Pancakes
Buckwheat-Currant Pancakes; Gluten-Free
Links to products for purchase are affiliate links. If you click on a link, whether or not you make a purchase, I may earn a small commission on the sale at no additional cost to you. This helps me with the costs of blogging, and I thank you! You can find my 'shop' page here.
Buckwheat-Currant Pancakes
These tasty gluten-free buckwheat-currant pancakes are easy, nutty and hearty, as delicious with fruit as with yogurt. Serve up a batch for Mother's Day!
Ingredients
¾

cup

buckwheat flour

¾

cup

all-purpose GF flour

¾

teaspoon

baking soda

¾

teaspoon

fine sea salt

½ teaspoon if using salted butter to cook the pancakes

½

teaspoon

cinnamon

1 ¼

cups

dairy or non-dairy

I used coconut milk

2

tablespoons

apple cider vinegar

4

tablespoons

avocado

or other neutral oil

¼

cup

currants or chopped raisins

1

large egg

or flax egg

1

teaspoon

vanilla extract

Butter

or coconut oil for the skillet, about 5-6 tablespoons
Instructions
In a 2-cup measure, stir the milk and vinegar together, and then set aside for five minutes. (This mixture mimics buttermilk, which when mixed with the baking soda later in the recipe, makes the pancakes fluffy.)

Meanwhile, whisk the flours, baking soda, cinnamon and salt in a medium bowl.

In a separate bowl, whisk the egg and vanilla with the milk, then stir in the oil, then the currants. (I usually start heating the pan about now.)

Make a well in the center of the flour mixture. Pour the milk mixture into the well of dry ingredients and use a spoon to stir until you no longer see clumps of flour. It is okay if the batter has a few small lumps – it is important not to over-mix the batter. If the batter seems thick (mounds up on the spoon) add a little more coconut milk. 

Check the pan (I use a ceramic nonstick skillet) with a drop of water. If the water sizzles and bounces off the surface, the pan is hot enough. The setting on my stove is around 5 where 10 is the highest. 

Once the pan is hot enough, add a teaspoonful or so of butter or coconut oil and swirl until it coats the surface. Pour about 2 tablespoons of batter per pancake onto the surface. Cook on one side until holes form around the edges and into the center, about 1 minute, then flip and cook on other side for an additional 1-2 minutes. Don't let the pan get too hot -– you want a nice, even heat but not for the butter or the pancakes to burn.

Serve with coconut (or dairy) yogurt, warmed blueberry compote (see note), and nuts! For the sweet-lovers among you, offer syrup on the table.
Notes
For a simple unsweetened blueberry compote, pour about a cup of frozen blueberries into a small sauce pan. Warm them over low heat, until completely thawed, as you are making the pancakes. Spoon them over the pancakes and enjoy!  
Ideas from inspired taste
Please Pin for later!