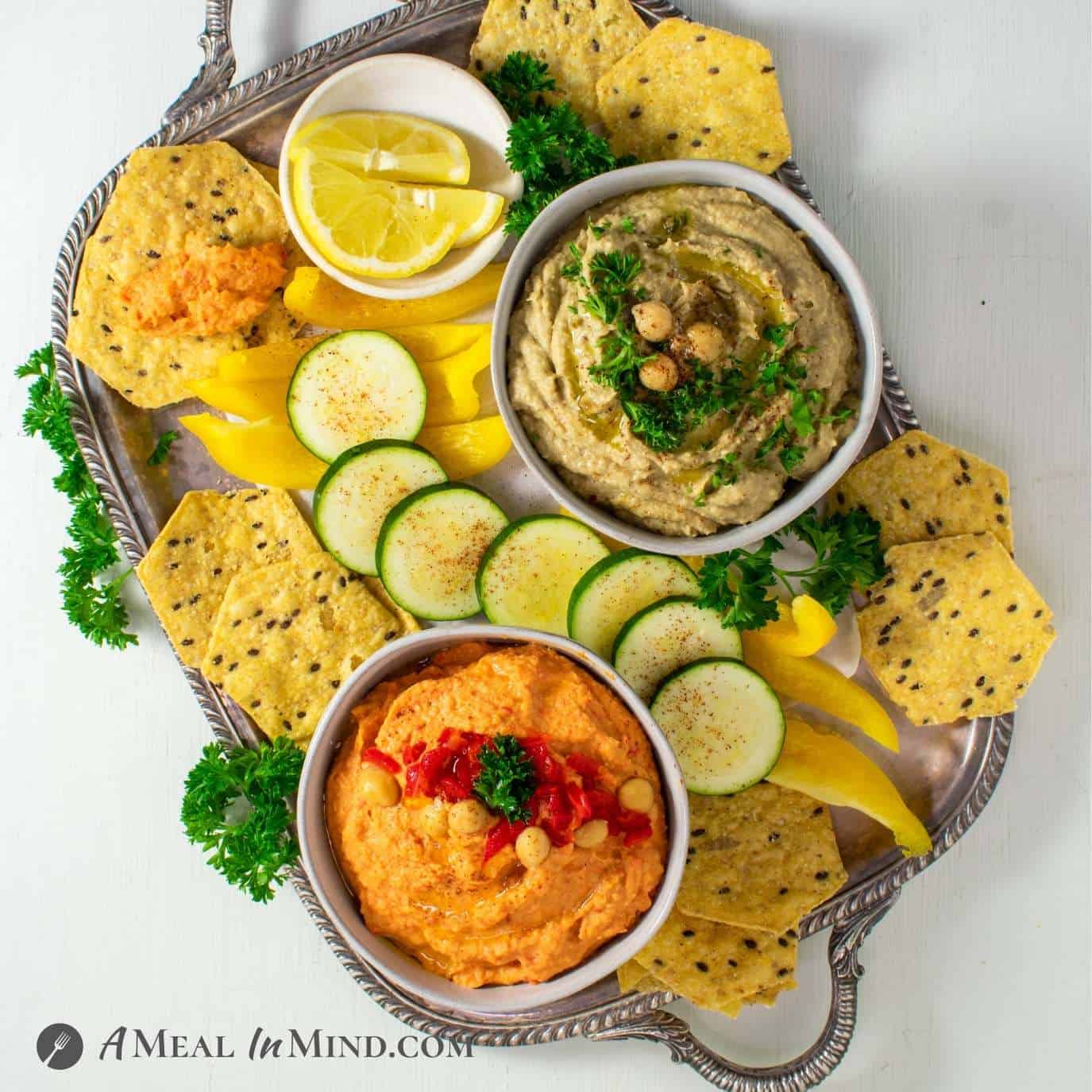 Two hummus recipes with little extra time
In these two hummus recipes, just changing the roasted vegetable gives each dip a unique flavor and color. Once you've roasted the vegetables, you just toss one set of ingredients in the food processor, blend, repeat and serve.
I don't know about you, but during the summer of 2020 (during the coronavirus stay-at-home orders, that is) we we've been home much more than ever before. When you're home it's easy to grab what's easy from the fridge when you start feeling hungry!
So, it was always best if we thought ahead and prepared healthy dips like hummus, and kept whole-grain chips like the Late July brand in the pantry.
I've made several other varieties of hummus, all delicious: tomato-pesto hummus, beetroot hummus, spinach-artichoke heart hummus and Moroccan roasted carrot hummus.
We liked them all, so which one to make next?
One day, when we were roasting vegetables for my roasted summer vegetable soup, we decided to roast some extra eggplant and bell peppers and make a hummus platter. Pita bread would be a traditional dipper of course, but we always have multi-grain chips around for all us gluten-free eaters.
This is just one of the trays of roasted vegetables, but you get the idea.
We saved out the right amounts for the hummus recipes and the rest went into that great soup.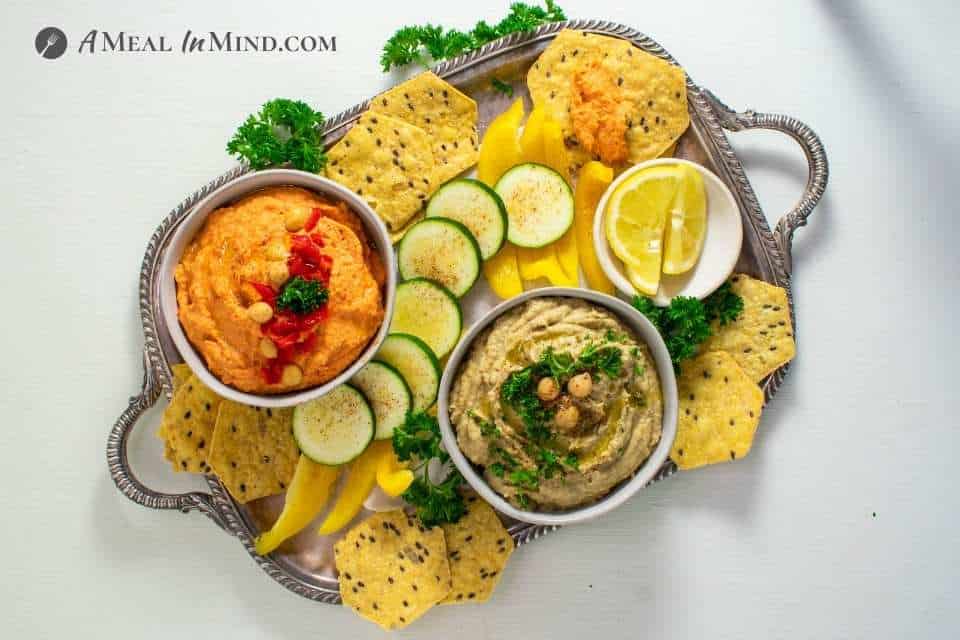 The two recipes are essentially the same except for the star vegetable in each. And, I don't even wash the food processor between the batches.
Can I use canned chickpeas or cook my own?
As for the chickpeas, I cooked a full cup in the Instant Pot, which makes the equivalent of two cans, or 3 cups of cooked beans (see how to cook dry beans) and divided the result among the two batches of hummus. I like the economy of cooking my own and not having cans to dispose of.
Here are the assembled ingredients for the eggplant hummus. I scraped the pulp and seeds away from the skins, which I also do when making baba ghanoush.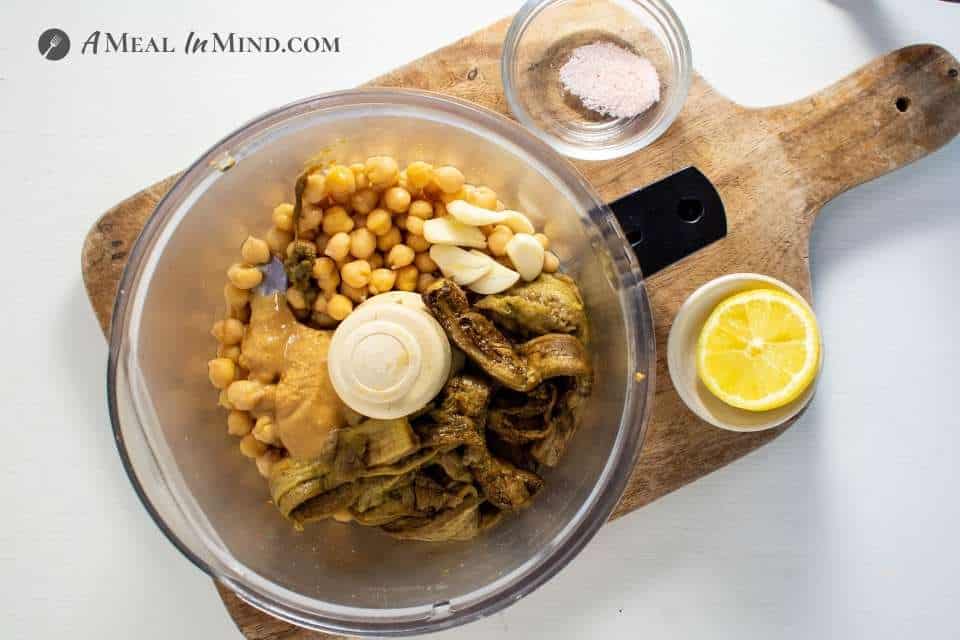 This is the eggplant hummus once it's blended with the salt and lemon juice. At this point you would taste it to decide if it needed more salt or lemon.
Tip: try adding a teaspoonful of lemon juice before adding more salt, as the lemon brings out the saltiness.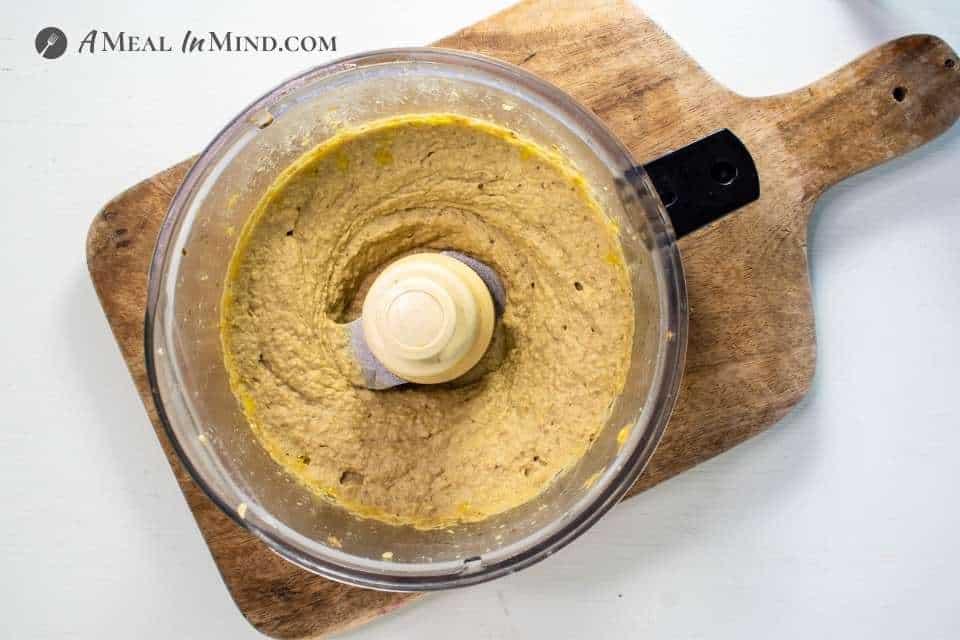 After removing the eggplant hummus to a serving bowl and quickly wiping the food processor, add the ingredients for the red bell pepper hummus. Blend as above, garnish and serve.
Now I DO wash out the food processor.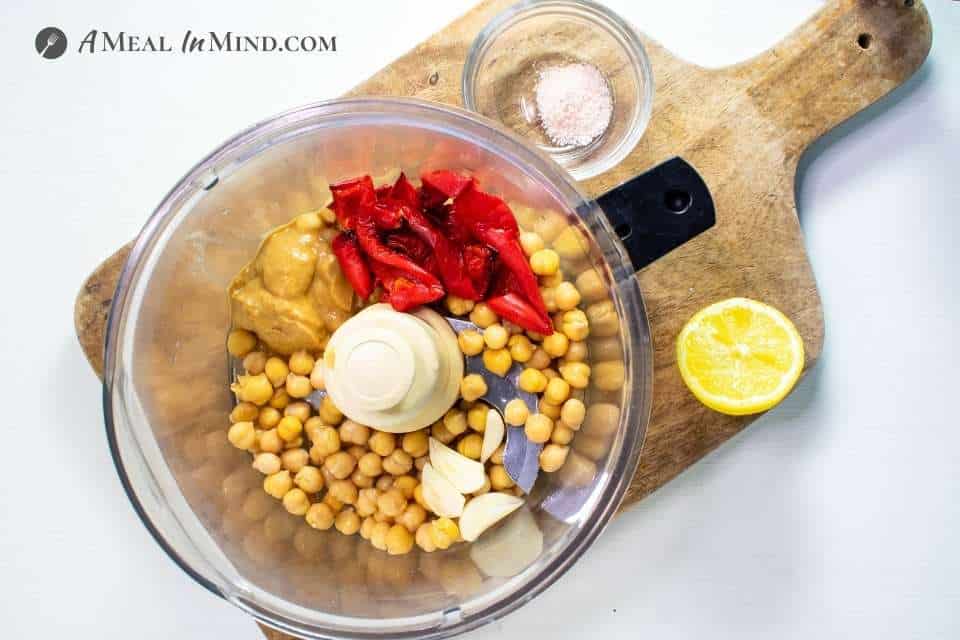 Roasted eggplants and bell peppers have a slight smoky flavor that is fabulous when whizzed up with chickpeas, olive oil, tahini and lemon to make hummus. You could use any color of bell pepper (well, maybe not green) but the red gives the red-orange color that yellow or orange wouldn't.
The eggplant hummus has the flavor of baba ghanoush, and red bell pepper hummus has a slightly sweet but mild pepperiness.
What tools work best to make hummus?
To make these two hummuses for the platter, I used the food processor because I like some texture rather than an absolutely creamy hummus. If you don't have a food processor, you can use a blender. Stop blending before it's completely pureed if you want a slight chunkiness.
If you want it as creamy as store-bought, and have a Vitamix, that's the tool to use. But I find it a pain when air bubbles form around the blades of the Vitamix and I have to keep pushing the mixture down. And it's harder (for me, at least) to get all the hummus out than with a food processor.
If you make this recipe, please let me know! Leave a comment, rate it, and don't forget to tag a photo #amealinmind on Instagram. I'd love to see what you come up with. Thank you so much!!
Beth
Other great bean recipes you may like
Cheesy Green Chile Black Bean Dip
Marinated 2-Bean and Green Salad
Shop Eggplant and Bell Pepper Hummus Platter

Links to products for purchase are affiliate links. If you click on a link and make a purchase, I may earn a small commission on the sale at no additional cost to you. This helps me with the costs of blogging, and I thank you! You can find my 'shop' page here.
Bell Pepper and Eggplant Hummus Platter
In these savory hummus recipes - eggplant and bell pepper - just changing the roasted vegetable gives each a unique flavor and color. Perfect for any party table, and naturally gluten-free.
Ingredients
Eggplant Hummus
1

pound

eggplant

about 1 medium round eggplant or 2-3 long eggplants

olive oil for drizzling

1½

cups

chickpeas

½ cup dried, cooked to 1 ½ cups

3

cloves

garlic

sliced

3

tablespoons

tahini

2

tablespoons

olive oil

lemon juice from ½ a lemon or more to taste

½

teaspoon

salt

or to taste

chopped parsley

for garnish

cumin

for sprinkling
Red Bell Pepper Hummus
Instructions
Preheat oven to 350F.

Wash the eggplant and trim the stem end off.

For a round eggplant, slice it lengthwise into slices no more than 1 inch thick. For the long eggplant, cut each in half lengthwise.

Drizzle the eggplant with a bit of oil to coat the cut surfaces, place on one side of a baking sheet lined with parchment paper.

Drizzle the sliced bell peppers with oil and place them on the other section of the baking sheet. 

Bake for about 30-45 minutes or until the eggplant is soft when pierced with a knife (the bell pepper will be tender also).

Let the vegetables cool. You can keep it in an air tight container in the fridge for three days.

When ready to make the dip, Scoop the pulp and seeds away from the peels with a spoon.

Place the eggplant pulp in a food processor with the other ingredients. 

Add the drained chickpeas, oil, lemon juice and process until smooth.

Add salt to taste. Use a spatula to remove as much of the eggplant hummus as possible before adding the ingredients for the bell pepper hummus to the bowl of the food processor. 

To make the bell pepper hummus, follow the instructions above from step #4 - except you won't scrape the pulp away from the skin. Save two slices of the roasted red bell pepper to dice for a topping. 

For the platter, arrange chips and/or pita and fresh vegetables with extras on the side. Sprinkle the vegetables lightly with cumin for a pretty look and aroma (though my family prefers it not to be in the hummus itself).
Notes
For the red bell pepper hummus, you could substitute jarred roasted bell peppers instead of roasting your own. If they are packed in olive oil, use the oil they are in for the hummus.
Each recipe will yield about 2 cups of hummus.
Please pin for later!