This vegan "cheesy" green chile black bean dip only needs a few savory additions to make a simple black bean dip the star of a party. Its cheesiness comes from nutritional yeast. Then some tartness from lime juice and salsa or white wine vinegar balances out the salty and garlicky notes.
And I love just being able to assemble everything in the food processor. Then all I have to do is blend it up, check seasonings and serve.
Dips are great potluck fare
I was thrilled to be told at a recent potluck where I took this that my dips are always really good. One of the first recipes I posted on A Meal in Mind was my spinach-artichoke hummus. In fact, I was encouraged to start this blog because so many people asked me for that recipe!
Dips are great for potlucks because they are popular, portable and inexpensive. For me, one sign of a good recipe is having an empty bowl when it's time to go home.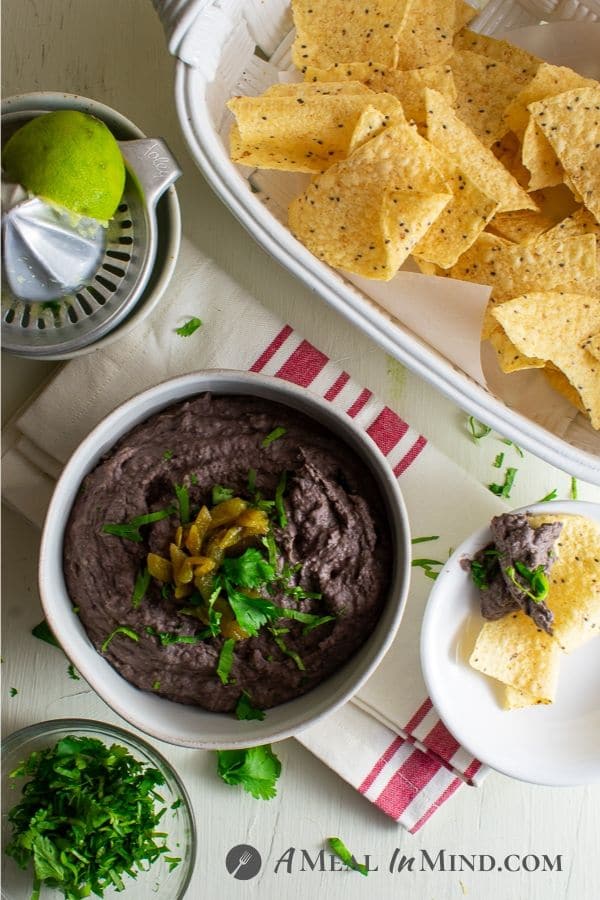 As the holidays approach, potlucks tend to get filled with sweets. So if I contribute a savory and protein-rich dip like this one, I know there'll be at least one non-sweet alternative to counter the sugar, for me as well as everybody else.
Plus, there is always at least one vegan eater at the potlucks I attend. Everyone can enjoy the cheesy flavor from the nutritional yeast, but there isn't so much of it that a non-vegan notices any yeasty flavor.
Canned beans or cook your own?
I like to cook my own black beans because the process is so easy using the Instant Pot! And I can make whatever quantity I like.
After soaking the beans, I cook them on the "Bean" setting for 27-30 minutes. The shorter time is for those recipes where you want the beans cooked but mostly whole, such as in a salad. The longer time is best if you will puree the beans for dips or mash them for refries.
Once you have the beans the way you like them, you only need to place all the ingredients into the food processor and whizz it until it's as chunky or smooth as you like. If you are not going to serve it right away, add a little extra water or bean liquid, as the dip will continue to thicken over time.
If you make this recipe, please let me know in the comments how it went!
Beth
Pin for later!
Other dips and dressings you may enjoy
Garlicky Spinach-Artichoke Hummus
Baba Ghanoush Dip and Salad Dressing
Tahini-Garlic Dressing: 7-Ingredients
Shop cheesy green chile black bean dip
Links to products for purchase are affiliate links. If you click on a link and make a purchase, I may earn a small commission on the sale at no additional cost to you. This helps me with the costs of blogging, and I thank you! You can find my 'shop' page here.
"Cheesy" Green Chile Black Bean Dip - Vegan
This Mexican-inspired vegan black bean dip is
smooth, garlicky, tangy from the lime juice and slightly cheesy from the nutritional yeast.
Ingredients
1

cup

dry black beans

cooked (see note) or one 15-ounce can of black beans, drained, reserve liquid

1

garlic clove

pressed or minced

3

tablespoons

chopped cilantro

divided

4

ounces

Hatch green chiles

chopped, divided (see note)

2

tablespoons

freshly squeezed lime juice

about 1 lime, to taste

1

tablespoon

extra virgin olive oil

plus more for drizzling

2

tablespoons

nutritional yeast

1

teaspoon

ground cumin

¼

teaspoon

paprika

¼

teaspoon

black pepper

½

teaspoon

fine sea salt or to taste

Pinch

of freshly ground black pepper

Optional for flavor: 1-2 tablespoons salsa or 1 tablespoon white wine vinegar

Corn chips

for serving
Instructions
In a food processor, combine the beans, garlic, 2 tablespoons of the cilantro, 3 ounces of the chiles, lime juice, oil, cumin, paprika, salt, and pepper. Puree until smooth.

Adjust the thickness of the dip by adding up to ½ cup of the bean cooking liquid. Taste and season with more salt or lime juice, if needed.

Scoop the dip into a serving bowl, drizzle with a bit of oil. Garnish with the reserved 1 ounce green chiles, and the remaining tablespoon of cilantro. 

The dip keeps well in the refrigerator, so you can make it the day before. It will thicken as it cools, so reserve cooking liquid to stir into it. Also, if making the dip in advance, garnish right before serving.
Notes
How to cook black beans: Rinse 1 cup of black beans, cover with water and allow to soak for at least an hour and up to 8 hours. Rinse the beans until the liquid runs clear. Place the beans in an Instant Pot or other pressure cooker with just enough water to cover. Set the Instant Pot on Bean setting for 27-30 minutes. Let the pressure come down naturally for 10 minutes, then release manually.
I prefer using whole Hatch green chiles over the chopped ones. It's so much easier to remove the seeds from the whole ones, and it hardly takes any time to chop the chiles after seeding them. In a 4-ounce can there might be 2- 3 chiles. I put about ¾ of the chopped chiles into the dip and reserve the rest for the garnish. 
Inspired by this recipe
Pin for later!